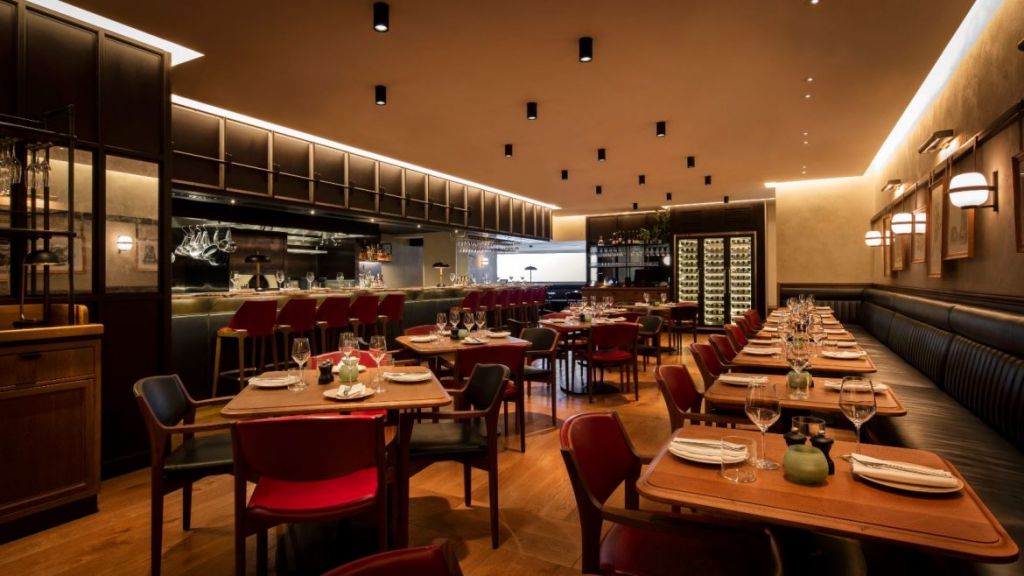 Gridiron By Como, Mayfair, London Address: Gridiron by Como, 19 Old Park Lane, Mayfair, London W1K 1LB
Telephone: +44 20 7447 1080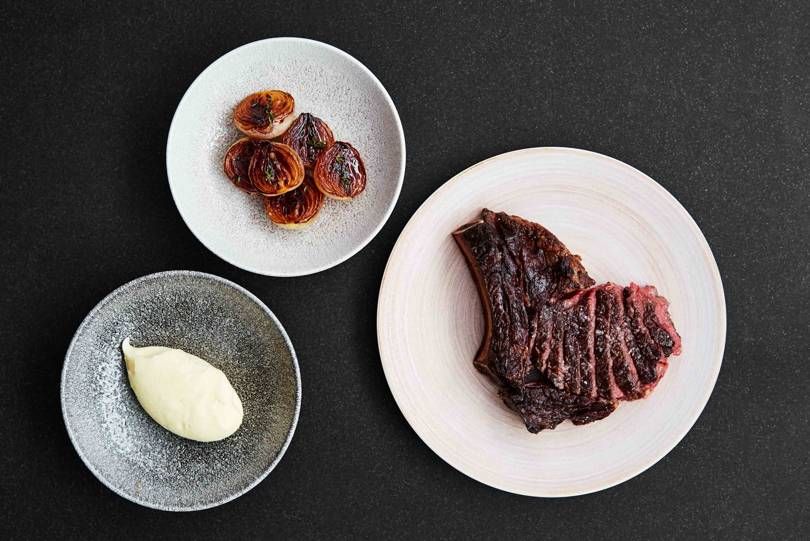 Smoking hot arrival in the heart of glam-slam Park Lane hotel-land
Back in the day, in the late 1990s, the Met Bar occupied a certain gilded presence in London's nightlife scene and the tabloid columns – you hadn't really made it unless you'd been photographed stumbling in or stumbling out of the bar, or at least blagged your way in to eyeball Kate Moss or the Gallagher brothers or the Appleton sisters, awash on a tsunami of Sea Breeze cocktails. But times change, and other It Bars came and went, along with a roll-call of private members' clubs, and now the Met Bar space has been reborn as a meat-searing, fire-starting open-grill restaurant, its DJ booth vanquished, the whiff of charcoal in the air rather than sulphur.
It's a supergroup restaurant – though more appealing than the Travelling Wilbury's – with creative input from Hawksmoor's Richard Turner and the Venning brothers, who run the excellent Three Sheets bar in Dalston. There are black and white drawings of kitchen utensils on the walls, and green leather on the bar stools. In many ways, we're all paparazzi these days, sneaking up on plates of tastefully arranged avocado toast, angling our lenses at a not-entirely-unsuspecting lobster crumpet. And there's plenty to put in the frame here.

The Food
Carnivores are well provided for, with shorthorn onglet and hogget chop on the menu, along with an (in season) venison that's artfully arranged on the plate to show off its colour. Other highlights are the fire-glazed scallops glooped with a rich bone-marrow sauce, and the turbot, which comes with a lovely chicken butter. But there's also a strong focus on vegetables, with turnips or swedes baked in ash and burnt leeks with a nutty garlic sauce. Special mention goes to the bar snacks, which are worth coming for alone: Thai-style duck sausages with dipping sauce of olive and plum, oysters in a mignonette sauce and very scoffable pig's-head-and-black-pudding croquettes. And the short-rib kiev may well be one of the dishes of the year – order at least two.
The Drinks
Wonderfully inventive, and familiar in approach to anyone who's pulled up a stool at Three Sheets, with ingredients ranging from marigold to miso. There's a witty take on Eighties classic Harvey Wallbanger, bringing green tea and mandarin to the party, a straight-up Gibson, beautifully mixed and presented, and new favourites such as the Panache – a subtle, more-ish concoction made with bergamot, peach and malt. And the Old Fashioned here adds pandan leaf and clarified milk to Woodford Reserve bourbon.
The Verdict
Park Lane has looked eastwards for its inspiration, and it works – the area's never been a particularly appealing destination for its restaurants, and this is a more accessible place than most. We recommend you sit at the bar and graze from there.