Selecting the best places to eat barbecue in America has always been a monumentally difficult task, but it's even more so now, thanks to a new generation of pitmasters that's combined with a still crafty old guard to make the landscape more meat-packed than ever. But just because something is a challenge doesn't mean you shouldn't try. So we ate smoked meat. We talked to people who eat and smoke meat. We engaged in both aggressive and passive-aggressive arguments about smoked meat. In the end, we settled on these 33 BBQ joints that are continuing America's grand traditions while also pushing them in exciting new directions. Happy arguing, but more importantly, happy eating.
17th Street BBQ - Murphysboro, Illinois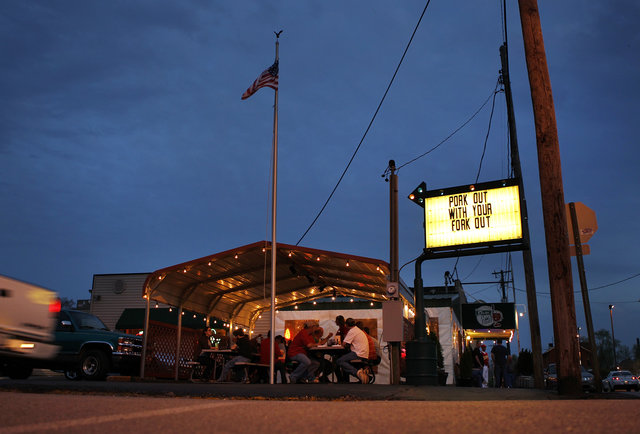 Few figures in barbecue are as revered as Mike Mills and as respected as his daughter Amy, the driving forces behind 17th Street BBQ. Since the early '90s, Mike's cherry and applewood-smoked, magic-dusted baby back ribs have been winning world championships accolades and breaking competition circuit records. People travel from across the country to the small town of Murphysboro to devour them, and budding pitmasters can leave with more than just leftovers thanks to a series of cooking workshops from Mike and business classes from his daughter, who also recently penned a tell-all book. And for those who can't make the journey, they even ship their meat overnight.
B'S Cracklin' BBQ - Savannah, Georgia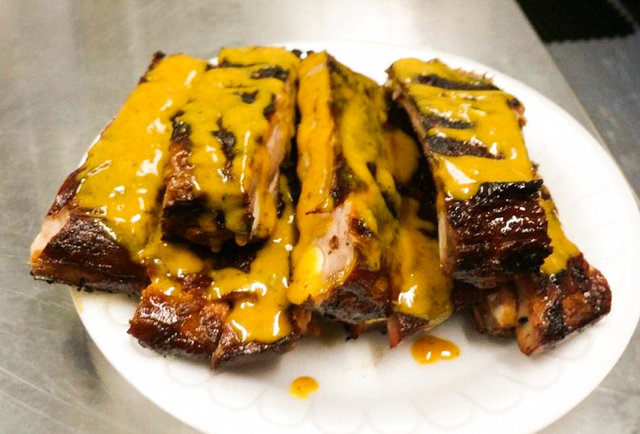 Pitmaster Bryan Furman knows pork, and not just how to cook it. Raised in the Carolinas with a grandfather who bred hogs and butchered them on special occasions, Furman followed in his family footsteps by starting a heritage breed pig farm that now supplies his restaurants in Savannah and Georgia. Carolina-style chopped pork is the main course, with a buffet of sauces on the side that allow diners to dress their meat to regional tastes, but don't miss the brisket -- it just might be the best in the state of Georgia.
Beast Craft Barbeque - Belleville, Illinois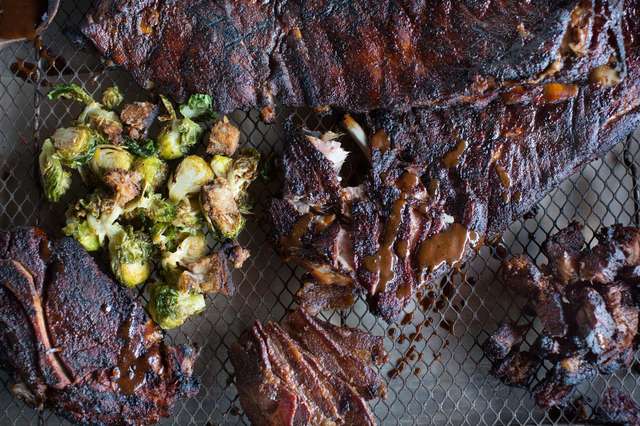 There are many paths to achieve the title of pitmaster. These days barbecue is embraced by not just local boys following in family traditions, but fine dining chefs seduced by fire, smoke, and an escape from the pretension of upscale kitchen culture. Beast's David Sandusky followed that path, bringing chefy meticulousness and a reverence for ingredients to St. Louis's barbecue scene. Along the way he's racked up a kitchen counter worth of local and national awards, as well as a radio co-hosting gig on The Budweiser Big BBQ Show. At Beast, Old Hickory pits smoke only the finest proteins, from Duroc pork to Wagyu brisket. Although of course they offer the traditional combo plate fair, the most popular orders are rarer finds: a reverse seared pork steak and Brussels sprouts. And like most of the other joints on this list, early arrival is recommended, because you best believe they're selling out.
Big Bob Gibson BAR-B-QUE - Decatur, Alabama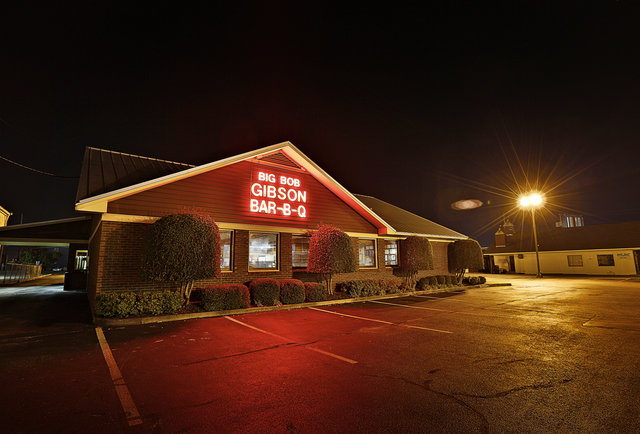 On the one hand, the BBQ boom has fueled enough interest in regional variations that it's not remotely uncommon anymore to enter a recently opened BBQ establishment anywhere in the country and encounter the distinctive vinegary, mayo-based sauce that Bob Gibson first created generations ago. On the other hand, you haven't REALLY experienced it until you've made the pilgrimage to Decatur, eaten your weight in hickory-smoked chicken, and experienced that bright, peppery tang right there at the source.
Blacks Barbecue - Lockhart, Texas
Lockhart long claimed the title of barbecue capital of Texas, and although the rest of the state has caught up over the years, it's still home to three of the most legendary restaurants in the state. A visit to the tiny town 45 minutes outside of Austin almost demands a bang bang, but for normal-sized stomachs, the best all-around meal comes from Black's. Smell the history in the long skinny hallway leading up to the butcher, and don't miss out on the beef rib -- they claim to be the ones who popularized it.
Cattleack BBQ - Dallas, Texas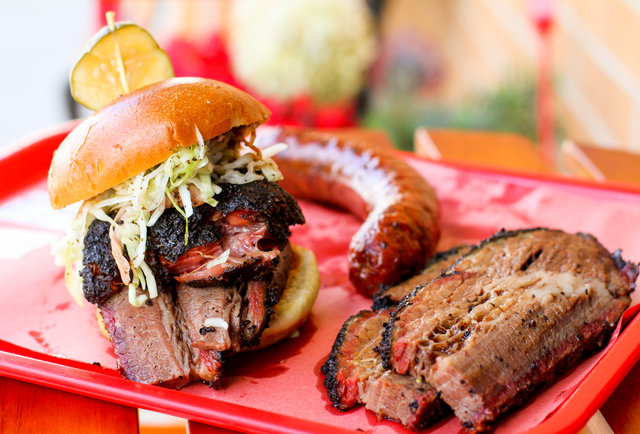 There's a certain charm to barbecue shacks located in the middle of nowhere, but Cattleack proves that operating out of a crumbling bungalow isn't a requisite for great meat, any old strip mall will do for the right pitmaster. Skyrocketing to No. 3 on Texas Monthly's always exhaustive power ranking, Cattleack is just one of several places raising Dallas's barbecue profile to full on destination. And in addition to some of the best-tasting, fattiest brisket in the state, there's few bites of meat in the barbecue world as indulgent as their intensely-marbled Akaushi beef ribs.
Central BBQ - Memphis, Tennessee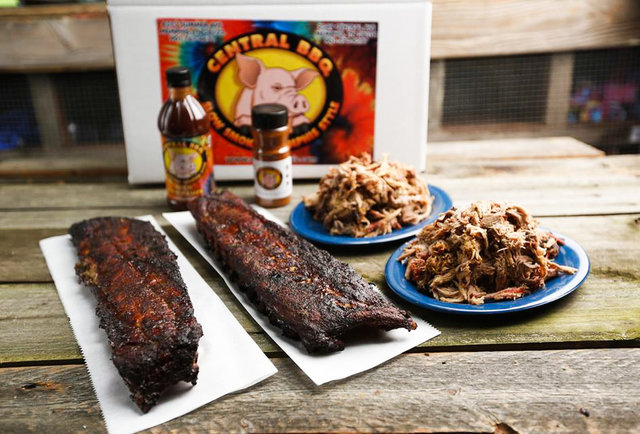 There can be a tricky relationship between a BBQ outfit expanding to multiple locations and still retaining the fervent following that made said expansion possible in the first place, but Central and its three Memphis outposts still inspire just as much local love as they ever did. That probably has something to do with the fact that the 14-plus-hour smoked pork shoulders still yield some of the juiciest chopped pork sandwiches around. It also has something to do with ribs that continue to be mandatory in any discussion of Memphis' best.
Central City BBQ - New Orleans, Louisiana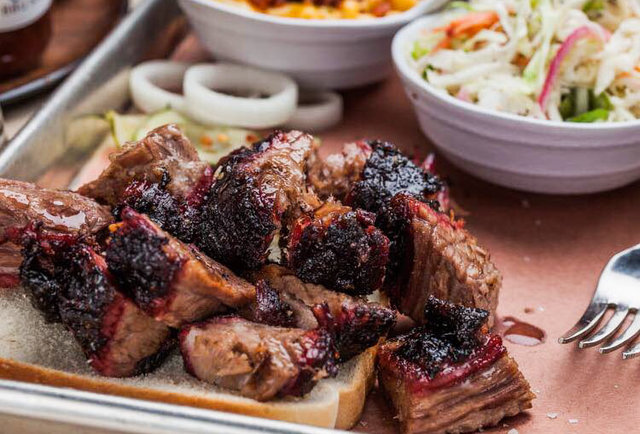 There was much anticipation among NOLA smoked meat aficionados leading up to the late 2016 debut of Central City BBQ, a joint effort between chef Aaron Burgau of Patois and celebrated pitmaster Rob Bechtold of dearly departed NOLA Smokehouse. Although Bechtold left the operation several months in, it had already separated itself from the local barbecue pack, and it hasn't slowed down since. The delightfully salty, pepper-barked brisket and burnt ends would make any Texas smokehouse proud, while specialties like smoked boudin leave no doubt as to what city you're in. Oh, and don't miss a side of the sweet corn spoonbread. That would be a mistake.
Feges - Houston, Texas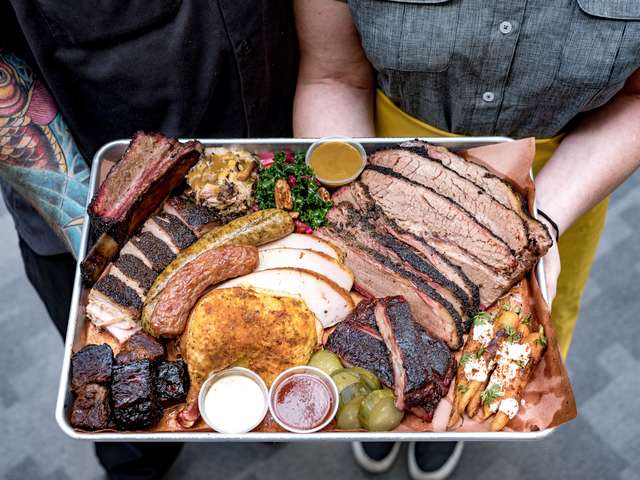 Cooking with all wood in a food court? A barbecue skeptic might decry it as impossible, but the folks from Feges have found a way to bring legit smoked meats into the heart of Houston's Greenway Plaza mixed use development. The husband/wife owners' journey into barbecue began with a backyard Brinkman vertical smoker, took a left turn towards fine dining at iconic spots ranging from Underbelly to Per Se, and then returned to the world of smoke. Naturally they take their brisket seriously, but one thing that sets them apart from other Texans is a love of whole hog cooking, done crispy Carolina-style over wood burned to the coals. And while many Texas joints get away with considering sides an afterthought, Feges puts them front and center, with 12 daily choices that range from Moroccan glazed carrots to elote corn salad.
Franklin Barbecue - Austin, Texas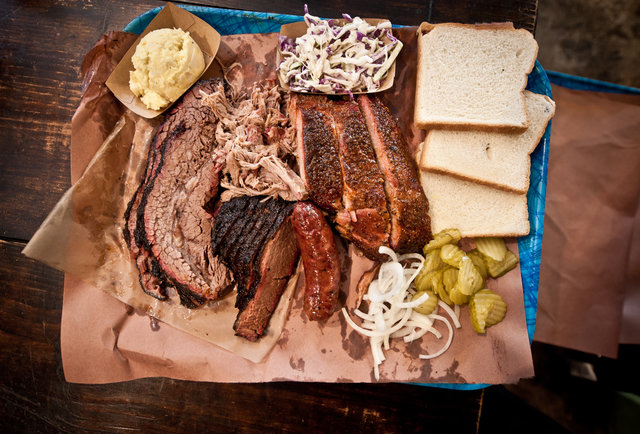 Is the best brisket of your life worth a three-hour wait? What about five hours? They're personal questions, and although the time it takes to move 100 meters to chopping block takes approximately the same amount of time it takes to fly to Austin from New York City, it's still a journey many barbecue obsessives happily make. The reward for that patience is a sample bite at the front of the line, which after the long wait, is as close as it comes to barbecue nirvana, which is why, despite even a devastating fire that put the restaurant out of commission couldn't knock it from the list, and it certainly isn't going anywhere now that Aaron Franklin's barbecue mecca has come back as strong as ever.
Hometown BAR-B-QUE - Brooklyn, New York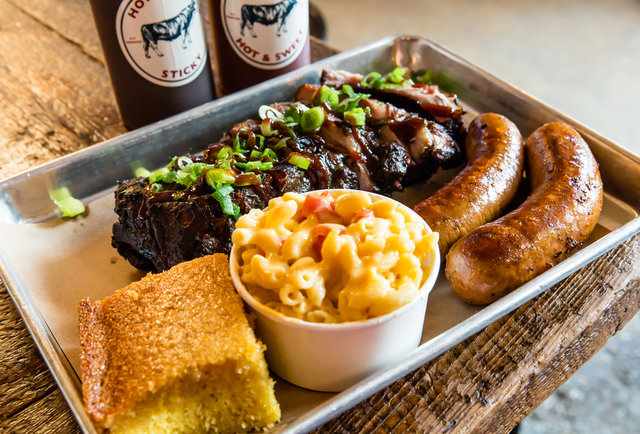 In the past decade New York City has become a bona fide barbecue destination, with smokey cuisine from North Carolina to Texas making appearances in the Big Apple. There's plenty of amazing bites to be had, but Hometown is the restaurant that best combines authentic technique with a local melting pot mentality. Mentorship from Wayne Mueller drove pitmaster Billy Durney's mastery of the beef rib (look to his lower ankle for a tattoo expressing his TX love), but what really sets him apart is incorporating ethnic flavors prevalent in his Red Hook neighborhood into dishes like the Jamaican jerk baby back ribs, Oaxacan wood-fired chicken, and Vietnamese hot wings.
Joe Kansas City BBQ - Kansas City, Kansas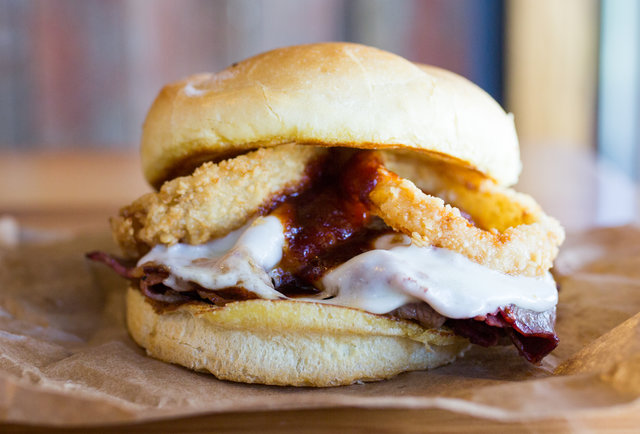 The story behind how the best barbecue joint in Kansas City came to be named after the state of Oklahoma, then changed that name to reflect geographic realities, has a few twists and turns (and we can probably stop mentioning at this point, deep down it's always just been "Joe's" to locals) but the common denominator at this barbecue landmark is the ribs that cause all walks of life to line up outside an old gas station for life-changing ribs, burnt ends worth their weight in gold (and only available Monday & Saturday lunchtime, plus Wednesday dinner), and a sandwich that seems to break the rules (provolone on brisket?) but somehow works.
LA Barbecue - Austin, Texas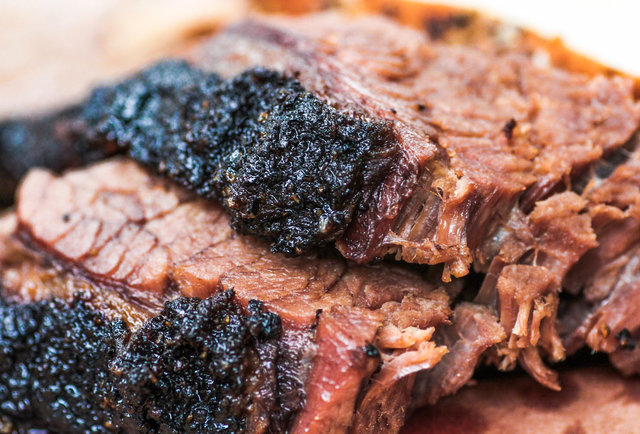 For every young gun in the Texas barbecue world, there's an old hat descended from a long line of pitmasters with salt and pepper in their veins. LeAnn Mueller has such a lineage. She grew up busing tables at Louie Mueller Barbecue in Taylor and now helms one of Austin's finest barbecue operations, which after a vagabond trailer journey from four separate locations finally landed in, of all places, a convenience store. Best believe you'll never taste a better slice of brisket just a few feet away from a refrigerator stocked with Gatorade and Monster Energy drinks.
LC's BAR-B-Q - Kansas City, Missouri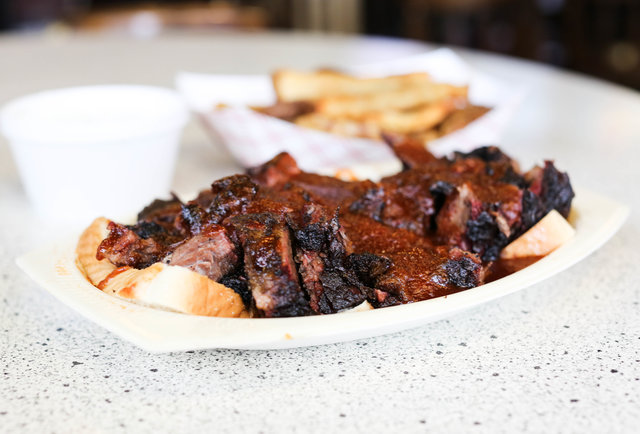 LC's doesn't have the national profile of Joe's or a name that's thoroughly entrenched in KC BBQ lore like Arthur Bryant or George Gates, but what L.C. Richardson's no-frills establishment does have is some of the most consistently outstanding burnt ends in Kansas City, and therefore some of the most consistently outstanding burnt ends on the planet. The sandwich you'll be eating is only a "sandwich" in the sense that there are two pieces of bread present, but the reality is you'll be picking up juicy, fatty, crusty protein bits off your plate with your bare hands before you know it. There are plenty of paper towels nearby, and they are necessary.
Lem's BAR-B-Q - Chicago, Illinois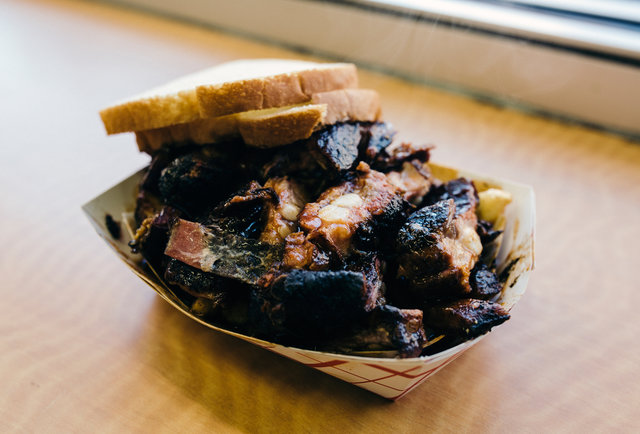 he tradition of Chicago barbecue (yes, it's a thing) lost one of its titans a couple of years back when longtime Lem's owner and operator James Lemons passed away, the last survivor of a group of brothers that made a mark on the Chicago meat map that goes back to the 1940s. Nonetheless, Lem's remains an essential destination for anyone looking to dig into a pile of rib tips -- the gloriously gelatinous, slightly cumbersome but worth-the-trouble staple of the Chicago barbecue scene. And if picking your way through bits of bone and cartilage isn't your thing, don't worry, the straight-up spare ribs are plenty legendary in their own right.
Lewis Barbecue - Charleston, South Carolina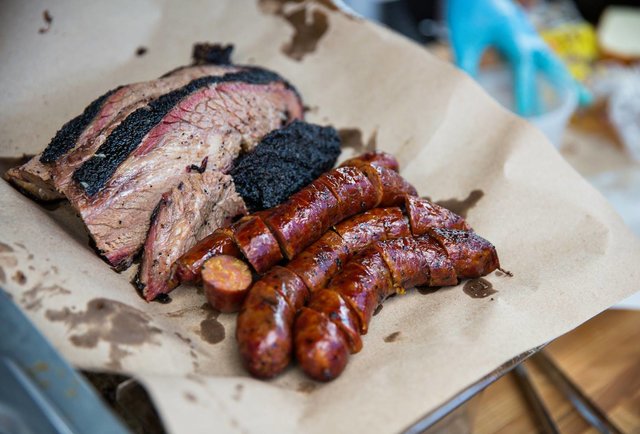 The Carolinas may be pork country, but Texas native (and Franklin and la Barbecue alum) John Lewis is putting Charleston's barbecue scene firmly on the national map, selling brisket that took a decade to perfect in smokers he custom-built for the task. Somehow said brisket isn't the most exclusive beef on the menu -- massive, beefy short ribs are served strictly on Saturdays. And don't worry, Lewis does plenty of justice to the porcine pursuits like pulled pork and spare ribs -- this is, after all, still Carolina.
Lexington Barbecue - Lexington, North Carolina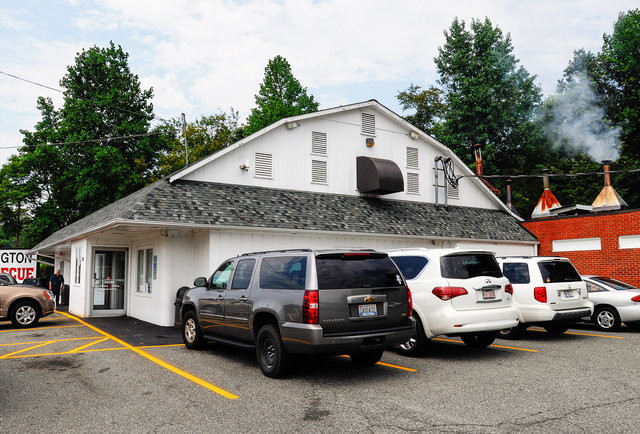 As the small city of Lexington grew in barbecue might (it boasts more than 20 joints with a population of less than 20,000), the Piedmont school of Carolina barbecue, with its vinegary red sauce , came to be known as Lexington-style, and a big reason a small town serves as a stand in for a region is the Monk family behind (what else?) Lexington BBQ. It's still pretty much the same drill it's been for decades -- pork shoulders get 10 hours over mostly oak coals and transform into pork perfection. Well, wait -- add some of that slaw. NOW it's perfect.
Little Miss BBQ - Phoenix, Arizona
When the temperature outside cracks 120, it takes a saint to stand in front of a hot smoker. As such, Phoenix residents have nearly canonized the folks from Little Miss, who toil through the heat to bring Central Texas style barbecue to folks hungry enough to line up for an hour plus in the blistering sun. Like so many restaurants on this list, the brisket can't be ignored, but plan a visit wisely, as the daily specials like pastrami deserve a place on any combo plate.
Louie Mueller Barbecue - Taylor, Texas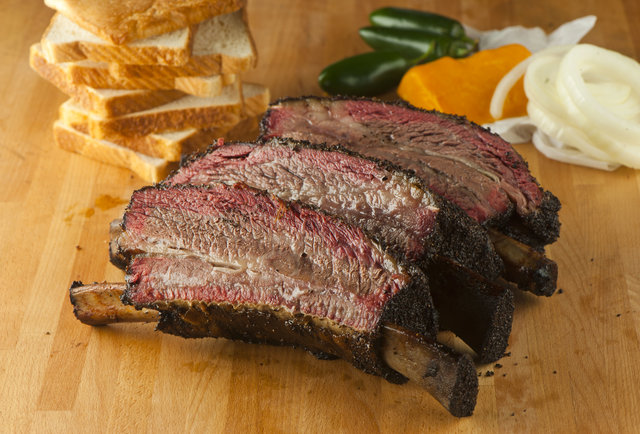 What is there to say that hasn't been said about Louie Mueller Barbecue? The Taylor, Texas temple to smoked beef has earned permanent legend status since opening in 1949, and although they scored a James Beard America's Classics award back in 2006, they're a rare legacy restaurant that's not only kept up with the times, but evolved with them. Current third generation Wayne Mueller is considered the Socrates of barbecue, and his brisket and beef ribs might just be the platonic ideal of the food. Sound like Greek to you? Make the pilgrimage and become a believer.
Martin's BAR-B-QUE Joint - Nashville, Tennessee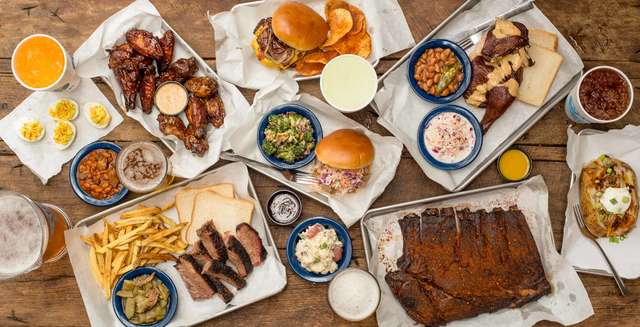 Most people associate whole hog cooking with the Carolinas, but a small pocket of Western Tennessee is also famed for the labor-intensive art of smoking 200 pound pigs. Over the last 20 years the traditions have largely died off, but not before pitmaster Pat Martin learned the trade from an old school master at the now shuttered Thomas & Webb Barbecue in Henderson, TN. Compared to Carolina standards the hogs are larger, the pork is pulled not chopped, and you won't find any crunchy skin inside their sandwiches. And there's nowhere outside of Martin's you'll find a Nashville taco: a hoe cake topped with slaw, pork, and a squeeze of vinegar sauce. Although they started small with a 1100 square foot restaurant and one employee, the operation has now expanded to seven locations across two states, but the must-visit is their downtown Nashville flagship, complete with a beer garden housing their four whole hog pits where backyard cooks can chew the fat with their professional pitmasters.
Moonlite BAR-B-Q Inn - Owensboro, Kentucky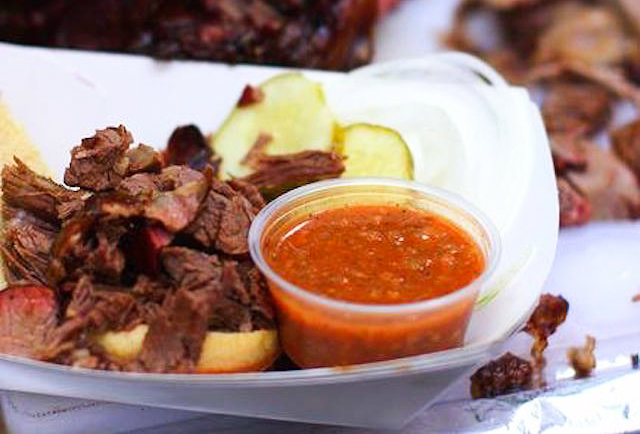 With the surge in interest in regional barbecue styles in recent years, how come mutton hasn't caught on? People in Kentucky have to be wondering that, especially of they've been to Owensboro for a trip to Moonlite and taken a trip through their legendary barbecue buffet, a setup that only works because it's virtually always sufficiently crowded for the hickory-smoked meats to be cycling through constantly. And sure, you'll also find chopped pork and ribs and chicken on said buffet, and they are good, but mutton is definitely the juicy heart and flavorful soul here. There's gonna be a mutton boom in 2018. You heard it here first. Sheep, beware.
Myron Mixon's Pitmaster BBQ - Alexandria, Virginia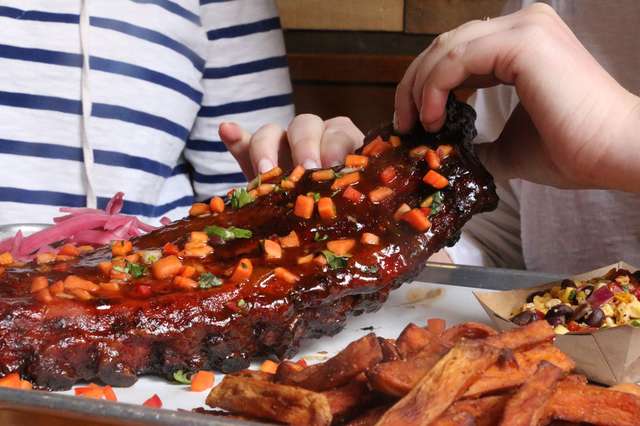 Legends don't come much larger, or louder, than Myron Mixon. From his iron grip on competition trophies to ubiquitous presence on barbecue TV shows, there's few figures who've had such influence on the world of barbecue. He's quick with a gruff word (contrasted by the Southern charm of his son Michael), but the proof is in the pork, which you can try for yourself at Myron Mixon's Pitmaster Barbeque. Pig is the main course, from baby backs to salt and pepper pork belly, but the must is his championship-winning pulled pork. Plus, budding pitmasters can learn the whole hog secrets for themselves at his cooking school in his hometown of Unadilla, Georgia.
Pappy's Smokehouse - St. Louis, Missouri
In 2008, Mike Emerson and company wowed St. Louis with a Memphis-channeling barbecue joint that could make even a Tennessee transplant nod his head in begrudging approval before asking for another slab of ribs. Nearly 10 years in, Emerson has quietly stepped back from the day-to-day business operations, but thankfully the noises the customers make when tearing into Pappy's carefully rubbed, apple-and-cherrywood-smoked ribs remain anything but quiet. If you have a craving for something a little bit different, and room after the ribs, you can get yourself a Frito pie augmented with the protein of your choice.
Payne's BAR-B-QUE - Memphis, Tennessee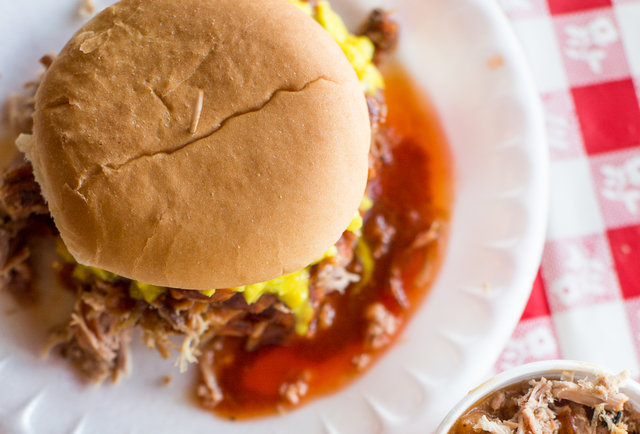 In middle-of-nowhere Memphis, Payne's serves one of the most revelatory sandwiches in the world. That's tall talk, but the dim church rec room vibe contrasts a bite of meat so bright that a die-hard mustard hater couldn't help but savor every bite of the yellow slaw piled atop scoops of dripping pork. Actually, no place with a sandwich like this can possibly be the middle of nowhere. Instead it's the exact place you want to be.
Ragtop Fern - Los Angeles, California

Los Angeles doesn't have a barbecue style to call its own, but few American cities have a street food culture as vibrant. It's led pitmasters to take to the streets, or rather, their front yards. Ragtop Fern isn't your traditional barbecue restaurant, but rather a weekend pop-up on the stoop of the self-taught pitmaster's home. The address is kept secret, but the tales of his barbecue have spread far and wide, with a brisket and beef ribs that would make Texas proud, as well as finger-licking pork ribs, all cooked on a smoker that the owner welded himself. It's a cozy operation, all tucked under one small tent, but the cramped quarters make it likely that another patron will have an extra beer to share (naturally, it's BYOB). Curious to try it yourself? The only way is to make like a millennial and slide into those Instagram DMs to place an order.
Red Bridges Barbecue Lodge - Shelby, North Carolina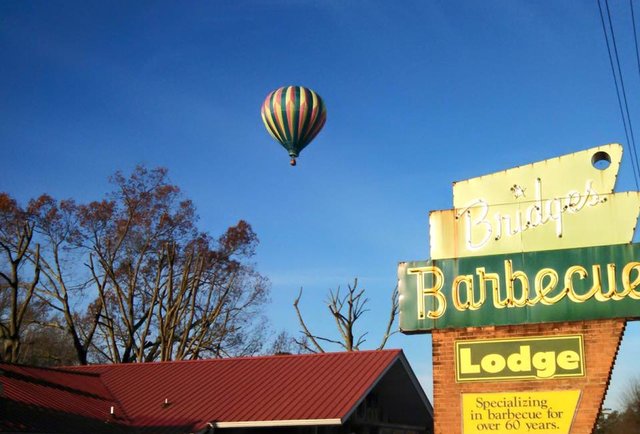 First off: Red Bridges was a guy, not a series of things you drive over. Moreover, he was a guy who learned the finer points of Carolina barbecue from legend Wayne Stamey before striking out on his own to open his namesake restaurant with his wife, Lyttle, in 1949. Red passed away in 1966, leaving Lyttle to run the business into her 80s (their daughter now runs the show, Lyttle passed in 2008). That's a rich history, sure, but how's that Carolina pit barbecue? Tens of thousands of Thrillist BBQ Bracket voters couldn't be wrong. You know what would be wrong? Leaving without sampling a little of Mama B's pimento cheese while you're there.
Picnic - Durham, North Carolina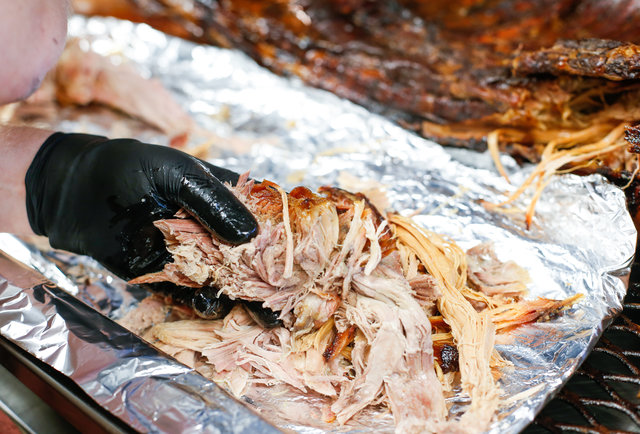 To find a pitmaster upending North Carolina's whole hog tradition, just drive 10 miles from downtown Durham to Picnic. Pitmaster Wyatt Dickson left turned from a law career to hog butchery, using old-school smoking techniques on new-school heritage breed pigs, then hand-pulling it into a sweet, savory, chewy mess of pork. But unlike many Spartan Carolina joints, they up the ante on sides with kale salad, fried green tomatoes, and Brunswick stew. And even if you're not the swine-loving type, Picnic's worth a visit for some of the juiciest and flakiest smoked buttermilk fried chicken on the planet.
Scott's BAR-B-QUE - Hemingway, South Carolina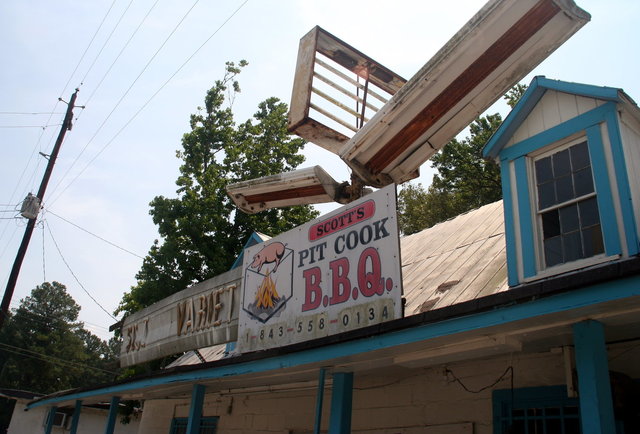 Sure, Rodney Scott now presides over a red-hot namesake restaurant in Charleston that opened earlier this year (combining with John Lewis' joint to make Charleston the present talk of the barbecue world), but Hemingway is where it all started -- and where a tragic 2013 fire nearly put arguably the nation's singular whole hog barbecue operation out of commission before a fundraising tour got it back on its feet. And make no mistake, Scott's doing his typical excellent pork-related work at his new place, but there's something special about making the trek out to Hemingway and polishing off a piled-high pork plate with beans and slaw. The journey feels even more special if you get extra pork skins.
Skylight Inn BBQ - Ayden, North Carolina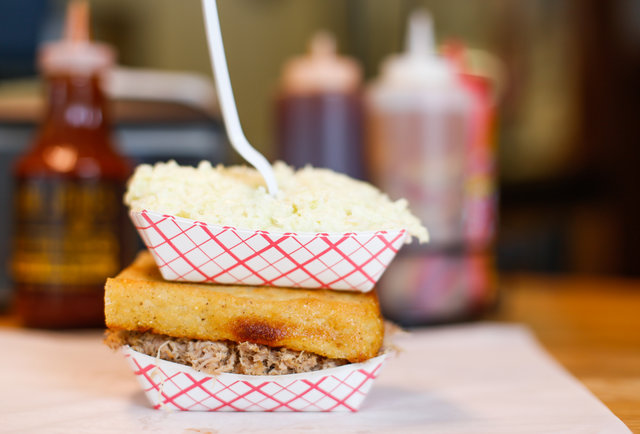 The word "Mecca" gets thrown around a lot in the barbecue world, and Skylight Inn is one of those pilgrimages that's a requisite for any serious barbecue lover. Along the way to the tiny North Carolina town of Ayden, you'll pass dozens of abandoned barns, and it's no stretch of the imagination to say that those farmers who long since passed ate many a chopped pork sandwich for lunch. Even today after 70 years in the business, the whole town seemingly lines up to eat on a daily basis. If you're still hungry after devouring what's quite possibly the most iconic pork sandwich in the country, it's also worth the trek 8 miles North to pitmaster Sam Jones' new joint with an expanded menu and a selection of local draft beers.
Snow's BBQ - Lexington, Texas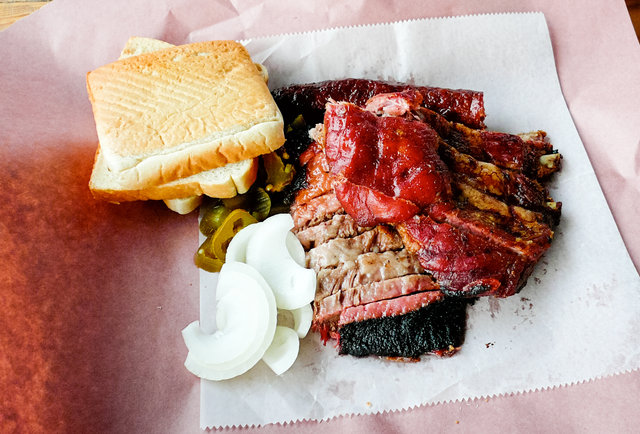 Women don't get enough love in the barbecue industry, but one lady pitmaster with an unparalleled rep is Tootsie Tomanetz at Snow's in Lexington, Texas. At this point it's almost considered gospel that her food is the best in the state (and Texans will tell you, that means the best in the world). Five days a week she works maintenance at a local high school, but on Saturday mornings the 82-year-old Texas legend turns into a barbecue Superwoman. The line starts moving at 8am, but if you think that's early, consider that Tootsie starts shoveling coals to prepare around 2am.
The Shed Barbeque & Blues Joint - Ocean Springs, Mississippi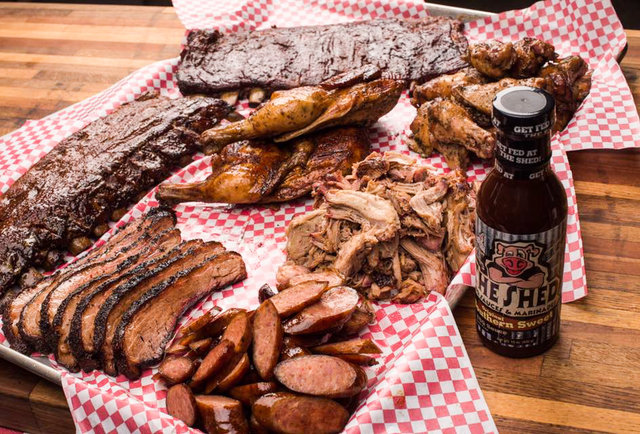 Competition circuit phenoms and Food Network reality stars the Orrisons paint the picture of the ideal barbecue family. Everyone chips in, with Daddy-O making the sauce, Brad managing the pits, Mom handling the marketing, and Brooke making sure the ship doesn't sink. Whole hog is their award-winning specialty at competitions, but at the ramshackle Ocean Springs restaurant, you can't go wrong with any order. And the meat tastes even better with a side of live music.
Truth BBQ - Brenham, Texas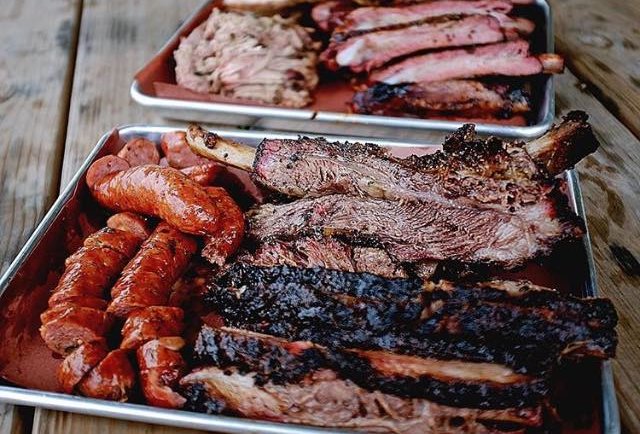 Cracking Texas Monthly's canonic list of best barbecue is an achievement for any pitmaster. Doing it within two years of opening is nearly unheard of. The boys at Truth pulled it off, landing at No. 10 for their perfect execution of traditional Texas barbecue. They're currently expanding from a tiny shack in Brenham to the big leagues of Houston, a move that's sure to shake up the city's barbecue hierarchy. Once you've reached the front of the line (expect a manageable wait around an hour), the brisket's a must, but the jalapeño cheddar sausage puts Texas's legacy cased meat purveyors to shame. There may be no juicier link in the state. Bonus points for their meticulous plating, which is guarantee to rack up the Instagram likes.
ZZQ - Richmond, Virginia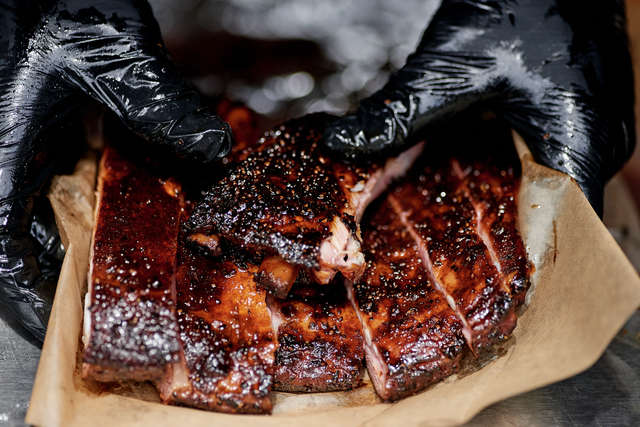 You can take the Texan out of Texas, but you can't take the Texas out of a Texan. The Lone Star State's barbecue style is perhaps the most exported of any region so it's natural to be skeptical of imitators, but Richmond, Virginia's ZZQ is the real deal, started by a native Austinite (raised in Mesquite,TX) who honors his home state by cooking some of the best brisket you'll find outside its boundaries. Their three 1000 gallon offset pits are imported from Austin Smoke Works and burn local white oak (traditional post oak would be "in-authentic to the region"). They spike the brisket rub with a few other herbs to make it their own, but it doesn't deviate too far from the coarse black pepper and salt standard. And Texan beer lovers will be happy to notice that ZZQ is the only place in Virginia you'll find brews from both Lone Star and Jester King. Still, this is Virginia after all, so they finish their pulled pork shoulder with an Eastern North Carolina/Southern Virginia vinegar sauce, and keep local with sides like tomato pie and Cajun creamed corn that use produce from nearby farms. The bad news: all the glowing reviews have resulted in Texas-sized lines, so expect a wait.