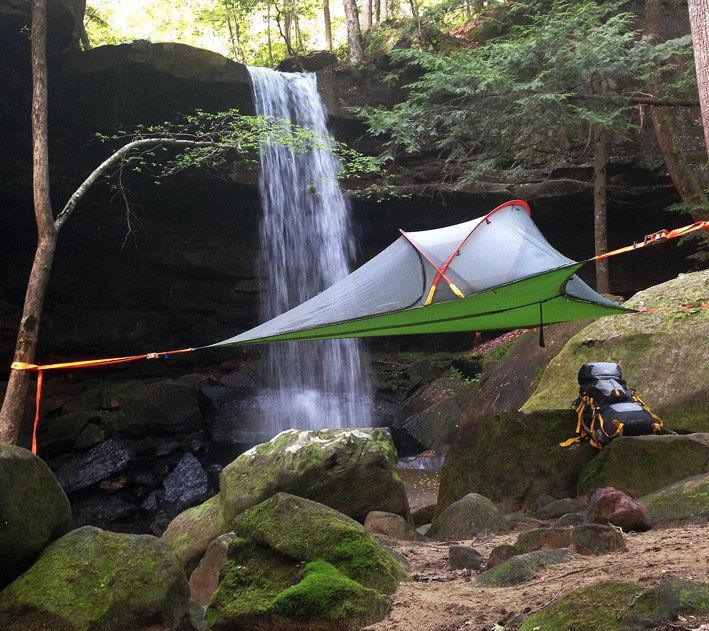 Tentsile Connect 2-Person All-Season Suspended Camping Tree Tent
Description
The Connect is our two-person tree tent with removable rain fly, offering you and a friend the chance to experience a whole new level of freedom.
This two person model offers a completely new way to connect with your friends and the great outdoors. The Connect is a truly awesome piece of equipment for any adventurous camper. It can be suspended between three strong anchors such as trucks or boulders.
It features an adjustable double hammock bed with 2 large pockets on each side, full no-see-um mesh top with four folder away doors and a removable rain fly for unbeatable views. The rain fly can be pegged out towards the ground, creating a large 120ft² / 9m² covered porch area and multi-story camping base. The rain fly flaps can also be folded underneath the tent and hooked to each other, creating a full windbreak and a thermal buffer.
ALWAYS READ THE INSTRUCTION MANUAL BEFORE USE
Connect Hacks
You can sleep three just by adding a hammock underneath the tent.
Once you have some experience with your Tentsile, you can save up to 2kg / 6lbs by dropping two ratchets from your system by using our WebLocks. Buy them here.
CONNECT SET UP GUIDE:
CONNECT PACK DOWN:
BALANCING AND EQUALISING:
SPECIFICATIONS:
Set up time: 15 minutes
Seasons: 4 (not including Arctic Circle winter)
Size: 2.7 x 4 x 4m / 9 x 13.5 x 13.5ft
Pack down size: 58 x 23 x 23cm / 23 x 9 x 9in
Floor area: approximately 5m² / 53ft²
Dry porch area on ground level: 6m² / 65ft²
Doors: 4
Height: 120cm / 4ft
Weight: 7kg / 16lbs (once experienced, you can save up to 2kg / 6lbs by dropping two ratchets from your system)
Poles: 2 x 8.5mm diameter anodised aluminium alloy
Roof: Tear resistant insect mesh
Rain fly: Removable 70D PU coated waterproof polyester, 3000HH, in a choice of colours
Floor fabric: 240D Inclined joint nylon-polyester composite fabric (green) reinforced with 15+ metres of seat belt
Ratchets and straps: 3x Heavy duty, plated, industry grade buckles - 2.5 ton minimum breaking strength
Fire rating: Fire resistance meets US CPAI-84 & Canadian FR16
Maximum capacity: Two adults and their gear or one adult and two children (400kg / 880lbs)
Maximum load: 400kg/880lbs