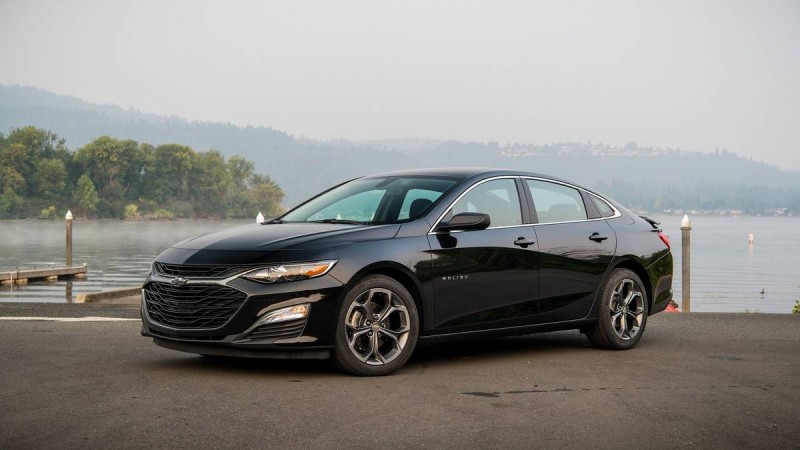 Chevrolet still cares about its cars. At least, it cares enough that it updated the Spark, Cruze and Malibu for 2019. There's no mistaking the Blue Oval it's aiming at when Steve Majoros, Chevy marketing director, brags about having the newest passenger car lineup in the industry.
The most significant change Chevy brought to the Malibu for 2019 is the transmission. We lose the six-speed torque converter trans and gain a GM-designed CVT. Chevy says the decision was simple. It expects to get a 2-mpg boost in fuel economy.
There was nothing unpleasant about the six-speed it replaces, and CVTs are typically a bore, if not downright annoying, to drive. A properly sorted CVT can cut down on the buzzing most people complain about, but there's no way to truly disguise the rubber-banding effect when pulling away from a light.
The Malibu RS is added to the mix for 2019. As is tradition, the RS trim is essentially a sport appearance package. This one slots in between the LS and LT trims and offers a pleasant combination of niceties for the approximately $1,000 you'll pay over the LS. A redesigned front fascia gets the black-out treatment, black bowties and RS badge, so people know you're one of the cool kids. New 18-inch wheels with staple-inspired design give it a more outlandish look. Chrome dual-exhaust tips with little pipes hiding (but visible) within are out back. And a rear, slightly more-than-a-lip spoiler completes the RS look.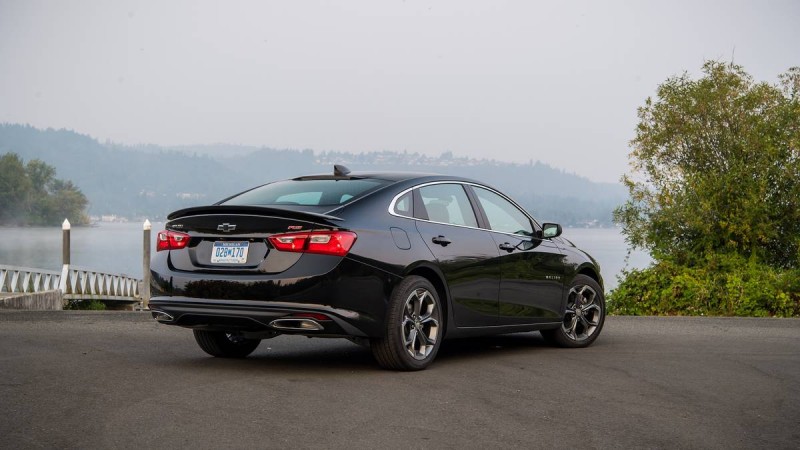 The inside is where the RS package becomes slightly better than the LS. Soft leather wraps both the steering wheel and shift lever. It's a nice addition to make a cheap car feel a bit more premium. Sadly, everything else in the interior makes the Malibu feel its price. Hard plastic is everywhere, and the center stack just feels old compared to competitors.
If you were wondering, yes, all other 1.5-liter turbo Malibus get the CVT. You'll have to pony up to the 2.0-liter turbo four-cylinder engine, which comes with Chevy's slick shifting nine-speed auto to escape the continuously variable unit. We find it a bit ironic that the new "sporty looking" Malibu comes with the least sporty feeling type of transmission there is.
Base Price: $24,995
Powertrain: 1.5-liter I4, CVT, FWD
Output: 163 hp @ 5700 rpm; 184 lb-ft @ 2500 rpm
Curb Weight: 3,135 lb
Pros: Comfortable, solid infotainment, smooth driver
Cons: Cheap interior, overwrought styling, a tad slow
The Execution
Just as Chevy says, the RS line is strictly about the appearance and doesn't change the driving experience from a different trim level. That's not to say the Malibu is failing at its purpose, though. It rides comfortably and competently down the road, soaking up bumps and generally being an easy place to ride along in. If you're looking for a sedan that will reward you with a bit of fun when you want it, then look elsewhere, maybe to the Honda Accord or Mazda 6.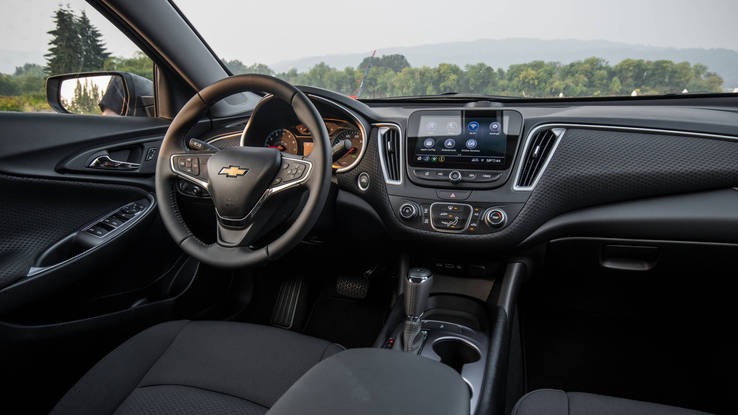 Chevy had us drive through miles of narrow, twisting roads in the Pacific Northwest, and while it's more confidence-inspiring than a similarly sized crossover, there's no doubt that it was a bit out of its element. The body rolls around haphazardly when taking corners in quick succession and dives hard under braking. There's a lack of feel through the steering wheel, but that's sort of the point of this car. It gets you where you need to go without drama or discomfort while being sufficiently insulated from the road at this price point.
Now for the elephant in the room: the CVT. Chevy decided to do what many others have done to assuage folks' annoyances with this kind of transmission -- it added "steps" to simulate a conventional auto. It feels counterintuitive, but they help a lot when you've got the throttle pinned, begging for all 163 hp and 184 lb-ft of torque. The little turbo four-pot will rev up at a slightly hurried but natural pace until about 6,000 rpm. Then it drops 500 rpm, goes back up to 6,000 and falls back 500 rpm again. This pogoing between a couple set rpm is sort of comedic to watch on the tach, but it still feels better than a constant buzz.
However, for more sedate maneuvers the transmission is pleasant. The revs will stay low and quiet when putting along but quickly pop into the boost if a little acceleration is needed. Strangely enough, the most obtrusive drivetrain sound that makes it into the cabin in normal driving conditions is a higher-pitched whistle from the turbo. Play some music at even a low volume and this noise all but goes away. Extracting power from the little four-cylinder doesn't ever feel strained, but if you desire a little more shove back into your seat, then the 2.0-liter turbo is the one to go for.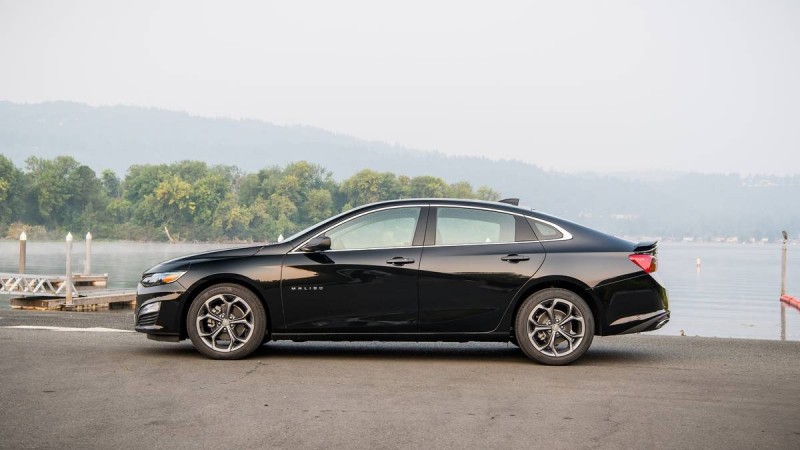 In about 70 miles of driving that a typical person would do on a commute, we achieved 34 mpg, according to the digital readout. That included a mix of mostly highway speeds, with some city driving mixed in. Not too shabby compared to the 30-mpg combined rating of the equivalent 2018 model year car, but we'll need a lot more miles to come to a definitive answer about whether the CVT is worth the mileage savings.
Chevy's stop/start function carries over with the refresh. It's still impossible to turn off, if that's a deal breaker for you. As far as these fuel-saving systems go, though, GM has a good one on the Malibu. Any vibrations or shudders from the engine cycles are nigh undetectable, which makes living with it a bit more palatable.
Something Malibu owners will enjoy is the now-standard 8-inch touchscreen with Chevy's latest infotainment system. You'll get the usual Apple CarPlay/Android Auto duo there, which is one bonus if the other option you're considering is a Camry. This newest iteration of Chevy's infotainment is truly a joy to use. Lag is nonexistent, and motions/animations feel smartphone-like. One thing the front needs is another USB slot. With only one there now, somebody is guaranteed to be left out of charging if multiple people are riding along.
As far as other new tech goes, Chevy redid the headlights and taillights. We didn't get to test at night, but Chevy says they throw more light. Because of the new headlights, the turn signals had to move to separate modules, creating that dual-light design we see up front.
The Takeaway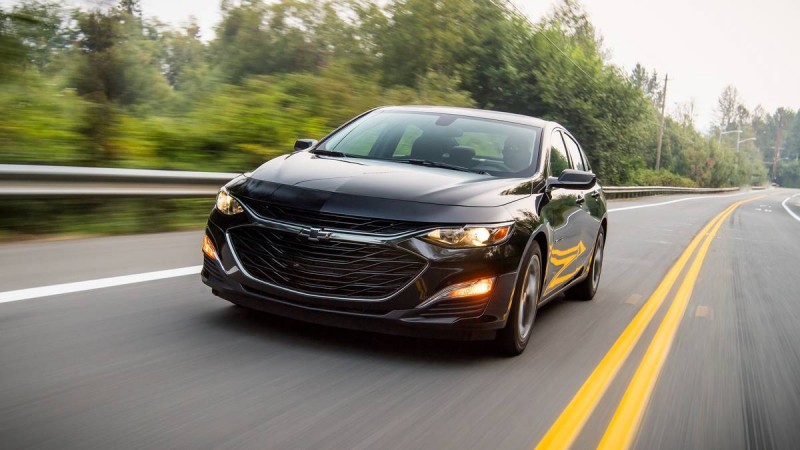 There isn't a whole lot different in this Malibu midcycle refresh. The RS trim is even relatively similar to the Redline package available for the 2018 model, although you had to go with the more expensive LT trim level to get the looks.
They're not released yet, but the expected higher EPA numbers should help draw more people who are cross-shopping into dealers. Unfortunately for Chevy, the gains it's expecting will only put them on par with the current base four-cylinder engines in the Accord and Camry. Not to mention the Accord is much more engaging to drive. However, if you're in it for a comfortable cruiser to eat up highway miles in RS style, then this 2019 Malibu is worth a look at $25,000.