How does it compare to the V-8?
Our introduction to the next-generation Ram 1500 took place earlier this year when we drove testers with the 5.7-liter V-8, purported to be the volume engine. We walked away impressed, deeming it a truck that drives like a car. In our First Test, we reported better acceleration, handling, and ride than its predecessor, which was very competent already. How does this equation change when we look at the Ram 1500 equipped with a V-6 engine and new eTorque technology?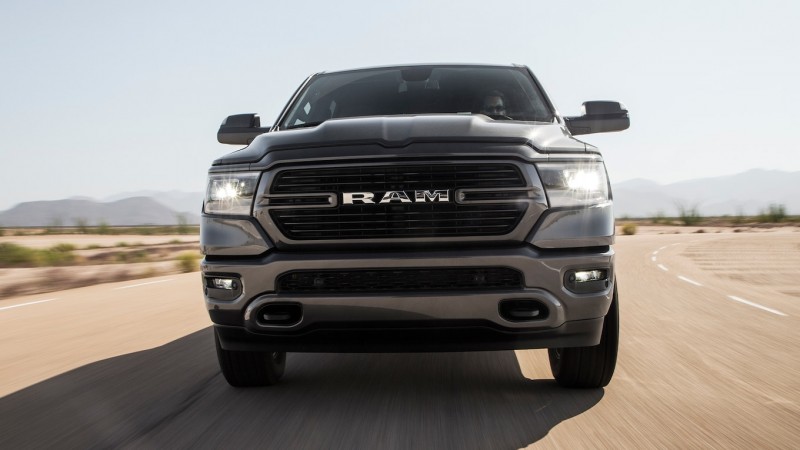 For 2019, Ram is ushering in the mild-hybrid pickup. The Ram 1500 uses a belt-driven motor generator unit in place of a traditional alternator on the engine. This unit feeds a 48-volt battery pack mounted to the rear wall inside the cabin. With this new system, drivers are supposed to experience more natural start/stop deployment and additional torque at low rpms to help out the engine. It adds a temporary 90 lb-ft of boost to all V-6 models, or 130 lb-ft to the V-8 models equipped with the technology. The mild-hybrid system also recuperates brake energy, with the intent of increasing responsiveness and fuel economy.
After a spin in the V-6 Ram, several editors said the eTorque is almost imperceptible. The start/stop system worked as promised, staying out of the way of clean acceleration. Whether we can feel it providing extra juice is another question.
As expected, the V-6 models have a clear power disadvantage compared to their V-8 counterparts. Normal output sits at 305 hp and 269 lb-ft of torque, versus 395 hp and a peak of 410 lb-ft. Those numbers make a difference on the road. A number of us had issues with the truck's power delivery, at least when driven back to back with V-8 testers with and without eTorque. It doesn't deliver power quickly enough, we lamented.
"Feels like you're driving into a headwind," Ed Loh summed it up. "Noticeably down on giddyup."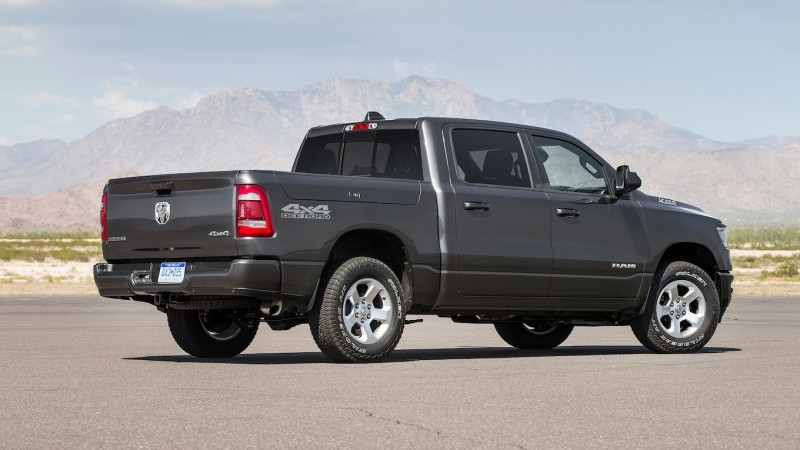 Features editor Christian Seabaugh also noted that it felt underpowered at freeway speeds. "Lots of shifting because the power is up high—I feel like if Ram invested as much as it did in eTorque, that power should be available sooner."
"You've got to rev it out to make power, and it comes alive at 4,500 rpm," noted features editor Scott Evans. "It feels weird to always be revving up the engine for a hill or a pass, but it's effective," Scott said, adding that eTorque is seamless and the truck has plenty of power overall.
But what do the numbers say? In our tests, the prudent V-6 Ram hit 60 mph in 8.5 seconds. As you may expect, that's a little slower than the Ram V-8s we've tested. Featured in a previous First Test, the 2019 Ram 1500 Laramie 4x4 Crew Cab with a V-8 and without eTorque hit the mark in 6.1 seconds. A similar Long Horn 4x4 Crew Cab V-8, also without eTorque, came in at 6.3 seconds. A top-of-the-line Limited Crew Cab 4x4 V-8, the heaviest, managed 6.5 seconds with eTorque (the latter two trucks were tested at the same time as our six-cylinder eTorque tester).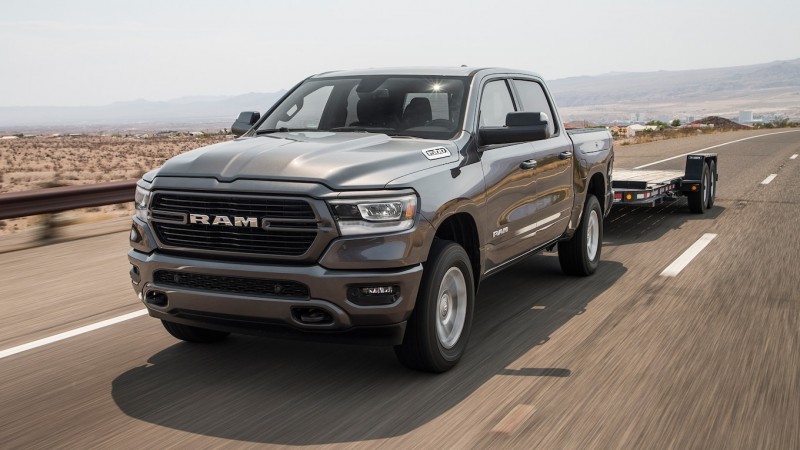 The 2019 Ram with a V-6 is also slower than a rear-drive 2013 Ram 1500 Big Horn V-6 we tested. That truck made the same exact standard horsepower and torque as the new V-6, but it managed the 0-60 run in 7.4 seconds.
Our tester came with an optional air suspension, costing $1,795 and worth every penny. Although pretty much all of the Ram 1500s we've tested minimize bumps in the road, those with the air suspension are even more poised. We weren't shy about our praise for the suspension.
"Amazing suspension for a truck, even a large car," noted road test editor Chris Walton. "The highway ride was of the 'magic carpet' variety."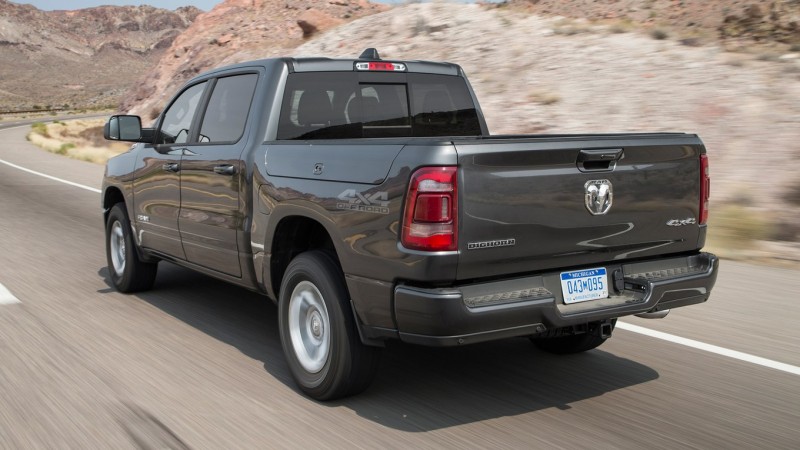 This level of refinement is particularly impressive compared to the Ram's rivals. Our tester cost $55,485, but it tackled bumps in the road with more aplomb than a more prestigious 2019 GMC Sierra Denali. Some noise seeps into the cabin, but not enough to disturb the driver or passengers.
In the quarter mile, our tester was a bit on the slower side at 16.5 seconds at 84.5 mph. It's a bit slower than the new V-8 Rams and below the 2013 model's 15.7 seconds at 88.3 mph. It was behind the game in the figure eight, with a time of 29.7 seconds at 0.54 g. Compare that to the 2019 Ram 1500 Limited with a time of 28.3 seconds at 0.60 g or the 2013 Ram at 28.6 seconds at 0.59 g.
A number of editors noted a squishy brake feel. However, the brake power comes through in a linear and predictable manner. It took a full 132 feet for the Ram to come to a stop from 60 mph, where it took the V-8 Rams between 122 and 130 feet, except for a Ram Rebel we tested, which took 135 feet. The 2013 Ram was able to stop in 123 feet.
One of the Ram's strong points is its light and maneuverable feel in the corners. This characteristic becomes even more pronounced in towing, as it feels more nimble than the V-8 models. It still takes time for the Ram to get up to speed—17.7 seconds to 60 mph, to be exact—and you can feel some vibration from the back seat while towing around 50-55 mph. But it shifts more smoothly from second to third compared to the V-8 models.
Although the eight-speed feels abrupt sometimes, the rotary shifter makes it easy switching between Park, Reverse, Drive, and Neutral. It moves between the gears more easily than the traditional steering wheel shifter seen on the Chevrolet Silverado and GMC Sierras. In general, Ram has designed an interior that is more functional and premium than its rivals.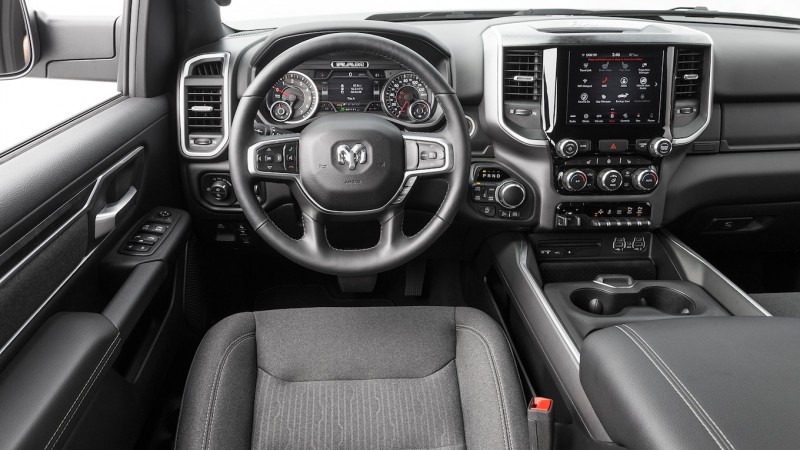 The Rams come with a useful center console box that offers 12 different storage combinations. The cupholder area slides fore and aft, and there's plenty of room below for purses, small backpacks, or a laptop. Premium materials cover the cabin, from the leather and metallic accents on the dashboard and even the cloth seats. No surface was neglected.
"The cloth seats have a premium look and are more than the average cloth seats that you usually find in a truck," said Motor Trend en Espa ol managing editor Miguel Cortina. Loh even likened the cloth interior to the Range Rover Velar.
The 8.4-inch touchscreen can be figured out pretty easily. There's a slight delay once you press on a button, however, unlike the infotainment system on GM's new Silverado and Sierra. Editors praised the clear picture provided by the rearview camera.
Unfortunately, the V-6 isn't a top performer in fuel economy. Our EQUA Real MPG results came in at 15.4/19.7 mpg city/highway. That's not much different from the V-8 Long Horn 4x4 Crew Cab we tested (14.7/21.6 mpg). Meanwhile, the eTorque V-8 Limited nets 18.7/22.6 mpg. EPA ratings for our test trucks include 19/24 mpg for the four-wheel-drive V-6, 15/21 mpg for the Long Horn truck with a V-8 and four-wheel drive, and 17/22 mpg for the Limited tester with V-8, four-wheel drive, and the eTorque system.
Our tester has the same basic formula that makes the Ram 1500 such a competent truck: a confident ride, ergonomic and attractive interior, and value for the money. That said, the V-6 gives this truck a different flavor than its larger-displacement counterparts. However, the V-8 may be the more alluring variant, since it accelerates well without a fuel economy penalty.
The 2019 Ram 1500 V-6 eTorque, Limited V-8 eTorque, and Long Horn V-8 were tested in extreme-heat conditions and performance was adversely affected. We will attempt to retest and update these results at a later date.