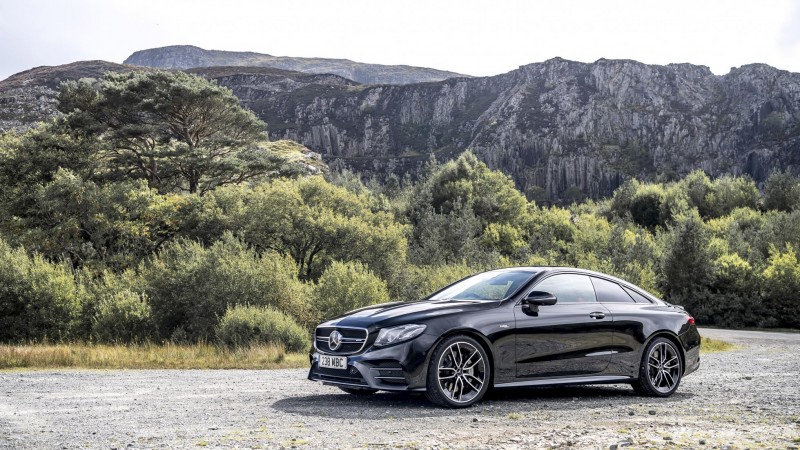 Hold your horses. This isn't a two-door version of the bewilderingly brilliant Merc-AMG E63 saloon and estate. It's an E53, and there's lots to explain.
Not least that this new badge's arrival kills off the very endearing old E43, one of the first examples of AMG's gentler, more cosseting line of sub-V8s designed to take on Audi's S models. While that car was never made in coupe form, all sub-63 AMG E-Classes now come as an E53, not E43. That means a saloon, estate and cabrio, too.
The fifty-three has the same remit as the forty-three, but it goes about its business quite differently. The E43's 396bhp 3.0-litre V6 is gone, replaced by a 429bhp 3.0-litre straight-six. Which is also supplemented by some electrification, an electrified 'EQ Boost' system able to add another 20bhp and, more notably, 184lb ft. Which is a near 50 per cent boost in torque compared to petrol power alone.
So it's a hybrid?
Kinda. This isn't a car you plug in, though, and nor is it one that'll glide silently through town to appease your conscience. The electric boost is far more subtle than that, working away in the background to smooth out start/stop scenarios and allow the engine to coast on the motorway.
You'll rarely twig any of this going on; little dashboard displays showing when the batteries are being charged or depleted are about your best clue as to the science taking place beneath you. Cover up the exterior badge and those gauges and I mightn't have even noticed I was in a car with a rather different powertrain to the E43.

Come on, it's an AMG. Does some electrification make it faster?
A bit. It steals a couple of tenths of a second on the old E43, completing 0-62mph in 4.5secs, albeit on its way to the same 155mph limiter.
That subtle jump on the spec sheet disguises more tangible improvements when you're actually driving the E53; Merc claims the EQ Boost stuff eliminates turbo lag, and it certainly sharpens throttle response and allows this to feel pretty alert for a near two-tonne car. On an open stretch of road it's flipping brisk, and the engine sounds fairly magnificent, too, with a faint whiff of 1990s BMW to its hard-edged howl.
Mind, the gearbox does its best to get in the way. The mild hybridisation beneath you might mean little turbo lag, but the nine-speed automatic does its best imitation by occasionally dithering about which gear to put you in. Far better to put it in manual mode and use the paddles yourself, albeit with the usual clichéd reference to the RSI you'll suffer from all the upchanges required when accelerating out of a roundabout.
How's the rest of it?
It's great, in the same way the E43 was. All-wheel drive comes as standard – no RWD option, nor E63-style Drift Mode – but it's a pleasingly rear-biased system and it feels marvellously set up. It's not an AMG to shred tyres in, but there's a nice balance to it, and you can feel the rear axle influence your cornering line even with all the electronic nannies left firmly in place.
It's more fun and interactive than an equivalent Audi S car (mind, there's no direct, two-door drival), despite the fact it's clearly aiming for the same demographic. This is proof an all-weather coupe can be safe and a little bit sporty, though for full drama you'll still need an E63 four-door.

How's the rest of the E-Class coupe?
Pretty lovely. It's big inside, with plenty room for four adults, a boot that'll swallow all of their things, and the old Merc coupe trick of being able to drop all four windows and have two huge apertures unencumbered by pillars for a faux-convertible experience.
There's far too much tech on board to bore you with a list, but Merc's on top of its game with interiors at the moment, and the mixture of huge widescreens and steering wheel touchpads make navigating its various systems a relative doddle. Some light self-driving tech is just a button push away, too; activate the cruise control with a single prod and the car will accelerate, brake and gently steer itself on a motorway cruise, so long as your hands remain on the wheel.
That's nowt new, though…
Of course not, but Merc's execution is among the best, not least because it doesn't let you have more than a few seconds with your hands off the wheel. We're very much in favour of these systems being drip-fed while they're still in their infancy.
Add perfume-infused air con and some trick ambient lighting and you have a car that'll swallow long distances without a care, the experience far quieter and smoother than if this were an E63.
And cheaper, too. We averaged 30mpg, which is tantalisingly close to its claimed 32.5mpg, and impressive given we kept it in Comfort mode rather than Eco, inhibiting its tendency to coast the engine and utilise its wave of electrical assistance. Because when you're spending upwards of £65,000 on a posh coupe, chasing those extra few mpg is probably less of an issue anyway, isn't it?

Overall, then?
We still crave a proper E63 AMG coupe. But the fastest E-Class coupe yet is still a hugely desirable car in its own terms; fun on a decent bit of road, astonishingly quiet and civilised everywhere else, and heaving with tech. Even if we're a little hard pushed to work out what this car offers that a two-door iteration of the excellent old E43 wouldn't have.