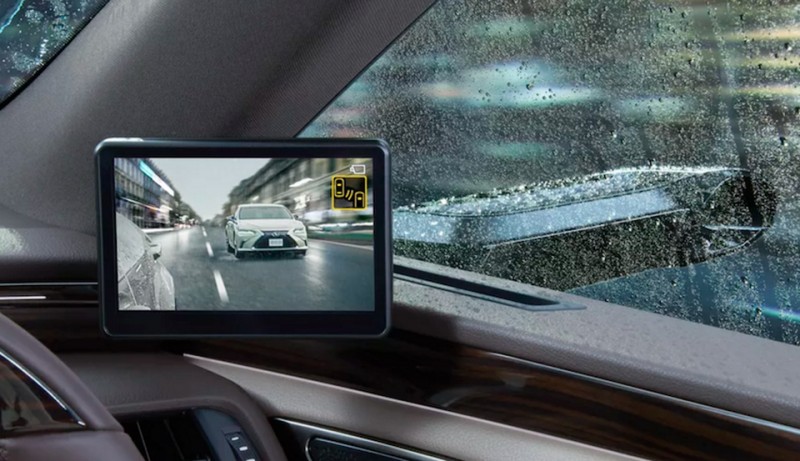 The digital side-view monitors are located around chest height at the bottom of the A-pillar.
Most new cars today have rear-view monitors. Many others have around-view monitors which allow drivers to see their vehicle in a digitally-generated aerial 3D view that helps when parking. Meanwhile, other models offer front-mounted cameras that point left and right allowing drivers to see around blind corners. Up until now, however, all of these images have been displayed on a centrally-located dashboard-mounted monitor that doubles as a sat-nav unit.
Get ready for the next revolution in driver aids. Being touted as world-first technology, digital side-view monitors will replace conventional door mirrors on the new Lexus ES. And this is just the beginning.
High-definition cameras mounted on stalks that protrude from the doors like traditional door mirrors capture traffic approaching from behind and project what they see on two 5-inch, iPhone-sized LCD screens located at the bottom of the A-pillars.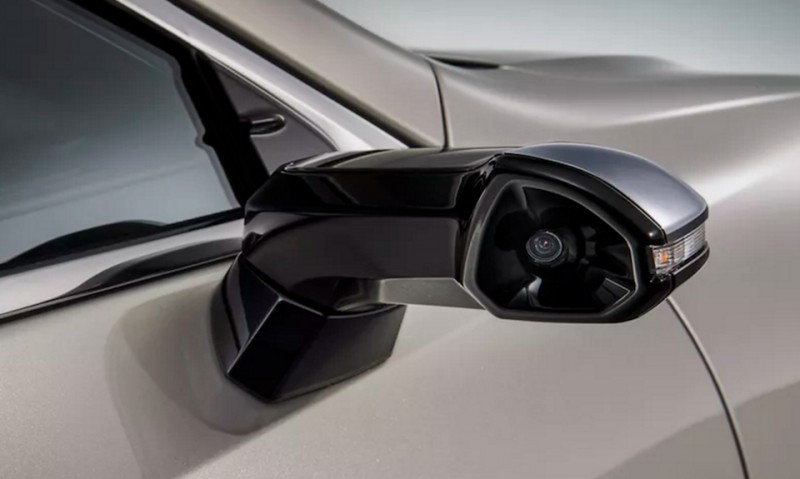 High-definition cameras mounted on stalks like traditional door mirrors capture traffic approaching from behind and project what they see on two 5-inch LCD screens.
Concept cars at motor shows have featured this technology since the 1980s. However, cost concerns and regulatory red-tape have restricted the commercial application of side-view monitors. That red-tape is lifting, slowly, in some countries like Japan and parts of Europe. For the present at least, this digital camera technology will be exclusive to Japan which passed a law allowing cameras to replace door mirrors in 2016. Even though the Lexus ES just went on sale in the U.S., it will employ traditional side-door mirrors as the digital variety are still not legal on American roads.
Many motorists will be asking whether such digitalization is necessary for the humble door mirror. But manufacturers like Lexus, and Audi who have just launched similar camera technology on their new E-Tron electric crossover, are adamant that this is the way of the future. In fact, there may be a minor dispute brewing as to which manufacturer actually brought this technology to the mass market first. Although according to Lexus they will beat Audi by a couple of months.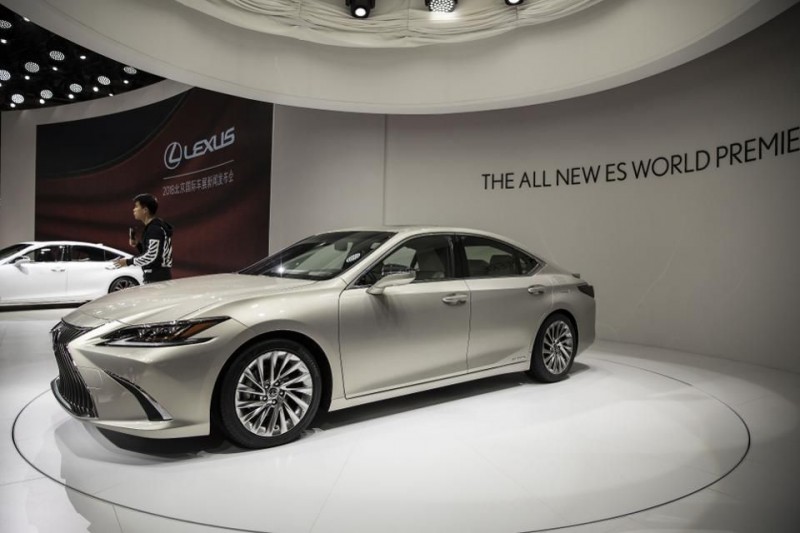 The ES goes on sale in the U.S. in October with conventional door mirrors.
One reason carmakers are promoting side-view cameras and dash monitors is to improve aerodynamics. Replacing conventional door mirrors with sleeker and thinner design creates less drag, permitting better fuel economy. Other benefits include the ability of cameras to stop raindrops and snow from forming on mirrors.
Lexus also points out that using cameras will create less wind noise, a factor that will complement quiet running electric cars. According to Lexus, using cameras and in-car monitors also improves rear vision in any weather including rain and snow. Toyota's luxury brand boasts this technology increases forward side visibility while at the same time reducing the size of a blind spot caused by traditional side-view mirrors.
To further enhance the safety aspect, a blind-spot-warning icon alerts the driver of approaching traffic. Drivers can also manually adjust the settings based on their comfort. To cater for night driving, the camera incorporates image enhancement to brighten the screen and give drivers a clearer image than standard glass mirrors in the dark.
Playing the devil's advocate, there is one question begging to be asked. What happens if the cameras malfunction? How will drivers be able to see what's behind them? While manufacturers say that this technology has been developed not to malfunction and to work in any weather conditions, lengthy real-world testing seems necessary to answer that question.