Porsche Panamera Turbo S E-Hybrid Sport Turismo: Complex Name For A 680 Horsepower Super-Sportwagen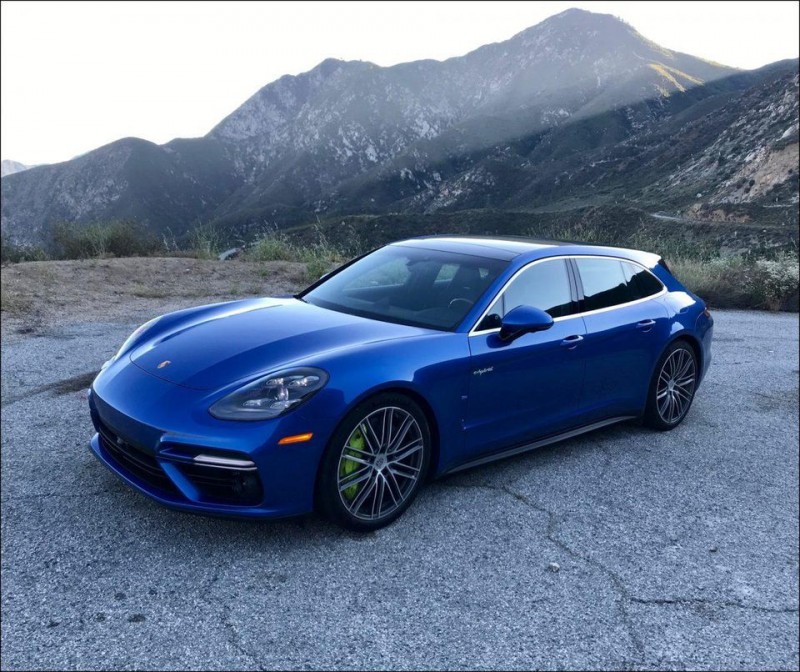 Porsche's 680HP Panamera Turbo S E-Hybrid Sport Turismo can match a one-ton lighter Porsche 911 GT3 from standstill to 60 mph. A unique interpretation of Sportwagen and Gentleman's Express.
Two measurables justify the significant jump in price from a 550-horsepower Panamera Turbo to the 680-horsepower Turbo S E-Hybrid Sport Turismo. Gasoline twin-turbo V8 and electric motor seamlessly, undetectably blend to deliver maximum torque of 626 lb. ft. from 1400 to 6000 rpm, a miracle of scripting and mechanical engineering. Second, all that torque feeding through an 8-speed dual-clutch gearbox and all-wheel drive governed with Porsche Launch Control ensures this two-and-a-half ton, plush, roomy Grosser Sportwagen can rub shoulders and wheel hubs with a one-ton lighter Porsche 911 GT3 from standstill to 60 mph, the job complete in 3.2 seconds. Here we have redefinition of Sportwagen, redefinition of Gentleman's Express, a performing artist that elaborates Porsche's sporting character. It meets my most important measurable: a unique experience.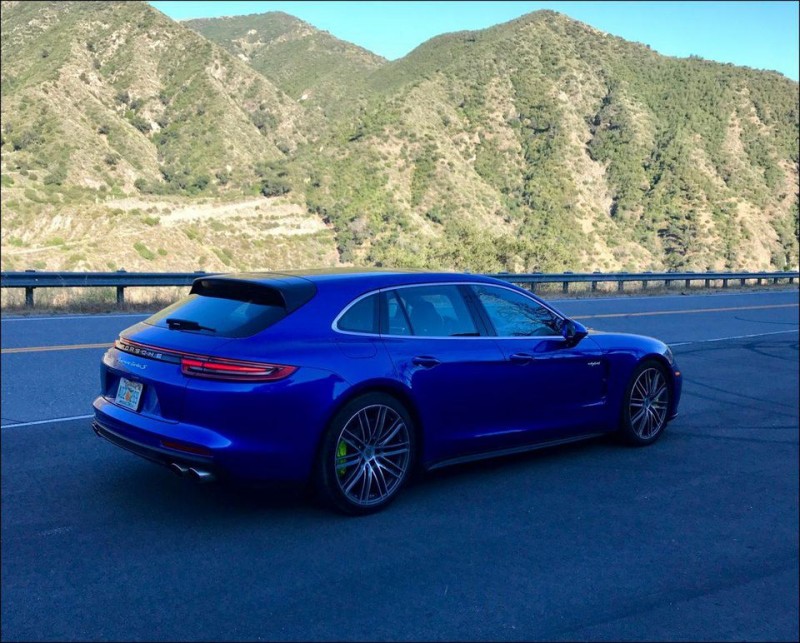 No matter how one toys with the throttle, there is no seam between electric power and gas engine to be found.
The Turismo Turbo Hybrid's (abbreviation of the model name for the sake of…brevity) highway roll-on acceleration impresses equally. One can stealthily glide through traffic with less conspicuous speed differentials, the powertrain not required to drop down gears, the V8 burbling. Squeeze down hard on the throttle or better still use the push-to-pass button on the steering wheel that jumps the gearbox straight to the optimal gear and throttle position for maximum thrust and the disrupted air of this Grosser Sportwagen's wake will rattle the side glass of lesser cars.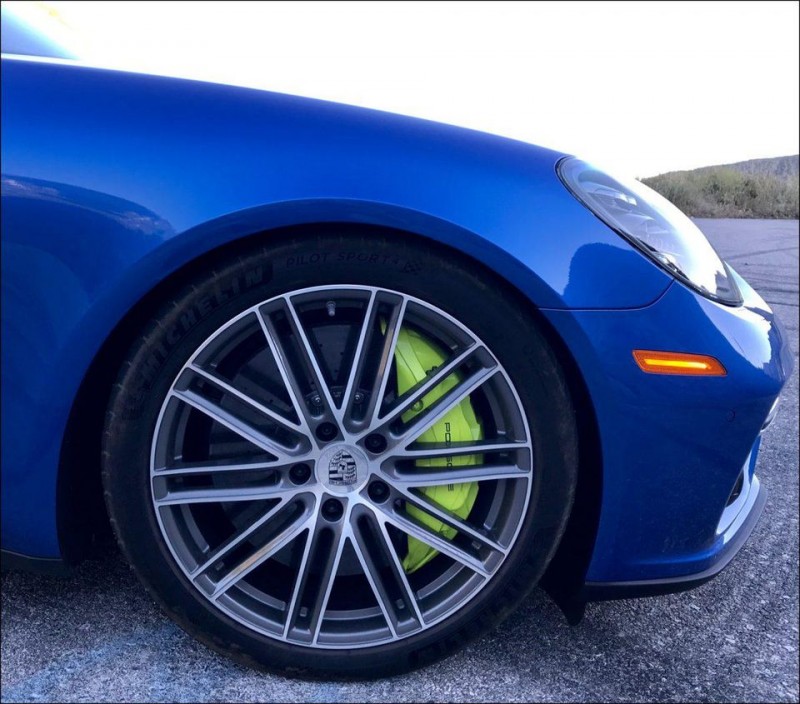 Ceramic brakes measure 16.653-in. front and 16.14-in. rear. Front calipers have 10—yes, you read that as 10—pistons that apply even pressure across the disc's broad clamping surface. In Sport +, pneumatic suspension drops fully, a fender/tire gap of maybe two fingers.
Gasoline V8 shut off, Turismo Turbo Hybrid has a quiet, contemplative nature. E-Mode electric drive takes twice as long to reach 60 mph, just over six seconds, which is enough to dust off plebeian CUVs, though clearly no counter for ludicrous Teslas. E-Mode has the sensibility of Star Trek impulse drive, easily moving the car in boulevard traffic, tires and electric motor whispering. With light throttle in E-Mode, Turismo Turbo Hybrid has range up to 31 miles (50 km). Porsche's battery-electric Taycan will be the highest expression of this evolving strand of Porsche DNA.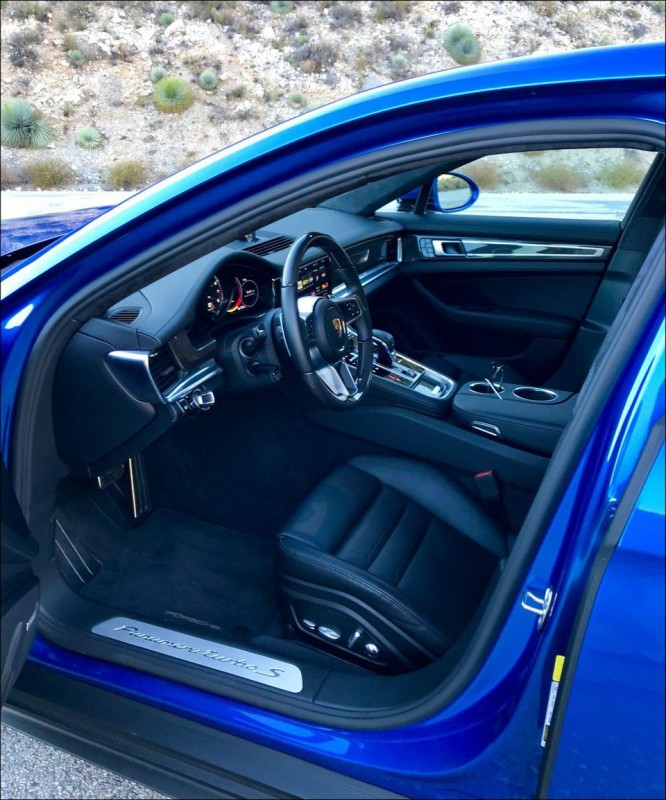 Panamera has classical German sports car seats. Headliner and roof pillars are wrapped in Alcantara to reduce glare and mask the considerable size.
E-Mode combined with Porsche's low-speed semi-autonomous Traffic Jam system of sensors, cameras and throttle/brake/steering interventions offers peaceful transit in the moving mass of traffic on the 110 South into downtown Los Angeles. Turismo Turbo Hybrid can cruise under electric impulse power at speeds over 80 mph for short periods of time, draining the battery rapidly. Press too deeply on the throttle and the twin-turbo V8 crisply cycles into play—Ah, we re-engage Porsche Interstellar Warp Drive, capable of smearing starlight across the heavens.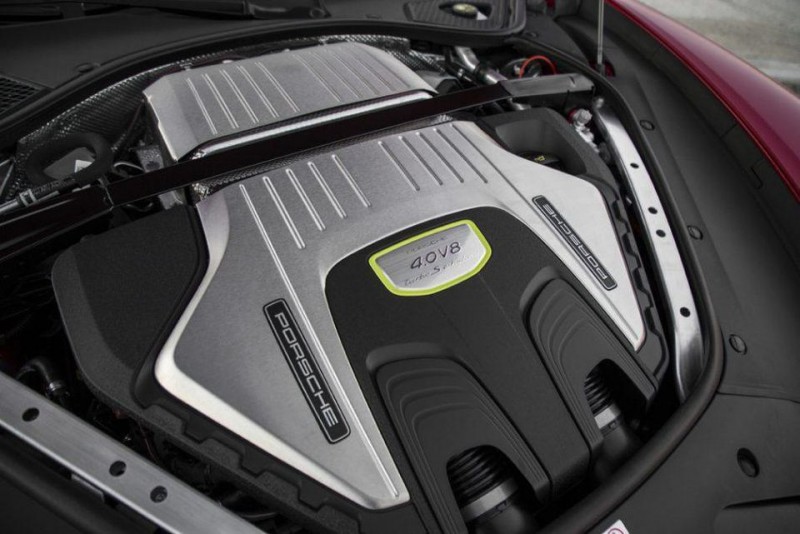 680 horsepower from 5,750 to 6,000 rpm and 626 lb-ft. of torque between 1,400 and 6,000 rpm. A 4-liter V8 following current German practice with turbos in the Vee for a tidy package between suspension pickup points. Electric motor sits between engine and gearbox, providing "torque fill."
Three cubic feet of liquid-cooled lithium-ion battery along with cabling and electric motor add 640 pounds, though the battery over the rear axle functions as ballast, tilting Turismo Turbo Hybrid into nearly ideal front/rear weight distribution of 49.5/50.5, which proves helpful when attacking mountain corners. Contradicting logical conclusions for such a hefty vehicle, Turismo Turbo Hybrid possesses the cornering purity one expects from any Porsche.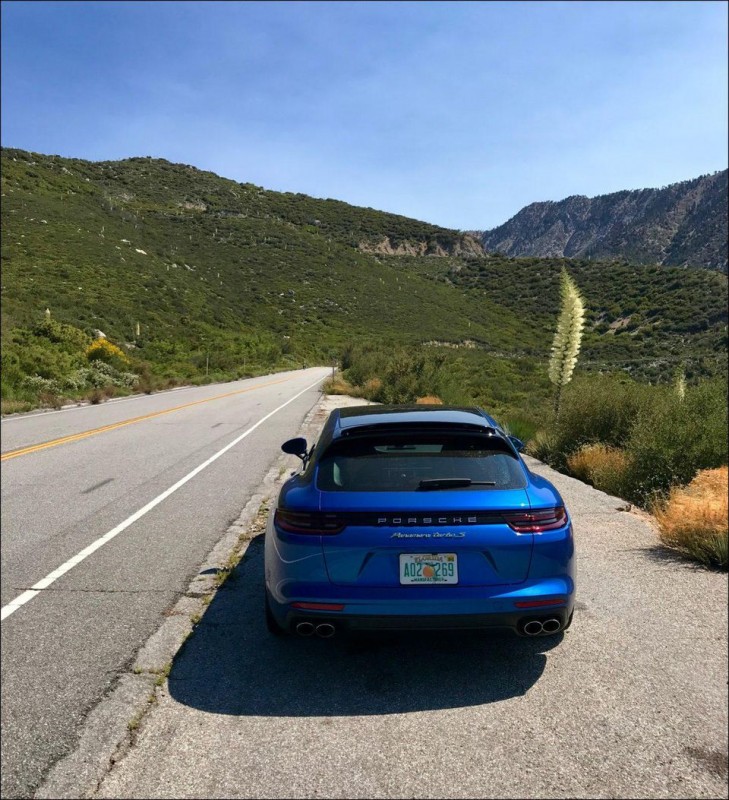 Turismo Turbo Hybrid effortlessly controlled its standard 21-inch wheels while delivering a ride bordering on plush. Rear wheels are 11.5-in wide, wearing 325/30 Michelins. They look extraordinary, straight off a supercar.
In the words of a neighbor, an engineer with multiple patents in materials science who came along for a demonstration ride, Turismo Turbo Hybrid is "Absolutely planted." With his next breath, he marveled at the dimensions of the wheels and tires, all so perfectly damped and controlled, concluding, "Very smooth ride. Must all be computerized." Panamera introduced 4D Chassis Control to the Porsche Lexicon of Jargon. It's a super-brain that knits together data from all the subsystem black boxes related to suspension, steering, rear-steering, individual wheel speeds, throttle and stability control. When I first experienced Panamera Turbo two years ago at its Tech Briefing with engineers, the car demonstrated supreme competence around a race track, arcing smoothly through the big bends just as well as bullying around the dragon's teeth of tight corners. Big, wide, stable platform.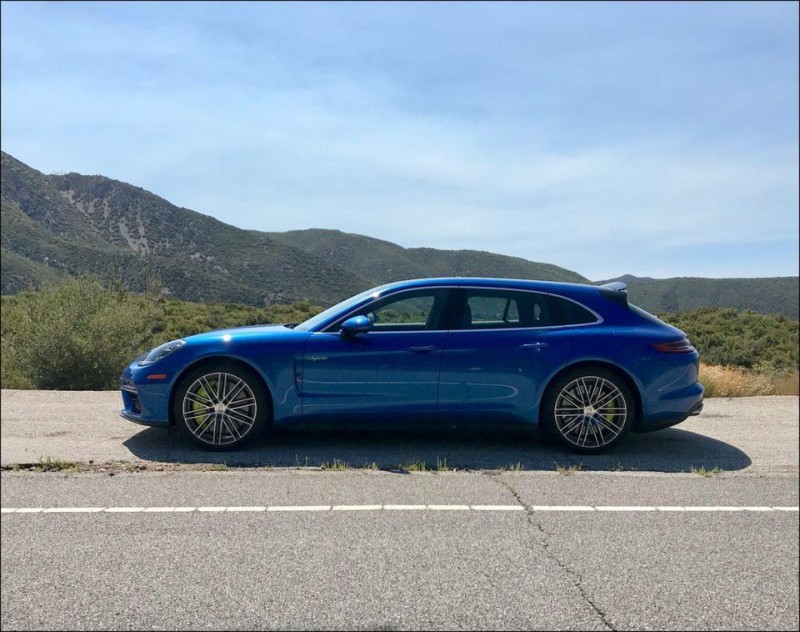 Sport Turismo roofline affords tall, squared-up doorframes that allow tall person to gracefully tumble backward into a rear seat.
But in the end, the central theme of Turismo Turbo Hybrid is easy, affirmative acceleration that is back-snapping brutal when Mr. Sulu engages Launch Control at the helm: BANG! Sprinting off the line, this heavyweight seems to defy physics.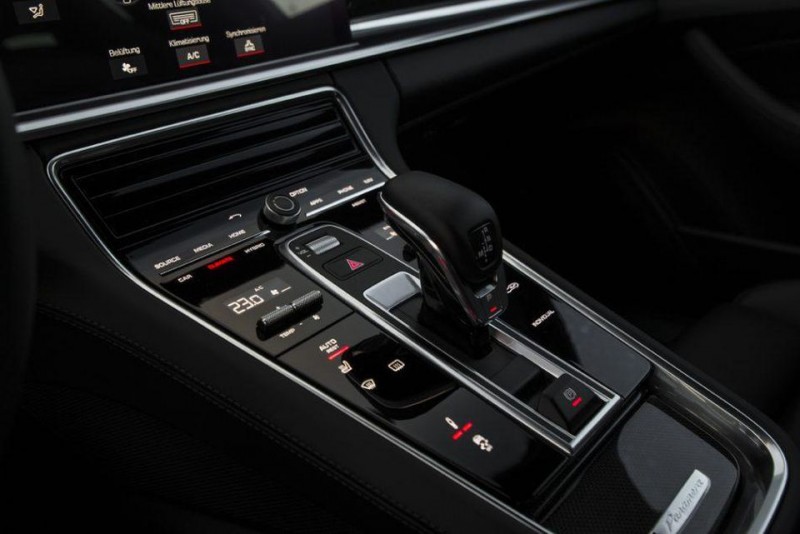 Shortcuts to on-screen functions are touch-sensitive points at leading edge of center console. Rectangular control panels in the center console sit on gimbals, each corner activating a function. Haptic feedback is excellent.
Highly profitable, Porsche is far removed from its make-or-break days of the 996 and first Boxster 20 years ago, when funding two all-new ground-up cars meant skimping on interior materials. Contemporary Porsche interior are sorted, the very best human factors combined with clean, deliberate forms finished in the high-quality materials of a top-spec German luxury car. Porsche interior principles are applied across all models—strong, simple forms that speak to deliberate performance and not luxury. It's a Porsche, not a BMW or Mercedes where artfulness is more pronounced. Time spent in an Anglo-German Rolls Phantom VIII encourages daydreams about its front seats placed on casters in the library, a perfect spot for a day's end tumbler of scotch, ultimate luxury. Panamera has classical German sports car seats drawn from the well of more than 60 years of sports car racing: pronounced bolsters, ample under-thigh support to keep hips and lower spine well anchored, a comfortable place for driving quickly in long stints.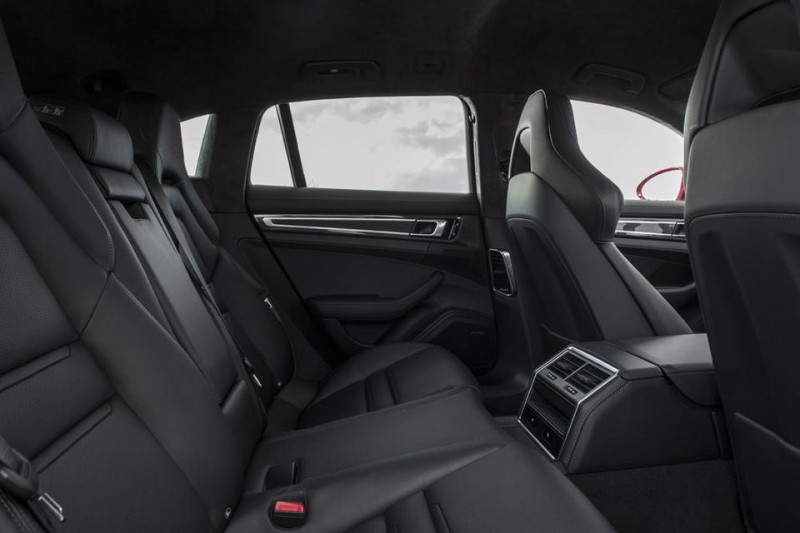 Turismo Turbo Hybrid has the mid-range 14-speaker Bose audio as standard, with 14 amplifier channels and a total output of 710 watts. The Burmester 1455-watt 20-speaker system is available. I've experienced the Burmester, an outstanding factory system.
Panamera's exceptional communications system is centerpiece and remains one of my favorites for its clarity of thought. Driven by a powerful chip, the 12.3-in central screen is free of blaring graphics one finds in mainstream cars. Turismo Turbo Hybrid's screen has a depthless black background with crisp, large type. Widget "tiles" can be flicked across the screen to remove preset stations and channels. One can drill through intuitive menus onscreen, or use the touch-sensitive shortcuts at the top of the center console. The black center console includes two big toggling plates related to heating and cooling; they're mounted on a gimbal, each corner offering a form of control, with informative haptics. Within a week, it all becomes second- nature. Front and center is a thumb scroll that can rapidly raise or lower volume.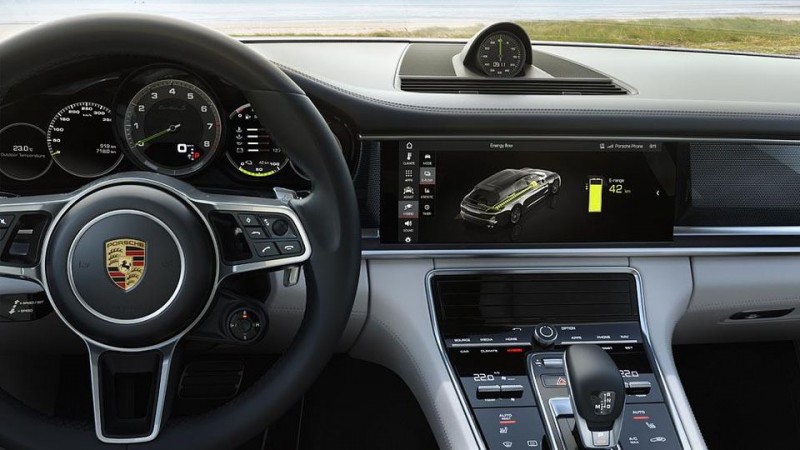 12.3-in. central screen and touch-sensitive controls rate among the best in the industry.
A friend who regularly tours the western U.S. with his beloved in another Swabian product, a V8 Mercedes S-class convertible, concluded this Grosser Porsche is so plush in the Sport setting that it can serve with style as a long-distance touring car. Hard not to love a 5126-lb. 4-door that can match a Lamborghini Huracán or Porsche GT3 for sheer acceleration off the line yet can cruise placidly for hours on rural highways stretching from California to Montana and Canada. Panamera Turbo S E-Hybrid Sport Turismo is a pinnacle achievement.