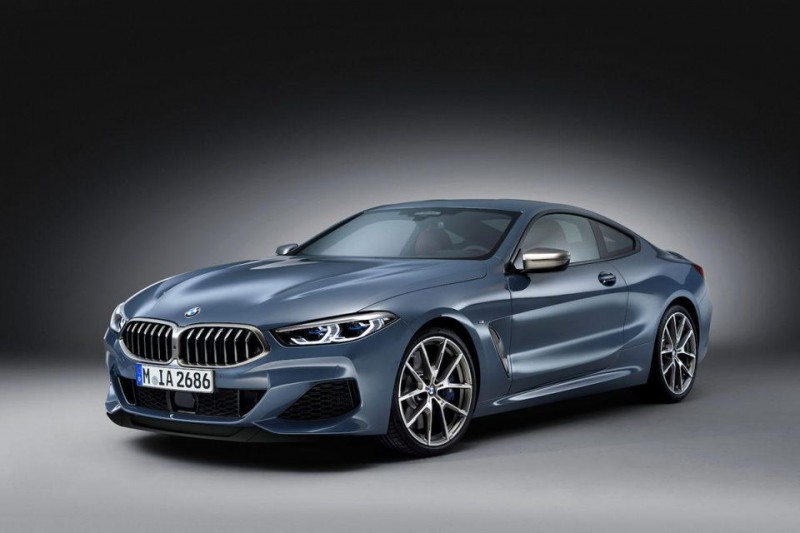 The all-new 2019 BMW 8 Series Coupe goes on sale this fall.
When it returns this fall after a two-decade hiatus, the BMW 8 Series Coupe will run on nearly twice as much horsepower than when its last incarnation ruled the road.
The first-generation 8 Series was discontinued in 1999 after a 10-year run as the brand's flagship coupe. This year's re-launch comes as part of what BMW terms its "luxury segment model offensive." BMW ceded the global sales crown to Mercedes-Benz in 2016 and hopes the return of the 8 Series will help recapture it.
The all-new 2019 BMW 8 Series Coupe will look similar to what the brand revealed in concept form at Italy's Concorso d'Eleganza Villa d'Este last spring: a full-size coupe with crisp lines, clean surfaces, and a sculpted silhouette. The production model gets a low-slung body with a long wheelbase and wide track, an elongated silhouette, a muscular shoulder line, and a "double-bubble"-contoured roofline. Trapezoidal-contoured twin exhaust tailpipes, L-shaped taillights, and slender LED rear light clusters anchor the styling.
The car will launch as the 523-horsepower BMW M850i xDrive, an all-wheel drive, twin-turbo V8-equipped model that reaches 0 to 60 mph in 3.6 seconds and an electronically-limited top speed of 155 mph.
The 8 Series Coupe will replace BMW's outgoing 6 Series Coupe as the brand's flagship model. As with the retired BMW Z8 and current BMW i8 hybrid sports car, the "8" moniker "is reserved for exceptionally sporty cars that stir the emotions," according to the company.
Pricing for the six-figure coupe will be announced when it goes on sale this fall.