Here's a quick look at 15 of the most significant new cars headed to dealerships, with images for each of them featured in the accompanying slideshow. We'll take a look at the hottest new SUVs and trucks for 2019 in a separate post.
Aston Martin DBS Superleggera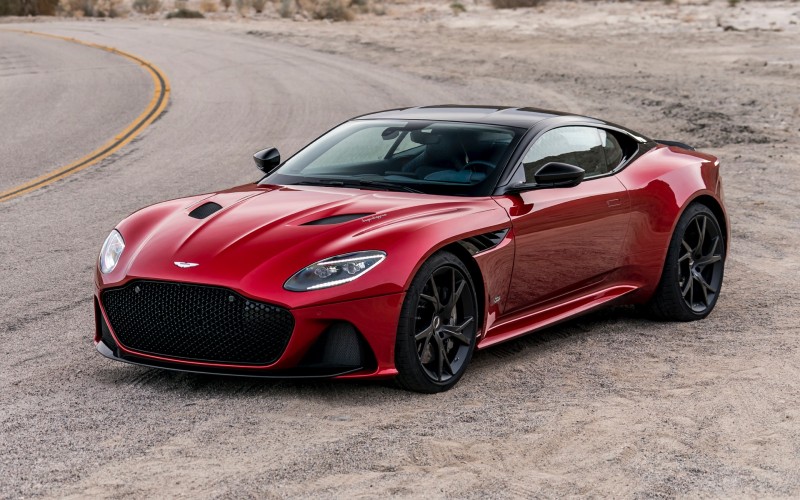 Aston Martin brings back – and combines – two famed nameplates from its storied history for its new flagship coupe, the DBS Superleggera. Gorgeously styled with fluidly flowing body work crafted from carbon fiber, it's 2+2 interior is equally appealing, with front-seat occupants treated to sport seats upholstered in supple "aromatic" leather and Alcantara. A 5.2-liter twin-turbocharged V12 engine generates a mighty 715 horsepower and, assisted by a performance-enhanced eight-speed automatic transmission, can launch the car to 62 mph in a sudden 3.4 seconds and hit a terrifying top speed of 211 mph. Riding on 21-inch rims and Pirelli P-Zero performance tires, and with assorted performance-enhancing systems at hand, the car is engineered to hug the corners as tightly as a toddler with a teddy bear.
Audi A8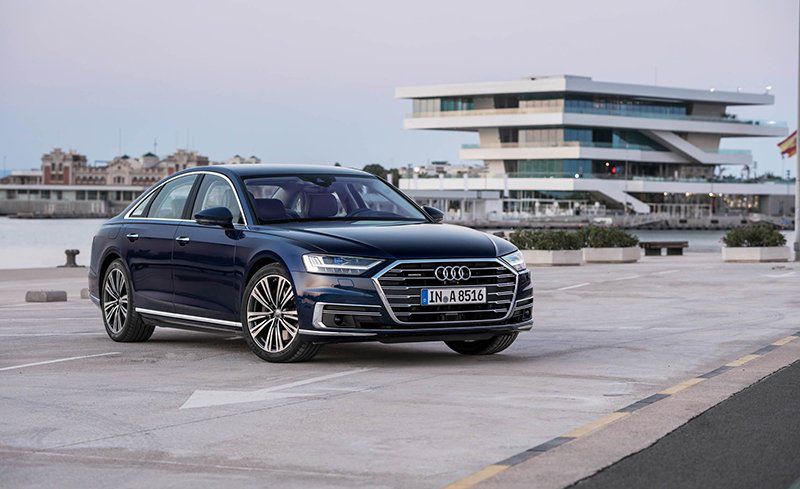 A fourth-generation version of Audi's flagship sedan debuts for 2019 with a fresh design language. A spacious leather and wood trimmed interior coddles its occupants in comfort, and features Audi's configurable Virtual Cockpit instrumentation, with dual touchscreens with haptic feedback for the infotainment system. Opulent options include heated center console and arm rests, a dual-tablet rear entertainment system, and executive-class rear seats that recline, massage, and feature adjustable head- and footrests. It comes powered by a 3.0-liter turbocharged V6 engine with 48-volt "mild hybrid" technology, and rides on an active suspension for improved vehicle dynamics. A new frontal auto-braking safety system can help prevent against crashes with cross-traffic at intersections. The new A8 can even be pulled into and out of a garage or tight parking space remotely.
Bentley Continental GT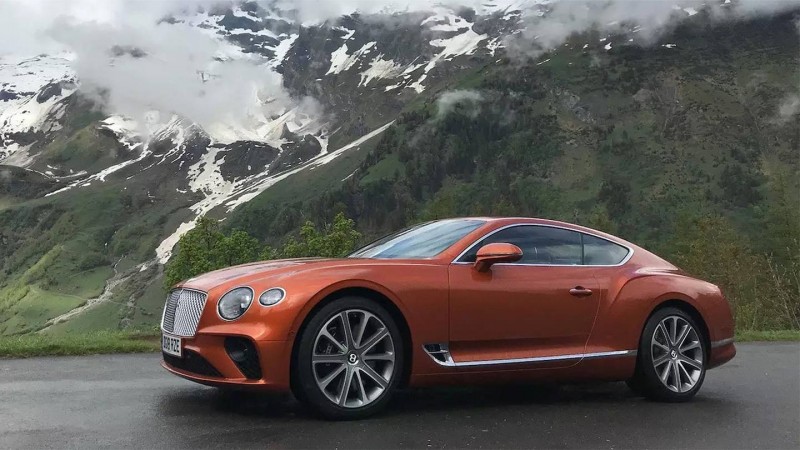 The third generation of Bentley's sporty and stately Continental GT coupe bows for 2019, and continues its familiar long-hooded appearance, albeit with added refinement nose to tail. A 6.0-liter W12 engine (it's like a pair of conjoined V6s) pushes the GT's hefty curb weight along at a rapid clip (0-60 mph in 3.6 seconds) with 626 horsepower and a forceful 664 pound-feet of torque; top speed is a warp-nine 207 mph. An electronically controlled suspension balances ride comfort and energetic handling abilities via selectable driving modes. As one would expect, the four-seat coupe's interior is up to Bentley's over-the-top standards and is upholstered in rich leather and trimmed in wood and piano black finishes. Also, as one would expect, the list of standard features is exhaustive with almost limitless customization available.
BMW M850i xDrive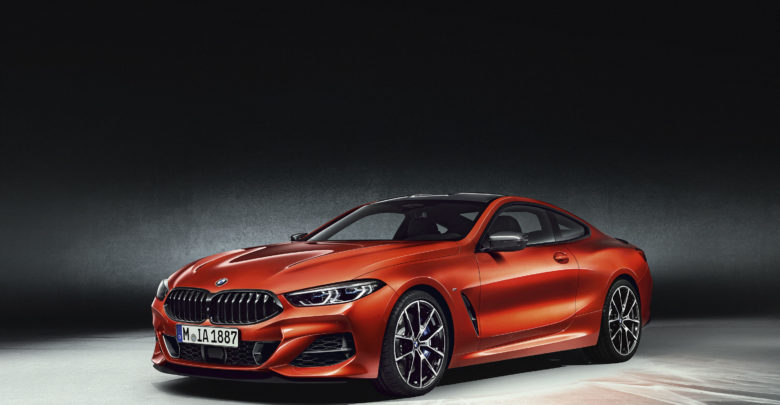 BMW brings back the 8 Series coupe after a 20-year hiatus as an appropriately long, wide, and low slung ride, with what BMW calls "double bubble" contouring. Headlamps incorporate both LED and laser light technology and are said to bethe slimmest used in any BMW to date. An optional carbon-fiber-reinforced plastic roof reduces the coupe's curb weight and lowers its center of gravity for a notch better handling. Inside, sport seats are trimmed in Merino Individual leather with contrast stitching. The M850i xDrive packs a punch with a twin-turbocharged 4.4-liter 530-horsepower V8 engine; mated to an eight-speed automatic transmission, it can leap to 60 mph in just 3.6 seconds. All-wheel-drive and a self-parking function come standard, with an adaptive racing-inspired suspension among its many performance-minded options.
Chevrolet Corvette ZR1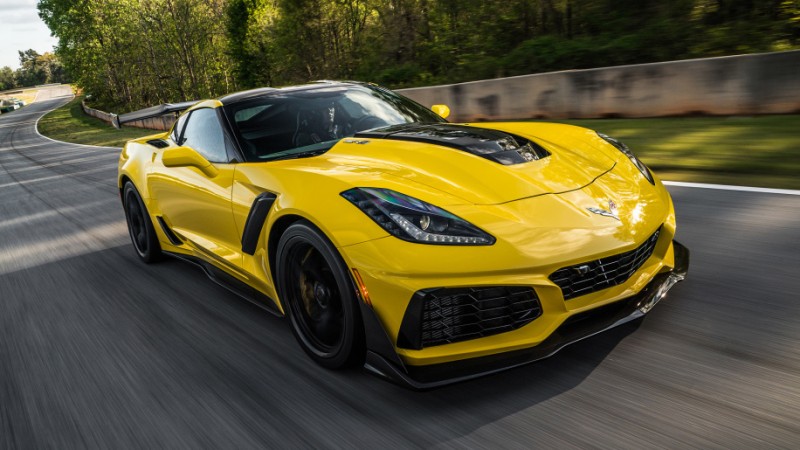 As automotive enthusiasts wait for a coming mid-engine Corvette, Chevrolet brings back the rip-roaring ZR1 as a bona fide Ferrari fighter. Coming in both coupe (with a removable roof panel) and convertible variants, it's the fastest 'Vette ever, thanks to a new dual fuel-injected supercharged 6.2-liter V8 engine that channels a speedy 755 horsepower to the rear wheels via either a seven-speed manual or eight-speed automatic transmission. A model-specific front fascia channels copious amounts of air for propulsion-system and drivetrain cooling. A carbon-fiber "halo" hood is open in the middle to accommodate the supercharger/intercooler assembly. An optional ZTK Track Performance Package includes an adjustable high-wing spoiler for added downforce, a front splitter with carbon-fiber end caps, Michelin summer performance tires, and specific chassis and Magnetic Ride Control system tuning. It's packed with features and starts at around $120,000
Genesis G70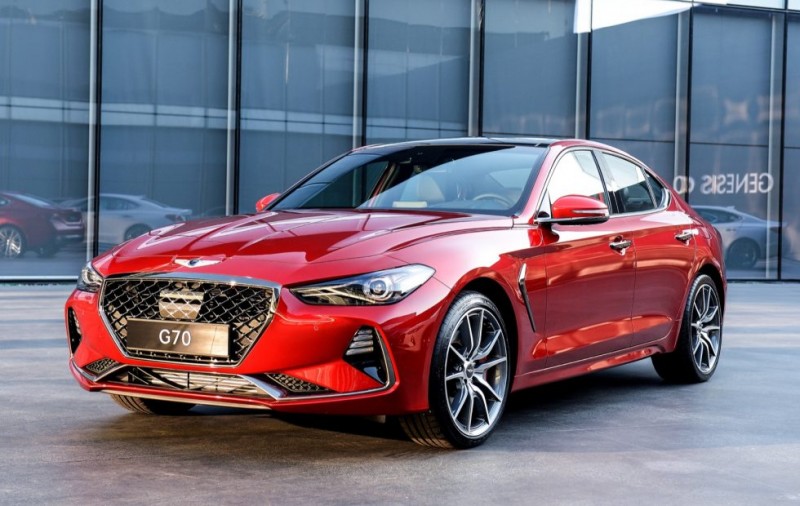 Hyundai's luxury division debuts this BMW 3 Series-esq rear-drive compact sedan for 2019 with assertive styling. A 2.0-liter with 252 horsepower is standard with a turbocharged 365-horsepower V6 available. An eight-speed automatic transmission with launch control comes standard, though the base rear-drive 2.0-liter model can instead be fitted with a six-speed manual gearbox; all-wheel-drive is optional. A multi-link suspension at the front and rear along with a torque vectoring systemafford entertaining handling, with multiple drive modes at hand to fine-tune powertrain response, steering feel, all-wheel drive torque distribution, suspension firmness, and even the engine's sound. Standard features include a full rack of accident avoidance systems.
Honda Insight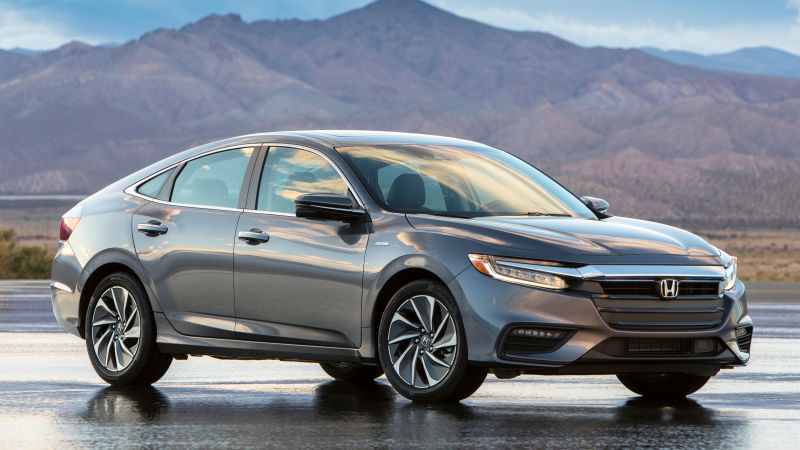 Honda brings back the Insight name, and this time around it's a midsize four-door hybrid that's capable of a penny-pinching 55 mpg around town. With a dynamic front end treatment and coupe-like profile it sports a decidedly forceful look. Power comes from an electric-assisted 1.5-liter four-cylinder gasoline engine with the equivalent of 151 horsepower and a lively 197 pound-feet of torque. Frugal-minded drivers can put the car EV mode for limited all-electric operation, and can increase regenerative braking to help bolster battery charging. Efficient battery packaging enables a spacious 15.1 cubic feet of trunk space, while maintaining a roomy interior. There's even a selectable sport mode that affords livelier operation.
Hyundai Veloster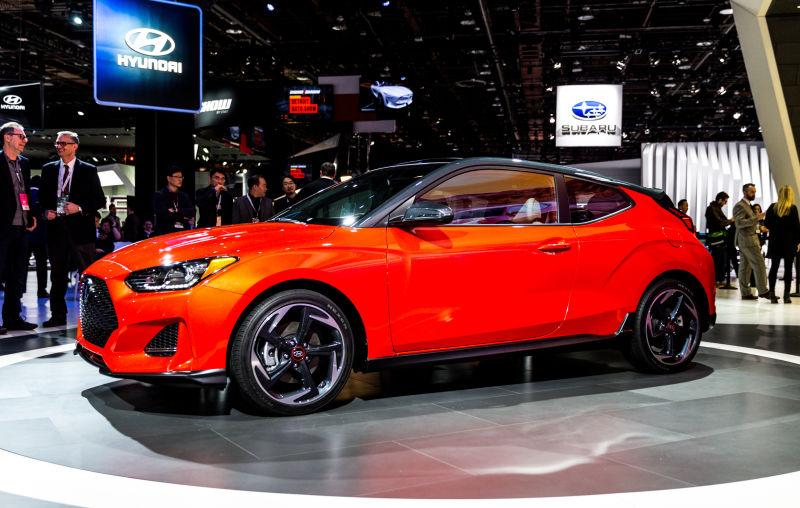 Hyundai's small and sporty three-door front-drive hatchback gets a major redesign for 2019 with burlier styling. The standard engine is a 2.0-liter with 147 horsepower, while the Turbo version packs a 1.6-liter turbo-four with 201 horses; the former can be mated to either a six-speed manual or automatic transmission, while the latter offers a seven-speed dual-clutch automatic as an alternative to the manual. The sportiest N version leaps off the line with a 275-horsepower turbo-four and the six-speed manual. Automatic-equipped models include selectable driving modes, while Turbo models feature an active engine sound feature that boosts the exhaust note for added visceral effect. An active cornering vectoring control helps maintain crisp handling. Assorted collision-preventing systems and infotainment features are included with Amazon Alexa, and Android Wear/Apple Watch connectivity available.
Kia Forte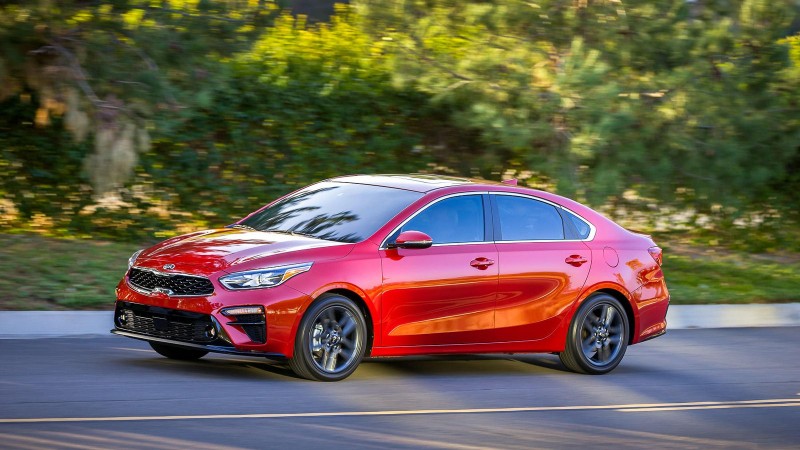 Still a great car for younger and budget-minded drivers, Kia refreshes its compact sedan for 2019 and imbues it with handsome styling inside and out that makes it look like a costlier car. A revamped 2.0-liter four-cylinder engine generates an estimated 147 horsepower and can be mated to either a six-speed manual or a gearless CVT automatic transmission. As befits a car with youthful appeal, full smartphone connectivity is included with the Apple Car Play and Android Auto interfaces incorporated; a wireless phone-charging pad is newly available. For safety's sake, the Forte can now be fitted with forward auto-braking, adaptive cruise control, a blind-spot monitor, and a lane keeping assist system.
Lexus ES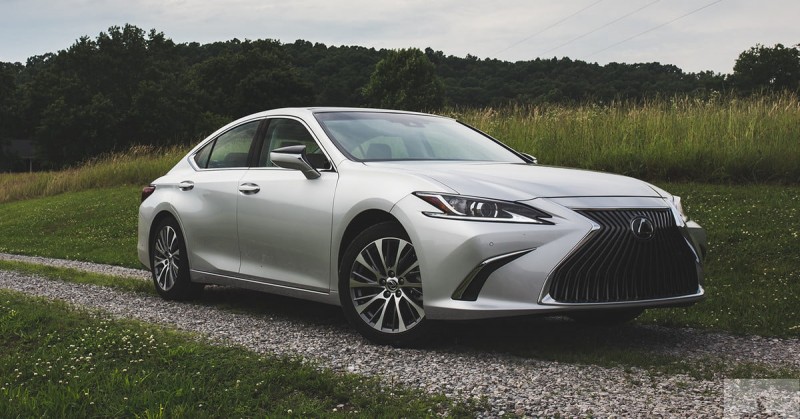 The midsize Lexus ES luxury sedan comes in a fully redesigned version for 2019 with added pizazz and personality. It's longer, lower, and wider, and comes wrapped in dynamically recast bodywork with additional curves and creases and the automaker's signature spindle-shaped grille. A 3.5-liter V6 engine sends 302-horsepower to the front wheels via a new eight-speed automatic transmission. An F-Sport iteration is newly added to the line and can be fitted an Adaptive Variable Suspension to ratchet up the sedan's cornering prowess without undue ride harshness. A hybrid version combines a new 2.5-liter four-cylinder gasoline engine with an electric motor to realize the equivalent of 215 horsepower at an estimated 44 mpg in city/highway driving. The Apple Car Play interface is new this year – it's also Amazon Alexa-enabled – with a full range of connectivity and safety features included.
Mercedes-Benz AMG GT Four-Door Coupe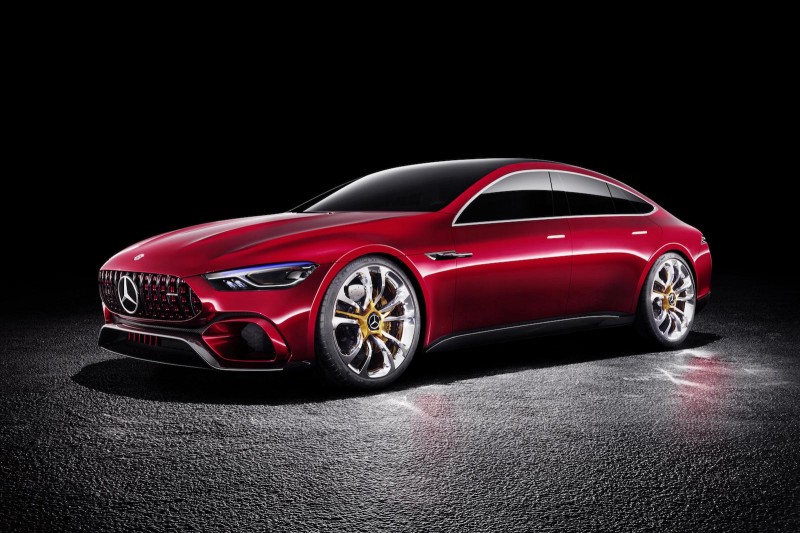 Aimed squarely at the Porsche Panamera, this new four-door fastback comes wrapped in assertively muscular styling, and is roomy enough inside to serve as a daily driver. Its long hood can house either an in-line six-cylinder engine with 429 horsepower, or either of two bi-turbo 4.0-liter V8s with 577 or 630 galloping horses; the latter is claimed to reach 60 mph in a scenery-blurring 3.1 seconds. A nine-speed automatic transmission and all-wheel-drive come standard, with a "race start" function enabling peak acceleration. The V8 models include active rear axle steering (at speeds up to 62 mph, the rear wheels point in the opposite direction to the front wheels) for added agility and stability. What's more, the AMG GT Four-Door Coupe includes its own sporty fragrance and can be fitted with Mercedes' "energizing" comfort control that adjusts various vehicle functions to relax or refresh the driver and passengers according to predefined programs.
Nissan Altima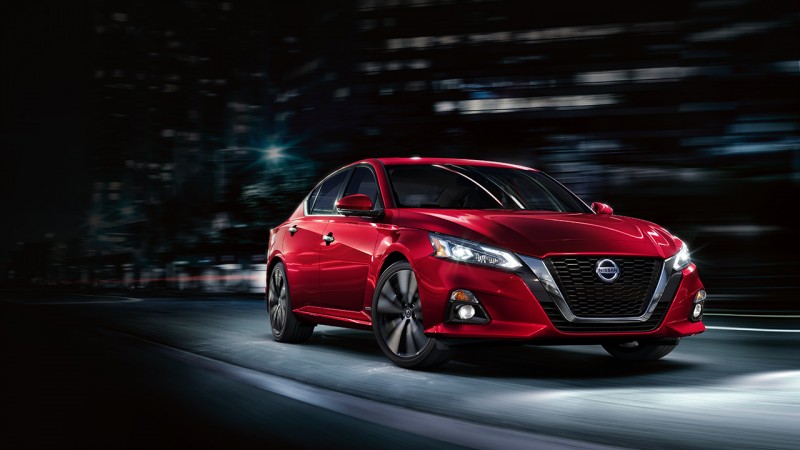 Nissan gives the midsize Altima Sedan a major makeover for 2019 and infuses it with added technology. The overall look is bolder than before, coming capped with Nissan's big and buck-toothy "V-motion" front grille. A purposeful interior features both a touchscreen for the infotainment system (with the Android Auto and Apple CarPlay interfaces) and analog controls for intuitive operation. A new 2.0-liter variable-compression turbocharged four-cylinder engine replaces the former V6 and delivers a potent 248 horsepower with a punchy 273 pound-feet of torque. A 2.5-liter four with 188 horsepower comes standard; both are mated to a CVT automatic transmission, with all-wheel-drive newly available. The nearly autonomous ProPILOT system is optional. Among its many available safety features is an automatic rear braking system that prevents the driver from running over stationary objects while in reverse gear.
Toyota Avalon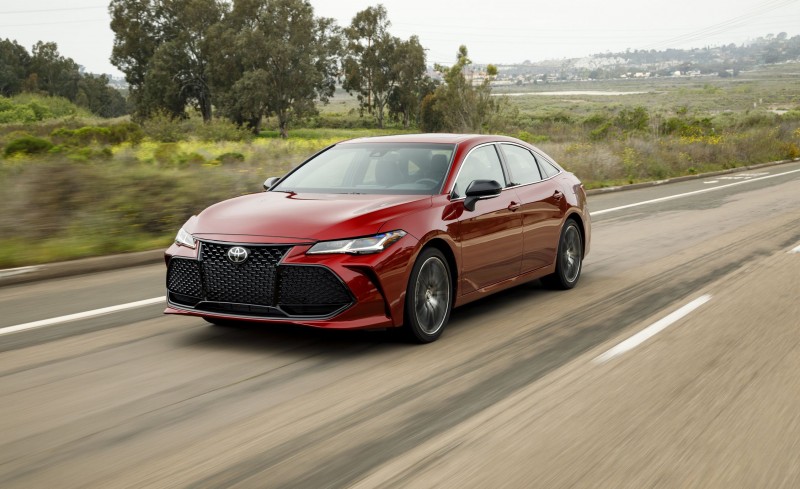 Toyota remakes its full-size Avalon for 2019 as a longer, lower, wider, and more stylish sedan. It's powered by a 3.5-liter V6 engine that channels 301 horsepower through the front wheels via an eight-speed automatic transmission. Meanwhile, the Avalon Hybrid features a 2.5-liter four-cylinder gas engine that's augmented by an electric motor to realize the equivalent of 215 horsepower; mated to a gearless CVT automatic it's rated at 43 mpg in city driving. The Avalon's spacious interior is trimmed in piano black, wood, and aluminum, and features soft-touch surfaces for a luxury look and feel. Performance-enhancing options include an adaptive variable suspension with selectable driving modes. Standard safety systems are plentiful as is smartwatch, Amazon Alexa, and Apple CarPlay compatibility; the options list includes an ear-splitting 1,200-watt JBL audio system.
Toyota Corolla Hatchback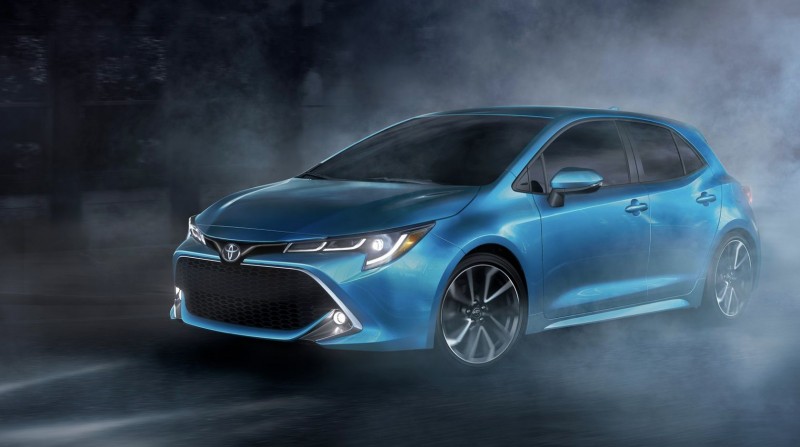 Replacing the former Corolla (Scion) iM is a revamped and renamed compact Corolla Hatchback. Longer, lower and wider, it gets fresh styling and a new 2.0-liter direct-injected four-cylinder engine that puts 168 horsepower to the road via a six-speed manual transmission or a CVT automatic with 10 simulated "gearshifts." A revised suspension affords a livelier attitude. Standard safety features include forward auto-braking with pedestrian detection, adaptive cruise control, a lane keeping system, and automatic high beam headlamps. Full connectivity is standard and includes Apple CarPlay and Amazon Alexa interfaces.
Volkswagen Arteon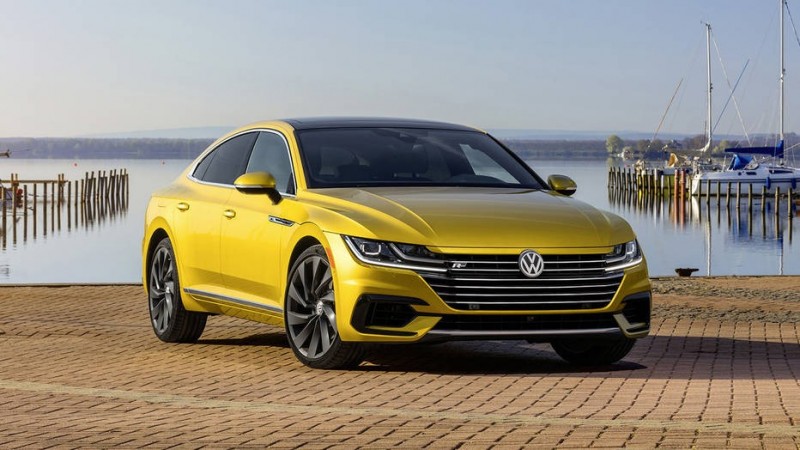 The artfully styled VW Arteon "four door coupe" replaces the CC at the top of Volkswagen's car line for 2019 with added style and substance. It rides on a new platform that's stretches the former CC's wheelbase by five inches; along with a wider body, this affords additional interior room. Inside, the cabin is trimmed in rich looking materials, with leatherette upholstery standard and Nappa leather optional. It comes powered by a 2.0-liter turbocharged and direct-injected 268-horsepower four-cylinder engine that's mated to an eight-speed automatic transmission; all-wheel-drive is available across the line. The suspension features a standard adaptive damping system to balance the car's ride and handling characteristics. A host of accident-avoidance features come standard, with items like stop-and-go adaptive cruise control, Digital Cockpit reconfigurable displays, and a hands-free trunk release optional.