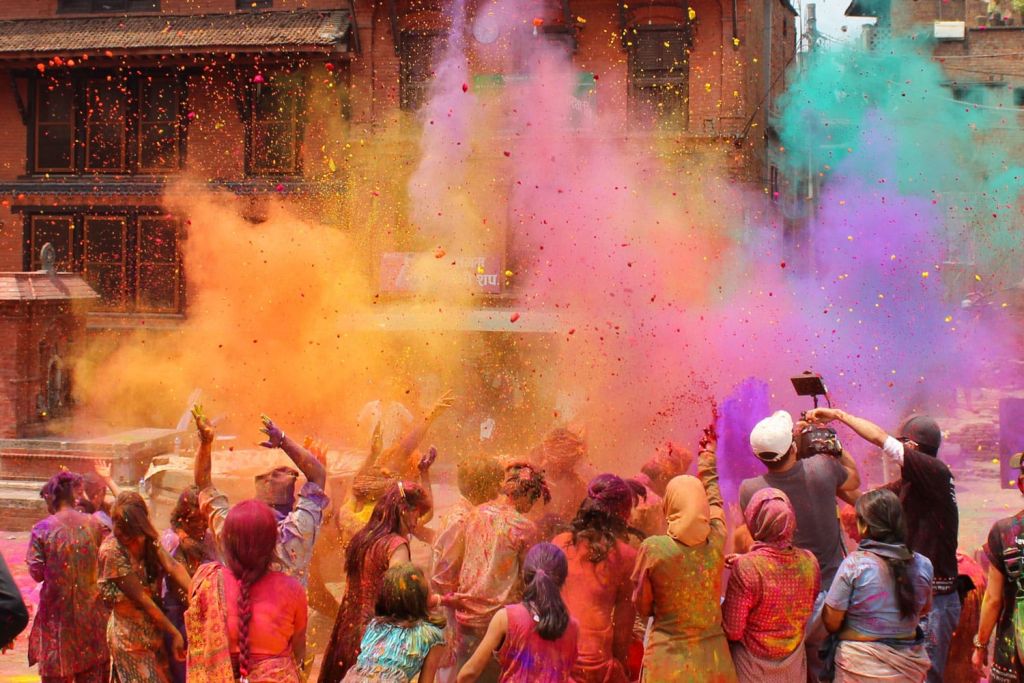 Be honest, traveling the world is just as much fun as the exciting adventures you undertake and the new experiences you experience in discovering foreign cultures. Festivals are a great way to spend a fantastic time with others while exploring local customs. Not to mention that it is an incredibly easy and fun way to refresh your sightseeing plans.
Every year there are countless festivals around the world to choose from, but do not worry, we've taken care of you! We've put together a list of the best festivals in the world so you can prioritize your dream trip sooner.
Carnival of Venice

Location: Venice, Italy
When: 40 days before Easter, on Shrove Tuesday
Carnevale di Venezia or Venice Carnival dates all the way back to the 11th century, but came to international acclaim in the 18th century. During the weeks dedicated to Carnival each year thousands of tourists and locals take to the streets in beautiful costumes and masks to enjoy music, dancing, parties and the festive atmosphere.
Festivities also include live theatrical plays featuring intriguing and comical traditional folk characters, lavish 18th century-style galas in beautiful old Venetian buildings, open air street parties and an award ceremony at Carnival's closing to celebrate the very best costumes and masks.
Holi Festival

Location: India and Nepal
When: Between the end of February and the middle of March
Holi is undeniably one of the biggest religious festivals around the world. Dubbed the Festival of Colors, Holi is a springtime celebration of all things good prevailing over evil. The festival also marks the end of winter and the anticipatory celebration of the abundance of the upcoming spring harvest season.
For locals and tourists Holi offers a chance to play, dance and sing without a care in the world. Commemorated each year on the day after the full moon in March, people spend the day smearing richly colored powder on strangers, friends and relatives, throwing colored water at each other, and dancing under water sprinklers. Great emphasis is placed on Hindu tales about the burning of the demoness Holika and its relation to the festivities, so Holi celebrations are kicked off by large bonfires complete with singing and dancing on the eve of the festival.
Rio Carnival

Location: Rio de Janeiro, Brazil
When: Begins on Friday and ends on Ash Wednesday
There's no Carnival like Rio's Carnival. In fact, it is almost impossible to think of Brazil's capital city without thinking of its Carnaval. Carnival, as Rio de Janeiro presents it, is one of the most interesting and well-attended cultural celebrations around the world. Even though the festival's origins are in ancient Greek revels honoring Dionysus the god of wine, overtime Carnival was modified by the Romans to honor two of their own gods and later the Catholic church would make its own modifications and have the festival celebrated just before the period of Lent.
Rio de Janeiro has earned its title as the Carnival capital of the world with its famous samba dancing, colorful eye-catching costumes, pulsating music, magnificent float displays and electrifying energy. Join a samba school (a local samba club) and dance, sing and let loose at one of the best festivals in the world.
Boryeong Mud Festival

Location: Boryeong, South Korea
When: July
First staged in 1998 The Boryeong Mud Festival is a fairly new festival celebrated in the coastal town of Boryeong, South Korea. It was originally conceptualized to provide PR for a range of cosmetics created using the nutrient-rich mud from the area but the festival quickly became Korea's most popular summer festival. Now, Boryeong Mud Festival is just a great excuse to get down and dirty and have some fun.
Each year festival goers head to Daecheon Beach for rocking live music, a wade in the nutrient-rich mud and for a chance to try out various mud-related health and beauty products and services. Immerse yourself in nutrient-rich mud at the mud pool, slip down the mud slide or embrace your artistic side by body painting with colored mud, make your own mud soaps and challenge yourself on the mud maze obstacle-course.
Oktoberfest

Location: Munich, Germany
When: Mid or late September to the first weekend in October
Once upon a time in 1810 a German crown prince married his princess. The kind royals had plenty of festivities for all the townspeople of Bavaria, Munich to enjoy and everyone had so much fun they decided to do it all again next year and the year after that. Thus Oktoberfest was born. And now when most people think of the month of October they think of chilly weather, pumpkins and of course, Oktoberfest.
On average Oktoberfest brings 6 million visitors to Munich each year and so, it's fair to say that it is easily one of the biggest festivals in Europe and enjoys immense popularity worldwide. So much so that across the US, Oktoberfest celebrations have been replicated in a number of major cities. Oktoberfest brings together aspects of a rich local culture, history, fun and games, good food and great beer to make for a few weeks of awesome celebration. Head to the Wiesn (fairgrounds) to enjoy agriculture shows, costume processions, fun fair rides, historical and cultural displays, all the food you could possibly eat and of course the copious amounts of beer Oktoberfest is famous for.
La Tomatina

Location: Buñol, Spain
When: Last Wednesday of August
La Tomatina is the ultimate food fight festival held every August in the town of Buñol. There are many variations of the origin story for La Tomatina, ranging from harmless pranks among children to attacks on an awful musician to townspeople expressing their anger and disappointment with city councilmen.
This friendly fight and quirky festival is well-attended. In the past the famed La Tomatina has had as many as 50,000 attendees but in more recent years a ticket system has been introduced to keep the number of participants at or below 20,000. The hour long battle begins with the firing of water cannons, immediately after which chaos ensues with over 100 tons of over-ripe tomatoes being squashed and flung all over.
Albuquerque International Balloon Festival

Location: Albuquerque, USA
When: Early October
The Albuquerque International Balloon Fiesta is the largest annual international event held in the US. For more than four decades, the first or second week in October has ushered in the magical moving picture show of colorful hot air balloons gliding through the crisp fall air.
From its modest beginnings in the 1970s at a mall parking lot with less than 15 hot air balloons, the Balloon Fiesta has steadily grown to become the largest ballooning event in the world. With nearly 600 beautifully colored balloons being launched annually, Albuquerque International Balloon Fiesta is one of the most photographed happenings on Earth. Laser light shows, fireworks, live band performances and interactive education complete the magic at Balloon Fiesta and ensure that there's something fun to do or see for everyone.
Dia de los Muertos

Location: Mexico
When: October 31 – November 2
Día de los Muertos or 'Day of the Dead' easily outshines even the most vibrant Halloween celebrations with its unique blend of ancient indigenous and European Catholic traditions.
Mexicans bring bright colors, jovial attitudes and rich traditions to celebrate their dearly departed by creating beautiful altars, baking and decorating special bread called pan de muerto, hosting and attending costume parties, visiting friends and leaving gifts at altars, making colorful sand tapestries and lighting candles to pay homage to the dead.
In the southern Mexican city of Oaxaca, Día de los Muertos is one of the biggest celebrations of the year, with the main events occurring between October 31 and November 2 and a number of related activities preceding and signaling the end of the festivities.
Día de los Muertos is more than celebrating all things spooky, instead it is a joyous celebration of life and death. Most Mexicans visit cemeteries and graves to pay respects to dead relatives and friends while stalls for selling sweets and treats, as well as carnival rides are set up on the outside of the larger cemeteries.
Songkran Water Festival

Location: Thailand
When: April 13 – 15
To celebrate the traditional New Year, Thailand's Songkran Water Festival is held every April all over the country. But Chiang Mai's take on Songkran is legendary and not to be missed, after all it is the most anticipated holiday in Thailand.
Sprinkling water has always signified for Thai people, blessing, purging and newness. In this fresh take on old school beliefs persons of all ages come out armed with super soakers or buckets of water, ready to soak strangers and friends alike.
Festivities include bubbles, performances from professional dancers, religious processions and other fun ways to keep cool.
Burning Man

Location: Black Rock City, Nevada
When: Last Sunday in August to the first Monday in September
In spite of the fairly ominous name and the air of mystery surrounding it, Burning Man is one of the most popular festivals in the US. Burning Man takes place in Black Rock City, Black Rock Desert, Nevada in a full-fledged, thriving temporary metropolis established just for the festival.
Held annually in the late summer, festival goers soak in the last of Summer sunshine while enjoying art and community while focusing on values like community cooperation, participation, self-expression and de-commodification.
At Burning Man, the community explores various forms of artistic self-expression with attendees encouraged to generously share their talents through experimental or interactive sculptures, performance art and other media in keeping with that year's festival theme. Burning Man isn't your typical festival. In Black Rock City almost everything that happens is created and influenced entirely by its citizens, who are active participants in the experience.
Yi Peng Festival: Lantern Festival

Location: Chiang Mai, Thailand
When: Full moon of the twelfth lunar month (typically Mid-November)
Yi Peng is held annually in the second lunar month of the year as part of the festival of lights in Northern Thailand. Yi Peng is celebrated all over Thailand but Chiang Mai hosts the largest Yi Peng Festival and tops off their enviable displays with cultural shows and fireworks you won't want to miss.
During Yi Peng locals' homes and public places are decked out in colorful hanging lanterns and flag decorations. Festivities include a parade, live music and dance shows, handicraft sessions, and releasing lanterns into the night sky.
For locals, releasing lanterns is about more than just pretty floating lights. It is commonly believed that releasing lanterns symbolizes letting go of past misfortune and making a clean start.
Find a rooftop bar or any other spot to watch the sky lanterns from, or join the throng of people on the ground making wishes as they release their own lanterns.
Harbin Ice and Snow Festival

Location: Harbin, China
When: January – February
The Harbin Ice and Snow Festival is an annual thematic winter festival that takes place in Harbin, China, and the largest ice and snow festival in the world. Harbin Ice and Snow Festival provides the visitors each year a whole new wintry world of ice and snow. The city's northeastern location in China allows for natural and abundant ice and snow, nicknaming the city as the 'Ice City'.
Not only is Harbin is recognized as the ice capital of China, but Harbin is also renowned for its incredibly exquisite ice and snow sculptures. The Ice and Snow Festival is preceded by the Ice Lantern Festival. Nevertheless, the Ice and Snow Festival remains the highlight and most beloved ice event in the country as well as one of the best winter festivals in the world
St. Patrick's Day

Location: Ireland (and many other places in the world)
When: March 17
Saint Patrick's Day is a cultural and religious celebration held every year on March 17th to mark the anniversary of the death of Ireland's patron saint Saint Patrick. The day also commemorates the arrival of Christianity in Ireland and celebrates all things Irish.
Since 1996 an entire festival of parades, fireworks and general revelry has surrounded the March 17th celebration of St Patrick's Day. Enjoy traditional song and dance, watch musical street theater shows, grab some beer and get decked out in all green as you celebrate Irish heritage and culture. Different towns and cities host their own street parades and celebrations that are memorable and exciting but Dublin's St Patrick's Day is the common favorite.
Semana Santa

Location: Antigua, Guatemala
When: Holy Week (the week leading up to Easter Sunday)
The arrival of the Spanish to Guatemala in 1524 also brought the tradition of Semana Santa (Holy Week) to the Latin American country's shores. Centuries later the tradition continues, with Guatemala having the distinct pleasure of hosting one of the most elaborate Holy Week celebrations in the world.
Lavish floats, intricately designed carpets, huge religious processions and colorful, elaborate religious displays bring thousands of people out to the streets to celebrate the spiritual and the cultural. Semana Santa mixes Spanish tradition, Catholic faith and indigenous cultural beliefs to create perhaps the most highly anticipated week of celebration in Guatemala.
Holy Week is the week leading up to Easter Sunday, commemorating the crucifixion and resurrection of Jesus Christ and is celebrated with street expressions of faith in the form of different processions with their own floats.
Krampus Run

Location: Austria
When: Late November until Christmas
You better watch out, you better not pout, Krampus is coming to town! Christmas meets a nightmarish take on Halloween when it comes to the Krampus Parade or Festival. Krampus, in Alpine folklore, is presented as the horned Christmas devil that severely punishes or even kidnaps naughty children.
The antithesis of jolly old Saint Nick, Krampus is depicted as a mean half-goat half-demon, and the tales of his cruelty at Christmastime vary depending on who tells them. In some Alpine town realistic costumes are crafted so Krampus can go knocking on doors and walking down the street to 'scare' or 'punish' misbehaving kids. These events are known as Krampuslauf (Krampus Run) and occur all throughout December until Christmas.
From majestic, natural wonders to silly food fights, romantic sky lanterns at night or modern creative gatherings in the desert, the above are without a doubt some of the best festivals in the world. Get wild, get crazy and find yourself or lose yourself as you delight yourself in new pleasures. Happy travels!