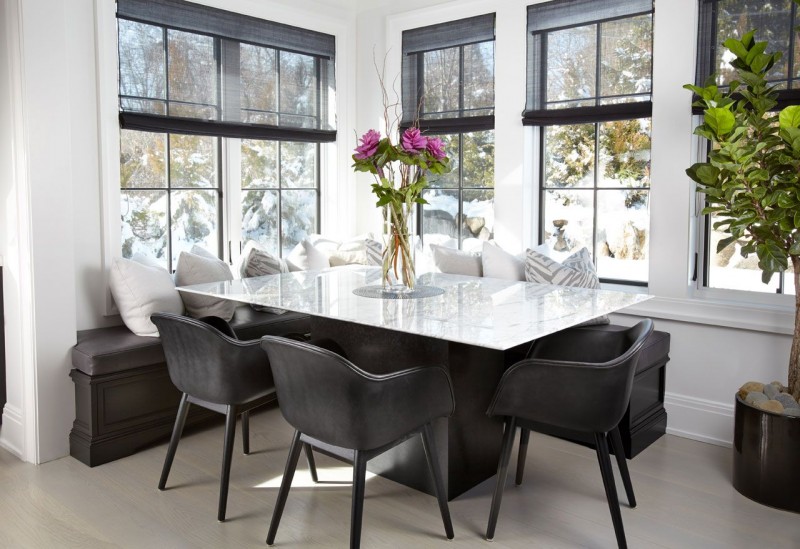 Whether it's a banquette in the corner of a kitchen or a small dining set-up in front of eye-catching bay windows, breakfast nooks are the perfect way to start the day. See how these designers used cozy breakfast nook designs to showcase their aesthetic and celebrate the joy of sharing an intimate meal with family.
1 Charming Upper East Side Breakfast Nook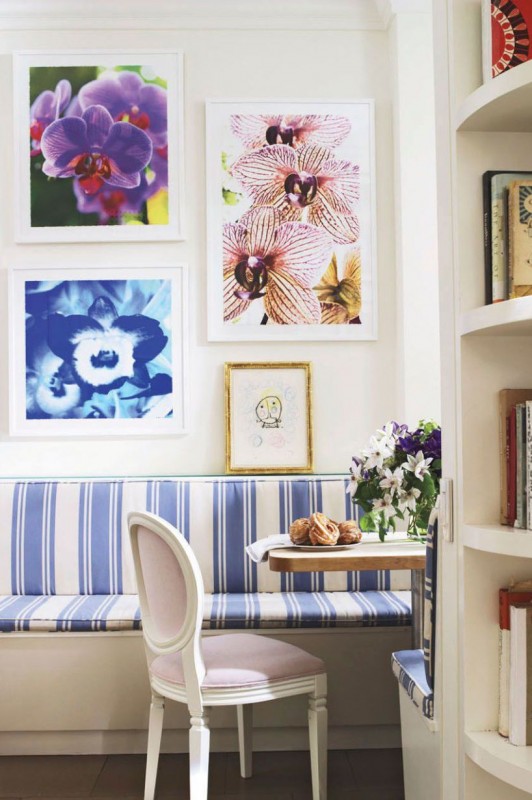 A banquette upholstered in a vibrant blue-and-white DeLany & Long awning stripe takes center stage in an Upper East Side breakfast area by designer Philip Gorrivan. The space, which is owned by filmmaker Nathaniel Kramer, features photographs by Kramer and an artist's proof by Joan Miro for added visual interest.
2. Black and White Nook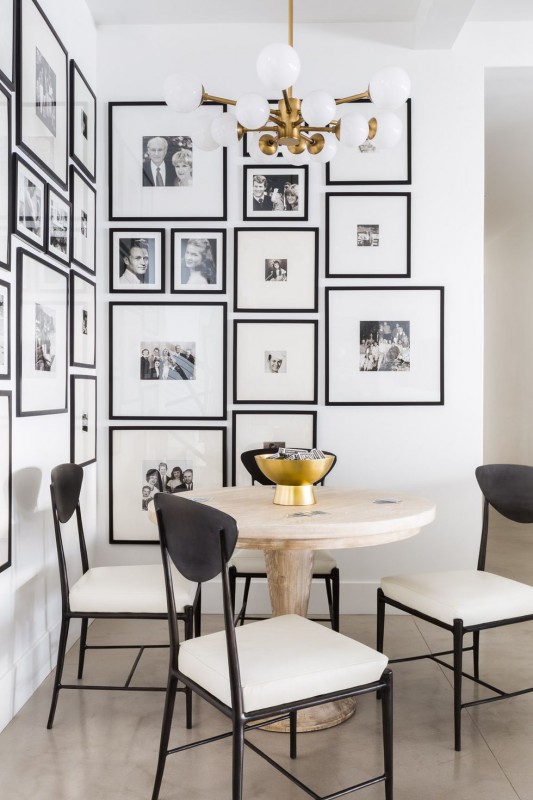 Black and white photographs line the walls of a cozy breakfast nook in a Park City weekend retreat designed by Nicole Davis. The classic color palette benefits from pops of gold accents and a light wood pedestal table.
3. Colorful Breakfast Nook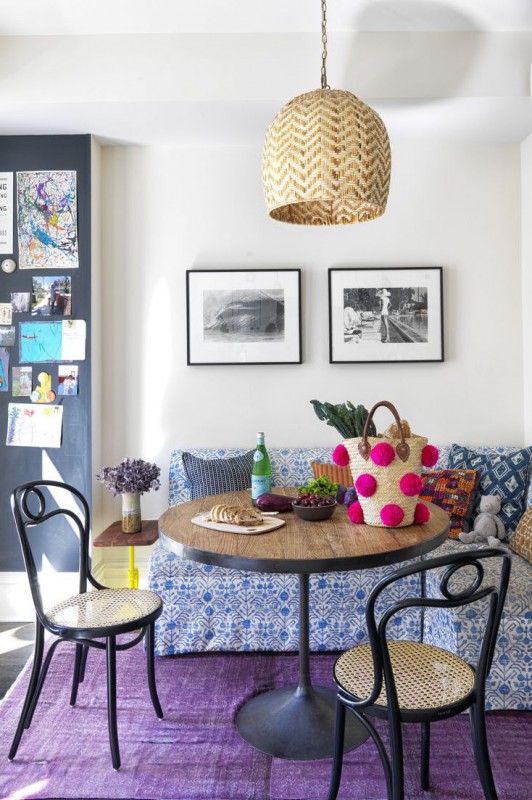 The breakfast nook in a Brooklyn townhouse features a banquette covered in a Zak+Fox patterned fabric, a pedestal table by Restoration Hardware, and a pendant light is by Serena & Lily.
4. A California Breakfast Alcove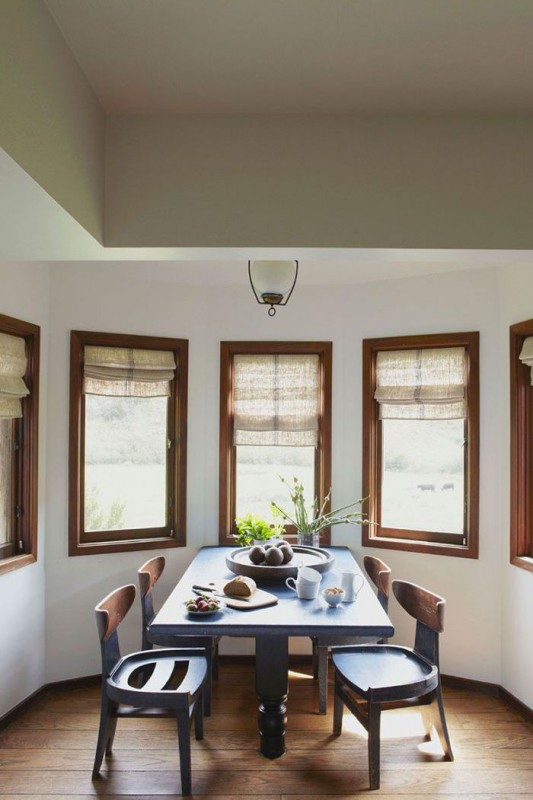 A breakfast nook injects a dose of charm into Steven Volpe's weekend home in California's Marin County. The table is original to the 1890s shingle-style house, and the chairs are 1920s Norwegian.
5. Sleek Breakfast Nook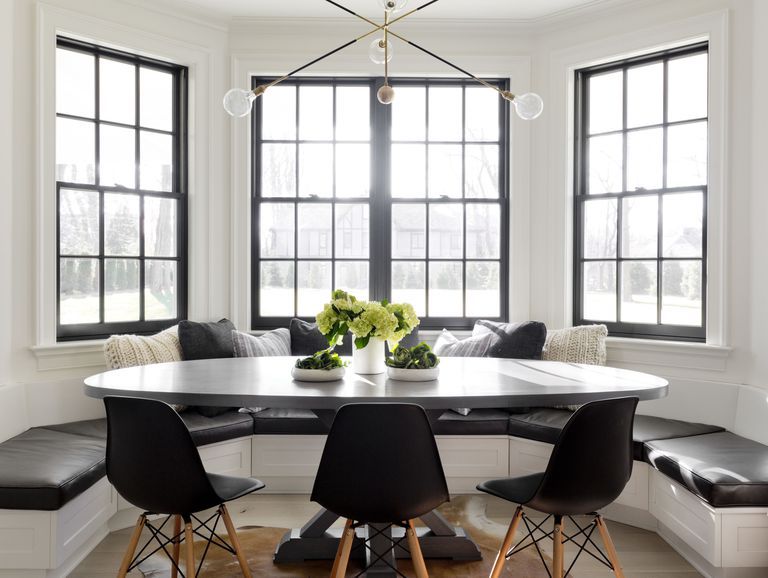 Interior designer Tamara Magel crafted a timeless black and white breakfast nook in a Scarsdale, New York, property. The inviting area includes a sleek brass and leather Apparatus chandelier and a leather banquette.
6. Moscow Breakfast Table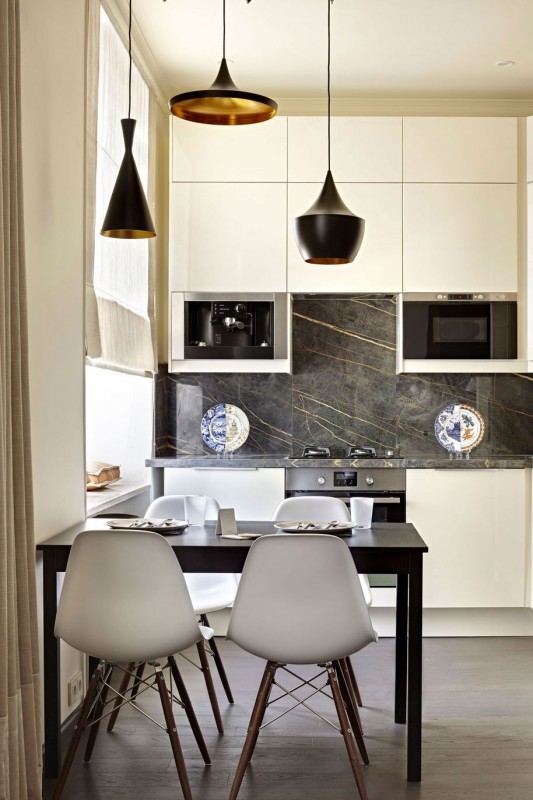 For an apartment in Moscow, designer Olga Kulikovskaia-Ashby incorporated a breakfast area in the kitchen. Black Tom Dixon pendant lights hang above the table; the chairs are by Vitra, and the plates shown on the kitchen counter are by Seletti.
7. A Light-Filled Breakfast Nook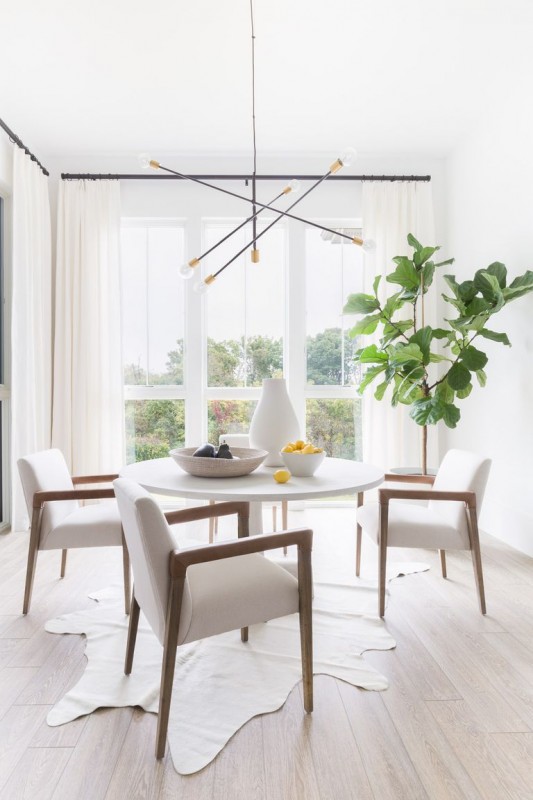 For an inviting breakfast nook in a Virgina home, designer Jennifer Schmidt adhered to an all-white palette and opted for clean lines that add interest to the home's traditional farmhouse style.
8. Farmhouse Breakfast Nook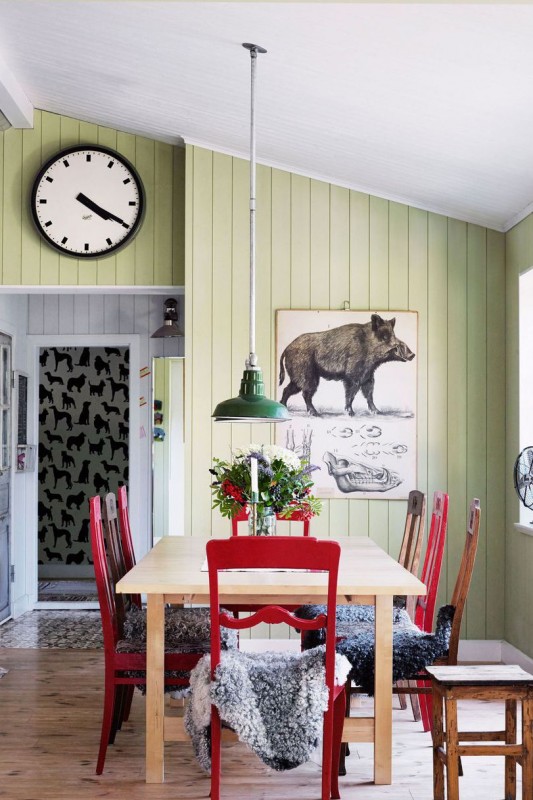 An Ikea table and red vintage chairs with sheepskin seats add character to a wood-paneled breakfast room in a Stockholm farmhouse. The home is owned by fashion designer Sanna Kvist and her husband, interior designer Lars Henriksson.
9. Luxurious Utah Breakfast Nook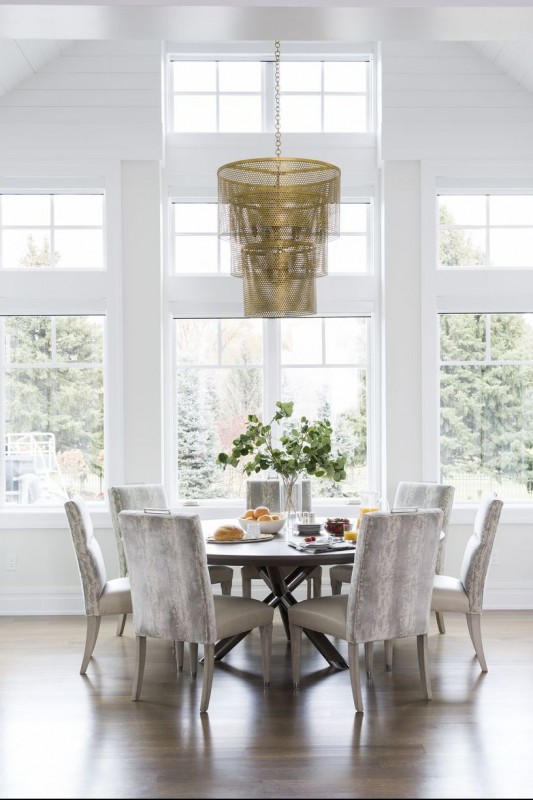 For an Orem, Utah, home, Alice Lane Home Collection settled on a three-tiered Walt chandelier from Oly Studio. The gold fixture, which resembles an inverted wedding cake, illuminates the light-filled space even more.
10. Sophisticated Breakfast Nook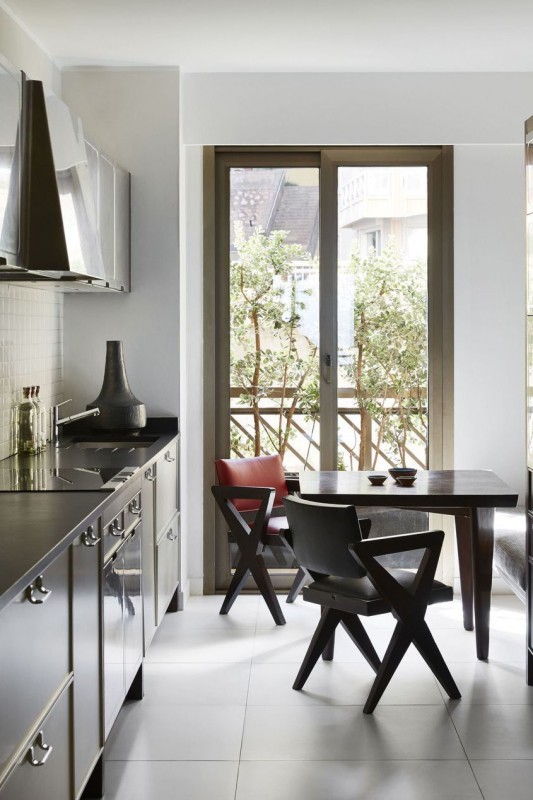 A breakfast room in a small, yet sleek kitchen, in a Monte Carlo apartment designed by Emil Humbert and Christophe Poyet is outfitted with a table and chairs by Jeanneret, along with an oven, cooktop, and hood by Aster Cucine.
11. Traditional Breakfast Table

A classic, wooden dining set takes center stage in a small Nashville kitchen design by Jason Arnold.
12. A Neutral Breakfast Nook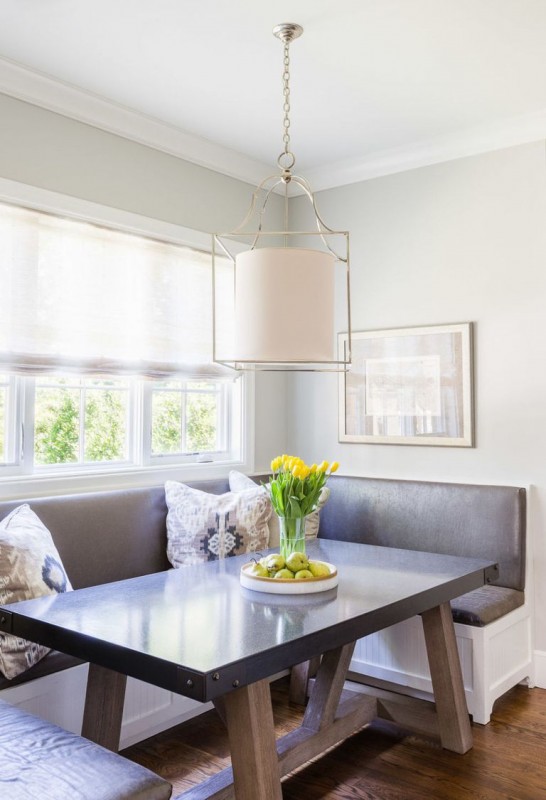 A crisp white breakfast nook lend a casual feel to a sophisticated family home in Tulsa, Oklahoma. A leather banquette and a minimalist light fixture complete the charming look.
13. Colorful Breakfast Room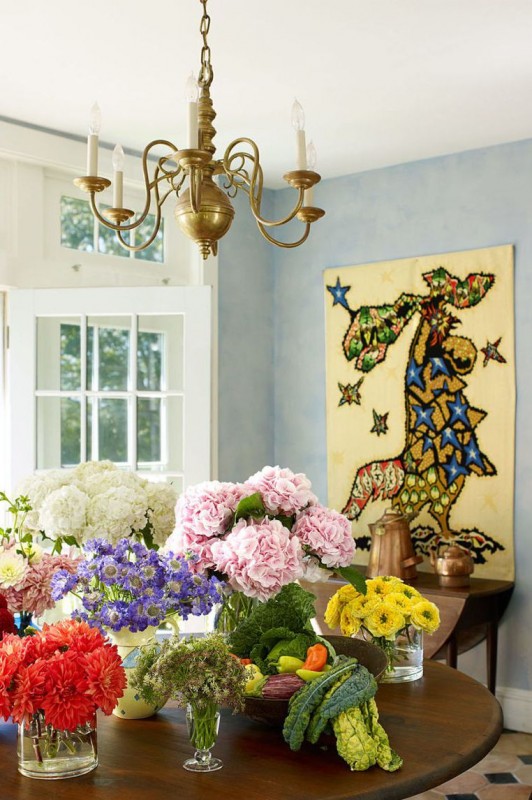 In Amy Fine Collins' colorful Fishers Island retreat, the breakfast room features a 19th-century Dutch chandelier, a custom-made table, and a 1940s tapestry by Jean Lurçat.
14. Minimalist Breakfast Nook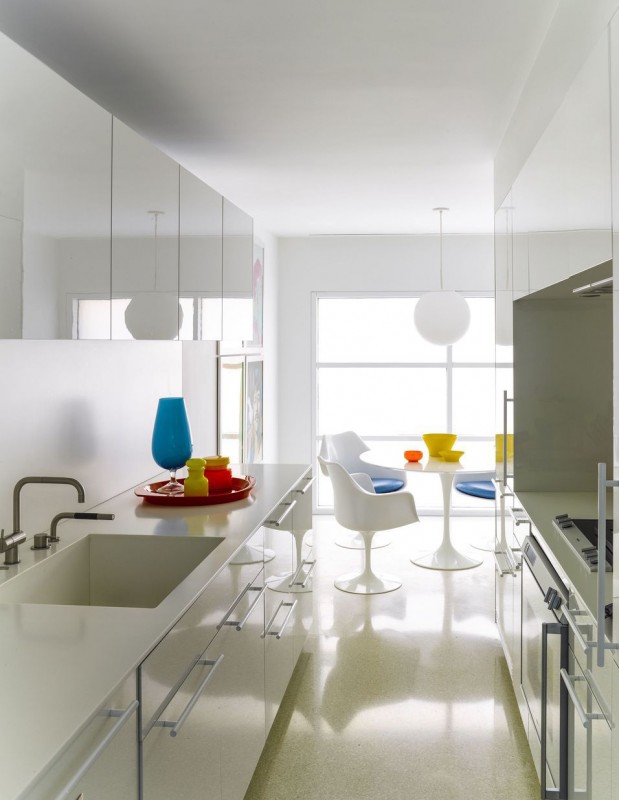 In retail guru Jeffrey Kalinsky's New York apartment, an all-white kitchen design includes a breakfast nook with a minimalist pendant and dining set.