To most, the bathroom is considered to be one of the most important rooms in the house. You begin your day there and end it there. It provides a place of solitude; some peace and quiet and an escape from the outside world. When you spend time in your bathroom, you switch off and allow yourself to fully relax.
In fact, the bathroom can dramatically increase (or decrease) the value of your home. It sets the tone for the rest of the house and should never be overlooked. You will rarely see a return on investment than you do with a beautifully renovated bathroom. So, we have compiled a list of our top 10 most beautiful bathrooms from around the world.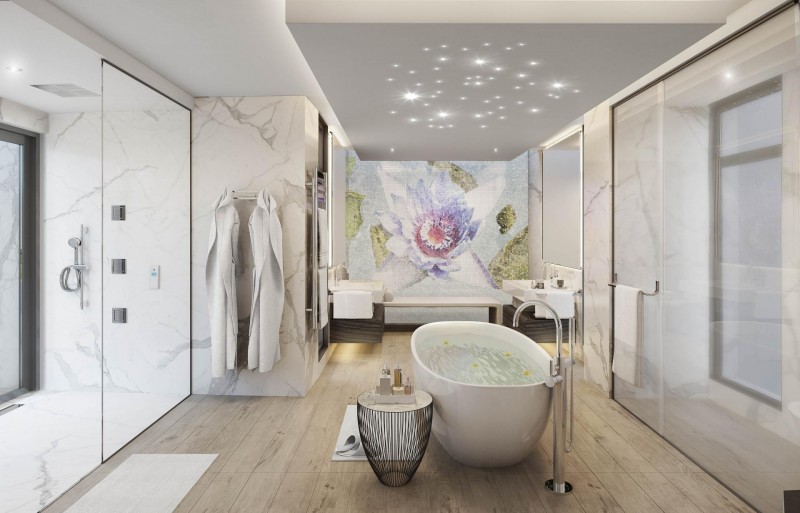 A beautiful tiled floral mosaic display serves as the perfect backdrop for a minimalist free standing bathtub. With state of the art fibre optic lighting giving the illusion of a night's sky, this exquisitely designed bathroom is the epitome of relaxation.
Nothing says luxury like a huge bathroom mirror that doubles as a state-of-the-art television screen. Pair it with an unbelievable view, and you are onto a winner. This three bedroom apartment in Cyprus is an extension of the skyline of Limassol with its unique stretch of land and high end residences on the Mediterranean coastline. What more could you want?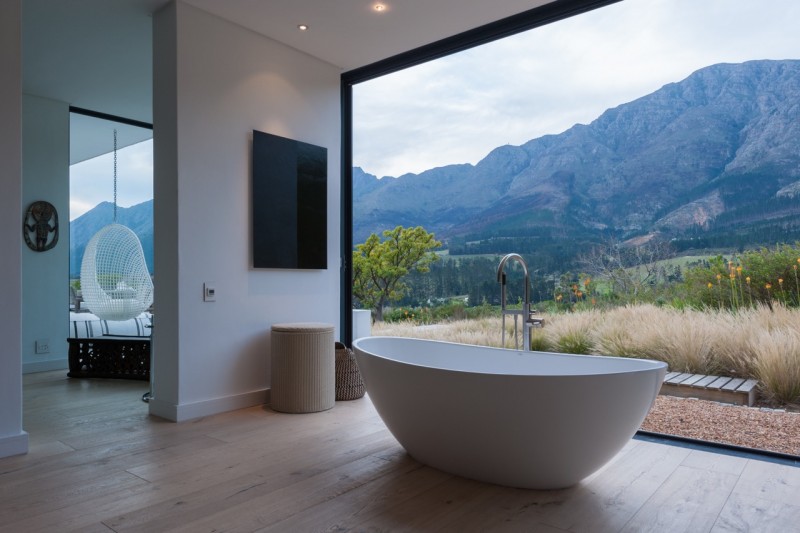 If you are searching for a room with a view, then look no further. What is more relaxing than gazing over indigenous fynbos, vineyards and olive groves on the slopes of the Drakenstein mountains whilst you unwind in total solitude?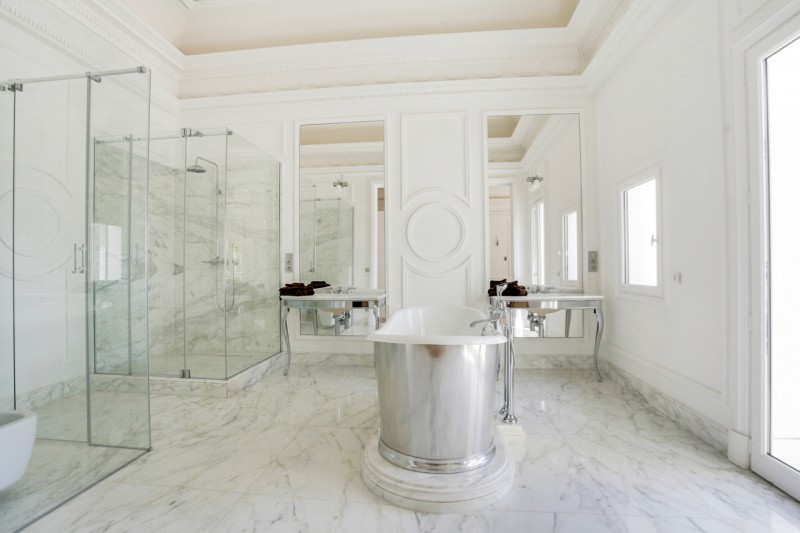 A statement freestanding bathtub has quickly become the centrepiece in most luxury bathrooms. It is a symbol of opulence and grandeur, and this traditional "Belle Époque" style silver bathtub adds a touch of glamour to a soothing, monochrome aesthetic.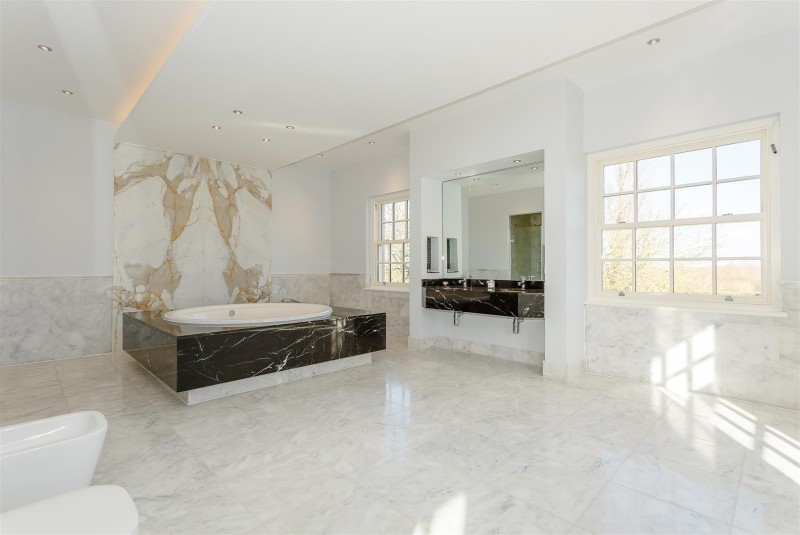 This exquisitely designed bathroom is one of nine in this beautiful home in Cambridgeshire. The fashionable use of marble, paired with a neutral colour palette allows versatility, meaning your bathroom will never go out of style.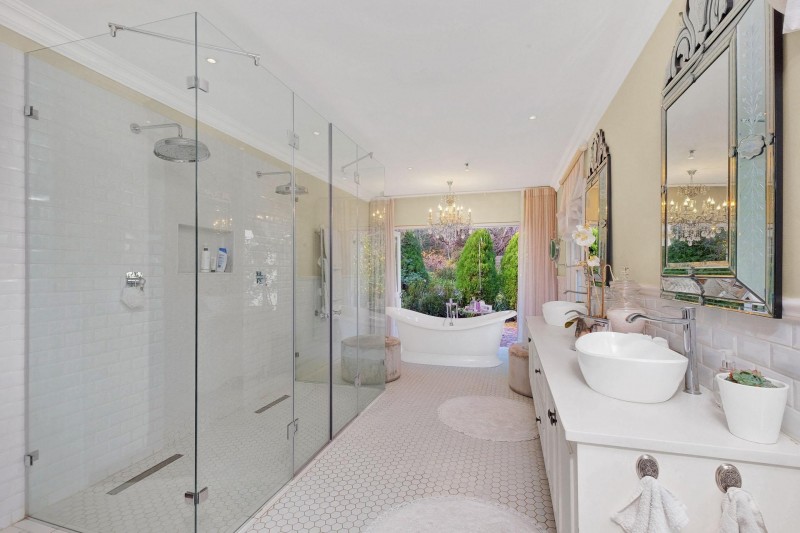 Nature is known to significantly reduce stress, so with doors that open out onto a magnificently landscaped garden, this bathroom provides a serene space to unwind after a long day. This beautiful space is one of three-and-a-half bathrooms in this stunning household.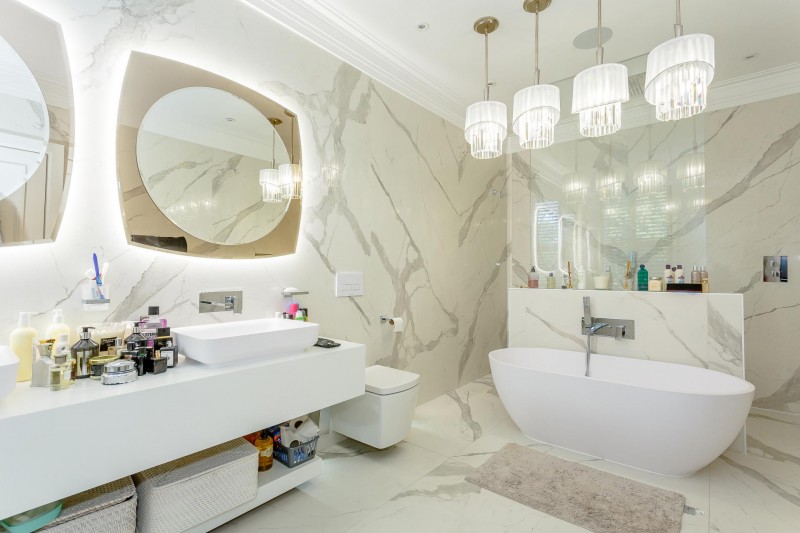 This fabulous ensuite bathroom features a sizeable free standing bathtub with a TV inset into the wall, and underfloor heating. The large four piece bespoke lighting feature adds a touch of glamour to the room, and a large walk in rain shower, Corian vanity unity with double sink and two heated mirrors complete the set.
This luxury penthouse apartment is based on the 38th floor of London's most iconic new residential development Principal Tower. Designed by Foster + Partners, it provides a peaceful oasis from the hustle and bustle of the city. With sleek, chic marble countertops and bathtub, this contemporary decor is hugely on-trend and signifies the epitome of understated elegance.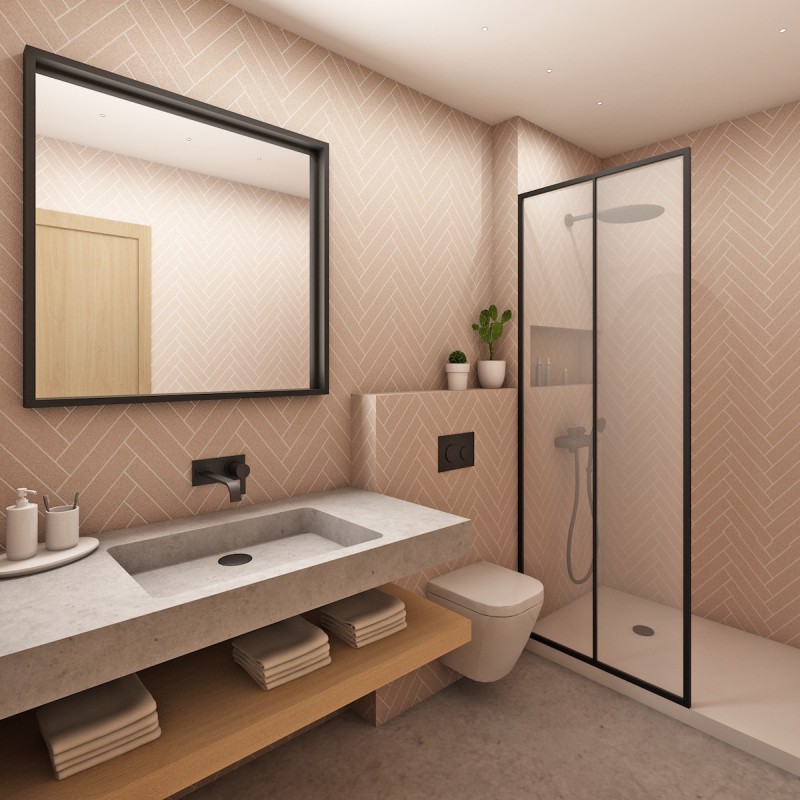 Mixing contemporary and retro features, such as pastel diagonal tiling and a modern, minimalist sink, this bathroom provides a Wes Anderson-inspired aesthetic. The soothing colour palette is minimalist, yet quirky and spectacularly stylish.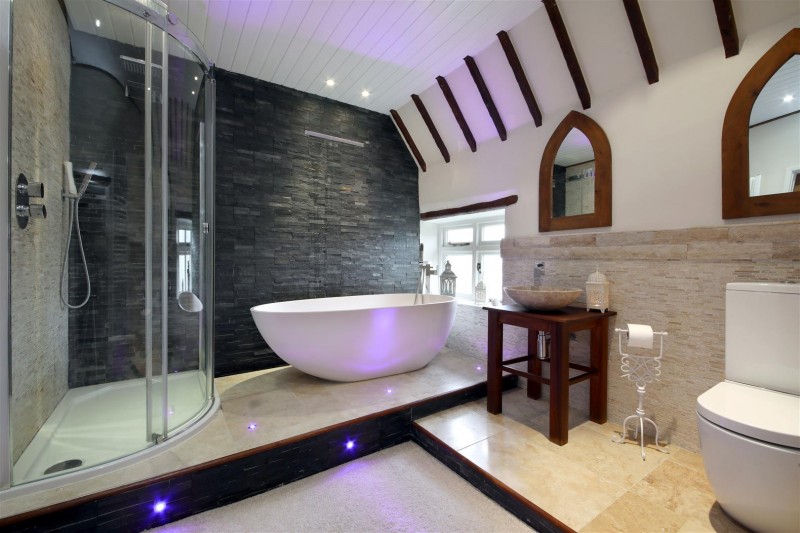 The traditional exposed beams contrast with the contemporary décor in this luxury bathroom in North Oxfordshire. Full of character, whilst remaining relaxing and tranquil, this beautifully decorated bathroom sets the tone for the rest of the home.