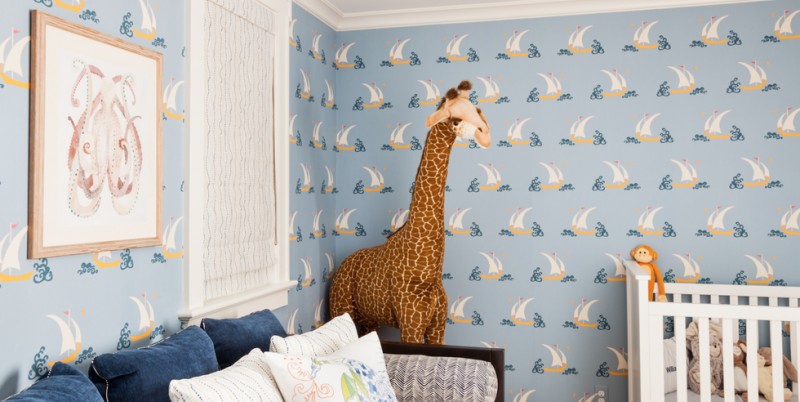 While you may feel apprehensive toward your little boy's demand for neon walls, superhero bedding, and a floor full of toys, you don't have to reject a kid-inspired vibe altogether. Designing a kids' room that is equal parts youthful and chic is more attainable than it seems. For inspiration, see 20 of our favorite bedroom designs for boys.
A Chic Foundation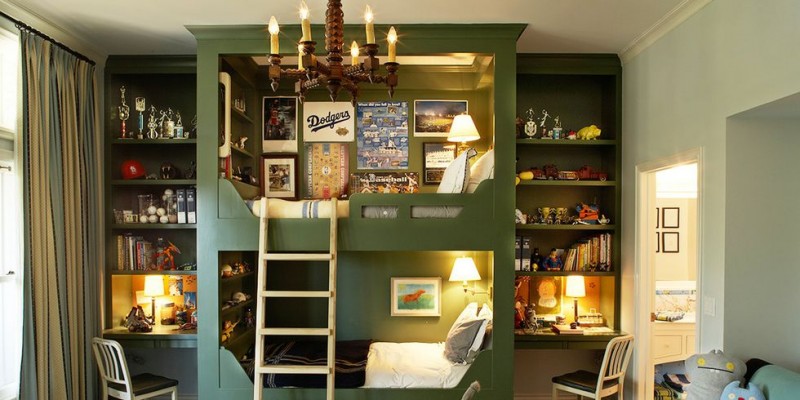 This warm, Dodgers-themed bedroom balances youthful accents with a mature foundation. While the plush toys and wall art are playful and young, the room itself maintains a sophistication that will be appropriate for years to come.
Nautical-Inspired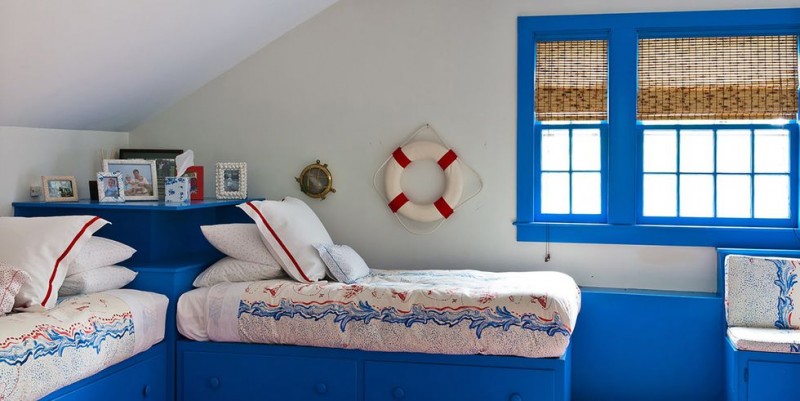 Choosing a nautical theme for a boys' room is an easy way to create a fun, adventurous space in a chic manner. The bright blues of the bed frame, windows, and accents are young and exciting, but can also be reworked into an adult space over time.
A Bold Rug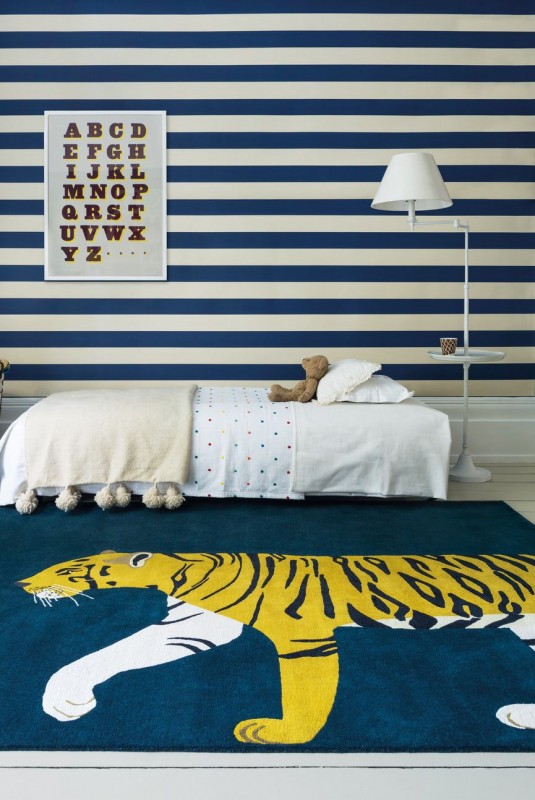 The navy striped wall energizes this boy's room but can be repurposed in a more refined way. The wall art and tiger rug are movable accents that add a youngness without feeling tacky.
Youthful Yet Mature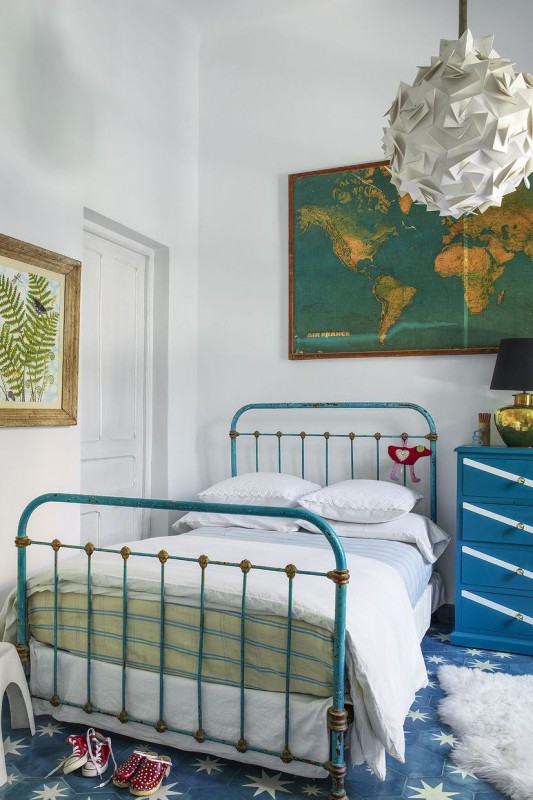 For an easy transition from childhood into teen years and adult life, consider decorative elements that are equally youthful and mature. A map on the wall can be an interactive piece for a young child, while its unique coloring makes it a perfect accent for an adult. The complementary scattered blues are energetic, and still lend a tranquil vibe.
Toys on Display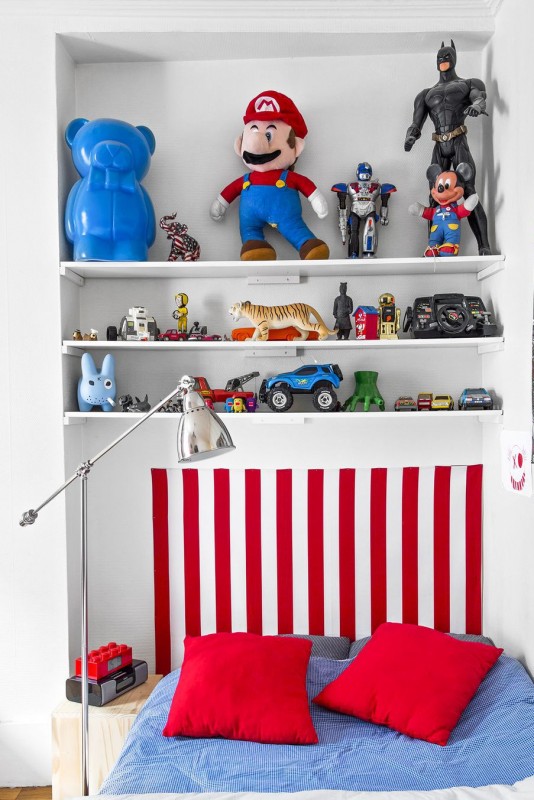 It can be difficult to find ways to keep toys out in the open without cluttering the room. In this Paris apartment, French designer Alix Thomsen neatly arranges her child's vintage and contemporary toys on shelves above the bed, making them an accent as opposed to an eyesore.
Polka Dot Walls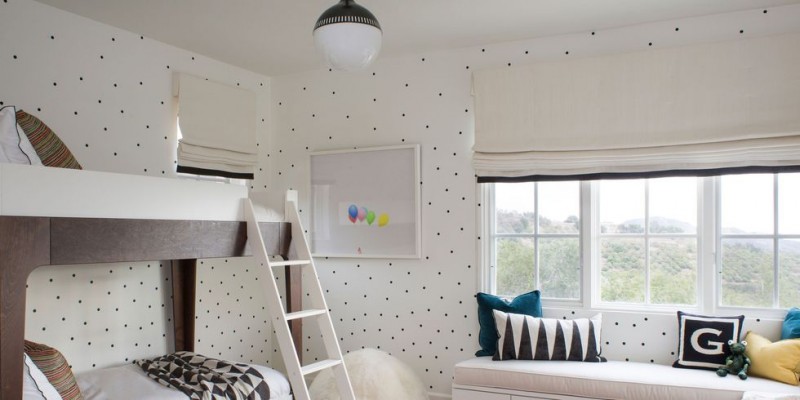 The subtle white polka dot walls are young and funky, but not overwhelming or distracting. Bright throw pillows add pop to the space, and bunkbeds are perfect for brothers or a slumber party.
Charming Patterns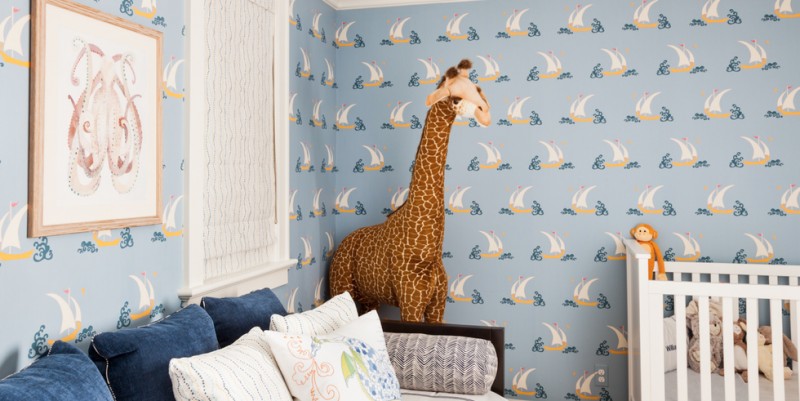 The youthful patterned wallpaper in this boy's room lends an energetic feel, while the soft muted blue creates a more calming environment. The plush giraffe is a perfect addition that can be removed once the child gets older.
Primary Colors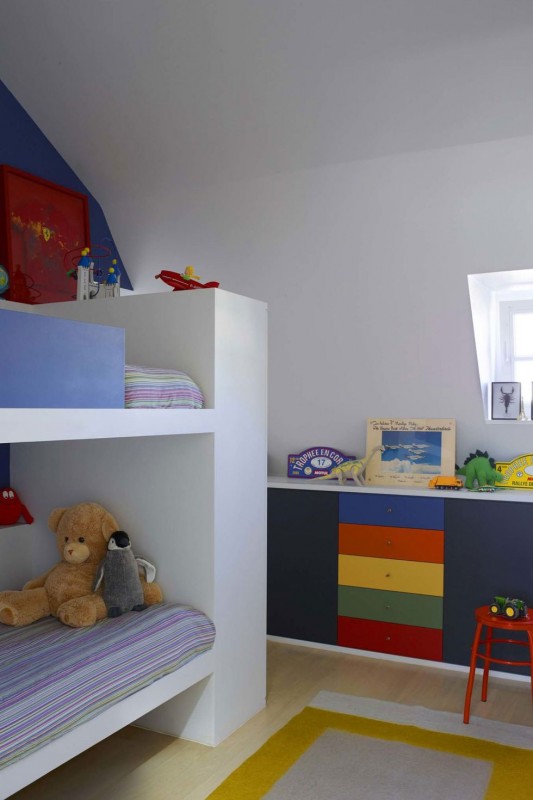 In the Paris apartment of designer Anne-Marie Midy, a custom-made bunk bed and colorful armoire decorate the bedroom her two young sons share.
Map Wall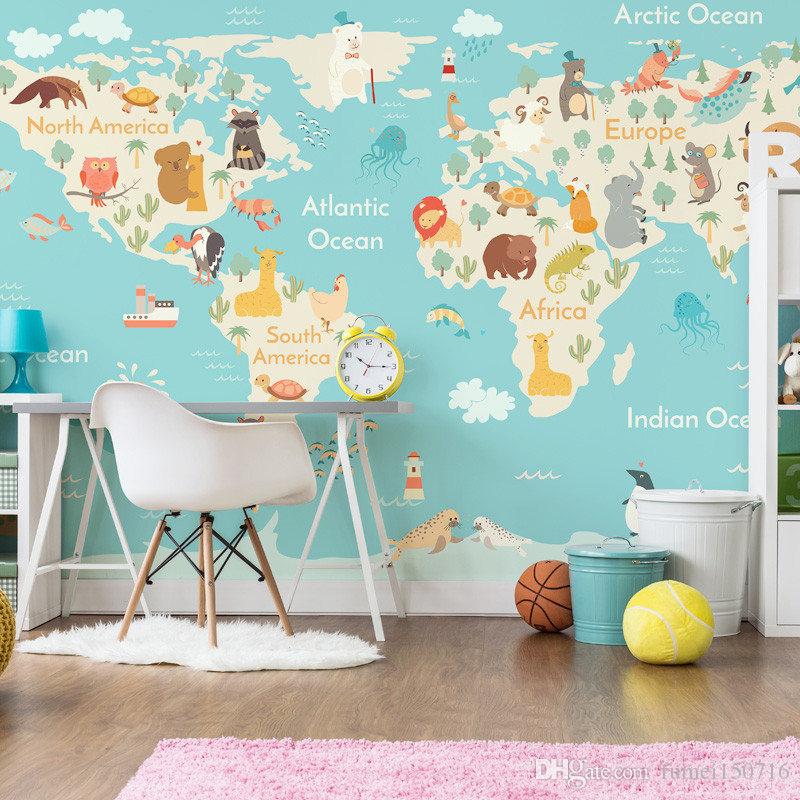 The boys' room in a Florida home is given a global perspective with the use of a world map as wallpaper.
Mixing Patterns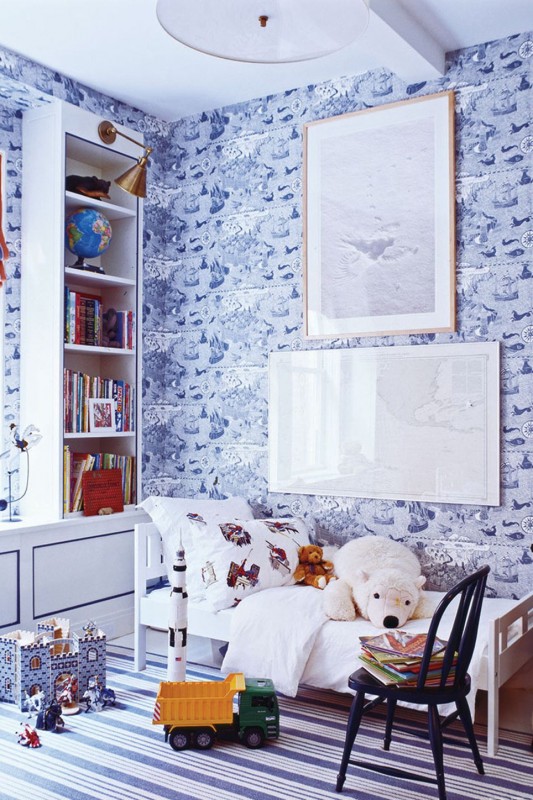 Designer Miles Redd used a crisp blue-and-white color scheme in the children's room of this Manhattan home.
Combine Old and New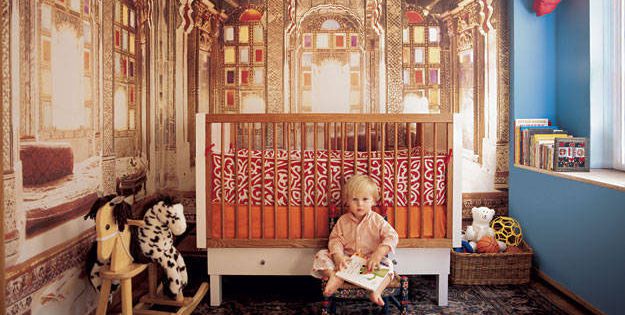 For his son's room, photographer Pieter Estersohn used one of his own images to add personality to the walls.
Striking Blues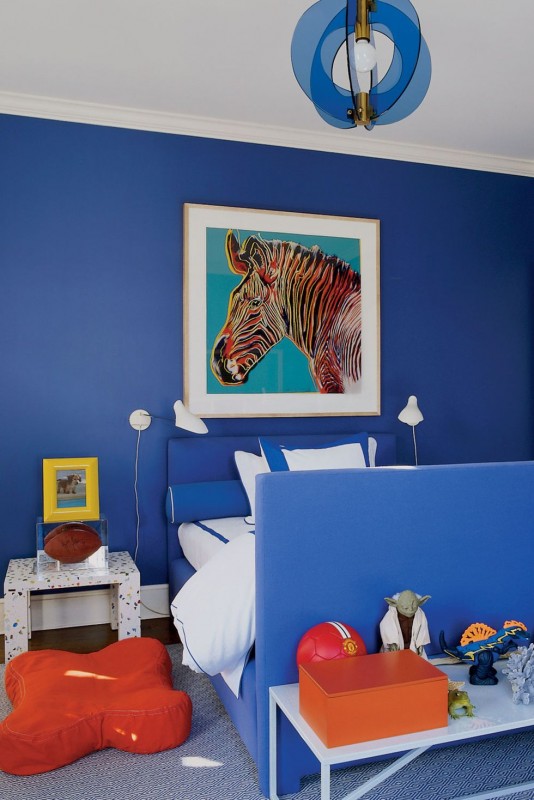 Style-setter Aerin Lauder decorated her son's East Hampton bedroom in electric shades of blue.
World Map & Orange Accents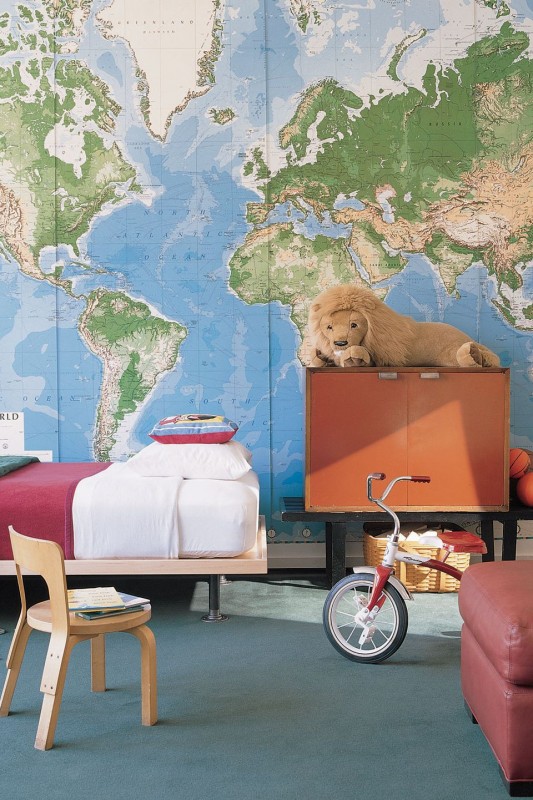 In actress Julianne Moore's Manhattan loft, her son's room features a larger-than-life world map.
Graphic Pillows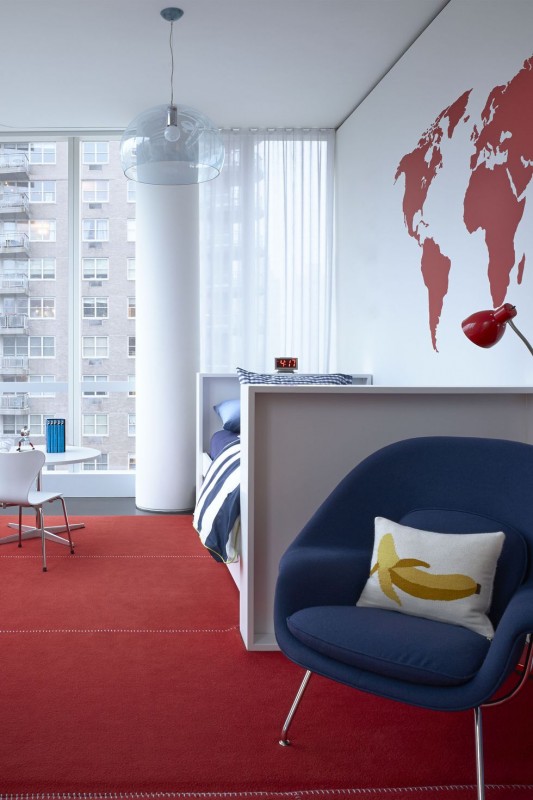 In this stylish yet kid-friendly Manhattan duplex, the son's bedroom features a bed by DucDuc, a womb chair by Knoll, and a pendant light by Kartell; the map decal is by Dezign With a Z, and the felt rug is by Patterson Flynn Martin.
Funky Map Carpet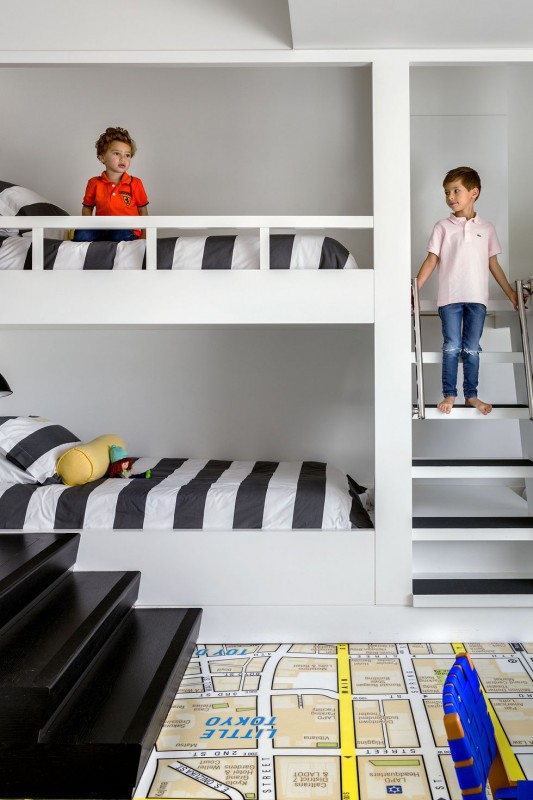 In a Pacific Palisades home that mixes a relaxed California lifestyle with Art Deco glamour, designer Alison Palevsky pulled off a boys' room that is colorful yet sophisticated, with striped bedding contrasting the colorful map carpet.
Color Blocking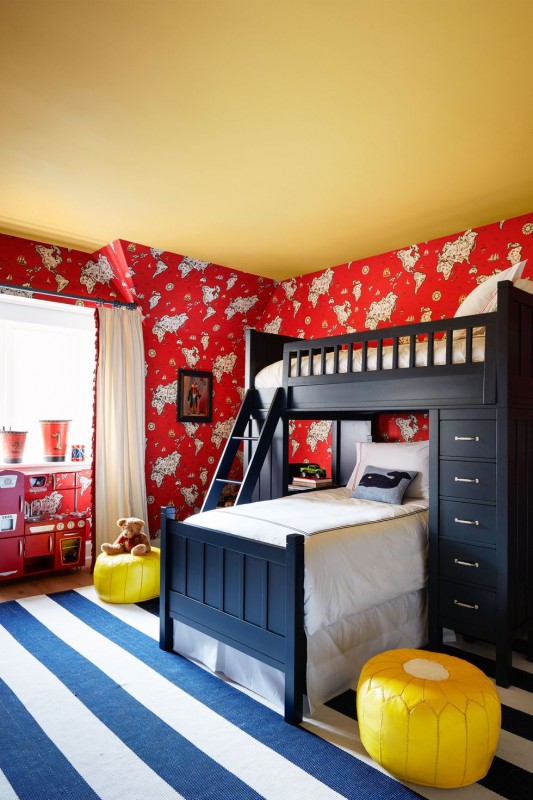 In the boys' bedroom of a colorful East Hampton home, bunk beds by Pottery Barn Kids are dressed in bedding by Sferra; the wallpaper is by Ralph Lauren Home, the rug is by Dash & Albert, and the ceiling is painted in Benjamin Moore's American Cheese.
Warm and Playful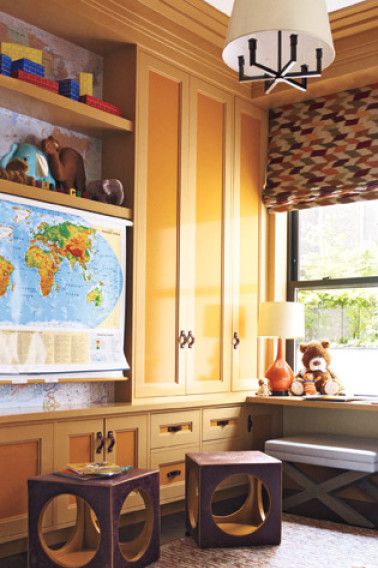 In this Manhattan home designed by Steven Gambrel, maps serve as colorful decor in the playful, vibrant boy's room.
Rustic and Sporty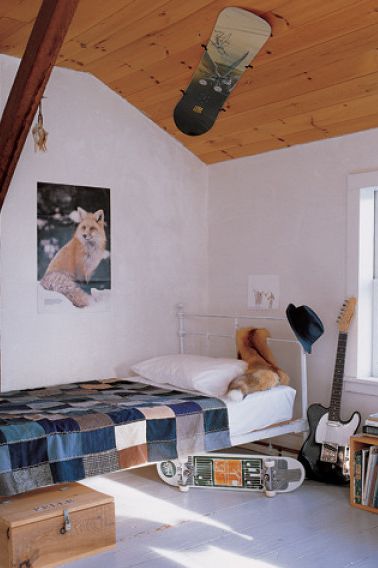 In photographer William Waldron's home, a young man's bedroom is filled with hints of what he loves, including a signed snowboard on the ceiling and a skateboard and guitar next to the bed.
Custom Bunk Beds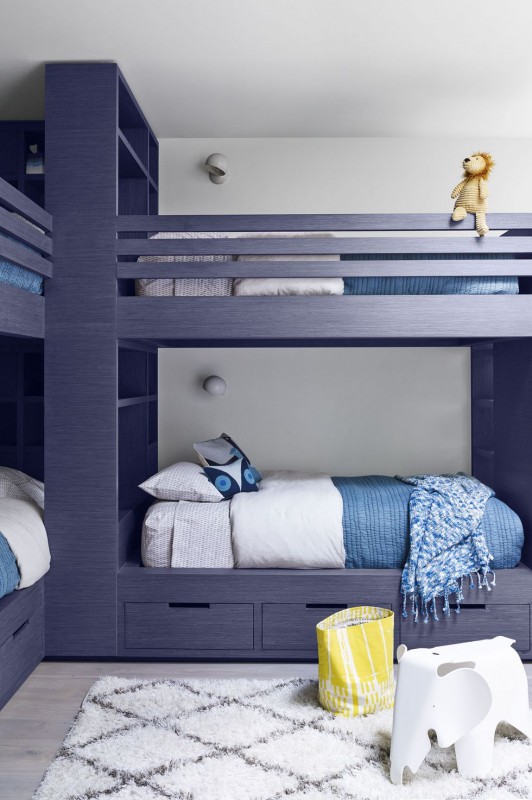 This room in a Silicon Valley family home features custom-made bunk beds and bedding by John Robshaw. The pillows are by Jonathan Adler, the shag rug is by NuLoom, and the flooring is walnut.
Playful Decor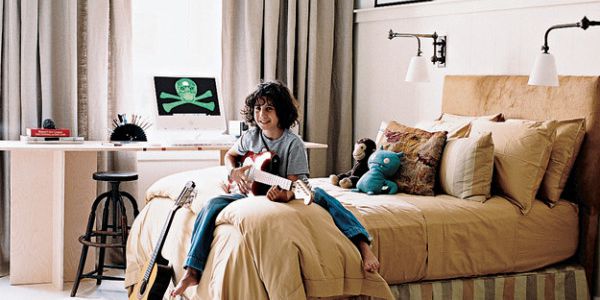 In beauty mogul Sonia Kashuk's home, things are kept soft underfoot with a double dose of flokati rugs next to the bed in the boy's room.