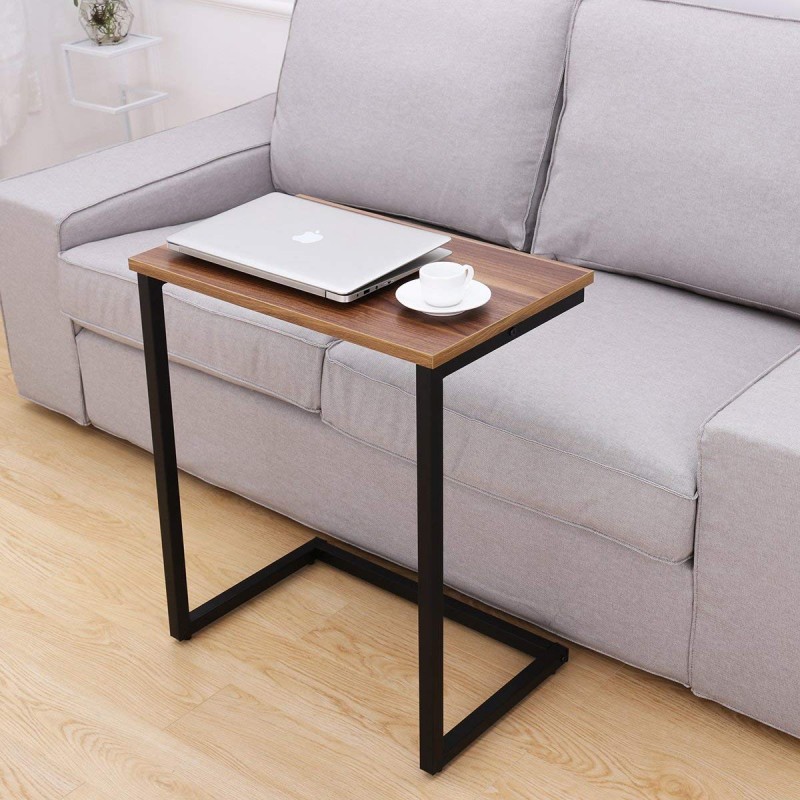 A NEAT TABLE for holding snacks and drinks while watching TV, for holding your remote, iPad, tablet, magazines, etc., Also can be used as an end table, computer desk, bedside table and it can stand alone.
C-Base Side Table is a smart solution for SMALL SPACES. Slip the base under a sofa or chair so the table can be right next to you, or in between two people on a couch.
PERFECT HEIGHT AND DURABLE. At 26 inches high, it's higher than a coffee table but lower than a regular table, putting everything right at arm level when you're siting. Made from Thick Square Carbon Steel Metal Tubes and Density Board, the maximum weight capacity is 45lbs.
NON-SCRATCH FEET AND EASY ASSEMBLY. Four plastic feet let you slide this table around without scratching your floor. And you can screw these adjustable feets easily to fix any wobble caused by uneven floor. Table ships flat and assembles easily with the included hex wrench.
BUY WITH CONFIDENCE! UNCONDITIONAL MONEY-BACK GUARANTEE. If you are unsatisfied with this item for any reason, we will immediately refund your purchase price.
Product Description
Imagine when you are sitting on sofa or bed just enjoy movies and want to eat some snacks or coffee,
but you have to stop watching and stand up to reach them as there was no place to set your drinks.
What if there is a side end table can offer perfect space to place everything you need close to you?
And you never have to set your coffee on the floor to worry about the dog spilling it.
Here's a convenient little table that's perfect for putting things right in your reach while you're sitting on your couch,
arm chair or recliner. You can have snacks and drinks right at hand, as well as a remote control, your phone or tablet, a game controller, books and magazines, and so on.
Not just multi-purpose, this is a stylish side table, which can add an industrial flair to your living room, dining room, office, lobby, or lounge.
This sofa side table is fitted with non-scratching plastic feet, so you don't have to worry about your floors when you slide it around.
What's more, these feet are adjustable, so you can easily fix any wobble caused by an uneven floor.
This table features sturdy steel construction that lets it support up to 45 pounds, and the sleek black and wood-grain finish looks cool and modern in any decor.
So stop juggling your snacks on your lap and setting your drinks down on the floor when you're trying to settle in for a little couch-potato time.
Order this table today and enjoy more comfort and convenience!