Bathroom storage can be difficult, especially for small items. But with these clever organization hacks, you can streamline hair tools and styling products for a tidier space.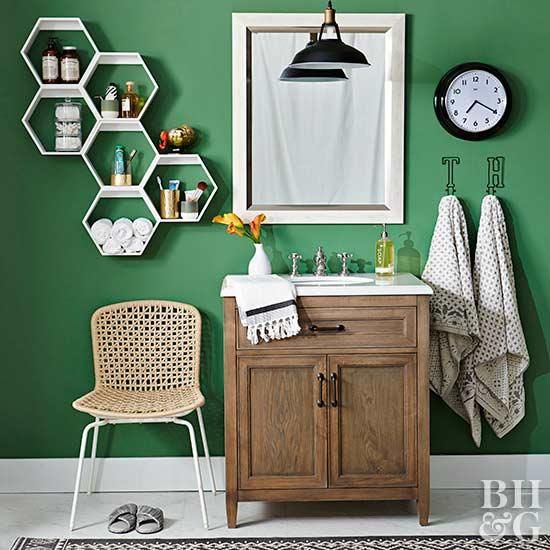 When bathroom space is limited, it's important to make the most of every nook and cranny. That's not always easy with personal care products. Hair tools and sprays, night creams and lotions, nail care products—bathroom clutter can quickly pile up. But with our favorite tips for organizing hair and beauty supplies, you can make the most of a bathroom with limited counter and storage space.
Built-In Compartments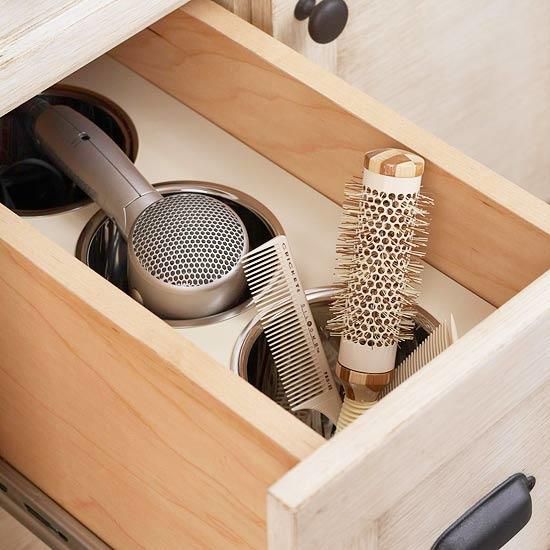 Hot hair tools are some of the most challenging items to tuck away due to the heat they put off and their awkward shapes and sizes. Get the most out of your bathroom storage space by adding heat-safe canisters. The built-in drawer compartments help keep items in place, and the depth makes storing even your largest tools a cinch. Measure your drawer, then purchase a storage unit with similar dimensions.
Bonus: Keep cords on hair dryers, straighteners, and curling irons under control with claw hair clips.
Take the Heat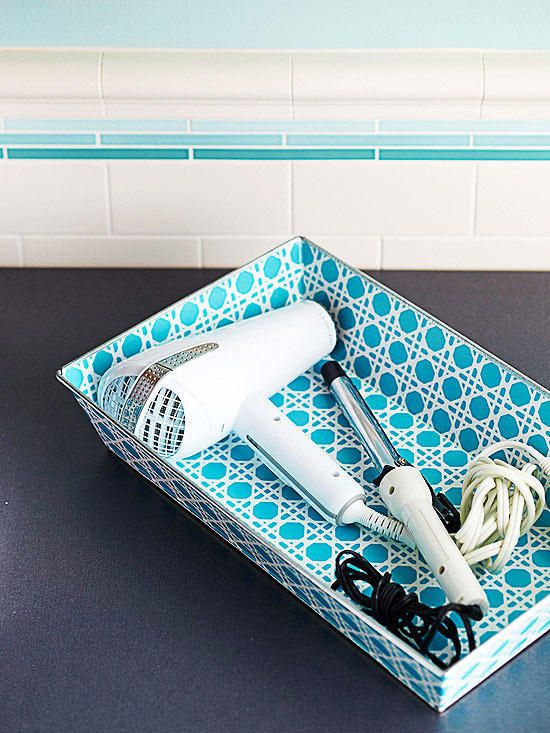 If drawer space is too tight for upright compartments, a decorative heat-safe tray works for storing curling irons and other hot hair-styling tools. It also looks pretty whether it is left out on a countertop or tucked away on a shelf.
Just Add Hooks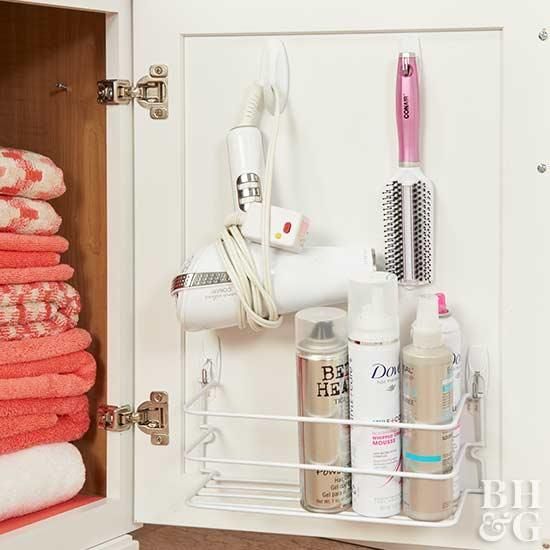 One of the most underutilized areas of your bathroom is the inside of a vanity door. It serves as a blank canvas to store even your largest hair tools and beauty products. Create your own hair-styling station using self-adhesive hooks to hang a wire shelving unit. Another option for behind-the-door storage is to repurpose a kitchen spice rack to hold products.
Glassware Galore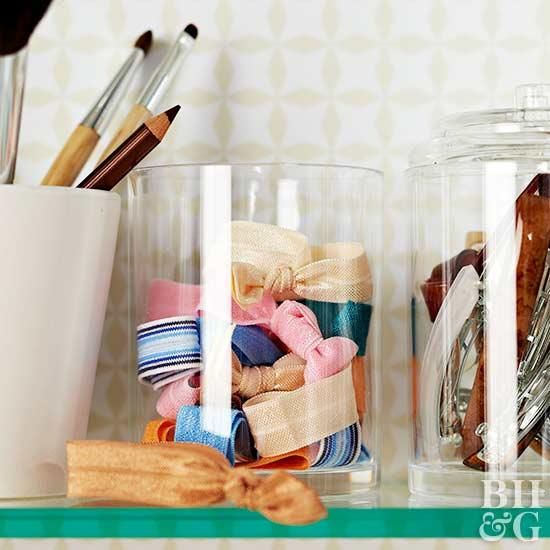 Glassware is a simple solution for seeing what you're storing while streamlining your space. These can easily be placed on a vanity shelf or counter. Use glass containers for easy access to hairpins, ties, clips, and other small hair accessories.
Concealed Drawers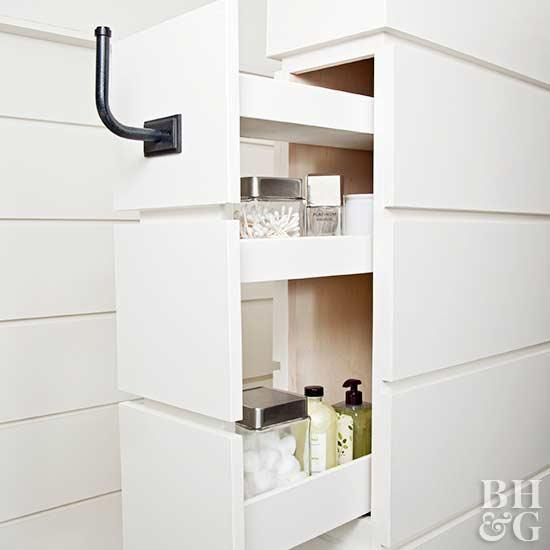 Opt for unexpected storage when working with a small bathroom. Here, a dividing wall was converted to additional drawer space that goes undetected. Multiple levels make it easy to tuck away hair products that you don't want displayed. Consider this solution when revamping your bathroom or powder room.
Stackable Storage Bins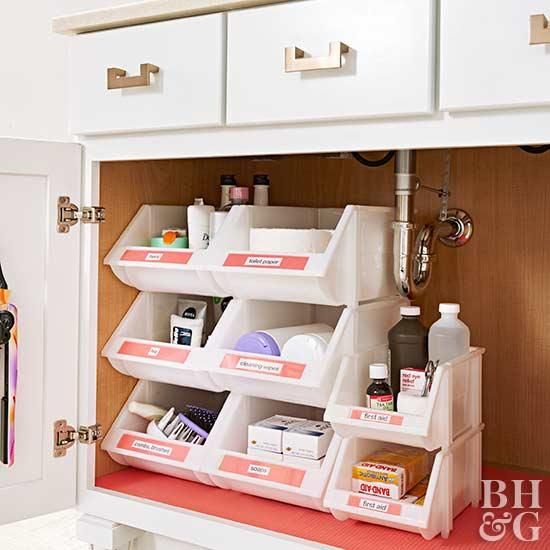 This option is perfect if you own a variety of miscellaneous hair products. Purchase stackable bins in a variety of sizes and colors, then sort your products by usage and label for clarity.
Over-the-Door Options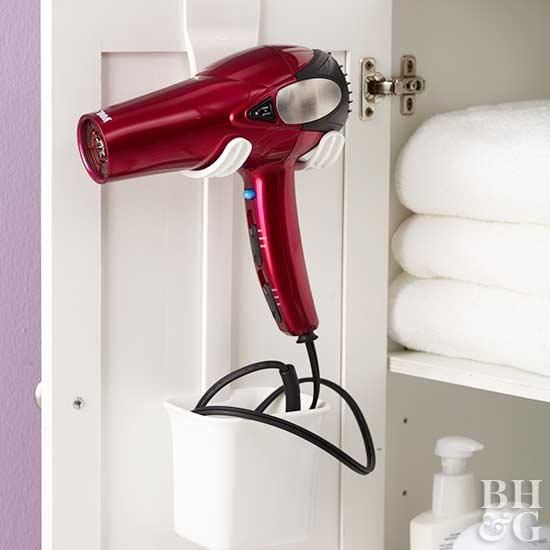 This hair-dryer holder is another way to maximize your vanity space. The storage suspends the tool itself, plus it also manages the cord to prevent tangling.
Repurposed Planters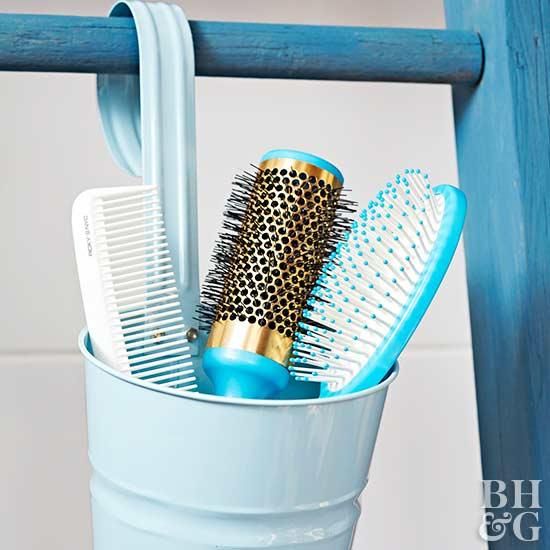 Convert garden planters into hanging storage to hold your hair tools and accessories. This design conveniently loops over a ladder shelf to keep all your hair-taming tools at your fingertips. If your planters lack a hook, arrange them on a shelf or inside a linen closet.
Shelving on a Roll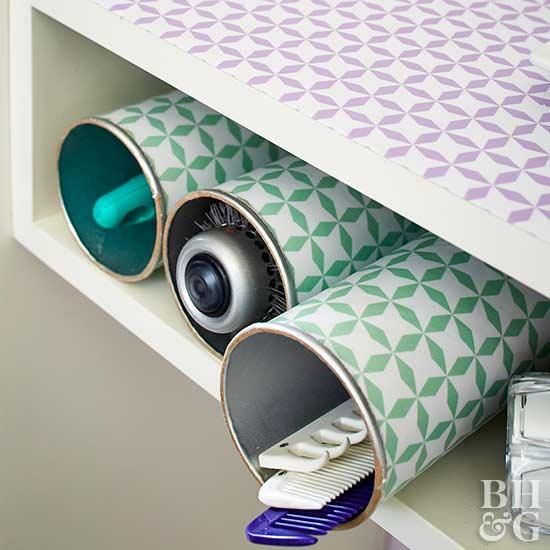 Recycle your old snack containers into affordable storage. A round brush and combs slide perfectly into chip containers. Add color and pattern with decorative paper to coordinate with your bathroom decor.
Mirror Shelving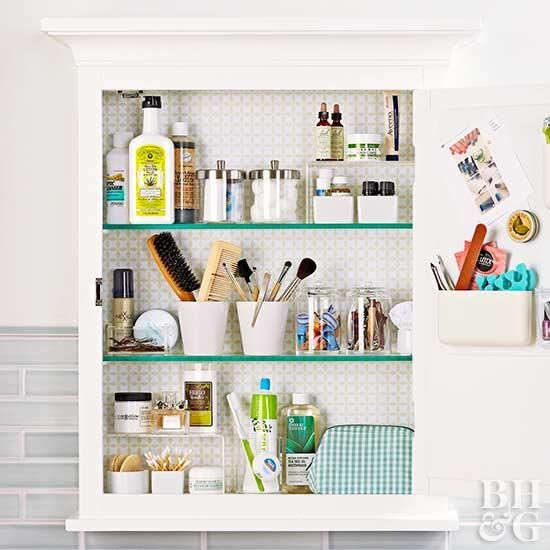 Get the most out of a medicine cabinet by utilizing the door as well as the shelves. Place products you use most often on an easy-to-access lower shelf. For items used only on special occassions, organize on risers on a top shelf. A magnetic basket or bin helps to hold small hair ties and clips inside the door.
Hanging Hair Dryer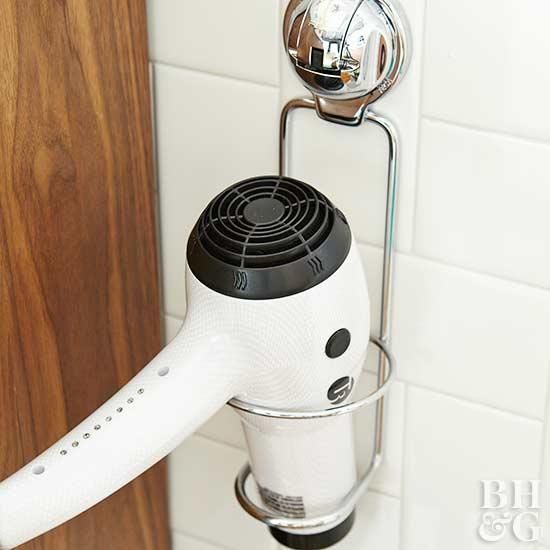 For a smaller bathroom and vanity, get creative with your storage. Here, a tiled backsplash is put to work with a suctioned hair-dryer holder. Make sure to hang the storage unit away from water.
Personalized Drawers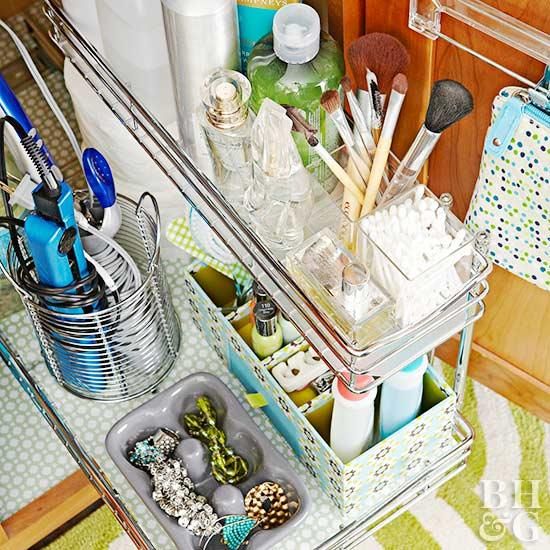 This hack is great for a drawer-less vanity. Don't settle for less—purchase your own set of drawers that fit your undersink needs. Think outside the box: Stacked trays or office desktop organizers can function as drawers. Further your organization with the addition of drawer dividers and sections to corral smaller items. These can be found in several configurations and are sure to give everything a designated home.
Carry It in a Caddy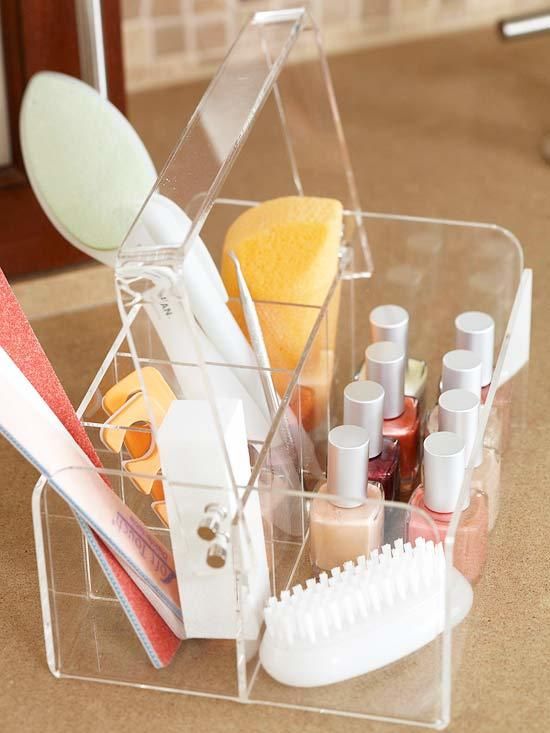 Utensil caddies from the kitchen aisle work brilliantly for items that tend to be transported from room to room and for assembling kits relating to specific personal-care tasks. Although this clear acrylic organizer sorts nail supplies, its individual compartments would be perfect for hair ties, clips, and sprays.
Put It on a Pedastal
Kitchen finds like decorative platters, cups, and cake stands can work for bathroom storage. Pieces on pedestals offer layers of storage for smaller items such as jewelry and hair clips. Mugs work their magic holding makeup brushes, egg crates are perfect for sorting earrings, and small bowls can store anything from hairpins to Q-tips.