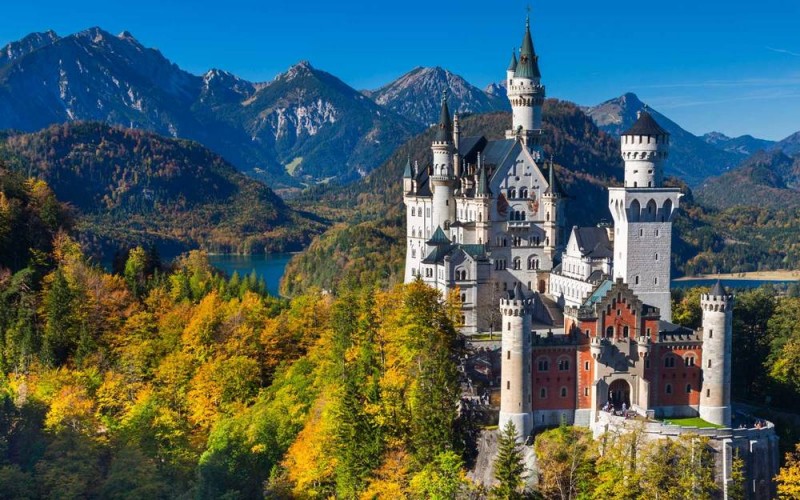 This day-trip takes you to the splendid castles of Ludwig II, King of Bavaria. Visit fairytale Neuschwanstein and intimate Linderhof, lunch in Hohenschwangau, and take a small detour through the little town of Oberammergau.
Experience
Highlights
Visit the majestic castles, Neuschwanstein and Linderhof
Discover Ludwig's childhood home of Hohenschwangau
Take a trip to the tiny Bavarian town of Oberammergau
Full description
In the seclusion of the mountains, King Ludwig II of Bavaria built 2 of his dream-castles: Neuschwanstein and Linderhof.
This trip from Munich in a luxury air-conditioned tour-bus will allow you to visit these two important examples of western architecture. Neuschwanstein Castle, in its stunning position in the foothills of the Alps, is also one of the most impressive sights in Germany. Here you will have around 4 hours to explore comfortably every fascinating detail.
Linderhof is the only castle that Ludwig the II managed to complete. Around noon you will take a rest at Hohenschwangau Castle, Ludwig's childhood home, for lunch (not included).
In addition, you will stop for a short time in Oberammergau, for the opportunity to photograph this picturesque little town and its environs, and to do a little shopping.
Includes
Travel in a luxury tour bus with guide
Audio guides
What's Not Included
When you get there
Meeting point
The meeting- and departure-points are on the Bahnhofplatz, in front of the Karstadt shopping-center
Know before you go
Please arrive at the bus-stop at least 20 minutes before the departure
Audio guides are available in the bus and in the castle. They are available Spanish, Portuguese, Russian, Japanese, Chinese, Italian and French