Are you a balmy sky, crystal blue water, pleasant mornings, filmy sceneries and coral reeves sort of a person? And are you looking for your next vacay spot? Worry not. We have you covered. We the place just right for you. The islands of Pattaya! Pattaya, also known as the resort city of Thailand is surrounded by a cluster of islands and following is all that you need to know about them.
10 Best Islands In Pattaya
From crystal clear blues to the soft white sand beaches, explore the best of islands in Pattaya on your next vacation with your friends and family.
1. Koh Samet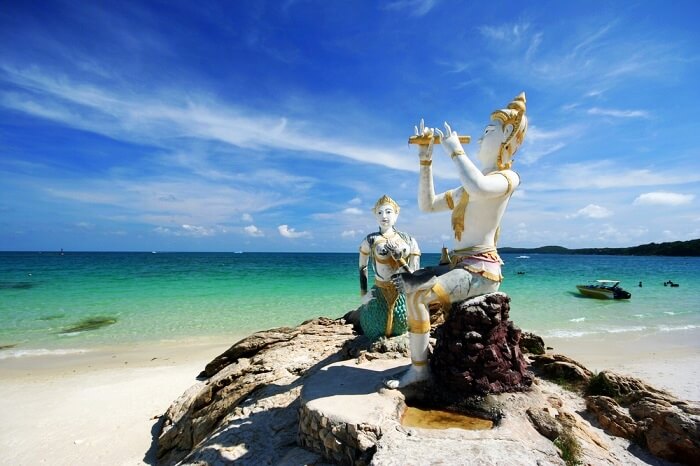 This island has many luxury stays pitched for the comfort of the visitors. The beaches are of variation here. You will find the ones with all sparkly bars to isolated sandy beaches. This beach is also famous for its throbbing night lives.
Must Experiences: Viewpoints of the island, and beachside massage
How To Reach: Take a Pattaya city bus to Rayong and then a ferry or a speed boat from there to Koh Samet
2. Koh Larn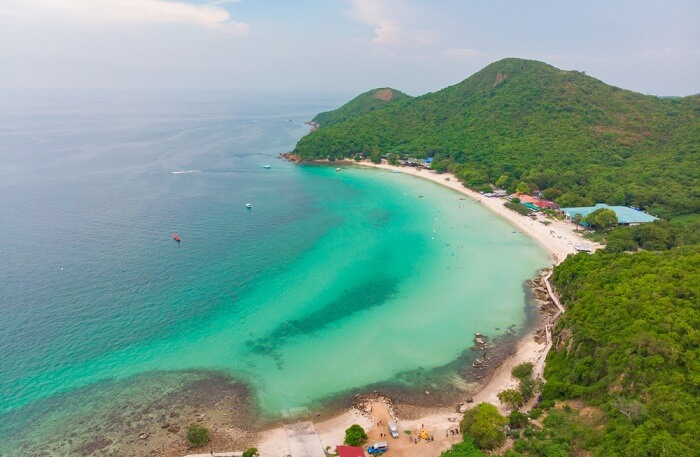 This island is also known by the name ko-lan or coral island. This island mainly maps 6 beautiful white sand beaches with totally picturesque view. The grounds here are full of vegetation just as the name suggests and the tracks can in some places get really steep and narrow.
Must Experiences: Tawaen beach, snorkeling, hiking, scuba diving, sunbathing, and shooting
How To Reach: Take a ferry from Bali Hai Pier
3. Koh Phai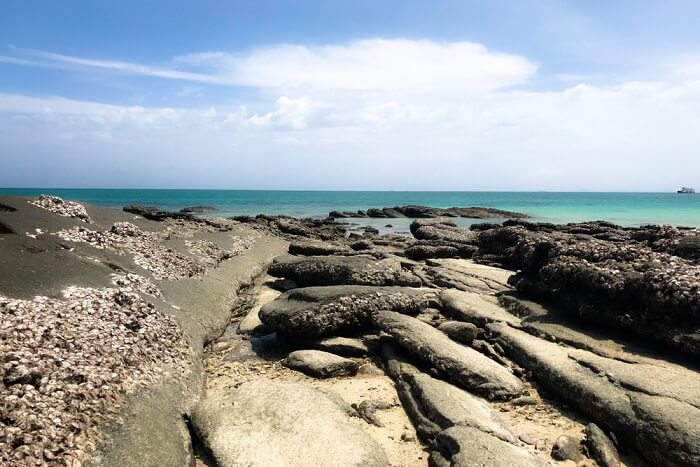 It's one of the best islands around here. Its also known by the name of Bamboo Island which is the translation of Koh Phai. This island is currently functioning under the vigil of the Royal Thai Navy. Thus, sadly there is no permit for visitors to stay overnight.
Must Experiences: Visit the wreck of HTMS Khram, Scuba diving, and sea walking
How To Reach: Take a speed boat from Bali Hai Pier that may take 2 hours to reach the destination
4. Koh Si Chang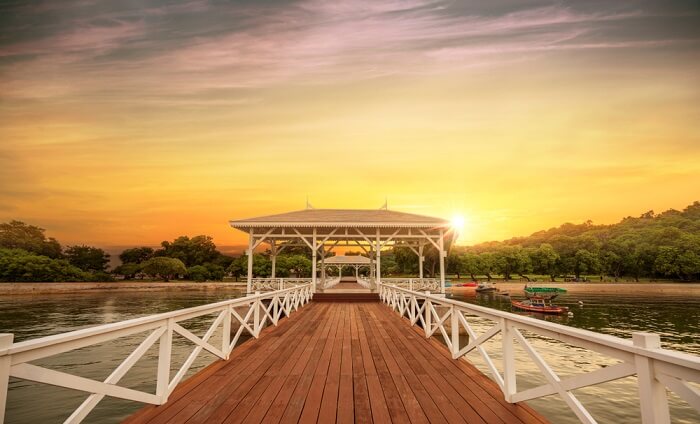 Once upon a time it was an escape from stress point for the royal folks but the good news is now its open for all. The beaches here harbor coves hence adding an explorative perk for the visitors of this island.
Must Experiences: Explore the pagodas and temples, cycle tours, explore the coves, and more
How To Reach: Take the ferries from Pattaya and Koh Si Chang in an average of 30 minutes
5. Koh Sak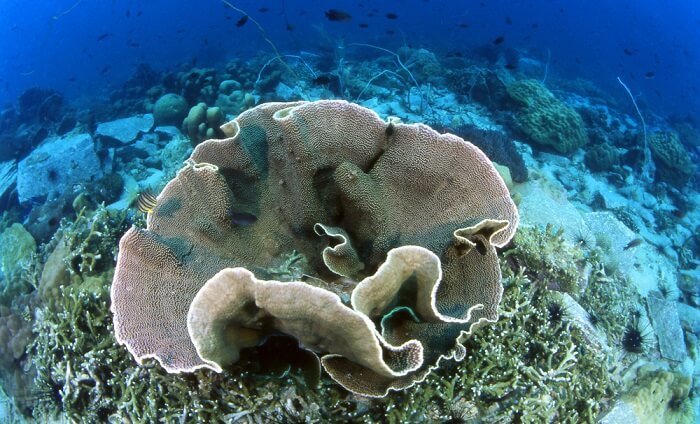 This island is unique for its crescent shape. Its been on the favorite list of many eminent folks such as the Neil Armstrong and Buzz Aldrin. This island has many a times spotted Bamboo Sharks and Hawksbill Turtles.
Must Experiences: Explore the wreck of HTMS Kut, go boating, and more
How To Reach: Take a speed boat from Bali Hai Pier
6. Koh Rin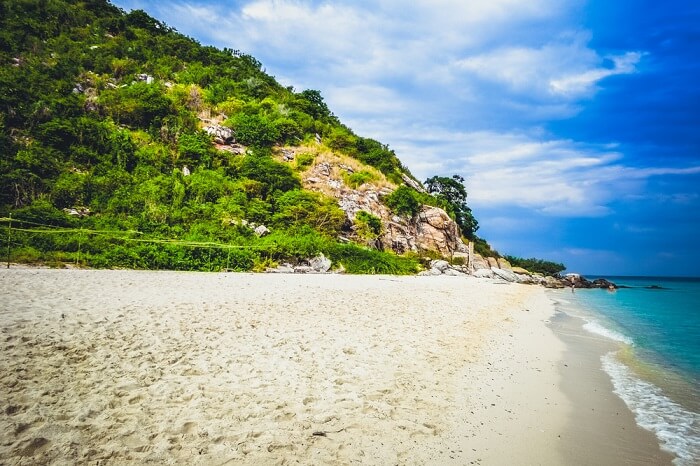 This island is also called as the Gnat island. This island has no local residents or permanent settlers; thus, no visitors are allowed during the night hours. But its beautiful and heavenly to see the white milky bay of this island.
How To Reach: Take a speed boat from Pattaya and reach in about 1 hour
7. Koh Krok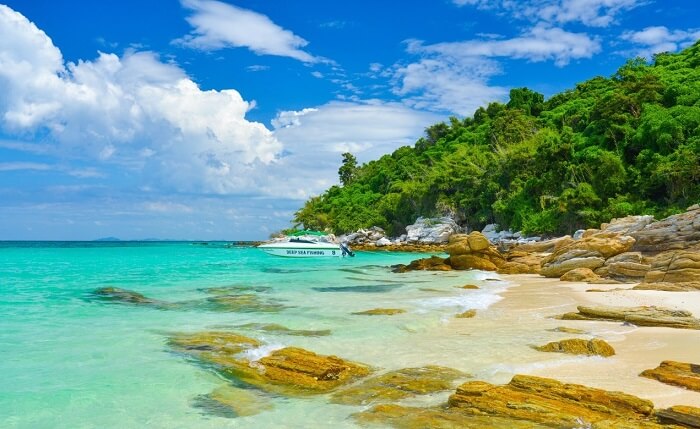 This island falls geographically in between the city of Pattaya and the large island of Koh Larn. It's a very tiny island, rather one of the tiniest ever. This piece of land is famous for its cozy-lazy vibe, perfect for a relaxing vacay time.
How To Reach: Speed boat from the city of Pattaya.
8. Koh Talu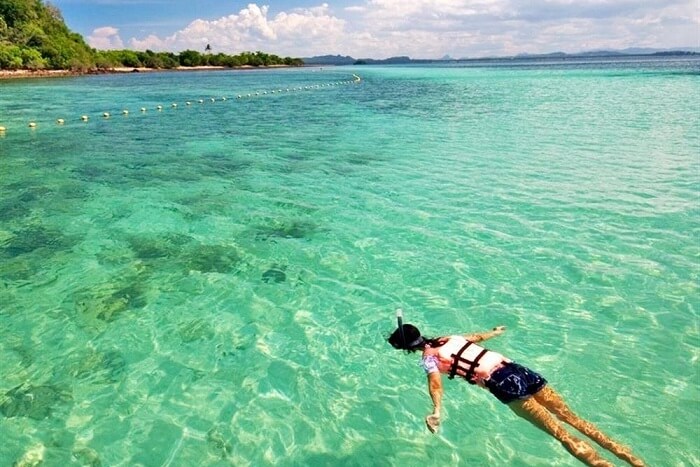 If a hammock, a cocktail and a nice sunset is your kind of thing then this is the place for you. This island endows tranquility and gives a complete rewind to your stressed self. But it's the farthest of all the islands in the archipelago but worth the travel.
Must Experiences: Seafood and campfire nights
How To Reach: Take a Pattaya to Hin Hua and from there a boat and a van
9. Koh Khram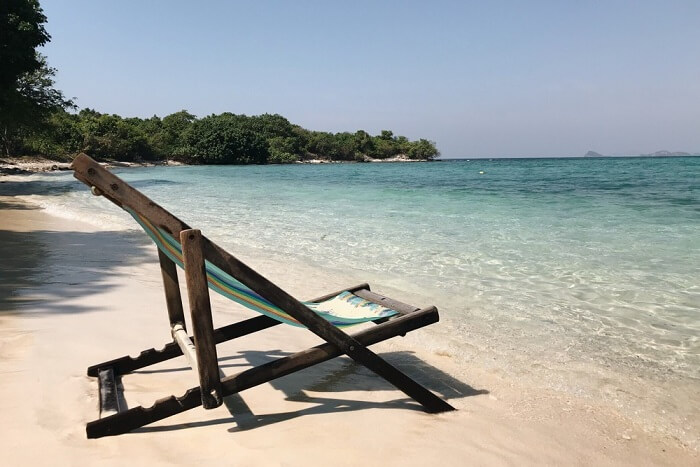 This island is under the surveillance of the Thai Royal Navy. But it's a paradise for snorkeling. This island harbors 2 main beaches which are its star attraction. Earlier no tourists were allowed here to preserve the islands purity and beauty but now limited certified chartered companies are allowed to have day trips.
Must Experiences: Banana boat ride
How To Reach: Take a speed boat from Pattaya City
10. Koh Klet Kaew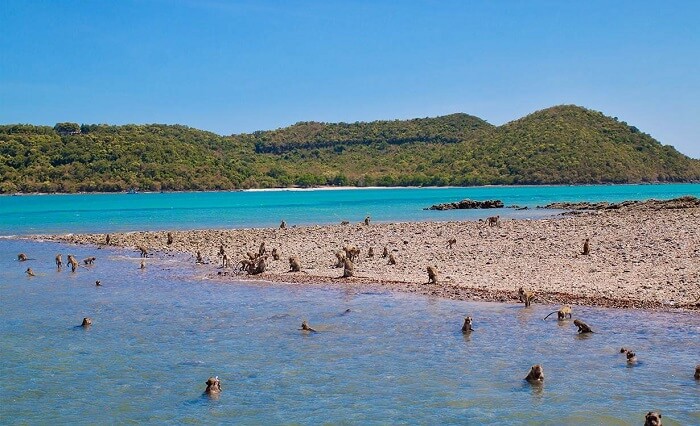 This island is home to Macaques (a certain kind of money) than homosapiens. These monkeys are very friendly and are totally photoholics. So, if you are a photographer on a holiday then this spot is perfect for you. Their mischief though, is something you have to be careful about.
Must Experiences: Interact with the friendly monkeys
How To Reach: Take a speed boat ride from Pattaya that takes 30 minutes to reach