1. Trolltunga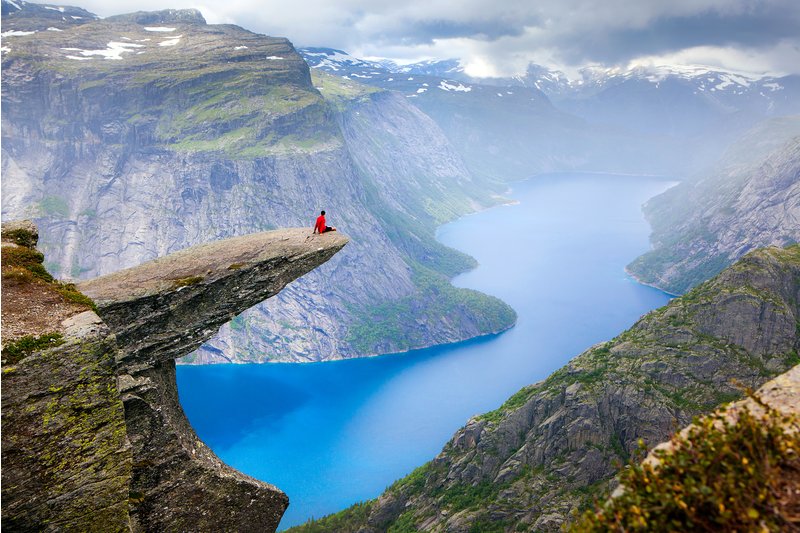 Country: Norway
Total Cost of a Week for Two: $3,822
Perched almost 2,300 feet above the pristine Lake Ringedalsvatnet, the scenic cliff of Trolltunga looks almost identical to the awe-inspiring Pride Rock from Disney's Lion King. The idyllic lookout is the endpoint of an arduous 10- to 12-hour hike from the town of Skjeggedal; it's only accessible from mid-June through the beginning of September, when the conditions are clear. And Trolltunga (which translates to "the troll's tongue") is not the only natural marvel in the area. Just south, you'll find the giant, 2,000-foot Langfoss Waterfall. To get to Skjeggedal—a good jumping off point for both sites—fly into Oslo and then take the train to Voss (around $150 roundtrip), continuing on by bus.
2. Hidden Beach, Marieta Islands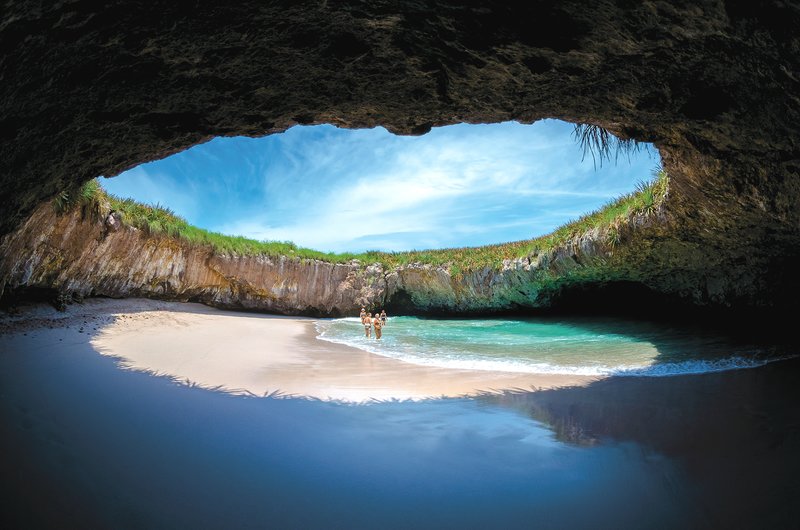 Country: Mexico
Total Cost of a Week for Two: $3,135
About 300 miles south of Cabo San Lucas lie the Marieta Islands, a small group of uninhabited islands with pristine beaches and an abundance of wildlife. Nestled within this lush nature sanctuary is the Hidden Beach, also called the Lover's Beach—a cavernous crater which Lonely Planet reports was formed from military testing on the islands in the 1900s. The best way to get here is to book a boat trip out of nearby Puerto Vallarta, where hotels run an average of $149 per night, according to Hotels.com. Vallarta Adventures offers a three-hour tour ($149 for adults) that stops at the beach (weather permitting) and gives you a chance to snorkel among the unique caves and rock formations on these islands.
3. Salar de Uyuni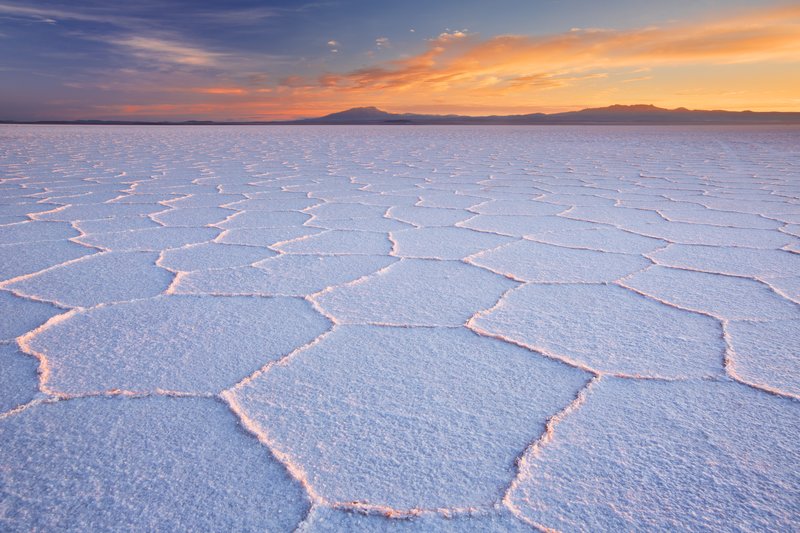 Country: Bolivia
Total Cost of a Week for Two: $3,238
Imagine seeing white as far as the eye can see. It's possible in Bolivia, home to the world's largest salt flat—an expanse that stretches across 4,050 square miles. Visit during the rainy season (December to April) to experience Salar's stunning mirror effect, which occurs when the surface is covered with a thin layer of water. Start your journey by flying into La Paz: Flights average $757 from the U.S., according to Hopper. From there, you can take a bus ($7 to $15) or a shuttle fight (starting at $39) to the Cochabamba region. You'll want to stay in Uyuni, where you can find a tour of the salt flats.
4. Spotted Lake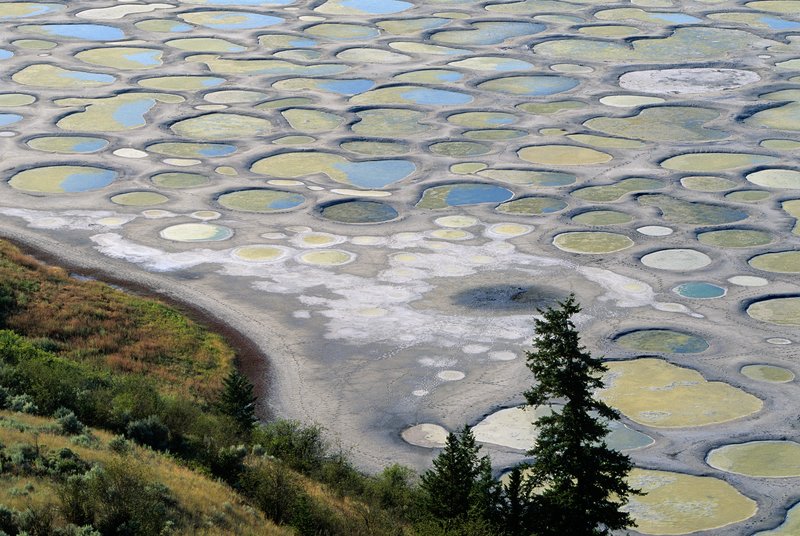 Country: Canada
Total Cost of a Week for Two: $3,394
As summer dawns in British Columbia, the warmer weather transforms a seemingly ordinary lake into what some have called the "most magical place in Canada." The Spotted Lake, which is about five football fields wide, gets its polka dotted look from the heavy minerals contained within its waters; these mineral deposits arrive with spring snowmelt, but are revealed by summer evaporation. To experience the magic for yourself, make your base six miles away in the town of Osoyoos, in B.C.'s famed Okanagan Valley—about 250 miles east of Vancouver.
5. Great Blue Hole
Country: Belize
Total Cost of a Week for Two: $3,570
Made famous by Jacques Cousteau, who named it one of the top places to scuba dive in the world, Belize's Great Blue Hole is home to crystal-clear waters, beautiful coral reefs, and giant stalactites. Essentially a giant sinkhole 50 miles off the coast, this natural wonder is hard to get to—you'll need a boat charter for the day.
6. Manjanggul Lava Tube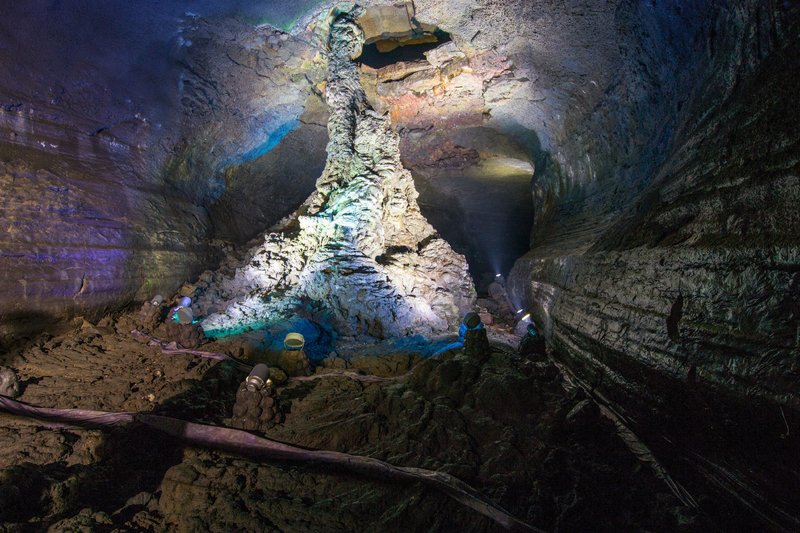 Country: South Korea
Total Cost of a Week for Two: $4,082
On the island of Jeju—which is about 50 miles south of the Korean peninsula—you'll find a warren of tunnels and caves formed 3,000 years ago by a volcano. The most popular is the Manjanggul Lava Tube, a 5-mile-long cavern littered with volcanic stalactites, shelves and bridges. After a day of hiking through the caves, check out the picturesque Gwaneumsa Temple, a Buddhist holy site just a 45-minute bus ride outside the main city of Jeju.
7. Sagano Bamboo Forest
Country: Japan
Total Cost of a Week for Two: $4,090
On the outskirts of the bustling city of Kyoto is an oasis of calm: the Sagano Bamboo Forest. The green stalks tower above visitors as they wind through the various paths and gardens. The park has seen an increasing number of visitors in recent years (entry is free); to take in the forest's quiet rustling, plan to visit in early morning or late evening, and avoid weekends completely. Flights to Kyoto are about $829 on average, according to Hopper, but they regularly go on sale, so set up a fare alert to score a deal.
8. Beach of Cathedrals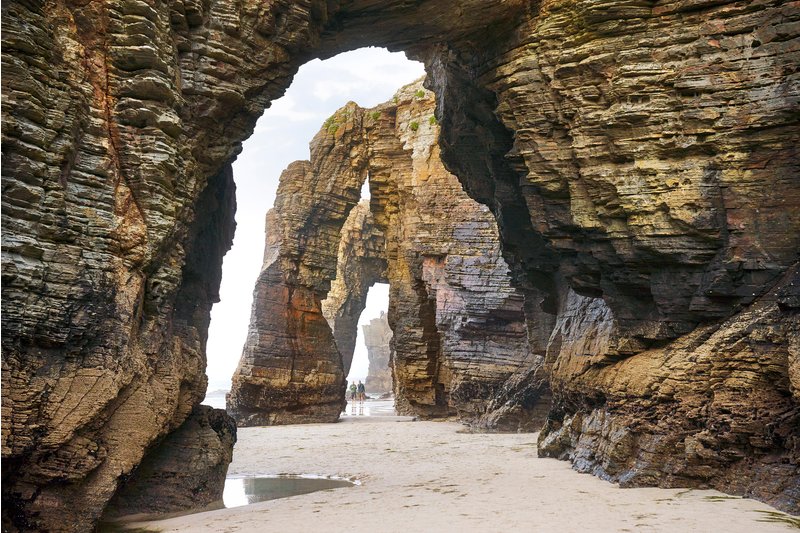 Country: Spain
Total Cost of a Week for Two: $4,152
Along the northern coast of Spain, millennia of tides and currents have carved the cliffside of the Beach of Cathedrals, also known as Praia de Augas Santas ("Beach of the Holy Waters"), into what looks like a string of Gothic arches. Stroll along this famed beach at low tide to experience the stunning stone formations, rocky cliffs and exposed caves. While you explore the coast, make the lively port town of Ribadeo your base; it's just six miles from the Beach of Cathedrals.
9. Aurora Borealis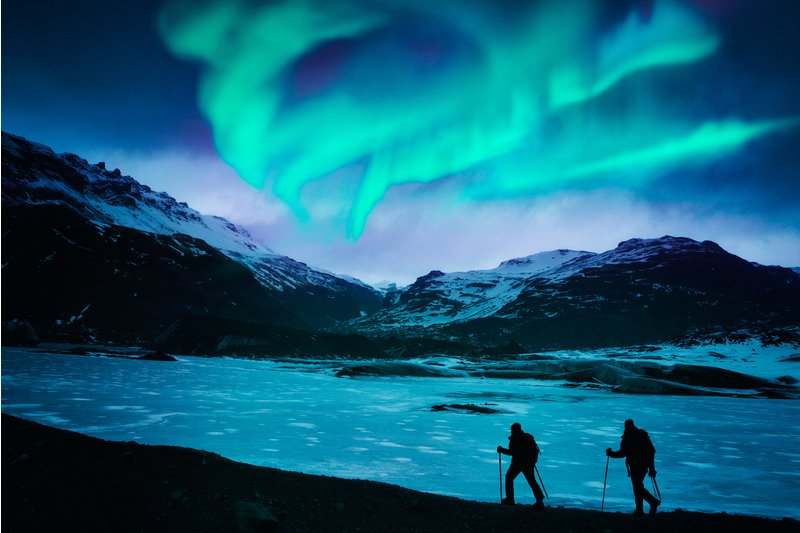 Country: Iceland
Total Cost of a Week for Two: $4,244
One of the best places to take in the breathtaking Northern Lights is in Iceland. The country is also one of the world's trendiest emerging vacation spots—thanks in part to increased flights to Reykjavik—making this one of the easier natural wonders to check off your bucket list. If you're looking for a guide, companies such as Gateway to Iceland can take you to the best viewing spots (tours start at $85). Visit this island nation between October and March for the best chance to view the phenomenon, and while you're there, make time to relax in the infamous thermal hot springs.
10. Giant's Causeway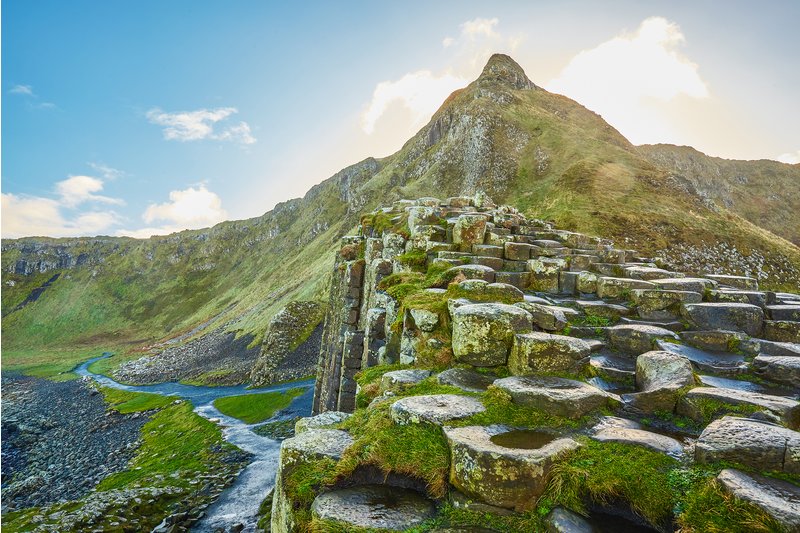 Country: Northern Ireland
Total Cost of a Week for Two: $4,252
Rising out of the misty North Atlantic, the Giant's Causeway will make you believe in the mystical. This natural wonder is made up of roughly 40,000 interlocking basalt columns that jut out of the sea to create a truly stunning landscape you won't soon forget. Legend has that Irish giant Fionn mac Cumhaill built the Giant's Causeway to reach Scotland, where a spectacular sea cave on Staffa Island has similar basalt columns. Make Belfast your base, then head up to the fabulous coast of Antrim to see the Causeway. If you find the region looks vaguely familiar, credit the Game of Thrones TV series, which has filmed some scenes in the area.
11. Living Bridges of Cherrapunji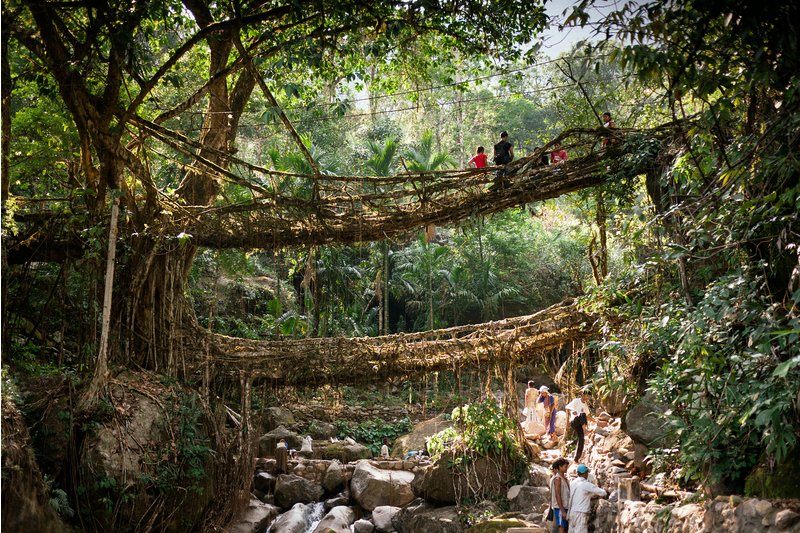 Country: India
Total Cost of a Week for Two: $4,334
Swift rivers crisscross the dense, tropical jungles of Meghalaya in Northeast India. To navigate them, the native Khasi devised an ingenious solution, weaving the thick branches and roots of the living rubber trees into bridges that still stand firm today. The Living Bridges of Cherrapunji look like the stuff of fantasy, but visitors can actually climb across many of them—there's even a double-decker living root bridge.
12. Plitvice Lakes National Park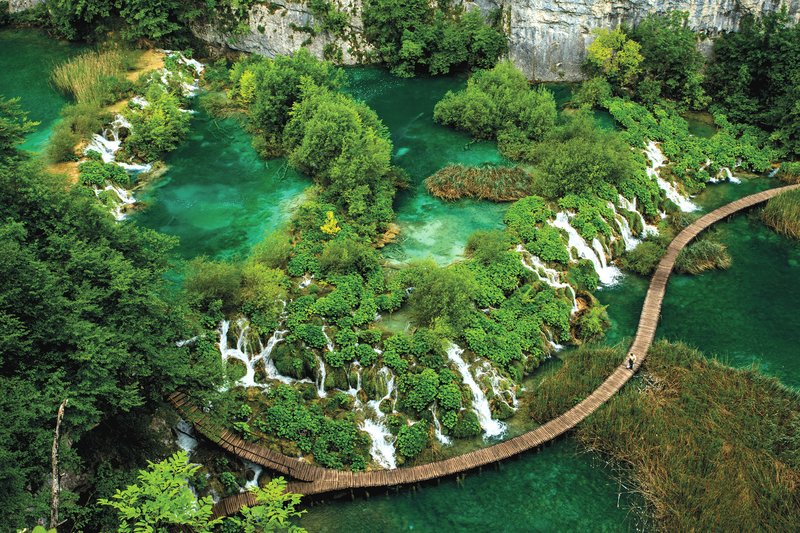 Country: Croatia
Total Cost of a Week for Two: $4,368
Known for waterfalls and cascading lakes, Plitvice Lakes National Park in central Croatia features magnificent vistas and exquisite turquoise pools. Lonely Planet suggests you spend about six hours hiking around the park to explore all the various lakes and natural landmarks; alternatively, you can trim your walking time by taking the park's free boats and shuttle buses. Stay in the nearby city of Zadar, a quirky port town that boasts everything from Roman ruins to modern art installations.