These ski towns have it all—excellent slopes, inviting lodges, and deep-rooted ski culture.
Mont Tremblant, Quebec, Canada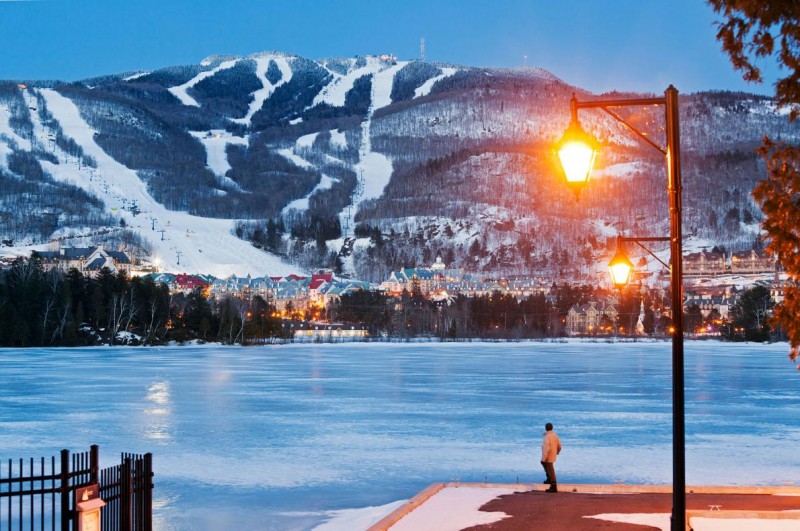 Best For: Croissant-loving skiers and snowboarders looking for European ambiance without the overseas flight
Tremblant offers some of the best skiing in eastern Canada, with a master-planned village that feels cut from Europe—or at least the old quarter of Quebec City. With the first lift opening here in 1939, Tremblant was one of the first ski areas in North America, though the 18th-century French Alps-styled village at the base of its lifts wasn't built until the 1990s. Fortunately, Tremblant did it right, with hotels, patisseries, and bistros packed into colorful multistory buildings that overlook narrow cobbled streets and squares. Underground parking means the entire village is car-free, making for an inviting, old-world environment.
The original hamlet of Mont-Tremblant, only three miles from the mountain, makes for a mellower experience. Its smattering of hotels, hostels, and restaurants are a good option for people looking to get away from the bustling, slightly Disney-fied ambience of the resort.
The mountain itself offers a respectable 2,116 feet of skiable vertical, with 95 runs unfurling down four separate faces, providing the ability to follow the sunshine across different aspects throughout the day. Which is good, because mid-winter temps this far north can be savagely cold. The mountain's two enclosed gondolas also help. Powder skiing may not be a regular occurrence, but assiduous grooming ensures there are no terrifying sheets of eastern ice.
Ask a Local: Tremblant local Donald Lacasse has been a ski instructor for decade and the director of Tremblant's snow school since 2007.
Best Digs: Those on a budget can book a room at HI-Mont-Tremblant Youth Hostel in the old village. Stay at the Fairmount Hotel for a ski-in, ski-out room.
Best Eats: Skiers looking for cheap eats should try Chez Lorraine in the old village.
Best After-Ski Party Spot: Le P'tit Caribou
Best Rest-Day Activity: Relax at the Scandinave Spa Mont-Tremblant and shop in the village.
Tremblant's Classic Ski Run: The Expo is 1,148 vertical feet of pure pleasure.
Chamonix, France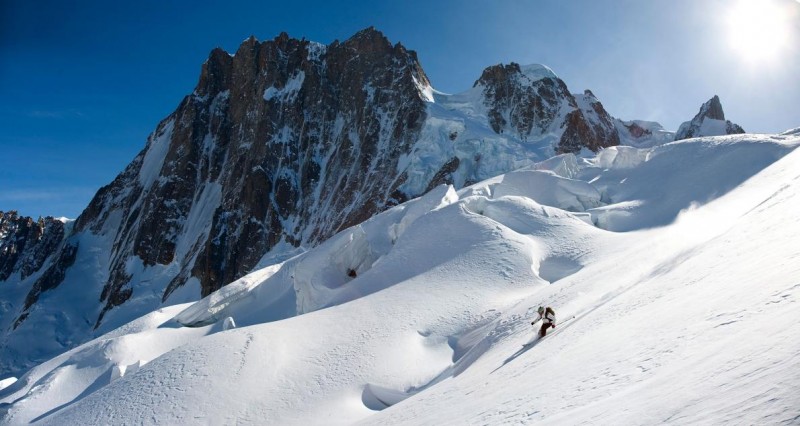 Best For: Adrenaline junkies who like their mountains big
Globally renowned as the birthplace of extreme skiing (often defined as "you fall, you die"), Chamonix has some of the world's premier lift-accessed steep skiing and snowboarding—including plenty of terrain that won't leave you dead on a glacier if you catch an edge wrong. Located in a deeply cleaved valley near the trisection of France, Italy, and Switzerland, the town sits in the shadow of the highest peak in the Alps, Mont Blanc, and a tangle of other glacier-clad mountains. Chamonix's cobblestone streets and car-free pedestrian center make for a classic mountain village environment typically bustling with leathery mountaineers and gawking tourists. This is France, so the nightlife is predictably spirited, and diverse accommodations range from grimy climbers' hostels to luxury lodgings.
But it's the mountains that rule here. The many lifts and trams access terrain so steep and rugged that many skiers will be wishing for a ride down, as well. One ticket gains access to the 11 different ski zones scattered discontinuously across the valley. If the snow is good, vertical drops of over 9,000 feet are possible. With more glaciers—and their pesky offspring, crevasses—than any ski area in Europe, skiers and snowboarders who enjoy staying alive should hire a local guide before heading out of bounds.
Ask a Local: Former France Ski Team member and freeride world champion Aurélien Ducroz has lived his entire life in Chamonix. Here are his recommendations.
Best Digs: The recently renovated Hotel du Louvre is in the center of town. Le Hameau Albert 1er in downtown Chamonix is the only five-star hotel.
Best Eats: Le Cap Blanc, one of Le Cap Horn's three venues, serves delicious sushi.
Best After-Ski Party Spot: Chambre Neuf, a Scandinavian-influenced bar, has live music and is host to the best after-ski vibe the town has had in years.
Best Rest-Day Activity: Chamonix is a real city, so even if you're not a skier there are many other things to do, such as visit the Alpine Museum.
Chamonix's Classic Ski Run: La Vallée Blanche starts from the top of the Aiguille du Midi and goes for 16 kilometers on top of a glacier in the middle of incredible mountains!
Zermatt, Switzerland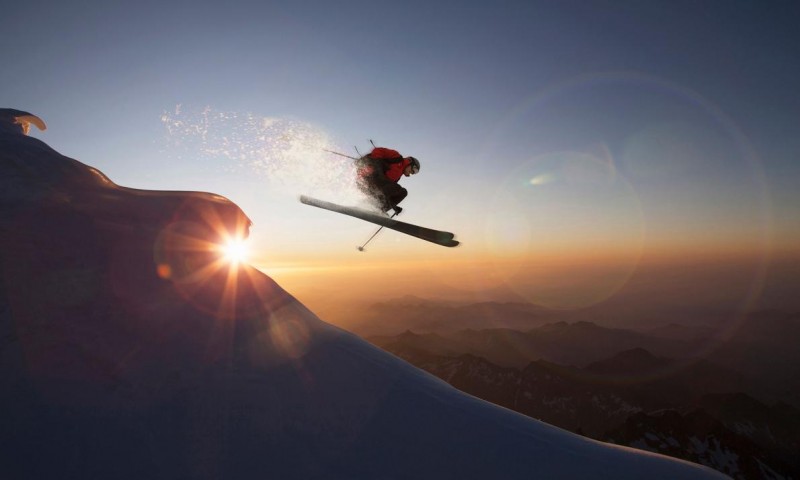 Best For: Photographers with a taste for old-world culture and never-ending descents
Switzerland is a country of classic ski towns, but Zermatt is its crown jewel. To many, it is the world's ultimate ski resort. Though surrounded by several glacier-clad peaks, everything here—the town, the skiing, the sky—is dominated by the spiking pyramid of the mighty Matterhorn, one of the most distinctive mountains on Earth. The village itself allows only electric cars (you arrive by rail), and luxury hotels sit side by side with centuries-old wooden barns. Streets are narrow and cobbled; restaurants are abundant and expensive. It's everything you imagine a Swiss ski village to be.
Zermatt offers three interconnected Swiss skiing zones, each with its own cluster of lifts and all skiable with a single ticket and accessible directly from town. There are also two ski zones just across the Italian border. The scenery is unrelentingly stunning but the skiing and snowboarding is even more so, with vertical drops of up to 7,152 feet on terrain that varies from never-ending cruisers to north-facing powder runs. The more than 50 on-mountain restaurants are among the finest anywhere, and taking time for a relaxed lunch is de rigueur.
Don't miss the ride on the Matterhorn Glacier Paradise cable car—the highest in the Alps—on which you can descend 12 miles into the Italian area of Cervinia (joint lift tickets available), where a midday meal costs half the price you'd pay in Switzerland.
Ask a Local: Longtime Zermatt resident Amadé Perrig is a former ski racer and instructor and the retired CEO of Zermatt Resort. He has climbed the Matterhorn more than 20 times. Here are his recommendations.
Best Digs: Hotel Bahnhof is a simple, low-budget hotel that is well known by climbers. The Mont Cervin Palace is an old, classic, five-star hotel.
Best Eats: Walliserkanne has a really good low-budget menu. Try Chez Heini for high-quality lamb in the company of celebrities.
Best After-Ski Party Spot: Unique Hotel Post Zermatt has five bars, including one with live music.
Best Rest-Day Activity: Visit the Matterhorn Museum to learn about the history of the mountain, the first ascent, and more.
Zermatt's Classic Ski Run: "National, it's very steep and you can carve," says Perrig.
Banff, Canada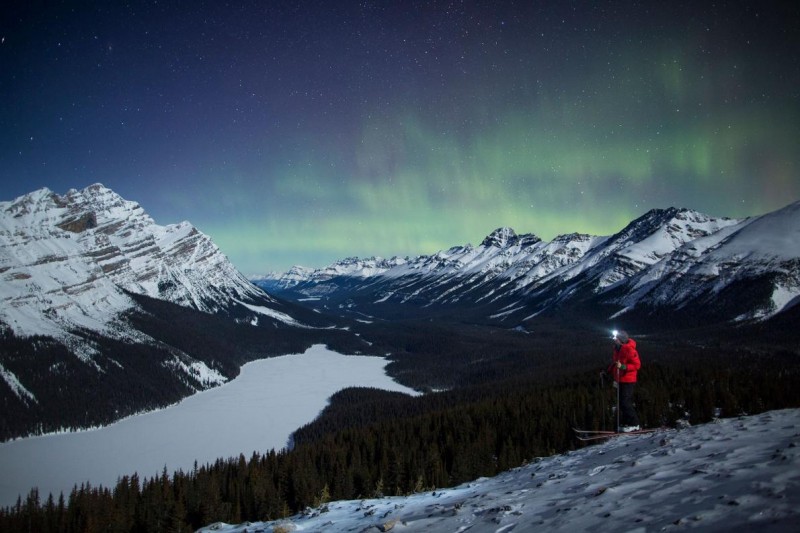 Best For: Hardy skiers and snowboarders of all abilities who love big views, wild panoramas, and bighorn sheep on the front lawn
The only town on this list located inside a national park, Banff also happens to be one of the most cosmopolitan. Typically teeming with visitors from many continents, downtown is a warren of international eateries, tourist shops, and museums, all surrounded by pristine mountain peaks stabbing thousands of feet into the sky. It's one of the few places on Earth where you can walk out of a hip nightclub and two blocks later bump into a grazing bull elk (seriously, keep an eye out, they're all over the place). Historic hotels and mountain hot springs add to the ambiance of frontier luxury.
There are three ski areas here within a 50-minute drive, all skiable on a single ticket. The runs of small but steep Mount Norquay, home of the one of the oldest chairlifts in North America, are visible from town. A larger and more well-rounded area, Sunshine Village—which is neither a village nor particularly sunny—sits on the Continental Divide and features the most reliable snow in the area. It also has the freeride area Delirium Dive, which harbors the kind of dizzyingly steep and rugged terrain you rarely find in-bounds in ski areas (transceivers, shovels, partners required). Lake Louise is second in size to only Whistler among Canadian ski areas and features some of the world's most scenic skiing and snowboarding. Shuttle buses are available from town to all three areas. Be prepared for cold temperatures in mid-winter.
Ask a Local: David Spence is a lifetime Banff local, former ski racing coach, and self-described "professional ski bum." Here are his recommendations.
Best Digs: The Banff Aspen Lodge has great rates and a free skiers breakfast. Since winter is actually Banff's low season, skiers can access the five-star Fairmont Banff Springs Hotel for three-star prices.
Best Eats: Tommy's Neighbourhood Pub is the best spot in town for a burger and beer. Castello's Ristorante at the Fairmont Banff Springs has the best lamb in town.
Best After-Ski Party Sport: With over 30 bars and restaurants, Banff is the type of town where you barhop. Every place is different, and they're all within three blocks.
Best Rest-Day Activity: An Ice Walk with Discover Banff Tours makes for an amazing day, a true bucket-list event.
Banff's Classic Ski Run: The Bye Bye Bowl at Sunshine Village is wide open, and you can't beat the view.
Aspen, Colorado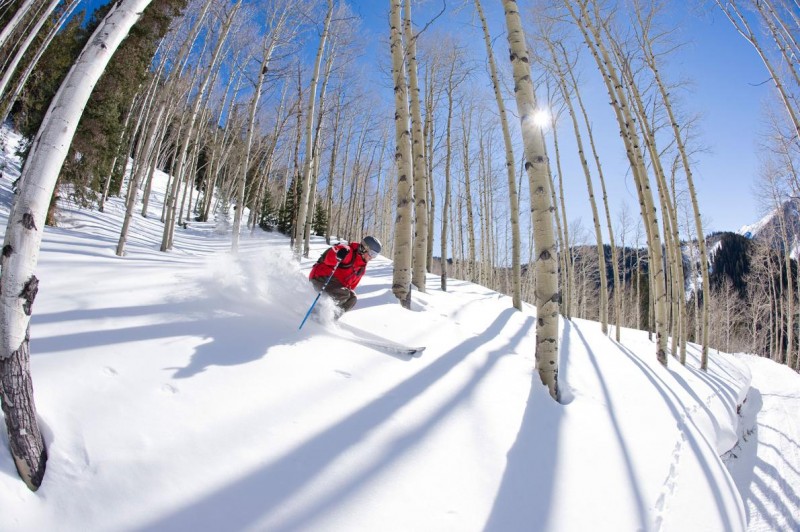 Best For: Well-heeled scenesters and celebrity-stalkers with a love for top-quality skiing
Hype aside, Aspen is still the ski town all North American ski towns compare themselves to—and one of the few places that manages to be both hip and classic at the same time. Riddled with galleries and boutiques and coffeehouses and gourmet restaurants, this is where movie stars mingle with Olympic athletes and where full-length fur coats never go out of style. It's undeniably ostentatious—and enough to make a dirtbag ski bum barf on his duck-taped Gore-Tex—but it may also be the world's most sophisticated mountain town outside of Europe.
The skiing and snowboarding's not bad either. In fact, it's as good as anywhere in Colorado, with four separate ski areas within a ten-mile radius catering to all abilities and tastes. Aspen Mountain is an expert's playground—it literally has zero green runs—and one of the most consistently steep areas in Colorado. Its runs spill right into downtown. Snowmass is the mega-mountain with the second most vertical in the U.S. (though not skiable continuously) and terrain for everyone. Aspen Highlands is the local favorite and features the steepest terrain of the four. Buttermilk, with its ample greens and innovative ski school, is perfect for beginners. Lift tickets are good for all four mountains, which are easily reached from Aspen and each other by free shuttle buses.
Ask a Local: Longtime Aspenite Christy Mahon is the first woman to ski all of Colorado's 14,000-foot peaks and serves as the Development Director for the Aspen Center for Environmental Studies. Here are her recommendations.
Best Digs: The Tyrolean Lodge on Main Street was built by a legendary Aspen family and has remodeled rooms with vintage ski decor and the best rates in town. At the higher end, the Hotel Jerome embodies Aspen's history.
Best Eats: At 520 Grill, two local skiers and chefs quickly serve up healthy burgers, creative sandwiches, and salads. For 24 years, Cache Cache has been the place to go for the most sophisticated, French-inspired cuisine in Aspen, with an incredible, high-energy atmosphere.
Best After-Ski Party Spot: Just steps from the gondola, Ajax Tavern lures you in with the smell of truffle fries and a stylish patio scene.
Best Rest-Day Activity: Take a walk down the Rio Grande Trail along the Roaring Fork River to visit the 25-acre nature preserve at Hallam Lake, part of the Aspen Center for Environmental Studies. Then view a cutting-edge contemporary art exhibit at the Aspen Art Museum.
Aspen's Classic Ski Run: The long face of Bell Mountain on Aspen catches the late afternoon sun and is the best way to end the perfect ski day.
Cortina d'Ampezzo, Italy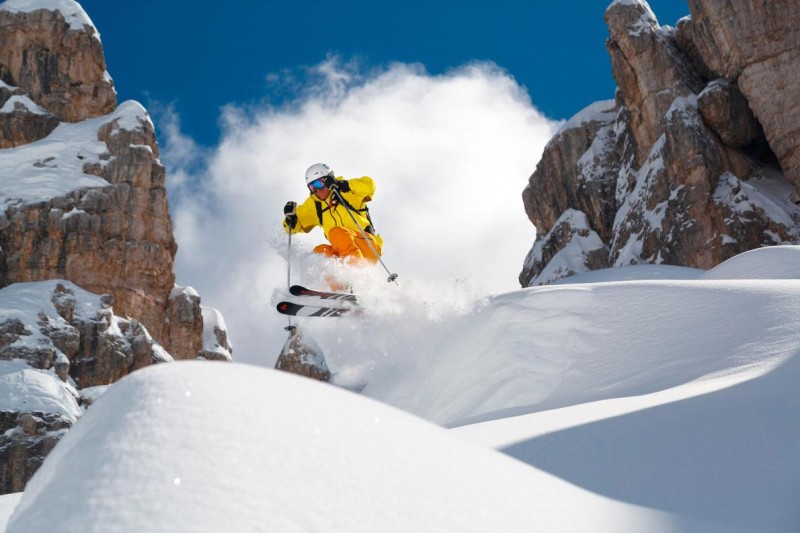 Best For: Aesthetically minded skiers who appreciate fine wine
With the dramatic peaks of the Dolomites rising like ruddy cathedrals in every direction, the ski areas around Cortina have been called the most beautiful in the world. Many of the bejeweled visitors here seem to be vying for the same title. The most upscale resort in Italy, Cortina's car-free Corso Italia is packed with furriers, designer boutiques, and Italians with sunglasses that cost more than most skis. It's a slice of classic Italy and loads of fun if you want to sample la dolce vita.
The good news is that most people here are more interested in socializing than actually skiing and snowboarding, so the slopes aren't crowded—at least by European standards. It's also possible to stay and eat here inexpensively, as long as you steer clear of establishments that require second mortgages to afford. Though mind-meltingly scenic, the skiing itself is inconveniently spread out, making taxi services or a car useful if you want to maximize the area's potential. There is a free shuttle bus that connects the ski areas with continuous service during the operating hours of the lifts. Beginners and intermediates will have the most fun on the many gorgeous, groomed runs (Socrepes and Mietres are dedicated to children and beginners). If you don't mind the bus or taxi rides, Dolomiti Superski tickets give access to a network of resorts that reach far beyond Cortina and offer more terrain for advanced skiers.
Ask a Local: Ski instructor and guide Paolo D'Amico was born and raised in Cortina d'Ampezzo and personally guided Sylvester Stallone when he visited to film Cliffhanger. Here are his recommendations.
Best Digs: Hotel Montana is cheap, in the center of town, and next to the church steeple so you can "hear the bells singing." Hotel de la Poste is where you can really experience the Italian atmosphere.
Best Eats: Twenty Euro will get you a meal at Birreria Vienna, Pizzeria-Restorante—about as cheap as it gets in Cortina. You can see the entire valley from the terrace of Il Meloncino al Camineto.
Best After-Ski Party Spot: Ernest Hemingway's favorite was the Enoteca Cortina wine bar, where he once got so drunk with an instructor at midday that he was unable to get back in his skis after the break.
Best Rest-Day Activity: Go Italian—spend the day shopping and eating.
Cortina's Classic Run: The Canalone Staunies is only open in warm weather when the snow conditions are good. It's so steep and prone to ice that several people have died skiing there. Of course, it's a major draw because of its beauty and challenge. Many people come to Cortina just to ski this high, steep slope cupped between dozens of thorny Dolomite peaks.
Niseko, Japan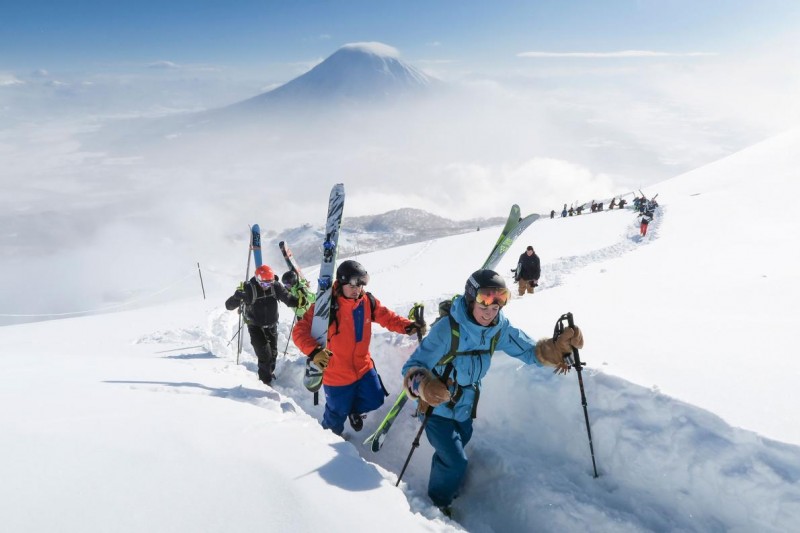 Best For: Powder worshippers with plenty of frequent flyer miles and a taste for hot springs and sushi
Thanks to the near-constant storm cycles pumping out of neighboring Siberia, the mountains on the Japanese island of Hokkaido are globally renowned for having some of the most consistent, lightest powder on Earth. Niseko is the preeminent spot here, an amalgam of four independently owned, interconnected resorts that girdle 4,291-foot Mount Niseko Annupuri (skiable with one lift ticket). Averaging a jaw-dropping 590 inches of snow a year, there's fresh powder more days than not on Niseko Annupuri and its abundant, lightly skied off-piste terrain (the Japanese have been inexplicably slow to embrace powder's addictiveness). The town of Niseko, population 4,685, is an easy drive from the four separate base areas and features a laid-back, surfing-town vibe and dozens of onsen, or hot springs, for settling into after-ski comas.
Night skiing is huge here, and enormous stadium-style lights brighten 2,560 vertical feet of skiing. Deep-powder runs through illuminated nighttime forest are a Niseko specialty. Given the windstorms that periodically lash the mountain, the mountain's perfectly spaced birch forests are often the best, most sheltered places to ski and snowboard.
Ask a Local: Canadian Clayton Kernaghan visited Niseko years ago and never left. He now operates Black Diamond Lodge and Tours, which offers mountainside lodging and guided powder skiing in the area. Here are his recommendations.
Best Digs: Powder Lodge is the cheapest place to stay in town. It's very basic. The Vale Niseko has one of the best locations in town, ski-in and ski-out.
Best Eats: When on a budget, find meals at Seicomart, the convenience store. It might sound crazy, but the food in convenience stores here is really, really good. It's fresh food and it's cheap. A-Bu-Cha is a really good, traditional Japanese restaurant. Try the miso salmon.
Best After-Ski Party Spot: Gyu+Bar, aka the "Fridge Door" bar, spins vinyl and serves single malts. The entrance is literally a refrigerator door.
Best Rest-Day Activity: Take the 2.5-hour train ride to Sapporo, the largest city on Hokkaido.
Niseko's Classic Run: Ride the chairlift to the top of Hanazono and go through gate four or five and drop through Rob Roy, then through Jackson, and then end up at the bottom of the mountain. It's a powder run.
Jackson, Wyoming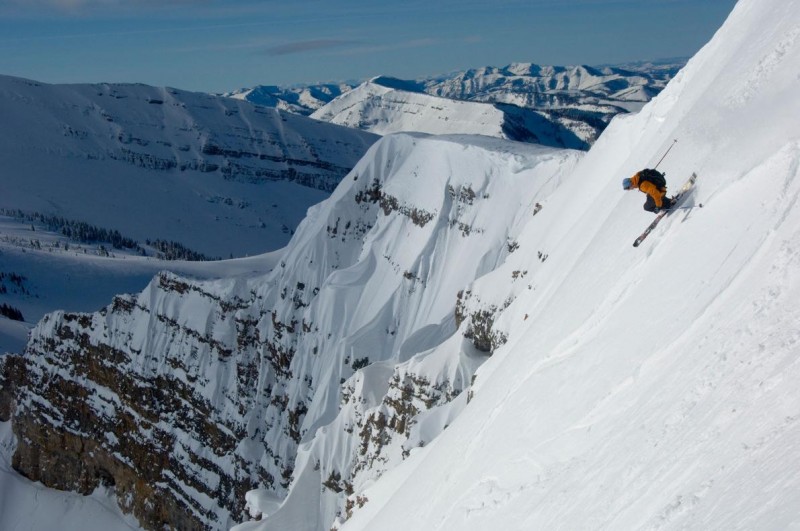 Best For: Advanced skiers and riders looking for test pieces and line dancing
The giant of American skiing—if your dreams are filled with big mountains and steep, powder-smothered slopes, Jackson Hole is the promised land. The town of Jackson, a 12-mile drive from the ski area, sits in a remote, high valley in northwestern Wyoming in the shadow of the mighty Teton Range and just south of Yellowstone National Park. From its wooden sidewalks and cowboy bars to its restaurants that sling unnecessarily large slabs of red meat, the town of just over 9,500 embraces its Wild West heritage. Much like Banff, Alberta, winter is actually the off-season in this town, so good ski-season deals on lodging abound.
One of the birthplaces of extreme skiing in the U.S., mighty Jackson Hole Resort does offer a few beginner runs, and intermediates will find a smattering of scenic groomed cruisers, but experts are the ones who'll find their happy place. Advanced skiers and snowboarders will want to jump directly on the 100-person winter tram to the top of Rendezvous Mountain, at which point you're looking at a leg-melting 4,139 feet of vertical drop to the base area, which is not only skiable in one sustained gulp, but offers a dizzying variety of chutes, bowls, glades, and cliff drops to get there. Even beginners should take a round-trip on the tram—from which you may spot experts plummeting into the legendary Corbet's Couloir—for the top-of-the-world views from the summit.
If the 2,500 acres of intense in-bounds terrain doesn't sate you, you can pass through the resort's gates into another 3,000 acres of sidecountry powder (the resort's Mountain Sports School offers excellent guides for backcountry neophytes).
Ask a Local: Jess McMillan grew up ski racing at Jackson Hole and is now a professional skier and the 2007 IFSA World Tour Champion. Here are her recommendations.
Best Digs: For the budget-conscious skier, The Hostel in Teton Village (at the base of the mountain) is an excellent choice. Teton Mountain Lodge & Spa is a higher-end option.
Best Eats: Couloir is a must do while you're in Jackson. It's really cool to ride the gondola to dinner, and the food is incredible.
Best After-Ski Party Spot: Mangy Moose Restaurant and Saloon
Best Rest-Day Activity: Elk Refuge sleigh rides are a must—it's so cool to be so close to the elk out on the refuge.
Jackson's Classic Ski Run: "My favorite ski run is Alta 1. It is the quintessential steep chute in Jackson," says McMillan. "For something a little less demanding, the classic run is Rendezvous Bowl to the Hobacks. It doesn't get much better than the 2,500 vert of wide open pow fields of the Hobacks."
Kitzbühel, Austria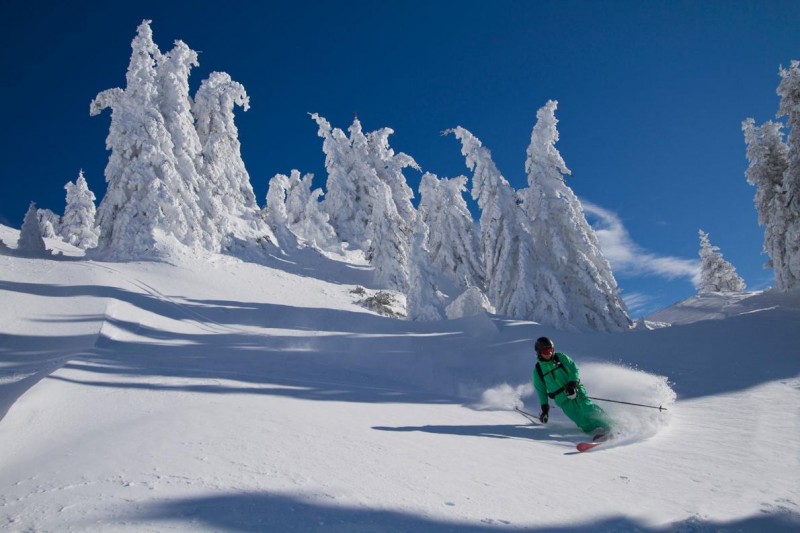 Best For: Intermediate skiing couples with a taste for the cosmopolitan
A classic medieval village turned internationally famous ski destination, the glitzy town of Kitzbühel in Austria's Tyrol region looks more like a chocolate-box illustration than an actual place. Not only is it real, it hosts some of the most scenic and extensive skiing in the Alps—particularly for the non-extreme set. The romantic town center features narrow cobbled streets and horse-drawn sleighs, but things turn decidedly more spirited by evening, when the many chic bars and clubs turn up the volume.
A gondola for the main mountain leaves directly from town, and a sprawling network of lifts, gondolas, and runs thread up the mountains in all directions, offering the ability to drop into neighboring villages and areas without taking off your skis or board. The posh personality of the town extends onto the slopes as well, where tasty restaurants in mountain huts pepper the slopes. Though Kitzbühel is famed for its Hahnenkamm racecourse, the most spectacular and perilous on the World Cup circuit, this is no Chamonix. Intermediates looking for long cruisers will be most satisfied. Just check conditions before you go—the area's low elevation makes lower slopes increasingly susceptible to poor coverage in lean snow years.
Ask a Local: Pepi Treichl, a ski instructor and hiking guide, is a lifelong resident of Kitzbühel. Here are her recommendations.
Best Digs: With budget-friendly prices, Unterleitenhof is a farm with traditional accommodations. At a higher rate, Grand Tirolia Kitzbühel is a luxury hotel with a huge spa.
Best Eats: Huber Bräu Stüberl offers home cooking with large portions of Austrian classics. Schwarzer Adler in Jochberg, with celebrated chef Andreas Wahrstätter's refined farm-to-table sensibility, makes for delicious fare in a historic guesthouse setting.
Best After-Ski Party Spot: Head to the Hahnenkamm Pavillon.
Best Rest-Day Activity: Visit the local museum and explore the city center.
Kitbühel's Classic Run: Ski the Streif on the Hahnenkamm, where one of the World Cup races is held every January.