Impenetrable rainforests, rare wildlife, and diverse culture – the Malaysian states of Sabah and Sarawak on the island of Borneo are perfect for adventure and nature lovers alike...
Swim With Turtles In Sipadan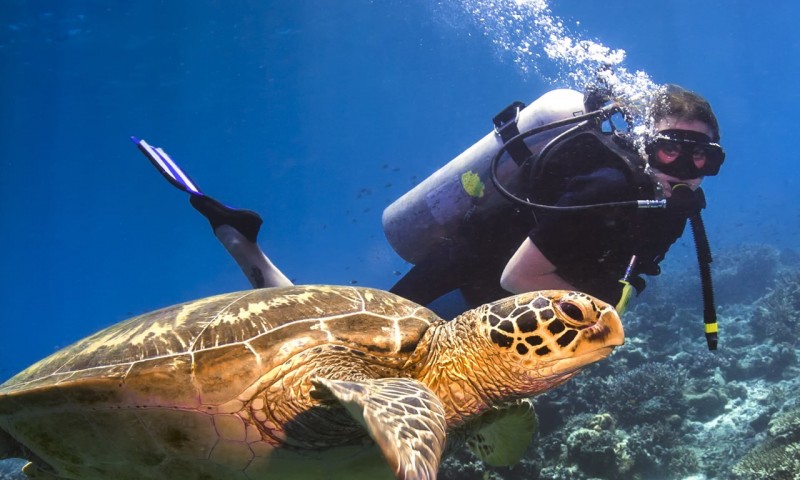 Diving among turtles in Sipadan, Borneo (Dreamstime)
Imagine kneeling on a sandy seabed ogling a large hawksbill turtle, only an arm's length away. That's the kind of encounter that awaits you under the crystal clear waters off Borneo's Sipadan island.
The beautiful tiny island, no bigger than 40 acres is covered in pristine forest, but it's the marine life that will take your breath away. And it's not just turtles. Drift across the shallow reef plateau on the eastern tip of Sipadan and you'll be surrounded by curious batfish and clouds of brilliant-yellow snappers. Glide over black corals, goggle at groupers and see the turtles up close at West Ridge. With over 3,000 species of fish, you won't be short of things to see.
To get a deeper understanding of what lies in these waters, book a diving trip. It's no surprise the site is renowned as one of the best diving spots in Malaysia, and is among the best in the world. Take the plunge for a chance to swim amongst thousands of barracuda, mantra rays, eagle rays and mating hawksbill turtles. There's also a plethora of sharks, including hammerhead, reef, and whale sharks. If you want to experience this diving paradise, bear in mind that only 120 people are allowed to visit this uninhabited island a day.
Climb Malaysia's first UNESCO World Heritage Site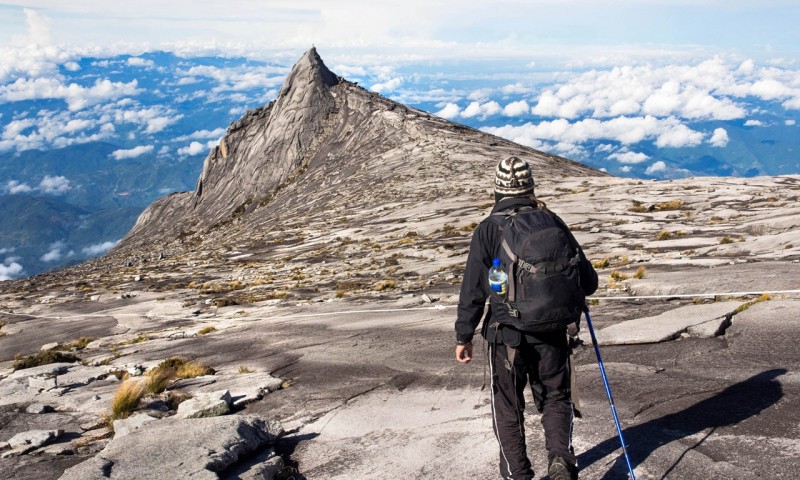 Trekking to the peak of Mount Kinabalu (Dreamstime)
Standing majestically at 4,095m above sea level, Mount Kinabalu is the highest mountain between the Himalayas and New Guinea. It is also one of the most accessible, with well-maintained paths, and the world's highest via ferrata at 3776m above sea level.
Whichever route you choose, make sure to look up from the path as you climb. The mountain is a jungle-clad botanist's Mecca. Not only are there 5,000 species of plants here, but 1,200 varieties of orchids and a carpet of the largest mosses in the world. And it's not just plants you should look out for, but also the 100 mammals and over 300 bird species. Keep your eyes peeled for gibbon, orangutans and frogs as small as your fingernails.
While it is possible to climb the mountain in one day, most climbers prefer to spend a night at Laban Rata, a spacious hut at 3,272m, before setting off before dawn to reach the granite dome of the summit. If you're really lucky, and it's a very clear day, you may be able to see the Philippines in the distance. Don't forget to treat yourself to a long, revitalising soak in the Poring Hot Springs nearby.
Head up river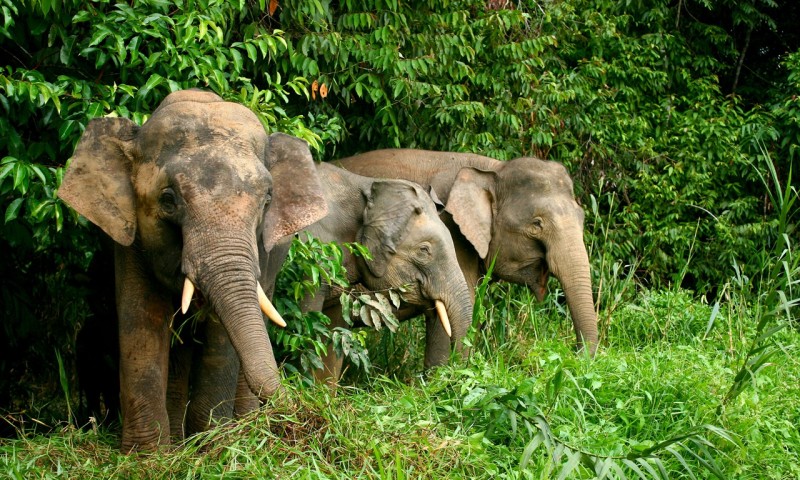 Wild pygmy elephants feeding by the Kinabatangan River (Dreamstime)
The mighty Kinabatangan River acts as a pathway into the tangled interior of Borneo. It is a land of pygmy elephants and proboscis monkeys and traditional tribesmen, straight out the pages of a Boys' Own adventure. Your best chance of seeing the smallest elephants in Asia as well as Borneo's other beautiful wildlife is by booking a river tour. Cruise along the Kinabatangan, scouring the river banks for monitor lizards, crocodiles, and even orangutans. Turn your head skyward for sightings of hornbills and kingfishers.
Once the cruise is over, head back to your eco lodge at Sukau or Abai village and have a meal at one of these luxury lodges hidden in the jungle. Many of the accommodations run their own tours, so you can get involved in birdwatching, overland safaris, orangutan searching and even night walks on the jungle with local guides who will find things you never would have spotted alone.
Also worth checking out are the Gomantong Caves nearby. Buried beneath the largest limestone hills in the area, the intricate system has at least 19 caves, only one of which is open to the public. This is the largest in the collection and isn't known as black cave for nothing. Not only will you have to brave the dark, but have a strong enough stomach for the strong stench, the cockroaches scurrying under foot and the swarms of bats swooshing just over your head. For a terrifyingly fantastic experience, visit at dusk.
Spice up your life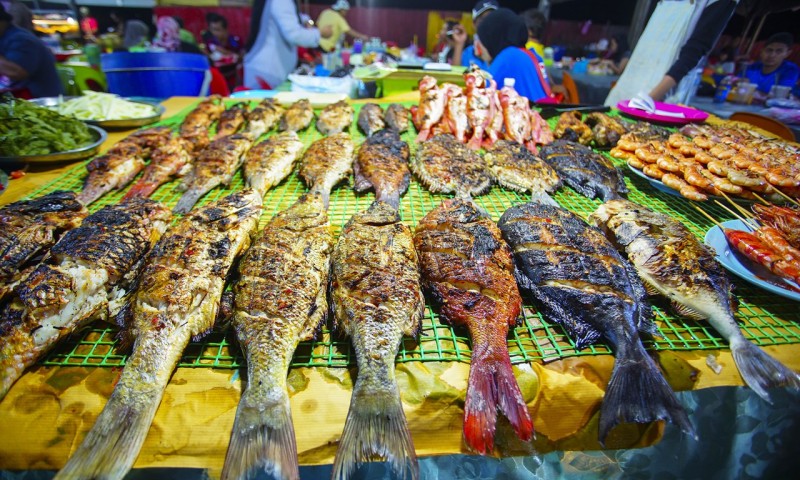 Variety of grilled seafood in Kota Kinabalu night market, Borneo (Dreamstime)
Borneo isn't renowned as one of the world's culinary capitals – yet. But with its Indian, Malay and Chinese influences, it's never boring. And because locals like to season their food with spices from the rainforest, you'll encounter flavours you've never tasted before. Just find a Nasi Lemak hawker and let him introduce you to his favourite jungle spice.
The staples in Borneo are fish, rice, noodles, and locally-grown vegetables. This explains the traditional dish of clay pot soup. Whether its fish such as prawns or squid that's been thrown in, or tofu and vegetables, the noodle-based broth is bound to keep you full and happy. For something with a bit more of a kick to it, go for Hinava. This is the most popular dish in Sabah, made from filleted mackerel smothered in chilli, ginger, bambangan seed and lime.
If you fancy something sweet, go for Borneo's favourite forest fruits. Bambagan is a giant mango-looking fruit, only it tastes more sour than a mango itself and is better enjoyed when used to flavour other dishes. Not only does this spiky-shelled fruit look like an oversized lychee, it tastes a bit like one, too. If you're feeling really brave, try a durian. Just be warned that these are so smelly, you probably won't be allowed to take them on busses or in hotels with you!
Make music in the rainforest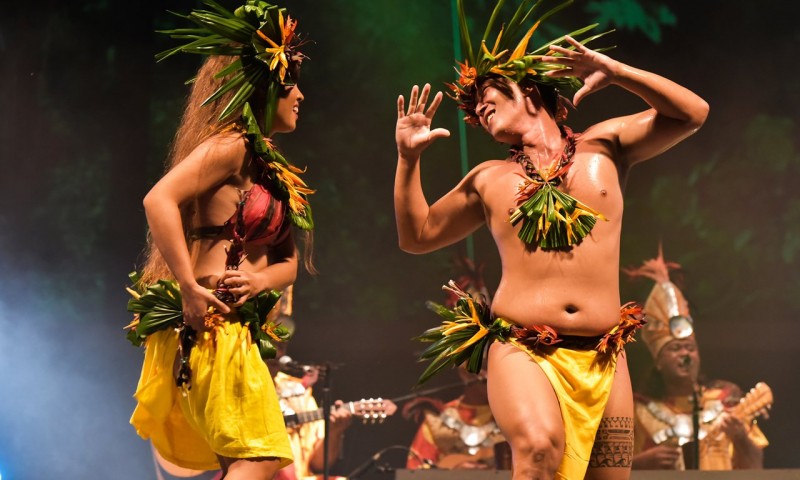 Dancers from Haiti perform at Rainforest World Music Festival in Borneo (Dreamstime)
Deep in the heart of the Borneo rainforest, the Sarawak Cultural Village showcases and preserves the life and culture of Borneo's local tribes. It is also the location of the annual Rainforest World Music Festival, a three-day event that draws as many as 24,000 people.
The festival that has been running since 1998 brings performers from all over the world, placing them on stages alongside local, indigenous musicians. Experience local life first-hand, learning about various tribes' customs, dances and music, surrounded by traditional long houses at the foot of Mount Santubong. The day time consists of educational workshops, while the evening sets you free to dance along to the entertainment. Enjoy food and drink stands scattered around the grounds and browse the arts and crafts areas to find great gifts and souvenirs.
Although there is a campsite at the foot of Mount Santubong where festival-goers can stay, there are plenty of accommodation options in nearby Kuching. These range from budget hostels, such as BB bunkers which are situated by the sea, to luxurious 5-star hotels like Pullman Kuching, which is perched at the top of a hill for panoramic views of the Sarawak River.
Monkey around with the locals
Orangutans in Borneo (Dreamstime)
Chances are you're going to Borneo to see the old man of the jungle, the orangutan. With habitat being destroyed at an alarming rate, that's unlikely to happen in the wild. But both the Semenggoh Wildlife Rehabilitation Centre in Sarawak and the Sepilok Orangutan Rehabilitation Centre in Sabah give you a chance to see an orangutan up close and learn what is being done to save them.
The Semenggoh Wildlife Rehabilitation Centre is the biggest in Sarawak with a thriving population of young, semi-wild orangutans. You're most likely to see the red apes during feeding times, as the centre is one of the only places in the world where orangutans will interact with humans, taking fruit from outstretched hands.
Over at Sepilok Orangutan Rehabilitation Centre there are 200 of the apes living in the forest with only some of them coming down to the feeding platform each day. Walk through the forest to the nursery, where you can see the more recently rescued young orphans playing with each other.
Picnic with the Penan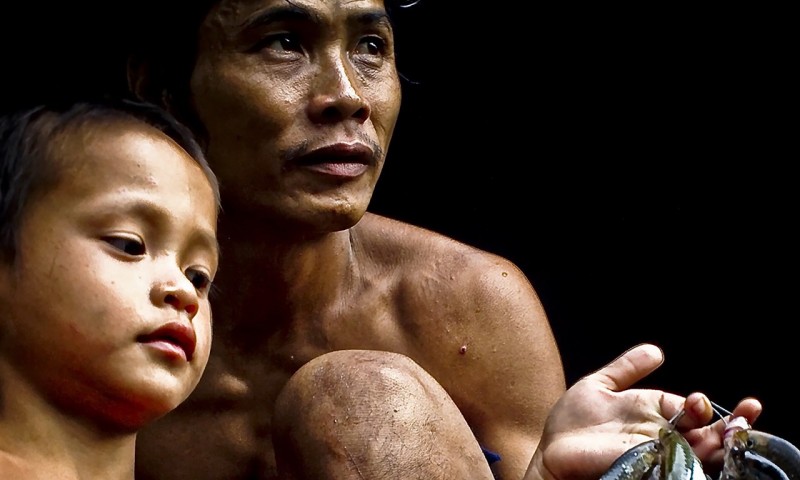 A Penan father and son (Dreamstime)
If you are looking for a genuine experience in the jungle with local people, this one is exceptional. The Penan, once a truly nomadic tribe, know exactly how to live in harmony with the forest. You'll need to take a light aircraft flight to Long Lellang, deep in the rainforest and maybe a boat journey in a dug-out canoe.
You'll witness how the jungle provides for its inhabitants with food, water, and shelter as well as those comforts such as baskets and bracelets made from rattan, and even musical instruments from bamboo. The area is stunning and the guides who will take you trekking are very knowledgeable.
Sadly, due to deforestation, it's more important to learn about these indigenous tribes now than ever before. If it's the right time of year, you'll see villagers collecting seeds, planting saplings and looking after young trees in an effort to protect and preserve the rainforest. With only one organisation visiting the Penan tribe, this isn't an area of tourism, but the tribe have already started seeing the financial benefits of visitors, using the money to pay for their children's education and healthcare.