And when to visit for the most vibrant colors.
Each autumn, Mother Nature stages a spectacular show for appreciative audiences throughout the country. Her schedule varies, but when she's ready, green trees take on hues of gold, orange, and red, delighting her fans—the "leaf peepers" and "foliage followers."
As many of us may recall from science class, when the days become shorter and sunlight decreases, plants stop producing the chlorophyll that creates green leaves. The process of changing colors begins, with weather conditions also influencing the intensity and staying power of the autumn show.
National parks, with terrain encompassing dense forests, tree-covered mountains, plains, lakes, and deserts, provide the perfect setting for the fall event. Throughout the country, national parks are anticipating the changing hues, and most even post details about the expected dates, colors, and types of trees in their locales. How helpful and considerate! As is Mother Nature herself in giving us this consolation prize each year at summer's end before the cold of winter arrives.
Yosemite National Park, California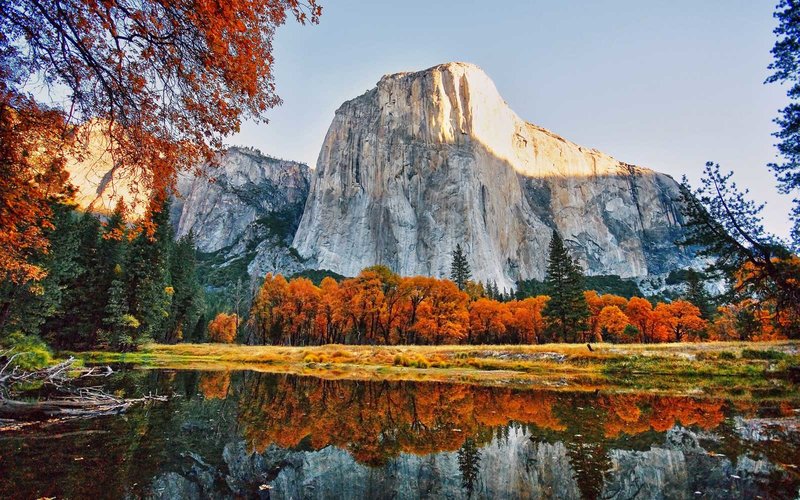 Late October is the prime time for best leaf colors in most sections of the park. In the valley, visitors will see golden yellow to dark orange on black oaks; red, pink, and yellow on dogwoods; bright yellow on cottonwoods, and the brilliant red of sugar maples. In other areas, there will be yellow and orange of the quaking aspen, along with multi-colored shrubs and ferns.
Great Smoky Mountains National Park, North Carolina and Tennessee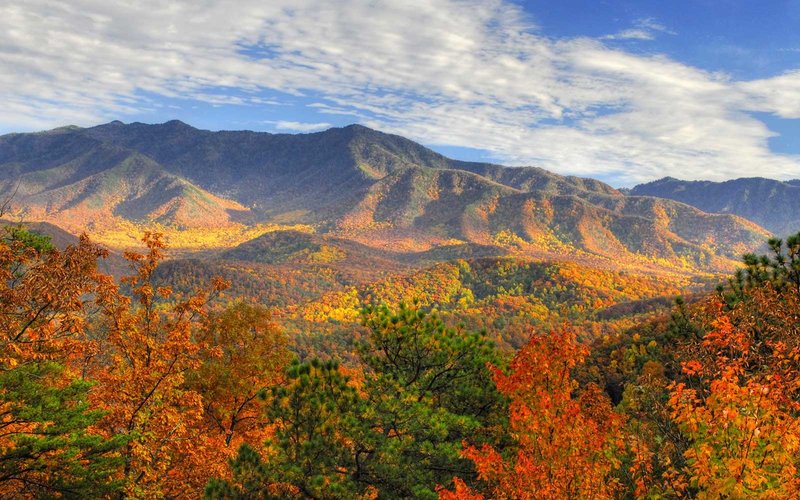 The fall colors begin at the park's higher elevations as early as mid-September when yellow birch, American beech, mountain maple, and other varieties change with the cooler temperatures. The show continues through October into early November at lower elevations, with a dazzling display of sugar maples, scarlet oak, sweetgum, hickories, and autumn wildflowers.
Cuyahoga Valley National Park, Ohio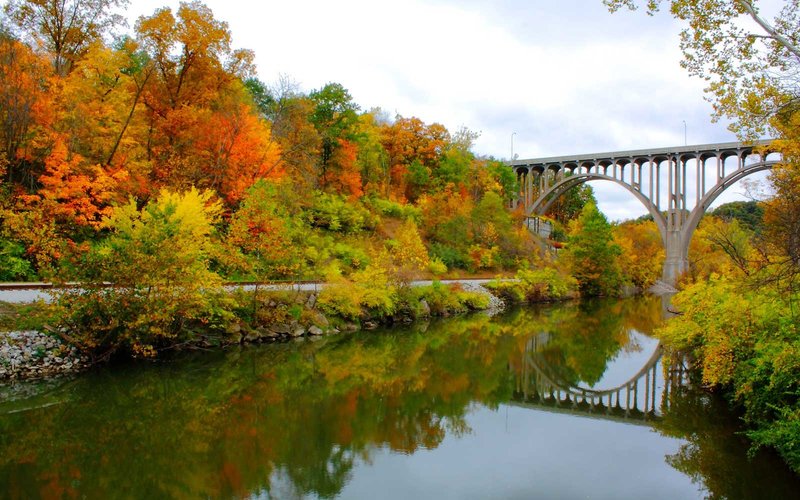 Not far from the urban areas of Cleveland and Akron, this park is home to forests, hills, waterfalls, and over 125 miles of hiking trails. Peak fall foliage time ranges from early to mid-October, and a favorite spot is the 65' Brandywine Waterfall. The Scenic Train ride through the park runs Tuesdays through Sundays until the end of October.
Grand Teton National Park, Wyoming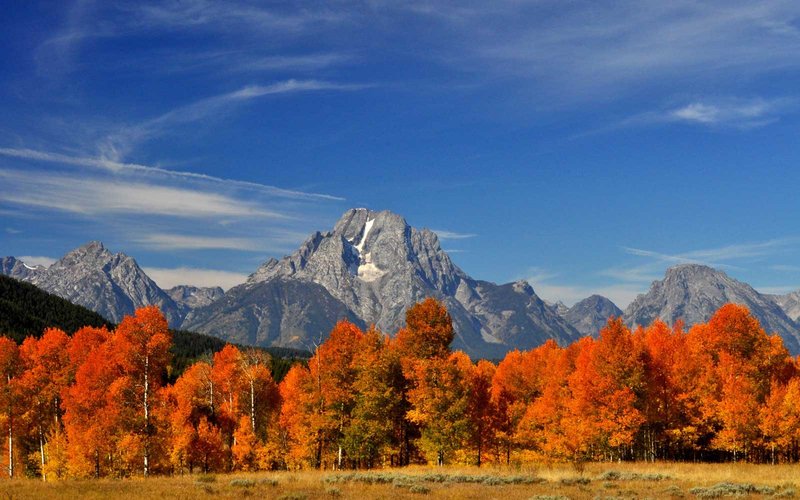 Stunning mountain views and over two hundred miles of hiking trails make this a popular park for visitors year round, but autumn is a truly special time. Fall colors usually begin in early September and continue through mid-October, with peak time around the third week of September. Yellow, orange, and red can be seen on the cottonwoods, aspens, willows and shrubs.
Shenandoah National Park, Virginia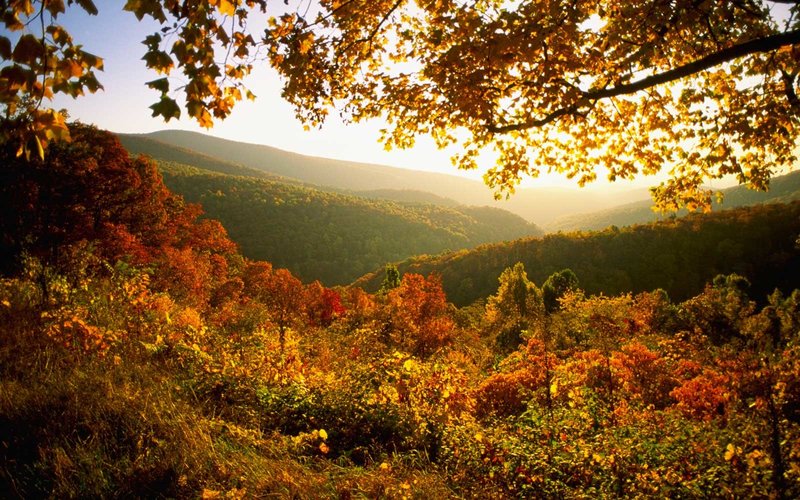 Poinsettia red, butternut orange, mango tango, and electric lime are some of the words used to describe the epic colors of the autumn leaves from the maple, sumac, and sassafras trees at this nearly 100 mile long park. Late September to early November, depending on the various elevations, is predicted to be prime time viewing.
Congaree National Park, South Carolina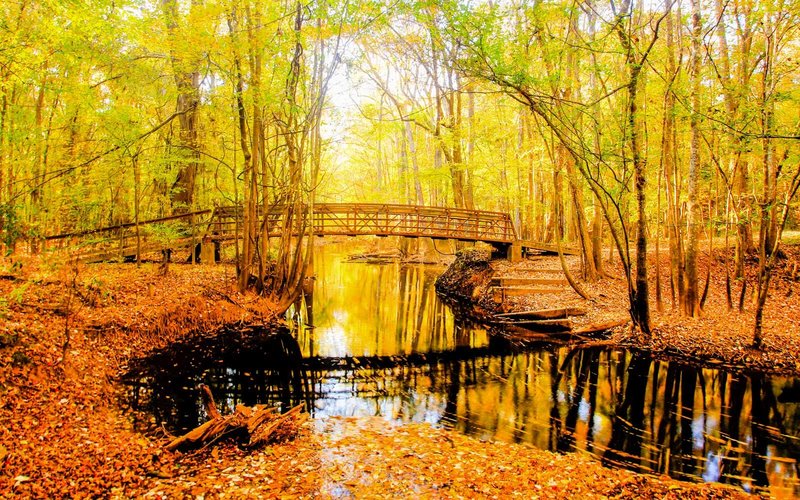 Located in central South Carolina, this well-kept secret covers over 26,000 acres of wilderness. Fall colors peak between late October and early November. Hike, canoe, or kayak through the forest to see some of the tallest trees in the eastern United States.
Olympic National Park, Washington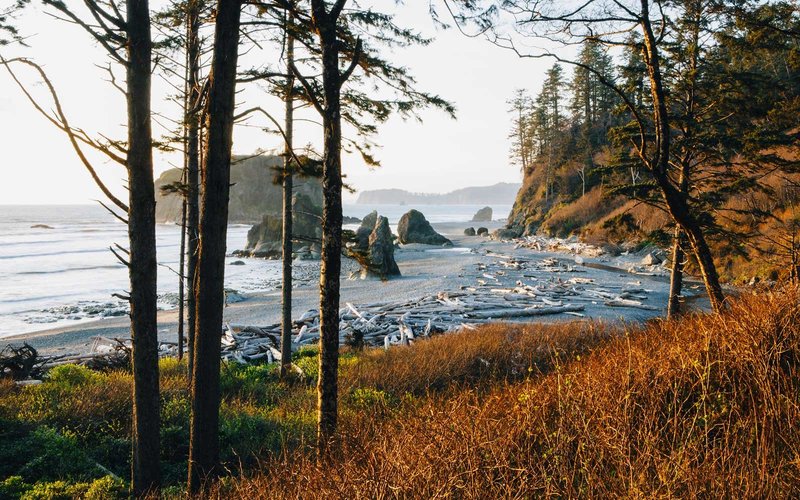 This park covers roughly a million acres of varying elevations and precipitations, including glacier-capped mountains, lakes, rain forests, and miles of sandy beaches. With only intermittent patches of maple trees among the evergreens, fall foliage isn't optimal, but still a gorgeous backdrop to its many lakes and vistas beginning in late September.
Acadia National Park, Maine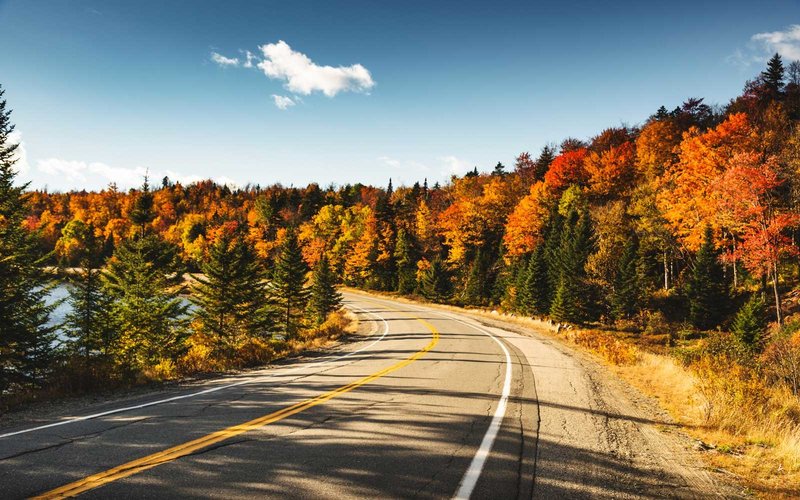 Primarily located on Maine's Mount Desert Island, the park encompasses wetlands, rocky beaches, and granite peaks, including Cadillac Mountain, the highest point on the eastern seaboard. Maple, birch, and poplar trees treat the senses to blazing reds, oranges and yellows beginning in September and peaking around mid-October. And while Acadia is insanely beautiful, it's just one of the many beautiful places to experience fall foliage in New England.
Glacier National Park, Montana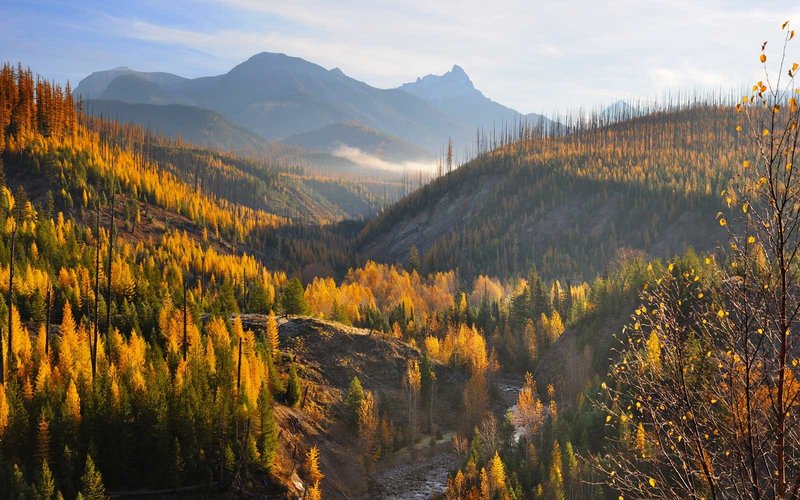 The pine-like tamarack, or larch tree, flaunts its golden brilliance from late September through mid-October at this majestic park. Visitors can enjoy the mountain and lake views while sipping locally brewed beer at the Great Northwest Oktoberfest in Whitefish.
Mt. Rainier National Park, Washington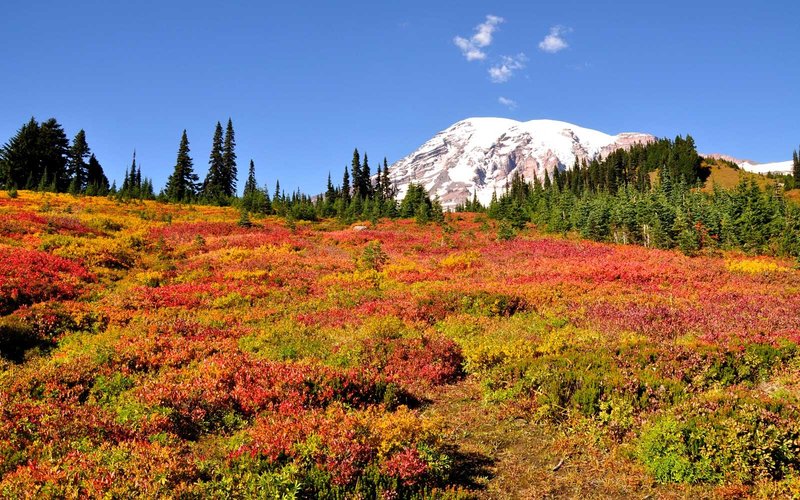 Located southeast of Seattle, Mt. Rainier is an active volcano. Beginning in late September, the park boasts shades of gold, amber, and crimson courtesy of maple, elderberry, aspen, willow, and tamarack trees. Lucky viewers may spot majestic elk feeding on the colorful fall foliage.
Rocky Mountain National Park, Colorado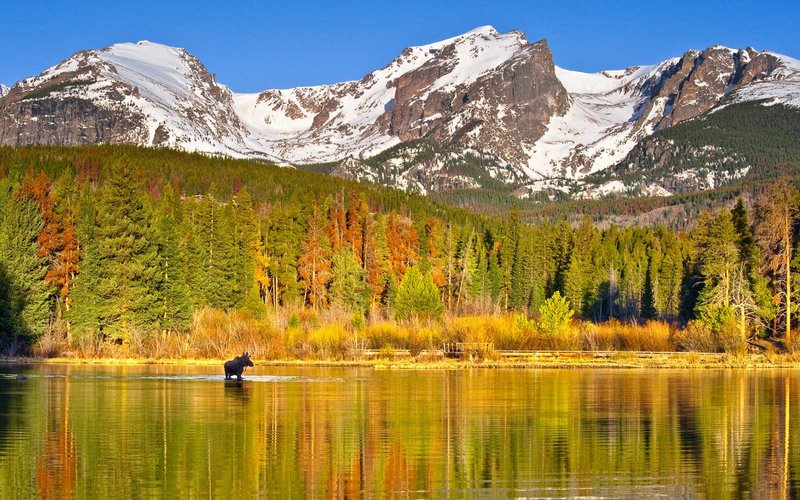 Autumn arrives early at this park, usually around mid-September. Vibrant gold aspen trees are among the most colorful, outlining the many mountains, rivers and lakes. Autumn visitors may also witness the amusing behavior of the elk during mating season.
Lassen Volcano National Park, California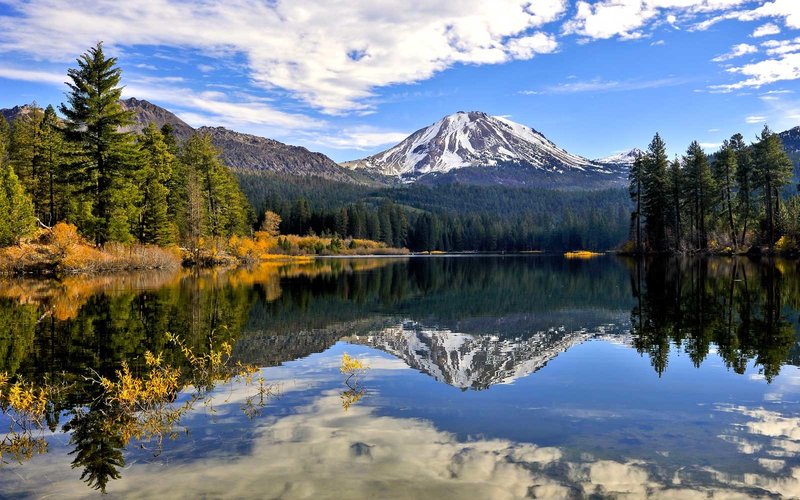 Best known for its volcanoes, this park features aspens, oaks, and sagebrush that paint a golden border around its sparkling blue lakes and immense lava peaks. Rust colored grasses and late blooming wild flowers add another dimension. Mid-September through October are best times for viewing.
Zion National Park, Utah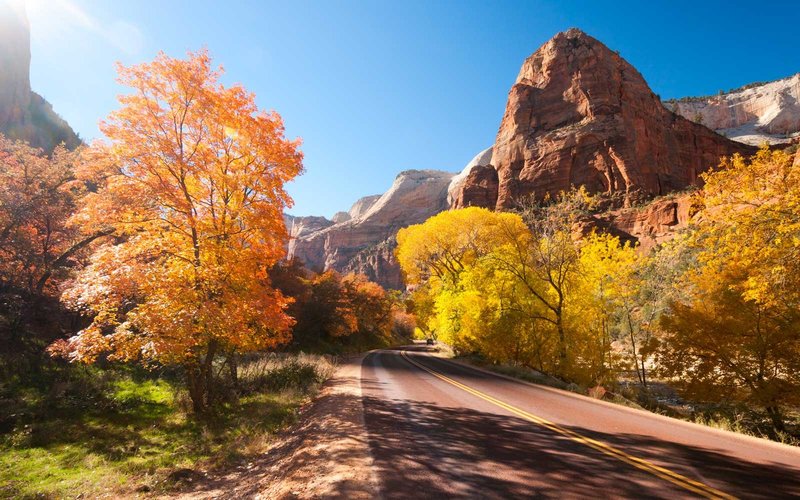 In Zion Canyon, mid-September through mid-October and later are terrific tree-peeper times, and reduced crowds and perfect temperatures add to the appeal. Brilliant shades of red, yellow, and orange set a dramatic stage for the park's magnificent red sandstone cliffs.
Guadalupe National Park, Texas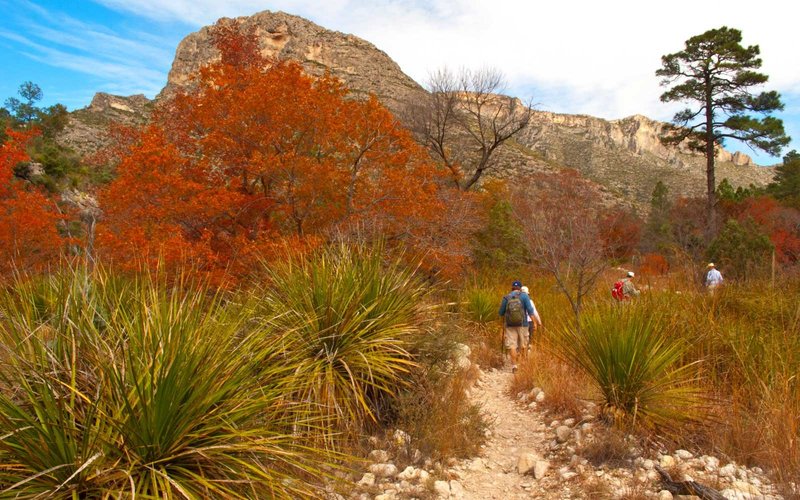 Experience mountains and canyons, deserts and dunes, and spectacular night sky vistas at this Texas park. McKittrick Canyon Trail in the northern part of the park is known for its colorful fall foliage and touted as the best in all of the Lone Star State. Mid-October through mid-November is typically best for viewing.