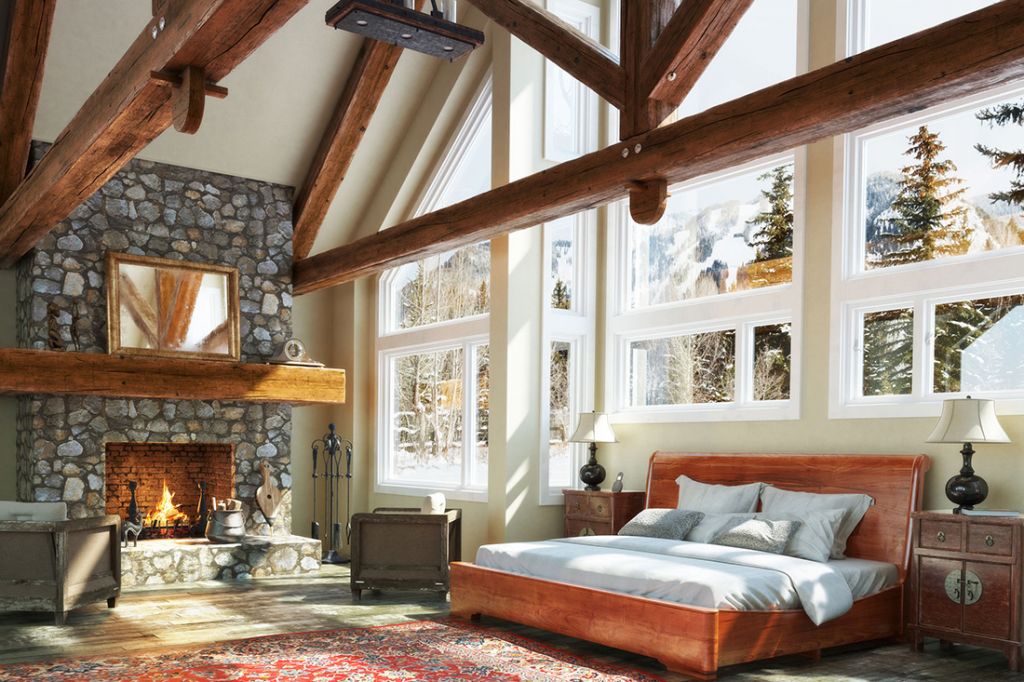 One of the most important rooms in a house is the bedroom. Here you can end the day and sleep well. But if you have longed for clues to turn your bedroom into a welcoming space that promotes tranquility, you should rely on the principles of Feng Shui.
The ancient Chinese tradition is based on integrating balance, organization and healthy practices into your home, which can ultimately help to improve your daily lifestyle.
For practical tips on Feng Shui in your bedroom, we met with Anjie Cho, interior designer, Feng Shui expert and author of Holistic Spaces. Continue reading for their Top Feng Shui Bedroom Ideas.
Strive for a peaceful environment
Regardless of your interior design style, your goal should be to create a quiet bedroom. "The most important thing about Feng Shui is how you feel in a room," says Cho. "A bedroom with good Feng Shui feels good, caring, supportive and at home - your environment has a big impact on your wealth, your livelihood, your well-being and your health."

Do not place your bed in a line with the door
Feng Shui's command post requires a bed to stand diagonally from the door. "When you're in bed, you should be able to see the door without paying close attention to it," Cho advises. "You do not want your feet pointing straight to the door, and you do not want your headboard to match the door."
Use a solid headboard
Take a solid headboard with no perforations and make sure it is attached to the bed. "The headboard connects you to your partner or prospective partner," says Cho. "It can also provide stability between your male and female sides." Cho proposes wood or upholstered headboards. But avoid metal, because "they are often shaped like sticks that feel like they're in jail," she says.

Consider hiding the TV
The decision to have a TV in the bedroom or not depends on your lifestyle. If you usually have difficulty falling asleep, leave it out of the bedroom or hide it with a wood or cloth panel. "We are at a time when we are surrounded by electronic devices," says Cho. "There are ways to hide the TV gracefully without distracting it from sleep."
Choose plants wisely
Being surrounded by nature is always relaxing. So, consider bringing nature into play by making plants a part of your bedroom decor. But not all plants reflect the philosophy of Feng Shui. "We best stick to plants with soft and rounded edges," says Cho. For example, succulents with heart-shaped leaves or snake plants that are known to release more oxygen at night can make a room more soothing.
Opt for organic linen
Organic bedding is the best option for a bedroom that follows the principles of feng shui. "There is a lot of ethics involved in the manufacture and manufacture of traditional bedding, so all the energy is incorporated into the materials you use in your home," says Cho. "Do your best to buy the most ethical and non-toxic materials you can afford, because that will affect your life."
As for the colors, Cho is dependent on white linen. "It's a blank canvas to add different accents like pillows," she says. "But if you want to win a partner, you can have pink linens, and if you want to be more passionate about life or your partner, you can use red linens."
Integrate your favorite colors
Most people think that a completely neutral color palette is the key to a good Feng Shui bedroom, but Cho says that you can decorate with all the colors that resonate with you. "Neutrals tend to be earthier in color, and the earth stands for stability, stability, and nutrition," says Cho. "If that's what attracts you and what you need, that's a great palette, it's more about your taste."

Go for balance
"When you want to partner with or are in a relationship, the principle of balance in a bedroom is important," says Cho. Place on either side of the bed or bedside tables, also in two different versions, on both sides of the bed are just a few examples. The goal should be to create enough space for you and a partner. "You do not have to be symmetrical either," says Cho. "Balance gives you more freedom."
Remember that lighting is the key
If you live in a city like New York, you probably all have the opportunity to bring more light into your room, which is very much in line with Feng Shui. "Light brings clarity, brilliance and activity to all areas of your being," says Cho. "A special kind of lighting that is good in Feng Shui is the lighting up, especially when someone is depressed." Cho particularly likes 2700 Kelvin over 3000 Kelvin lights, because it gives more warmth to an interior. And of course, candles are another favorite as they create a different level of intimacy that can not be achieved with other lighting options.
Avoid hanging up family photos
Your bedroom is not the place for family photos. "Your bedroom is about you and about connecting with your partner, and pictures of family members are not so inviting and sexy," says Cho.

Never hang artworks low
"If the footage is placed too low, it can bring you down emotionally," warns Cho. This concept also applies to beds - they should not be too low on the floor.
Reduce the mess
There's no denying that clutter creates stress, and good feng shui requires keeping it at bay. "You want to have an open space, especially under your bed, because it creates healthy energy and healthy chi," says Cho. However, if you need to keep it in a confined space under your bed, you should only use soft, sleep-related items such as sheets, pillows and blankets. It is not an area where emotionally charged items are kept, whether shoes, jeans that do not fit, or photo memories.
It's also best to keep books out of the bedroom. "Books are very active," says Cho. A novel that helps you relax is appropriate, but avoid a full library of books, which can be a distraction. "We live such a fast and stressful life that our sleep really has to count," says Cho.