Decorating in Boho Style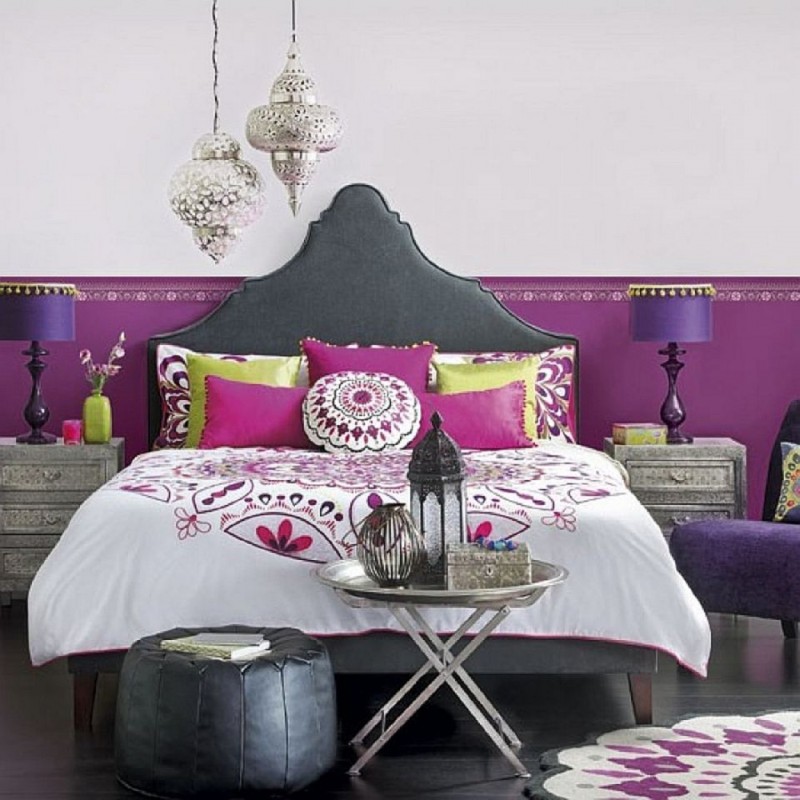 Whether you call it boho, bohemian, or gypsy, this eclectic decorating style is a colorful blend of patterns, fabrics, styles, and eras, livened up with a big dose of artistic free spirit and an attitude of "Anything goes as long as I love it." If that sounds like the decorating style for you, read on to learn tips and tricks about boho décor from the 24 rooms featured here.
Boho style typically means a flair for global influences, like the Moroccan touches in the room shown here. And while there's plenty of excitement in this exotically beautiful bedroom, notice that the palette is limited to purple, gray, and chartreuse. While a rainbow of color is quite common with this style, it's not required; remember, this is a decorating theme without much regard for "rules."
Boho Shifts Into Neutral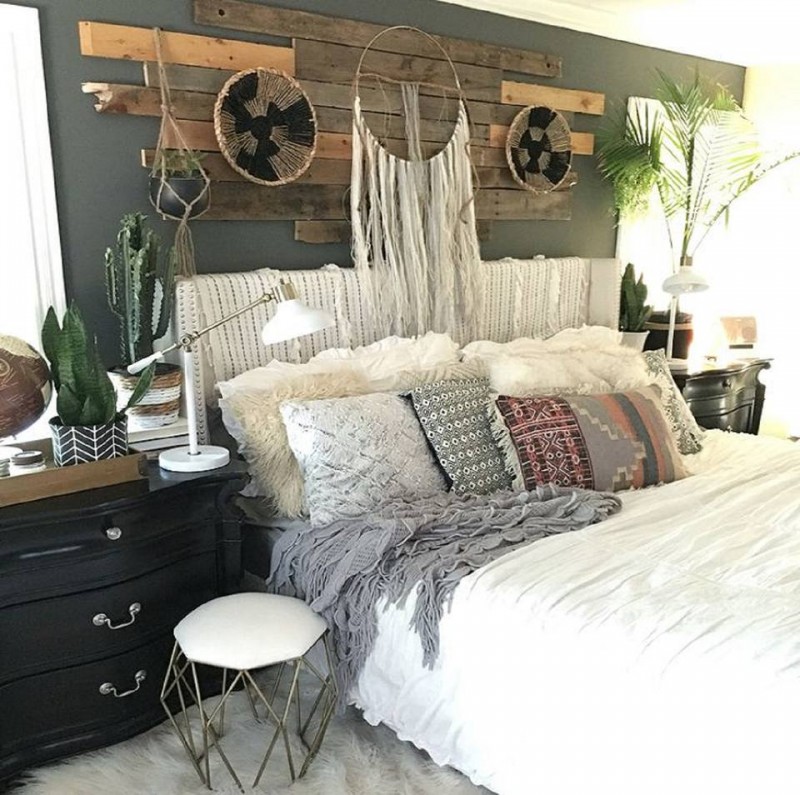 Think of the bohemian decorating style, and you most likely imagine a room filled with a riot of bright color. And in fact, that is the most common look for this theme. But as has been stated already, boho is a style without rigid rules. There's no law stating you can't do a wonderfully bohemian look entirely in neutrals. This room, from Blissfully Eclectic, has the bohemian look perfectly played out in neutral. It's filled with everything that makes boho so wonderful: lots of patterns, many different types of textiles, global influence, tons of personality. The neutral palette takes the excitement down a notch, however, proving that even boho style can be peaceful and serene when it wants to be.
Show Off Your Books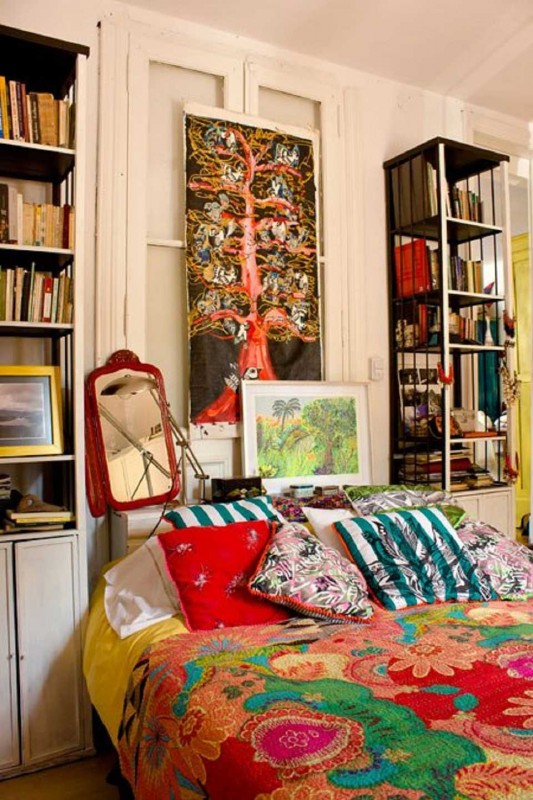 Even books can become art when arranged on towering bookcases near the bed, as in this colorful and exuberant bedroom from Casa Chaucha. Another fun touch: overlapped, propped-up artwork in place of a headboard.
Flea Market Artwork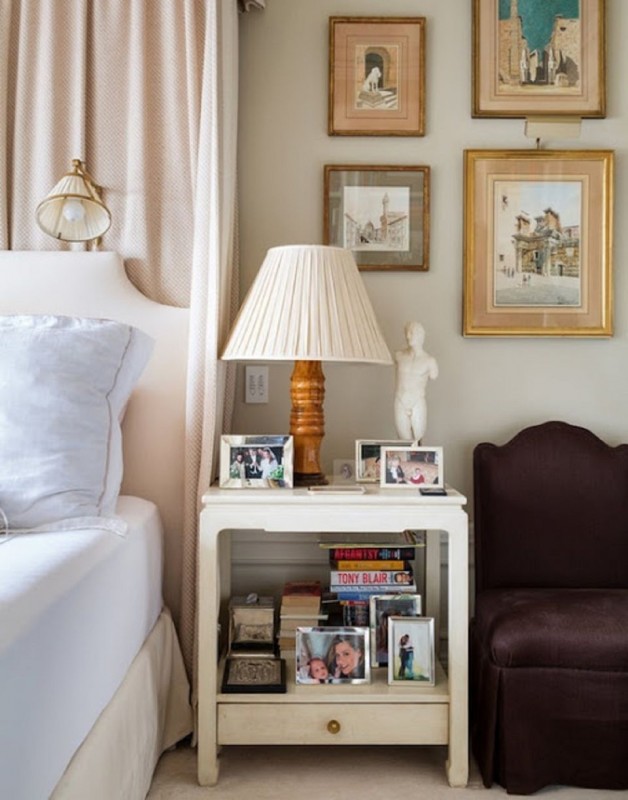 If you're on the hunt for artwork to hang on your bedroom walls, check out your local thrift stores, flea markets, or antique malls. You'll find lots of intriguing paintings, drawings and photos just waiting to liven up your boho bedroom, just like this space from The Decorista.
Decorate the Bohemian Bedroom with Screens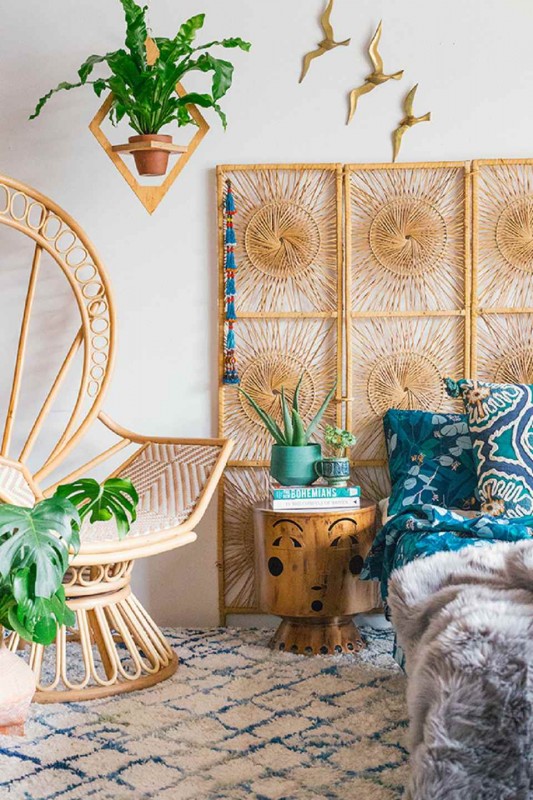 Whether it's wood, fabric, or wicker (like the gorgeous vintage screen shown here), your boho bedroom needs a screen or two. Use one as a headboard the way Justina Blakeney of The Jungalow does here, or prop one in a corner, use a screen to provide privacy or mark off a sitting area.
Flowers in the Bedroom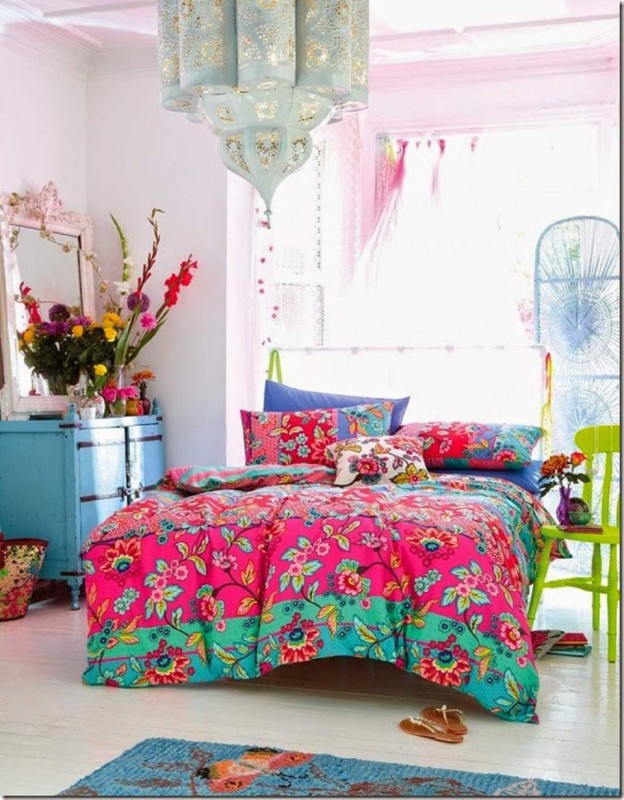 Every bedroom deserves fresh flowers; why not add their wonderful color and fragrance to your own sleeping space? And check out the fantastic lighting fixture in this colorful bohemian bedroom found on Design Addict Mom. So pretty.
Lots of Plants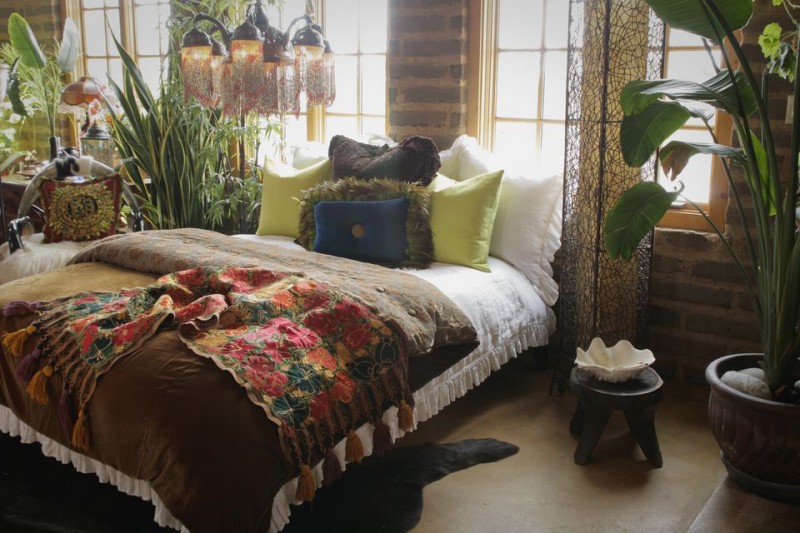 While every bedroom should have at least one or two houseplants – they help purify the air, improve your mood, and add a touch of natural beauty hard to match with manmade décor – a veritable jungle of houseplants isn't at all uncommon in a bohemian space. Choose easy-to-grow greenery like snake plant, pothos, dracaena and Chinese evergreen, and you'll liven up your room, even if your thumb isn't very green.
Don't Forget the Ceiling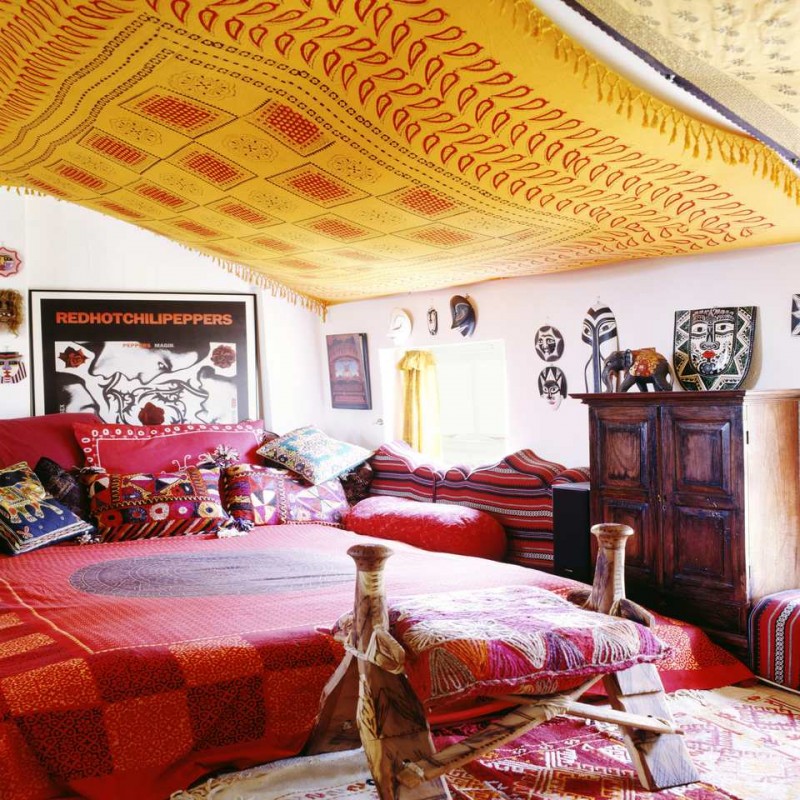 Textiles, and lots of them, are a hallmark of bohemian décor, and when those textiles are soft and billowing, so much the better. Want to give your bedroom the cozy feel of a gypsy caravan? Then tack a stretch of patterned fabric over the ceiling, letting the material billow and drape slightly in the center and at the edges. So pretty and romantic.
Make a Cozy Bed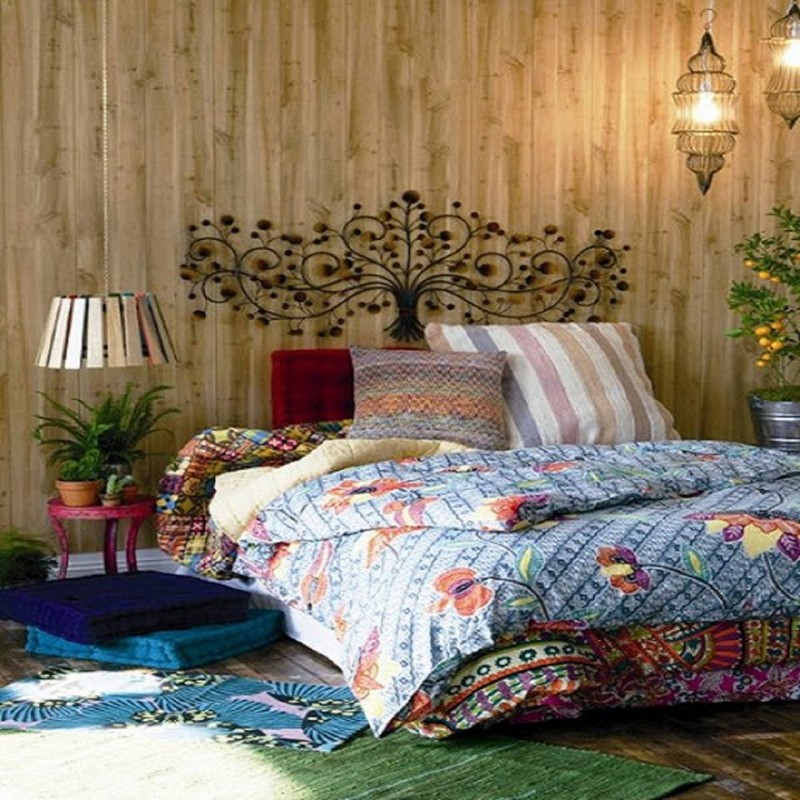 No matter what the decorating scheme, the bed is the star of the bedroom. Because of the emphasis on textiles, a bed piled high with cozy, lavish bedding is a natural for ​a bohemian style. Layer quilts on top of bedspreads, add multiple throw blankets, mix a variety of shams and throw pillows: it's hard to go too far with this decorating theme.
Plenty of Mixed Patterns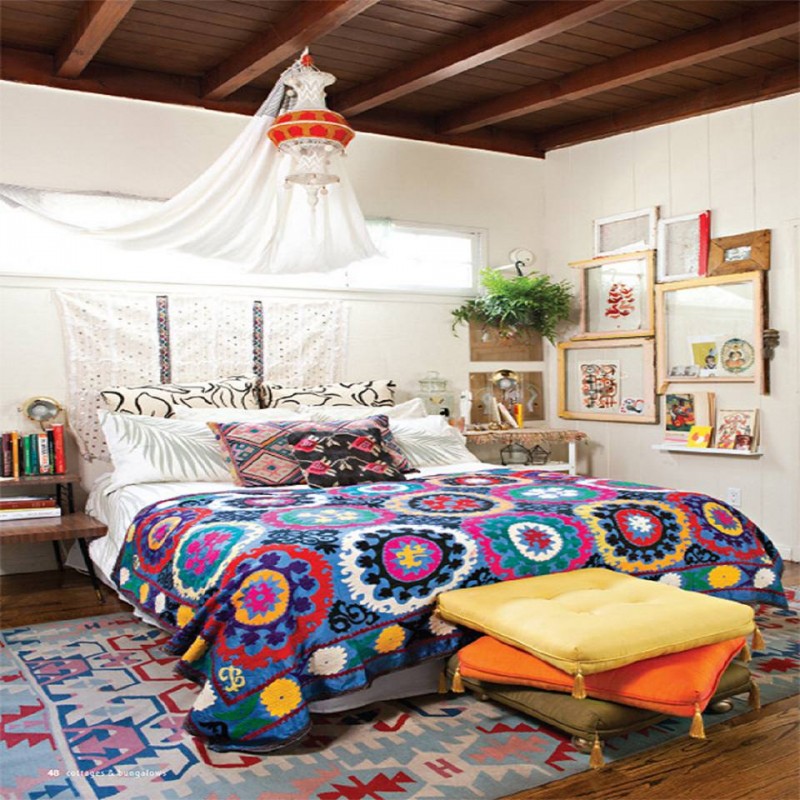 If there is any decorating "rule" that's often broken when it comes to bohemian décor, it's lots of mixed patterns, especially on the bed. The looks-like-something-Grandma-might-have-crocheted bedspread adds a wonderful blast of vintage fun to this bedroom decorated by The Jungalow, but why stop there? The southwestern area rug, mismatched throw pillows, fabric-draped light fixture, and tapestry instead of headboard all work together to add excitement and personality to this room.
Decorate the Walls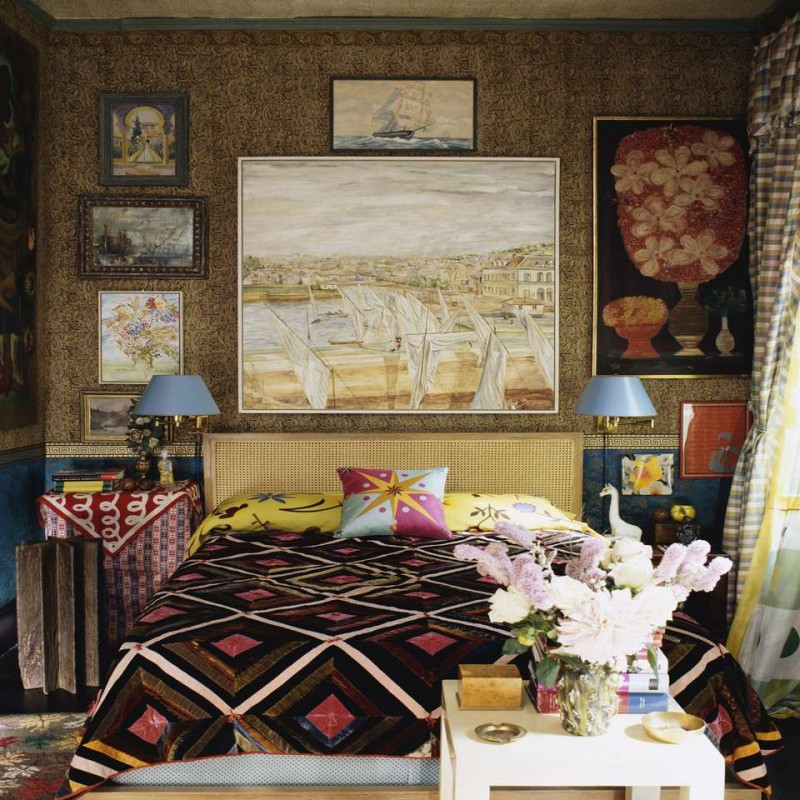 Bohemian style equals artistic style, so it's no surprise that a mishmash of treasured artwork is a favorite way to decorate the walls in this look. Frame your favorite paintings, fabric scraps, photographs, old maps or botanical etchings, a collection of feathers, vintage handkerchiefs: whatever strikes your fancy.
Try Ceiling Hangings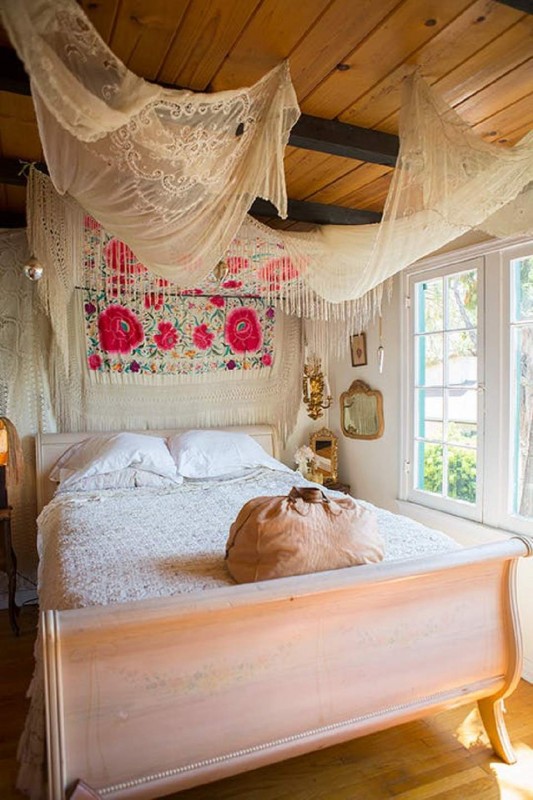 If you want a quick and easy way to add boho flair to your bedroom, just try tacking up several lengths of colorful or lacy cloth, as in this bedroom found on Apartment Therapy. Such a pretty and inexpensive way to decorate your space!
Boho Grows Up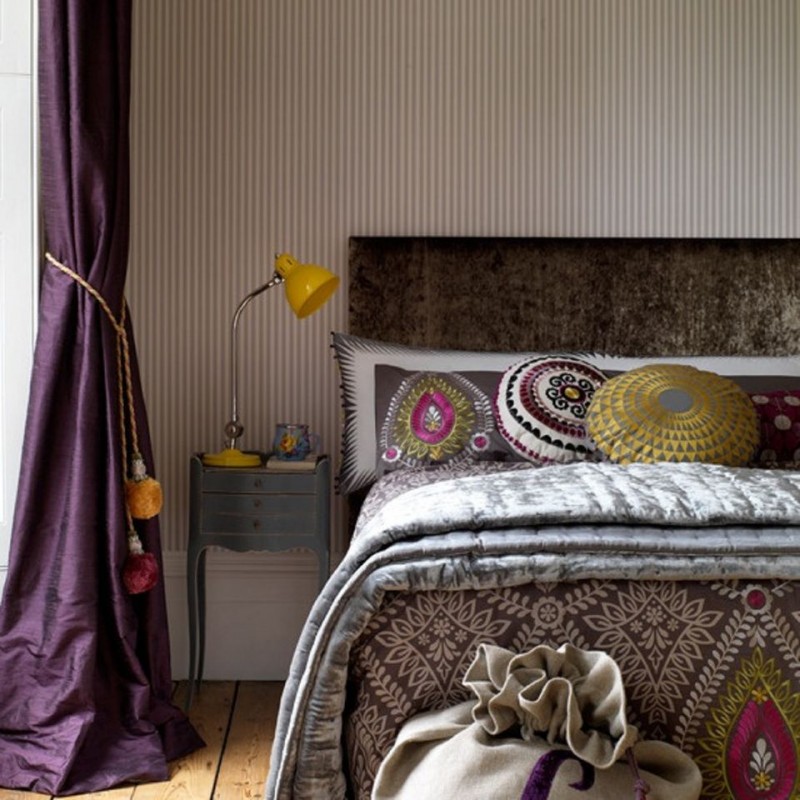 Bohemian style can be quite grownup and glamorous when it wants to be. This purple, gold, and brown bedroom is full of sensuous textiles: the drapes, the headboard, the bedding, and the throw pillows. There's just enough pattern here to keep things hopping, but not so much that it's overwhelming or juvenile. Proof that boho isn't just a look for college kids or teens; it's also perfectly at home in a sophisticated master bedroom when done right.
Culture Clash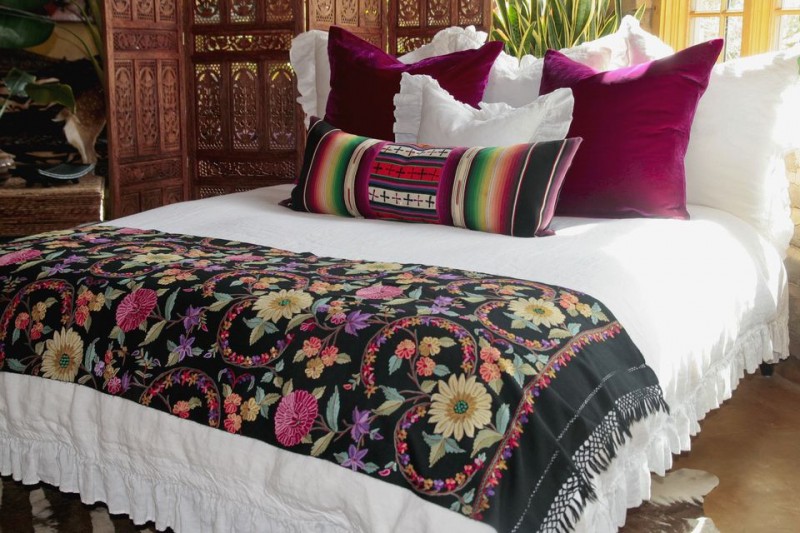 Global influence is a big part of the bohemian look – and the reason why it's sometimes referred to as gypsy style – so feel free to mix and match your cultures. Here, a wonderfully intricate Indian wooden room divider provides a bit of privacy around a bed adorned with warm Mexican design on the throw blanket and pillow.