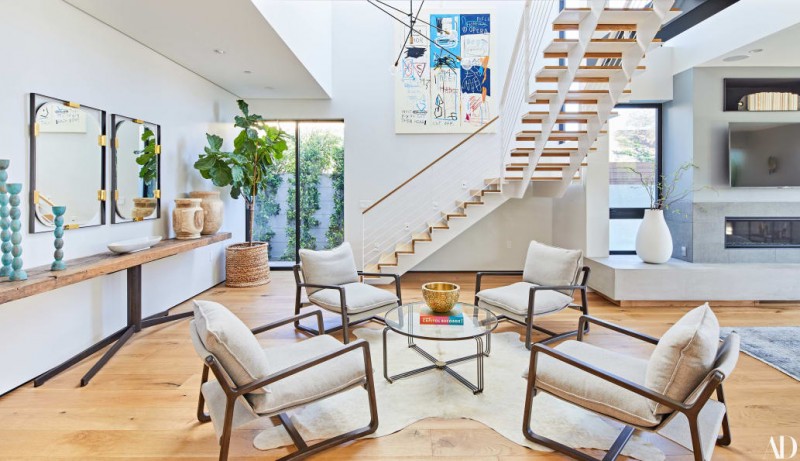 Lots of texture
When it comes to interior design, there's so much discussion of color that I feel like texture gets seriously neglected. But texture can be an excellent way to make a room shine, particularly if you're sticking to neutral colors. The dining room above has a fairly limited color palette — but textures like the rug and the warm wood of the table help to keep things interesting.
Contrast
Another look that's working well in this dining room is contrast. The black sideboard sticks to the neutral palette, but creates contrast with the lighter furnishings in the room and helps them really pop.

Just a little bit of color
In a neutral color scheme, just a little bit of an accent color can have a big impact. In this guest bedroom, a throw pillow and beachy wall art liven up the space with hints of blue, without disrupting the calm and cohesiveness of the neutral scheme.

Unusual shapes
In the living room, seen up top, four chairs are grouped around a coffee table, instead of the traditional pairing of two sofas (or two sofas and a couple of armchairs). It's one of Claire's favorite parts of the house: "I find people gravitate to it more than to the couch. It's a circle — so you can face each other — and I like the conversation it creates." It also creates an unusual shape that draws the eye, and keeps the room interesting even though the colors are fairly simple.

Make the walls work
One of my favorite touches in the house is the hand-painted wall covering in the bedroom, which is made from corn husks and imparts soft, subtle color and texture. It's a lovely touch in the bedroom, and fits perfectly into the color scheme. Going neutral doesn't have to mean wallpaper isn't an option — just look for subtle choices that complement the colors and textures you already have.