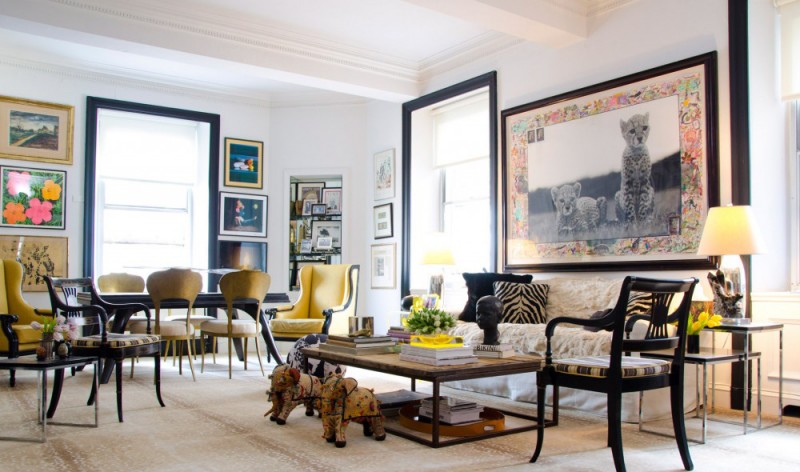 1. Paint your walls neutral.
For that effortlessly chic, expensive look, opt for neutral walls in shades of pale grey, bone or white. Jennifer says she loves white and recommends Benjamin Moore shades in "Decorators White" and "Chantilly Lace." With a neutral backdrop, you can allow your artwork to be the source of colour in your home, she says.
2. Recover outdated furniture.
Sure, to make your home look more expensive, you could actually go out and buy expensive new furniture. Instead, Jennifer recommends updating old, outdated furniture by recovering it or reupholstering it for a lot less money and painting any wood areas in either black or white.

3. Update hardware and fixtures in the kitchen and bathroom.
Kitchens and bathrooms will give you the most return on your investment when it's time to sell your home but if you want to give these high-traffic rooms a more expensive feel for your own enjoyment, some simple changes can do the trick. "Refacing your kitchen cabinet doors and adding new hardware is the best way to make it feel more expensive," says Jennifer. "In the bathroom, add new hardware, a new faucet and swap out old light fixtures."
4. Don't over-decorate.
To create a chic, expensive look in your home, Jennifer cautions against the impulse to over decorate. "Less is more," she says. "Add a few key pieces like a beautiful coffee table book, a beautiful bowl or fresh flowers." She suggests having a well thought-out plan and sticking to classics that make more of a statement.
5. Frame and mat your artwork.
"Artwork immediately adds personality to your home," says Jennifer. She recommends taking your time and choosing your artwork thoughtfully and adds that how it's framed and matted can instantly make the piece look more expensive.

6. Add architectural details.
Crown molding adds a polished, finished look to your walls and is a detail often seen in expensive homes. Wainscoting is another way to dress up walls with a chic look. "Wainscoting is timeless and classic and definitely worth the investment," says Jennifer.
7. Decorate with luxe-looking accents.
These include curtains, wallpaper, accent flooring and lighting. "My favourite way to make curtains look more luxe is adding a beautiful trim to the borders of your curtain panels," says Jennifer. "Another trick is to add brass finials to your rods. I love seeing a contrast of black rods and rings with brass finials." Add beautiful wallpaper to a powder room, replace entryway floors with marble flooring, and add a library lamp above artwork or a bookcase to add dimension and warmth while highlighting your interests.