Double-height spaces bring the drama into an interior like nothing else. Often reserved for living rooms or great rooms, this architectural feature can also create a big impact in the kitchen. If the idea of a kitchen with soaring ceilings excites you, these 25 double-height stunners will blow you away.
Sky-High Ceilings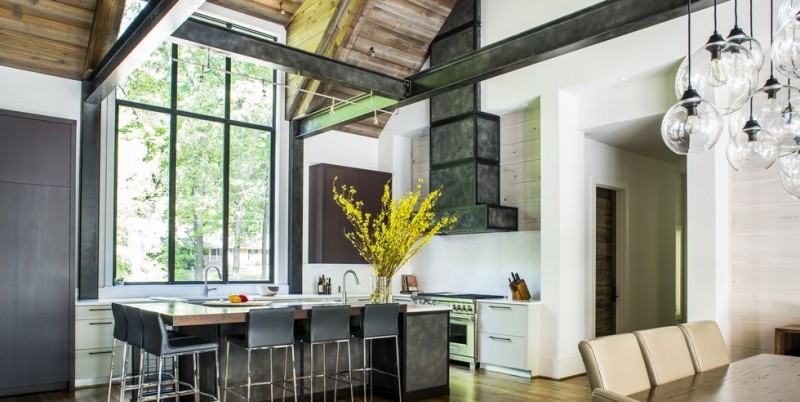 A modern farmhouse from Harrison Design uses soaring ceilings for a dramatic effect.
Innovative Rafters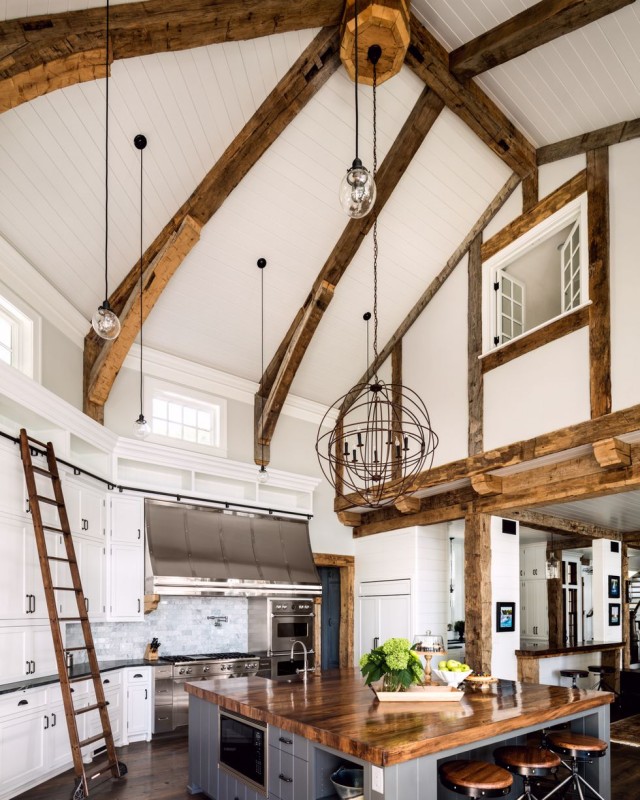 Heavy timber beams offer an eclectic vibe in a kitchen by Wade Weissmann Architecture Inc.
Architectural Elements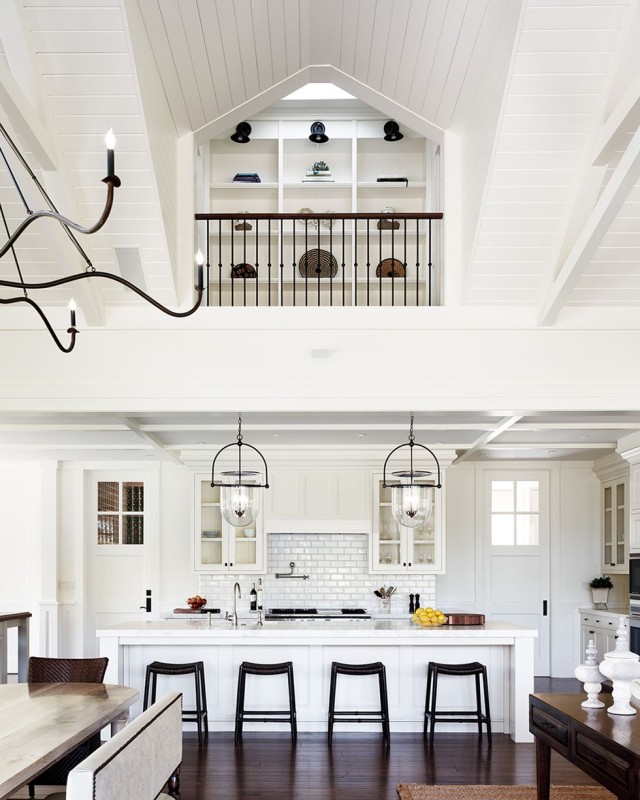 Creative shelving provides a unique detail in a high-ceilinged kitchen from Wade Design Architects.
Splash of Color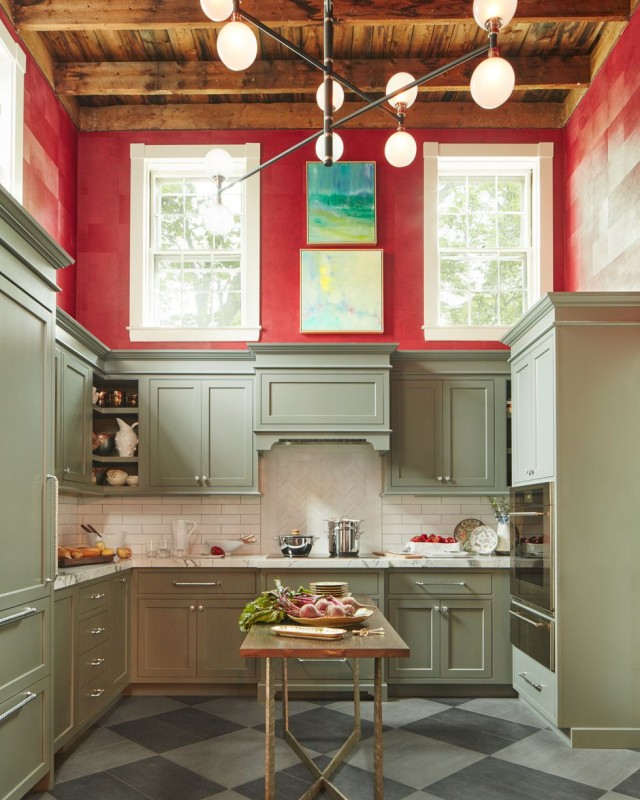 Bright red walls update a neutral-toned space with wood ceilings from Vani Sayeed Studios.
Minimalist Details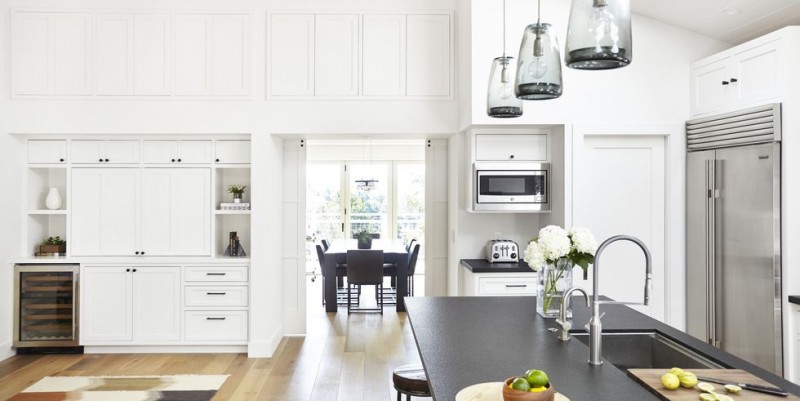 Layers of shelving and other details break up the expansive wall space in this white kitchen from Elena Calabrese Design & Decor.
French Inspiration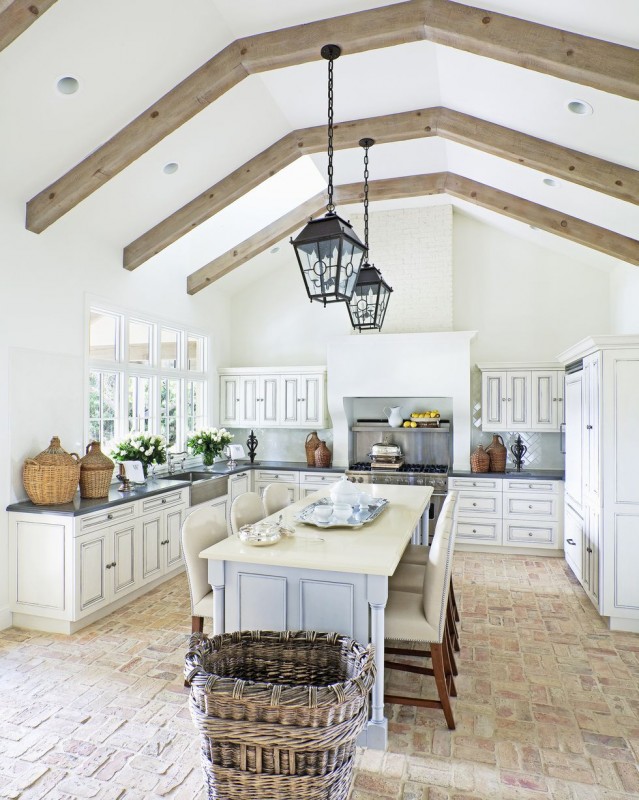 In a traditional French-style kitchen from The Refined Group, pale wooden beams brighten up a white ceiling.
Oceanside Retreat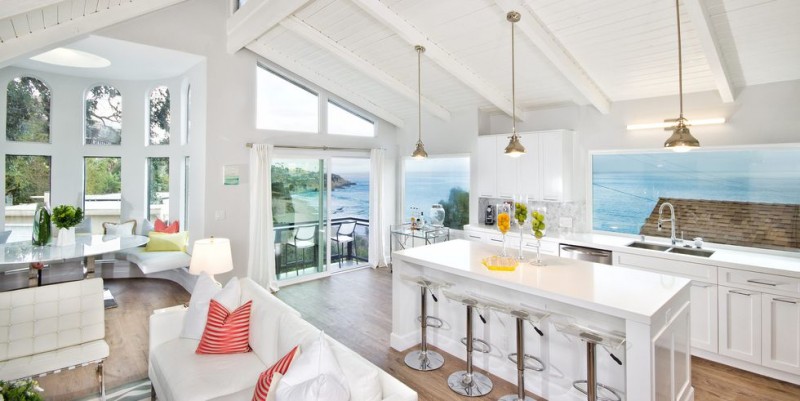 In Laguna Beach, a nautical-themed kitchen from Payton Addison Interior Design Atelier relies on hints of metal and striped details.
Dark Woods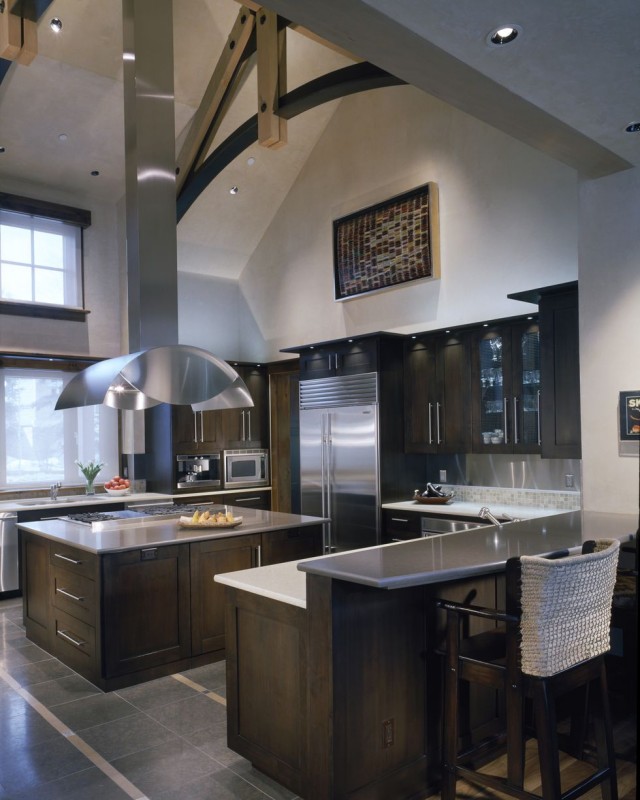 A dark kitchen from Charles Cunniffe Architects uses an unconventional range hood and duct to achieve an inspired look.
Colorful Impact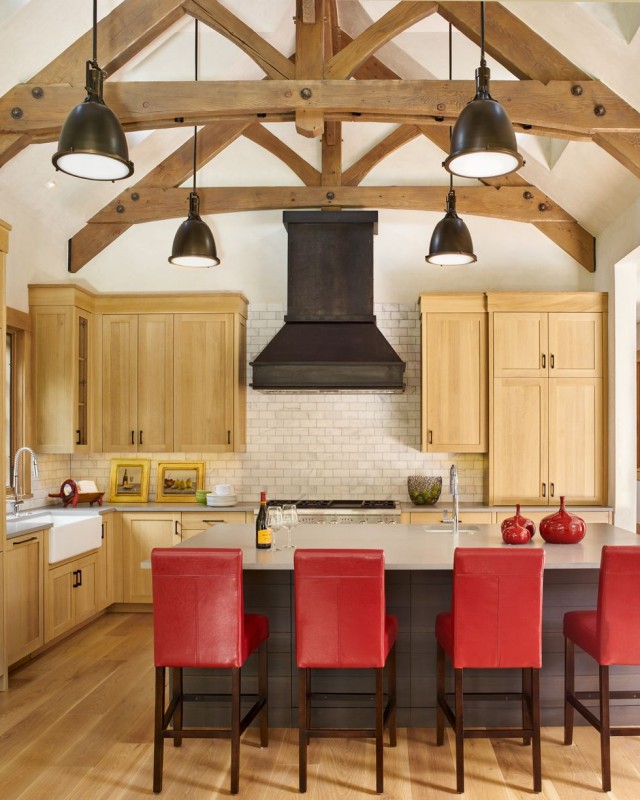 Red chairs are a unique touch in a kitchen by Brewster McLeod Architects with light wood accents.
Open-Minded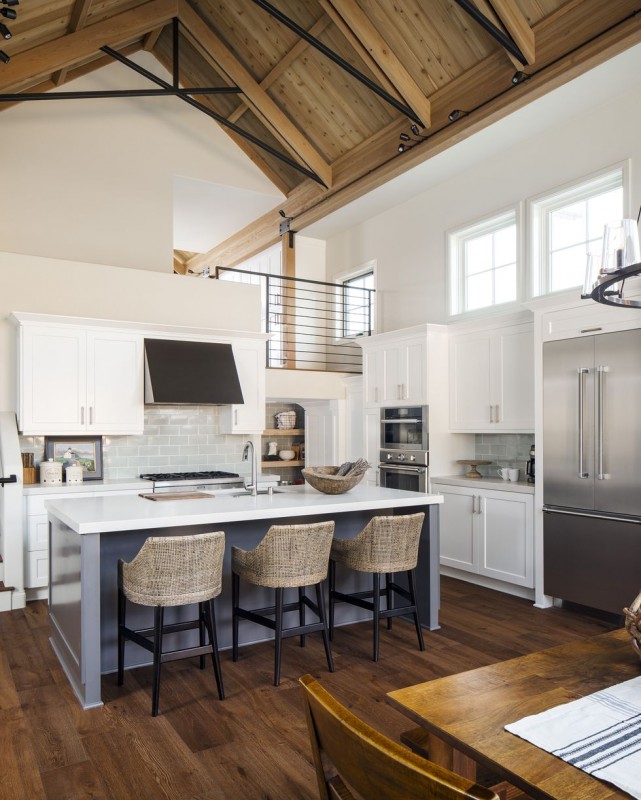 An open-concept kitchen from CM Natural Designs features high ceilings and a range of woods.
House of Glass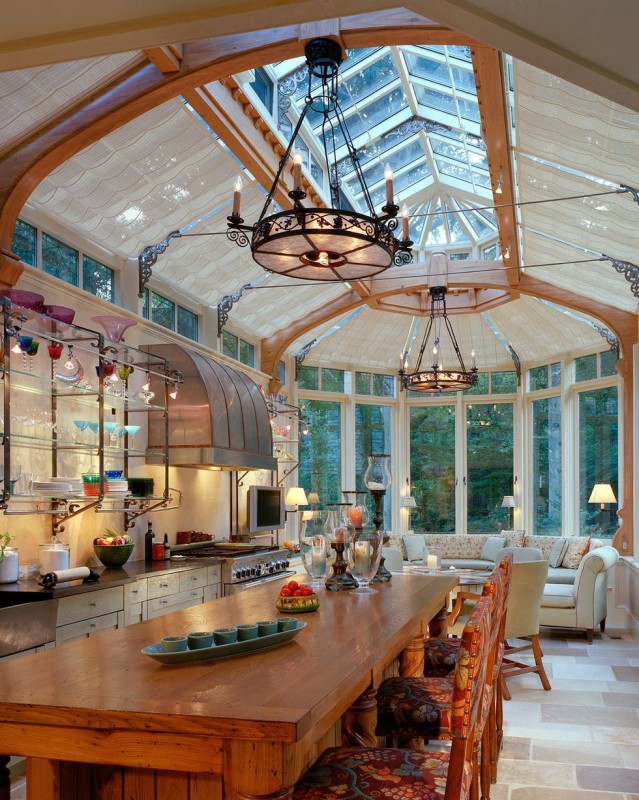 A glass-ceilinged conservatory by Barnes Vanze Architects, Inc. features an inspiring kitchen.
Vaulting Upwards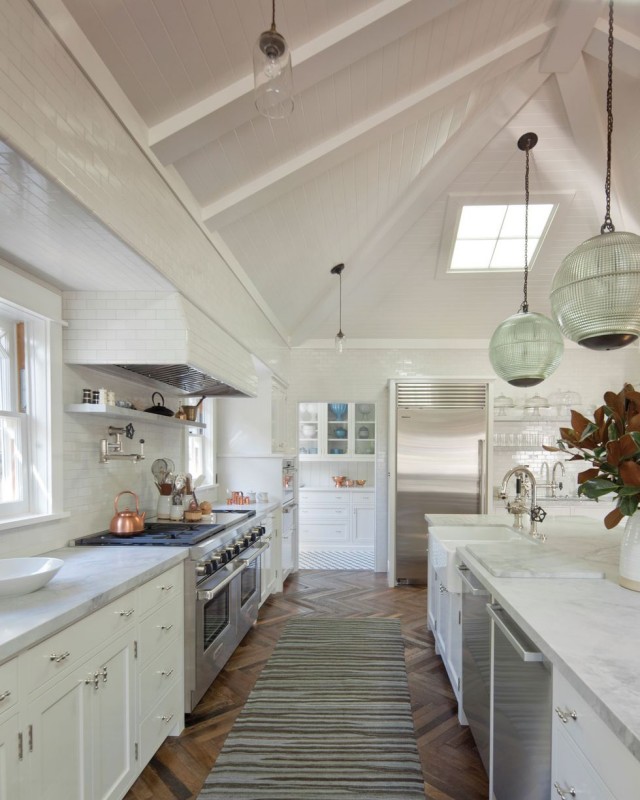 In this spacious kitchen from Tim Barber Ltd., creative accents, including orb lighting, complement interesting architectural details like a vaulted ceiling and skylight.
Mountain Escape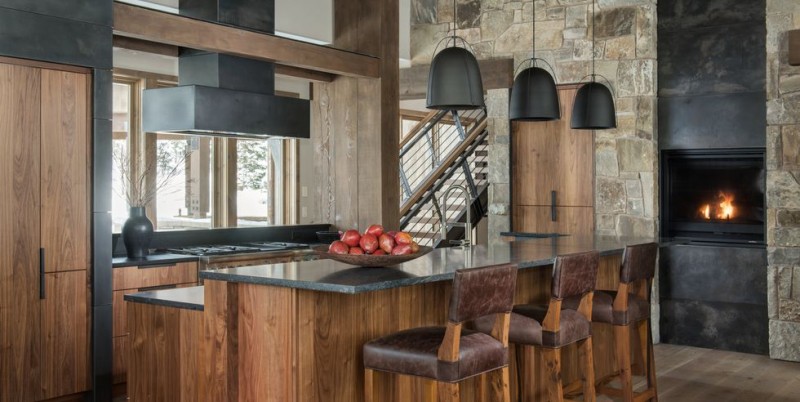 A mountain-style retreat from Peace Design incorporates wood, stone, and metal.
Cozy Comfort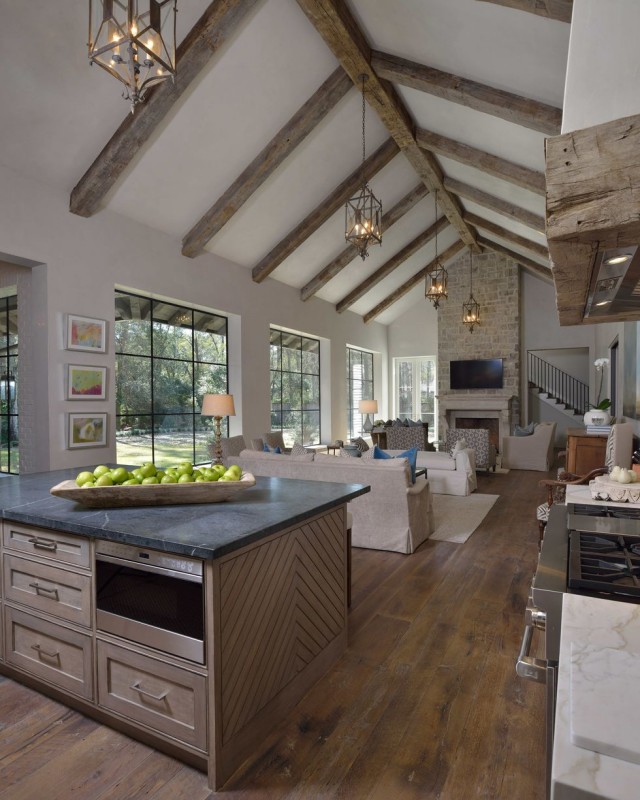 A neutral-toned kitchen by Cindy Witmer Designs features surprising details.
Big Feelings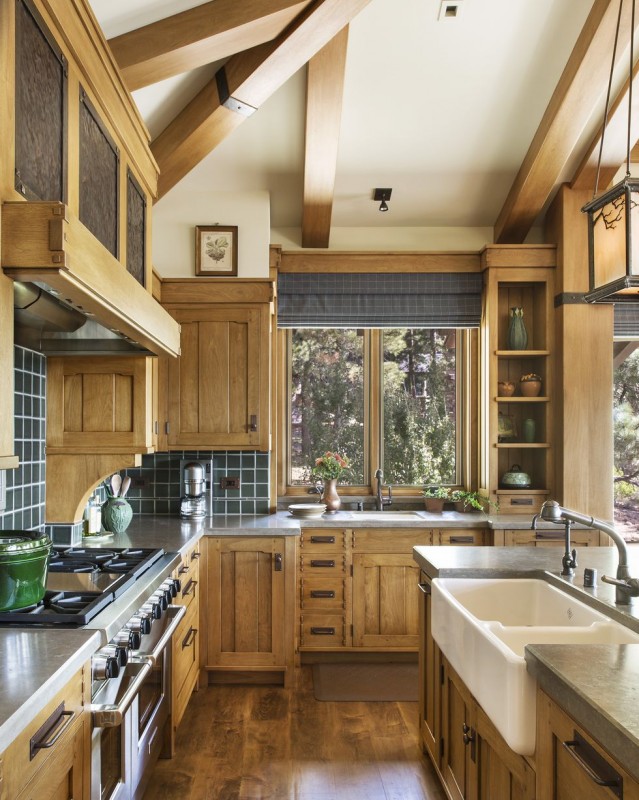 Bright woods create a warm atmosphere in a kitchen from Brown Design Group.
Creative Components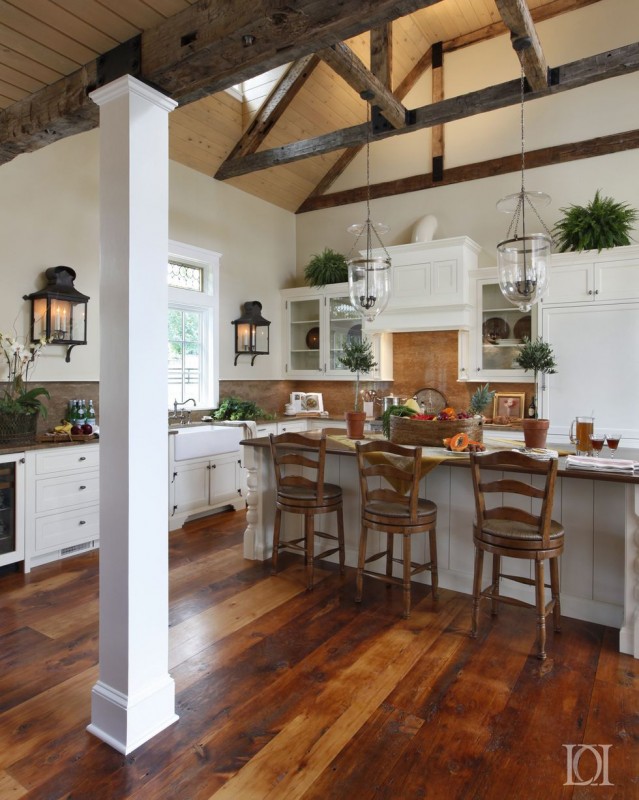 Mismatched woods complement interesting architectural elements in a design by Deborah Leamann Interior Design.
Farmhouse Kitchen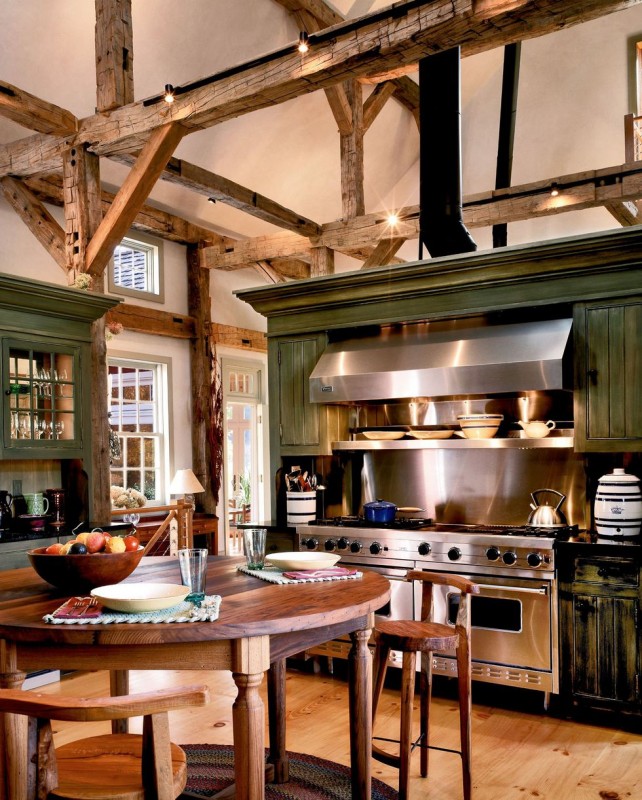 The farmhouse vibes are strong in a kitchen from Haver & Skolnick Architects.
Creative Interiors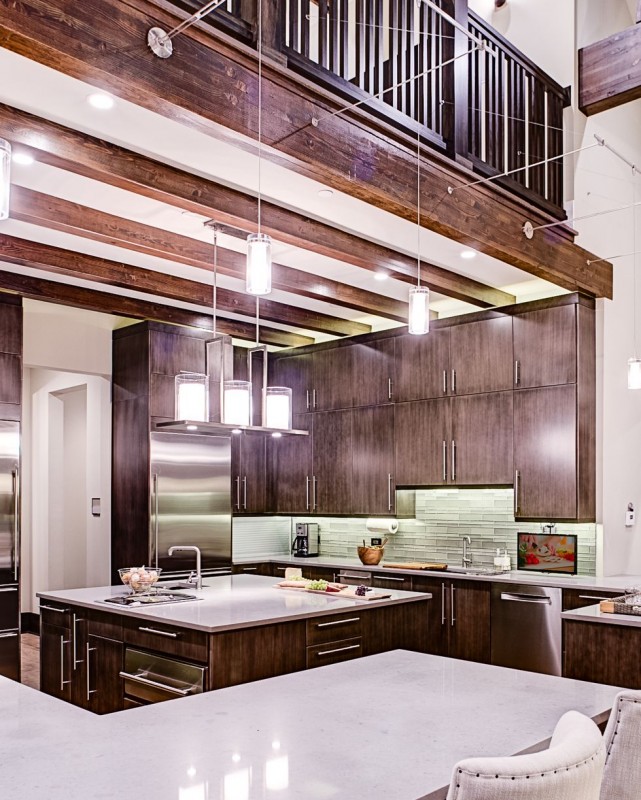 Unconventional pendant lights help to break up the space in a kitchen from studio m interiors - Claudia Martin.
Unexpected Elements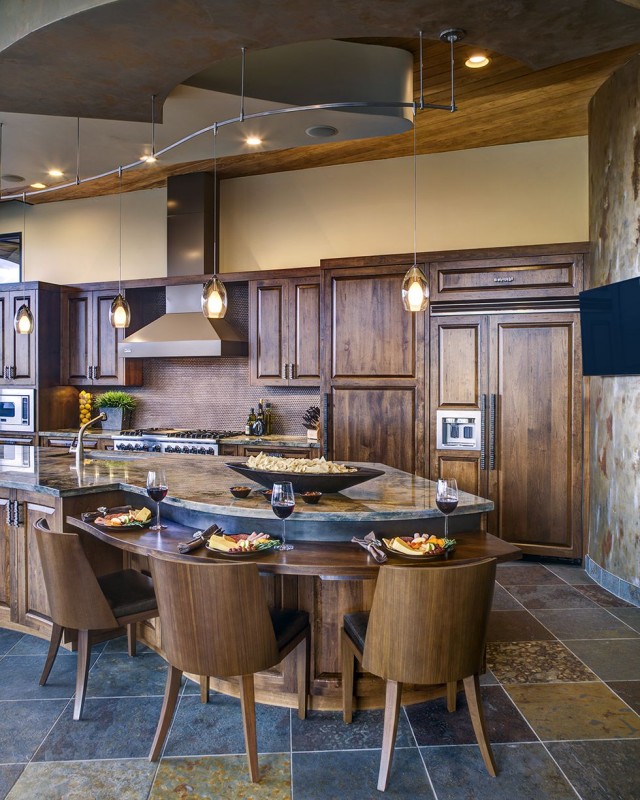 A curved island with a built-in bar is an unexpected addition to a kitchen from Lori Carroll & Associates.
Subtle Style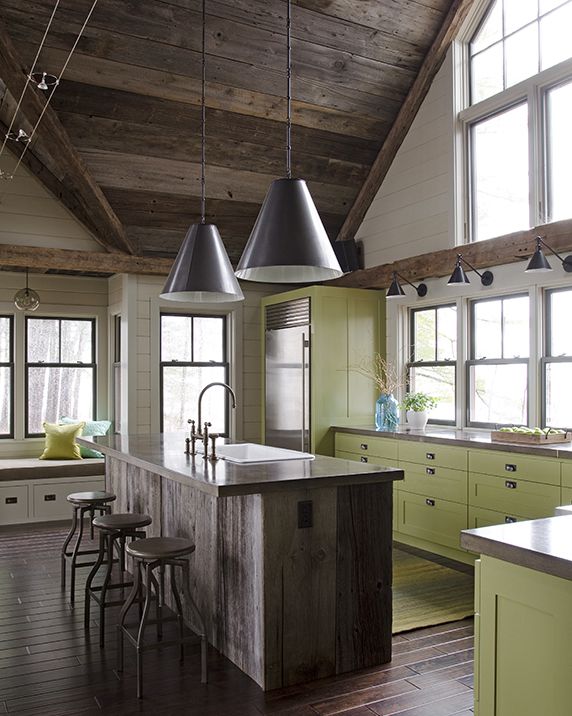 Beautiful hanging lights add elegance to a softly toned space from Kristina Crestin Design.
Ranch-Style Space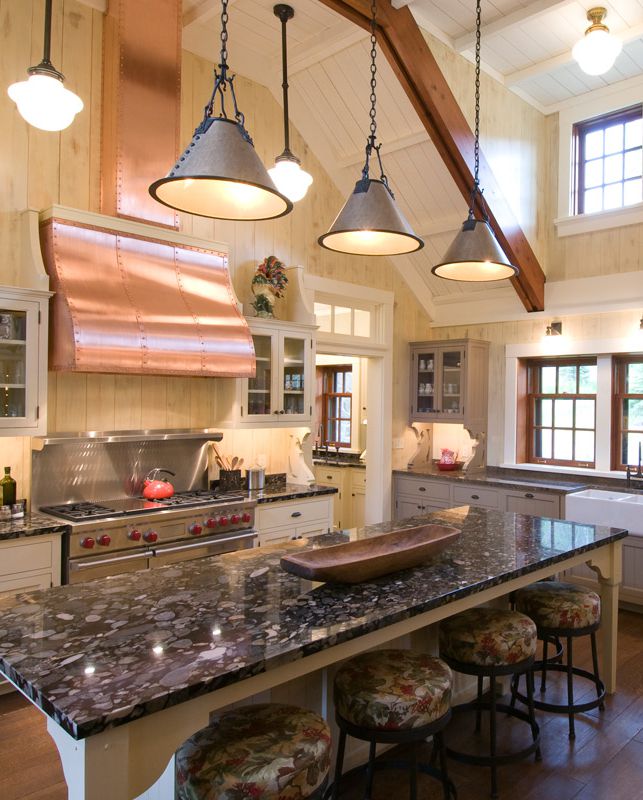 A ranch-style kitchen by Curtis & Windham Architects incorporates high ceilings.
Elegant Accents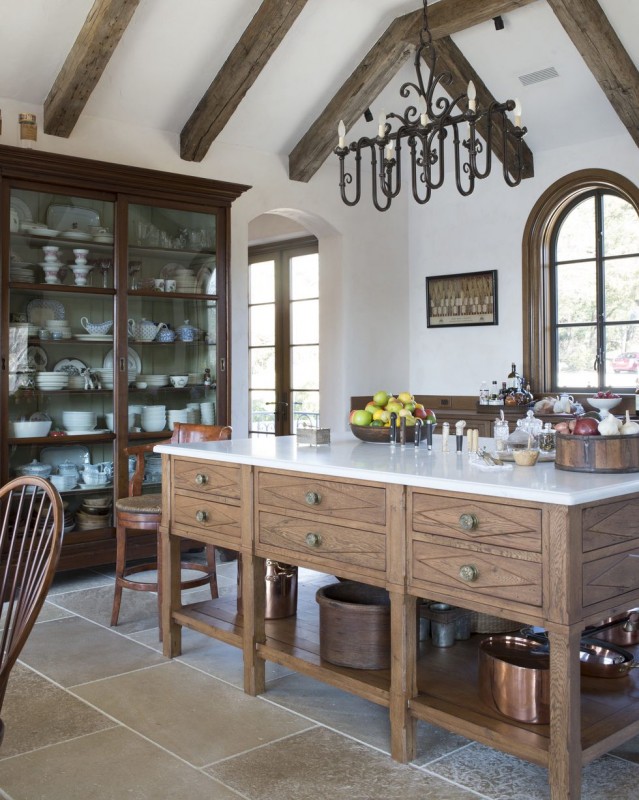 Limestone floors supply radiant heating in a chic kitchen by Sarah Blank Design Studio.
Updated Rustic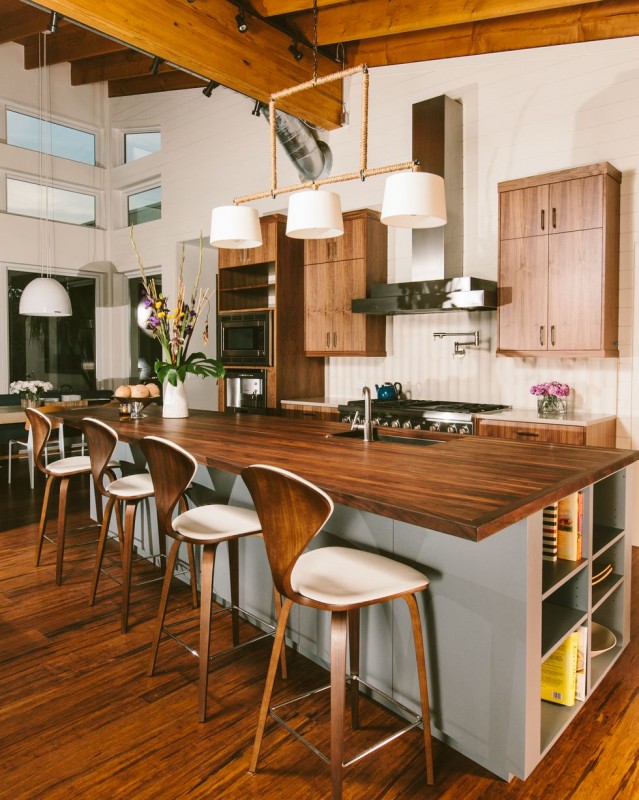 Bamboo wood floors, walnut countertops, and an exposed ceiling combine in a sophisticated kitchen design by Baxter Design Group, Inc.
Romantic Retreat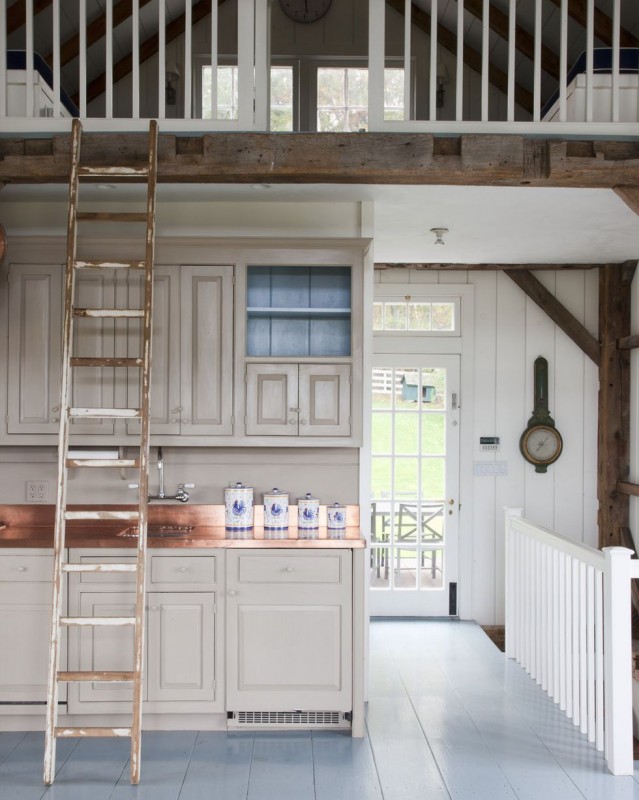 In this kitchen from Stephens Design Group, a ladder adds to a romantic ambience.
Modern Style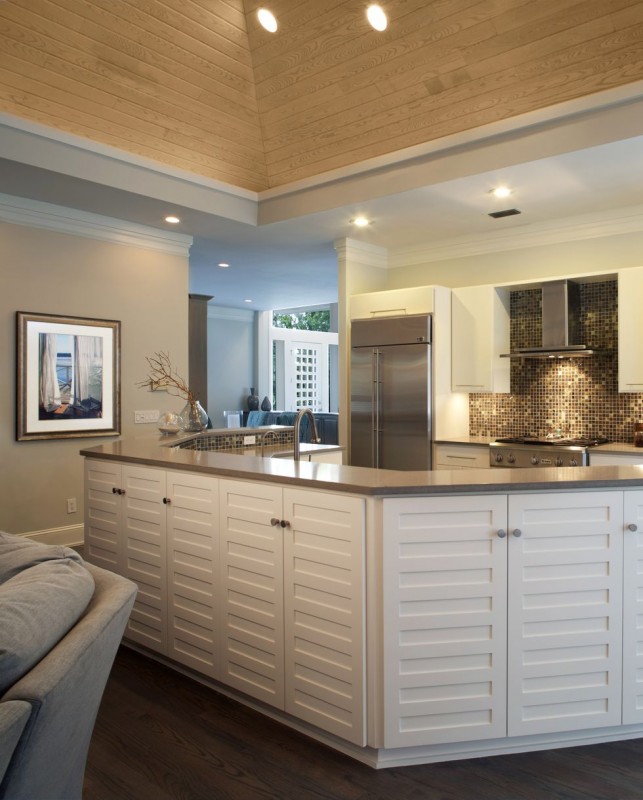 A modern kitchen by Amanda Webster Design, Inc. features high ceilings and a creative tile backsplash.