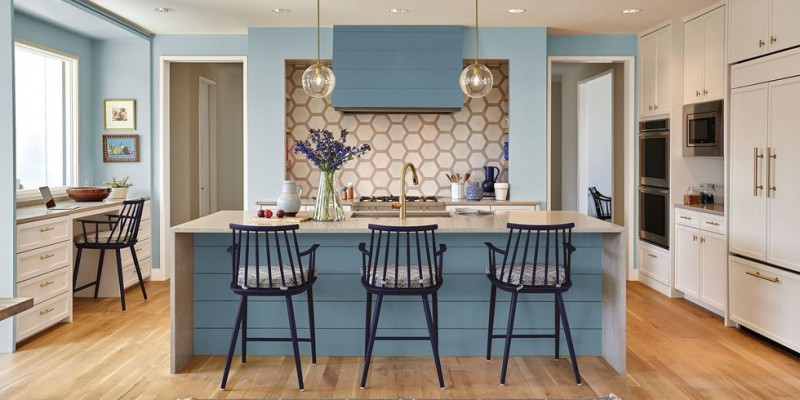 It's the color of the sky and of the ocean, which is likely why there's something innately tranquil about the color blue—and why it's such a natural hue for the heart and hearth of the home. Navy cabinets feel sophisticated paired with marble counters, while periwinkle appliances have a playful edge. Or you could upholster a banquette in azure, or tile your floors in ultramarine. In each of these 40 blue kitchens, the shade is used in smart, innovative and deeply comforting ways. It's a blue mood, but in a good way.
Blue Wallpaper and Cabinet Kitchen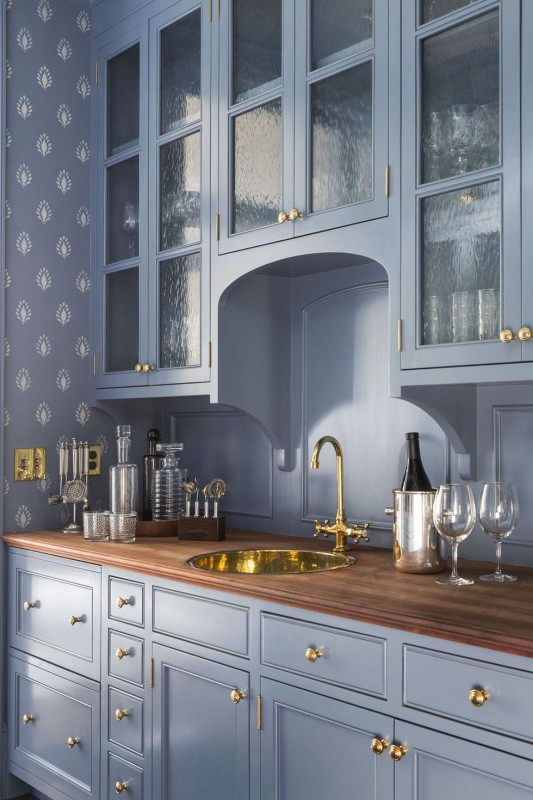 A Tennessee-style butler's pantry by Tim Barber Ltd. warms up cornflower blue cabinets with gold accents; a paisley wallpaper in a nearly the exact same shade matches just so.
Blue Wainscoting Kitchen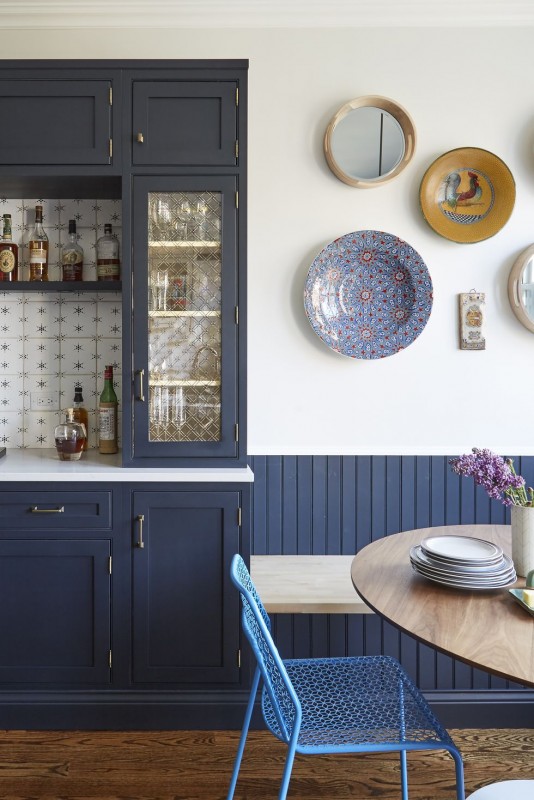 KitchenLab Design | Rebekah Zaveloff Interiors created this deep navy kitchen bar inspired by the night sky (note the star-patterned backsplash). By carrying the cabinet shade to the wainscoting, a seamless transition is made to the breakfast nook. Blue accents (chair, plate) are variations on a theme.
Toile Blue Wallpaper Kitchen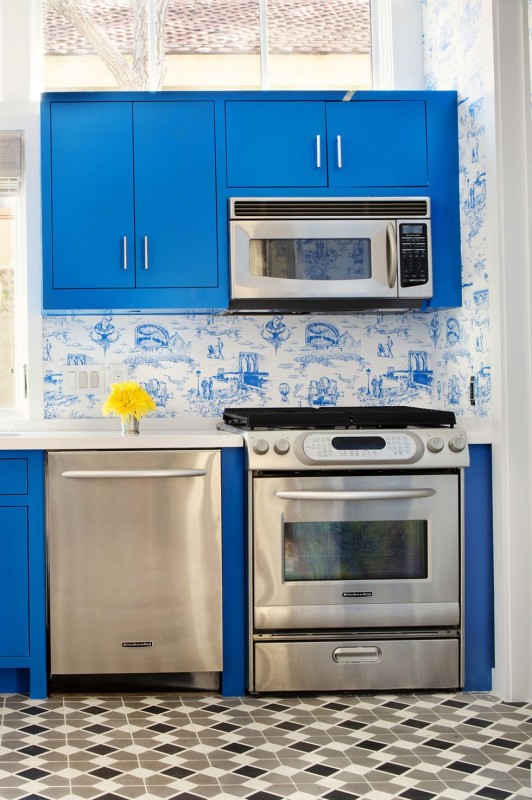 This kitchen by Sarah Wittenbraker is in a poolhouse, so it makes good sense to make a splash. (Ba dum dum...) Glossy blue cabinetry is a playful contrast to sometimes stodgy toile.
Blue Upholstered Nook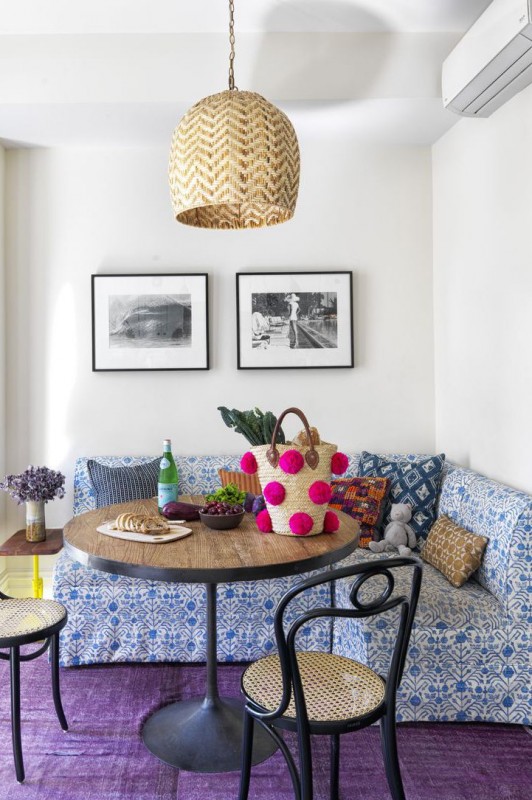 If the surfaces in your kitchen are already accounted for—and they're not yet blue—take a look at your seating. The breakfast nook banquette in a Brooklyn townhouse is upholstered in a smart Zak+Fox patterned fabric.
Blue Vintage Range Kitchen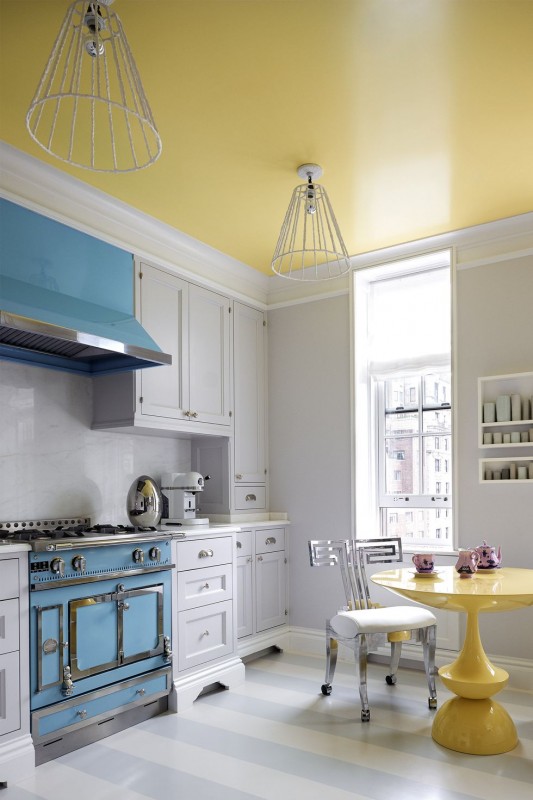 In Designer Brian J. McCarthy's New York City apartment, an all-white kitchen makes use of a few blue elements: A stove and hood by La Cornue, and the wide swaths of pale blue stripes on the floor.
Blue Island Kitchen
Rather than paint her whole kitchen blue, Melissa Rivers just dipped in a toe, or rather an island. Just the underside of the marble center island is painted a creamy sea blue.
Denim Blue Kitchen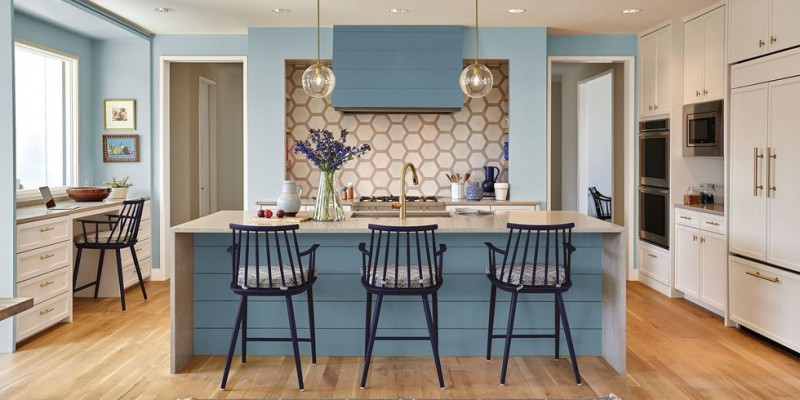 Behr Paint's 2019 Color of the Year is Blueprint, and the mid-tone blue goes with just about everything—exactly like your favorite pair of jeans. It's an ideal shade to consider if you're working around existing elements like wood floors, detailed tile, or a patterned backsplash.
Blue Top Cabinets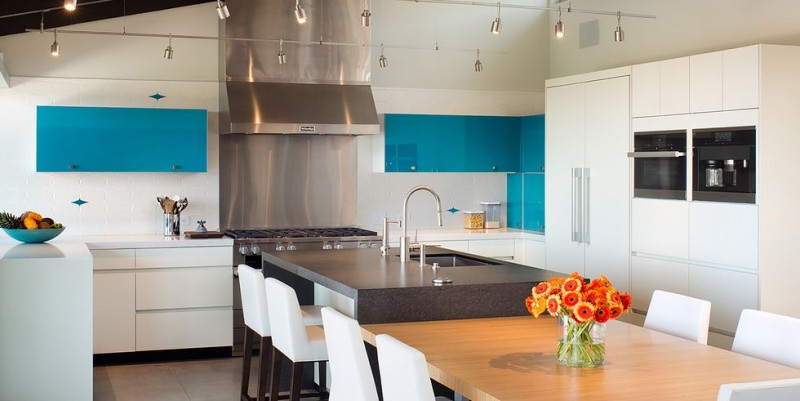 In this kitchen by the Dawson Design Group, just the top cabinets ar rendered in a glossy aqua blue, creating a pop-art flash in an otherwise completely streamlined space.
Blue Bottom Cabinets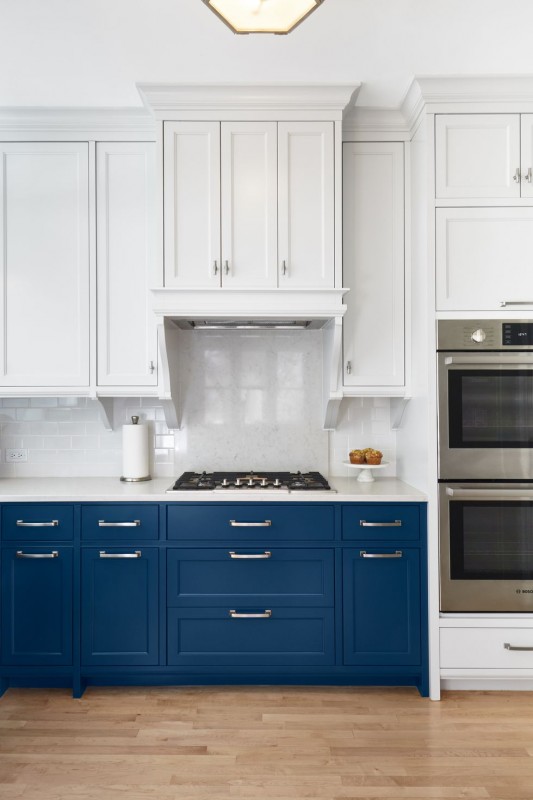 And now the reverse, in this classic kitchen with blue lower and white upper cabinets and a custom hood by Randall Architects, Inc. If your kitchen is already all-white, just painting the lower cabinets can add mood but still allow the room to feel airy and light.
Blue and Yellow Kitchen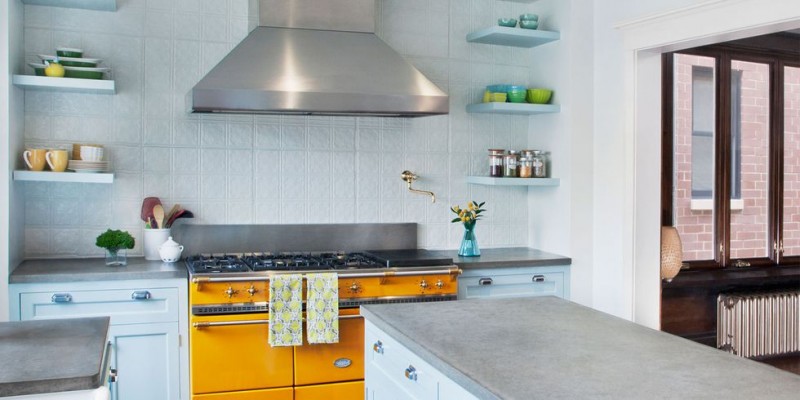 Baby blue cabinets, floating shelves and tin tile backsplash look all the more soft and serene next to a marigold range in this space by Randall Architects.
Blue French Doors Kitchen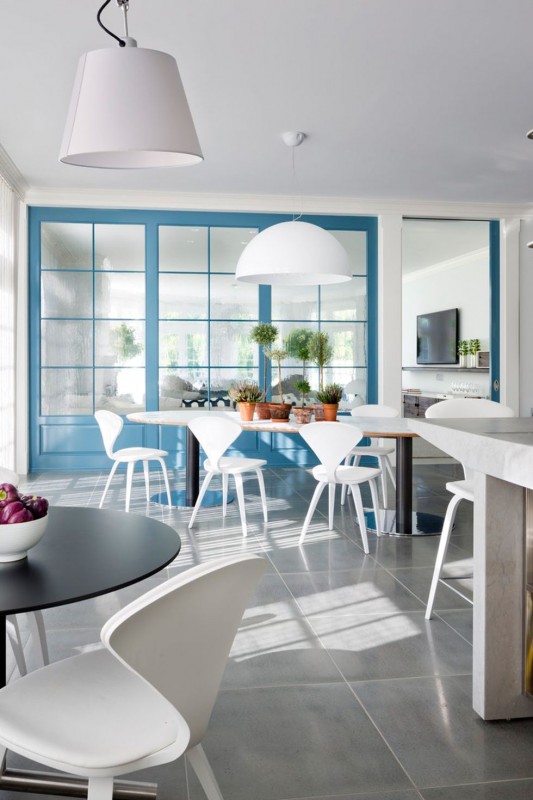 Painting French doors robin's egg blue means the kitchen is still all white, but the vitality of blue shines through in this design by Kellie Franklin.
Blue Tiled Kitchen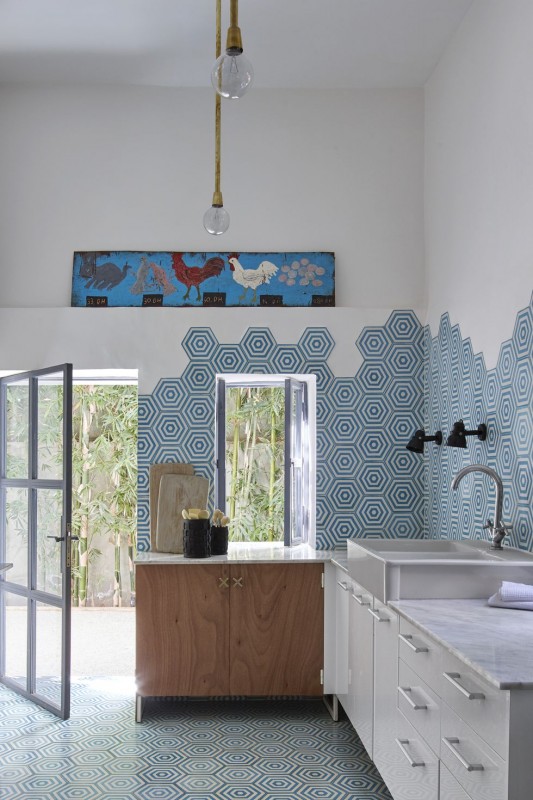 This stunning house in Marrakech, owned by the founders of tile design house Popham Design, features enchanting floor and wall tiles that are designed by their own firm. The countertops are Moroccan marble, and the vintage sign came from a Marrakech souk.
Blue Kitchen Chandelier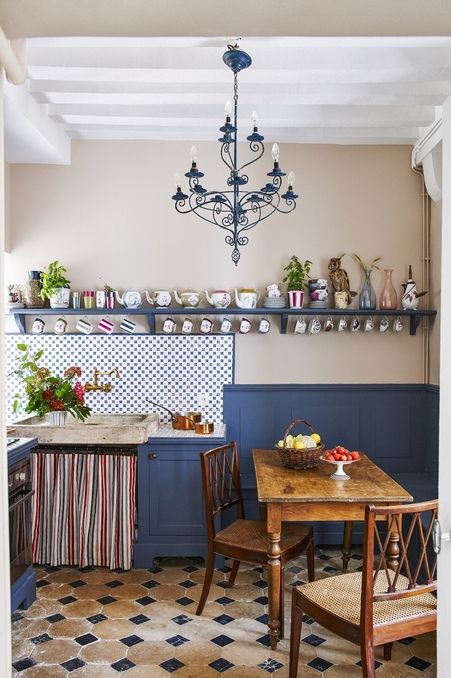 The homeowners kept the original tile backsplash and flooring in the kitchen of this Loire Valley home. English mahogany chairs and a stylish chandelier, which was found at a flea market, give the space a lived-in feel.
Blue Tiled Kitchen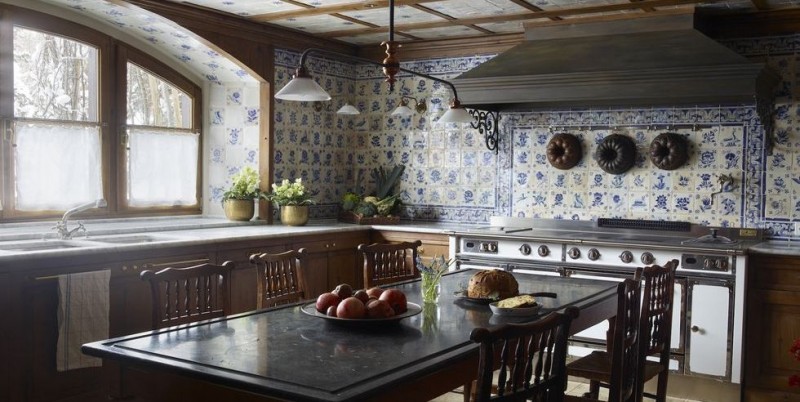 This charming kitchen in St. Moritz, Switzerland is filled with history: 18th-century Portuguese tiles cover the ceiling and walls; the 19th-century French table is surrounded by English chairs from the same era and a 19th-century French light fixture hangs above.
Blue and Red Kitchen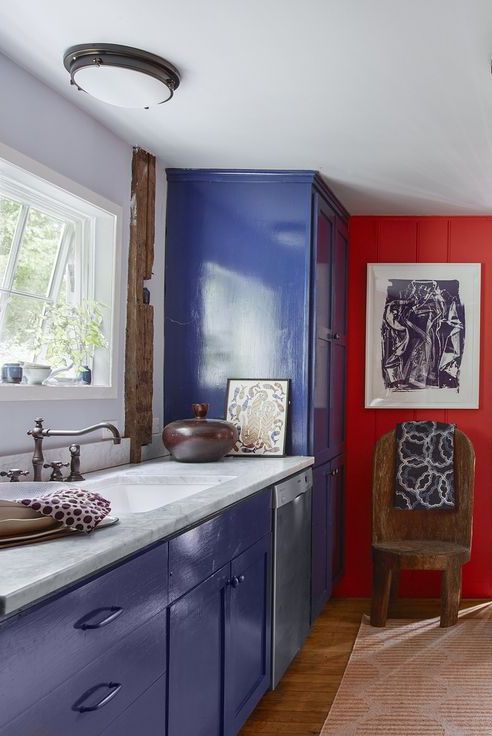 The kitchen in fabric expert John Robshaw's Connecticut country house is a study on fearless color choices. The walls are painted in Rose Quartz and the cabinetry in Starry Night, both by Benjamin Moore, creating a bold but impressive palette.
Blue Kitchen Table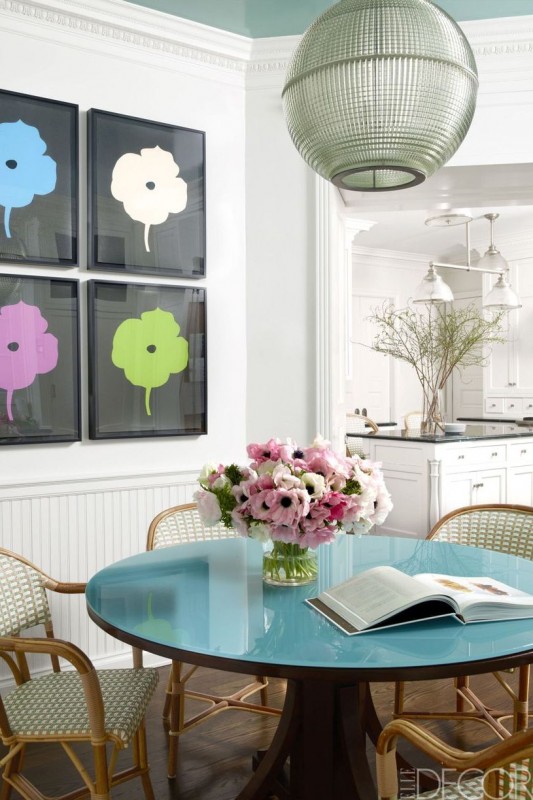 Inside a stylish Park Avenue apartment, the kitchen features chairs by TK Collections that surround a custom-made painted glass–topped table in the breakfast area; the silk-screens are by Donald Sultan, and the 1960s light fixture is English.
Blue Carpeted Kitchen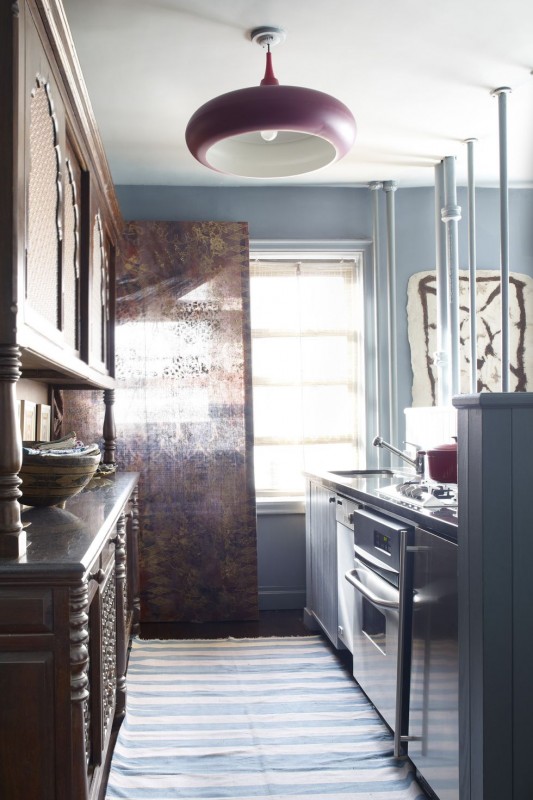 In a Manhattan home, this charming blue kitchen features wood-and-marble cabinets commissioned by an artisan in India. The unique light fixture is by Harry Allen, and the appliances are by GE. The walls and carpet anchor the room in a dreamy blue palette.
Subtle Blue Kitchen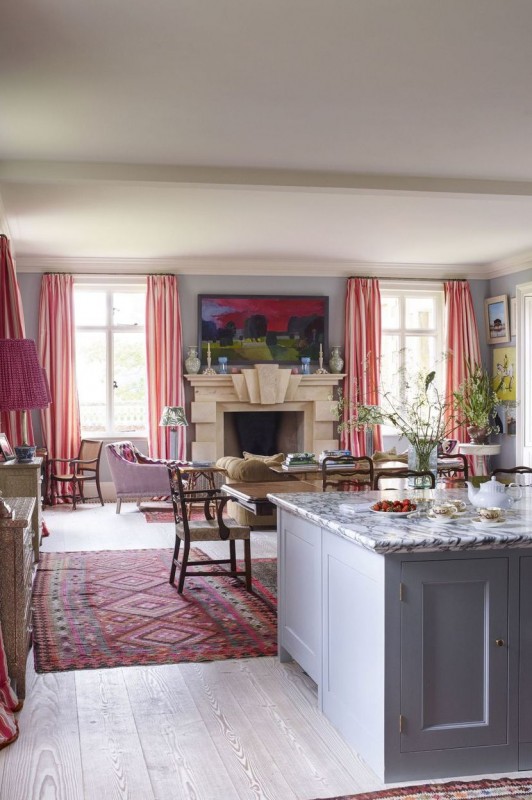 This 17th-century English estate isn't afraid of colorful decor. The subtle blue kitchen island is by Plain English, the mahogany table is Victorian, the curtains are of a Bennison Fabrics stripe, and the walls are painted in Tablecloth by Paint & Paper Library.
Light Blue Kitchen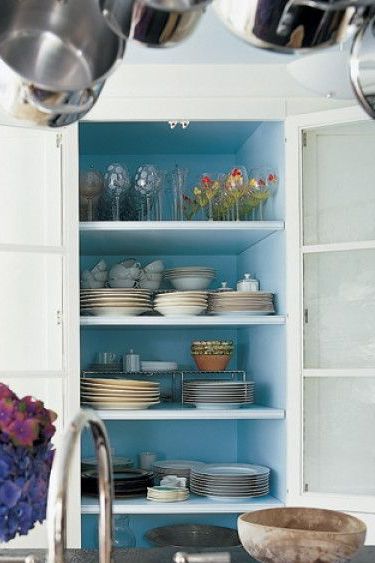 Hand-painted glassware and collections of china become the focal point in the small kitchen of a Connecticut house designed by Lou Marotta. The cupboard's light blue backing draws the eye directly to the statement items.
Blue Cabinetry Kitchen
Vintage items meet modern design in a Bridgehampton house designed by Timothy Haynes and Kevin Roberts. The bright blue cabinets and smoked mirror-paneled bar are custom-made and the floors are of honed Thassos and Atlantic Blue marble. The counters are cast glass, the circa-1970s stools are attributed to Karl Springer and the 1960s chandelier is made of Murano glass.
Blue Accented Kitchen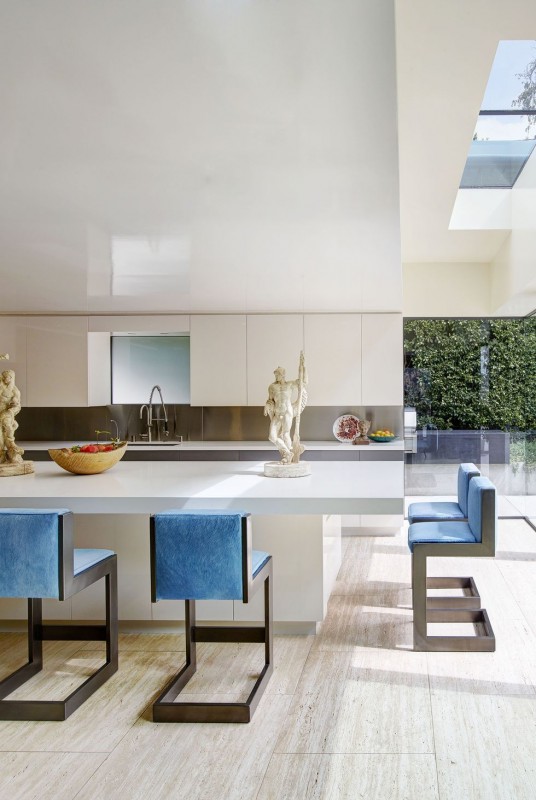 This may be a contemporary Los Angeles bachelor pad, but Edelman cowhide makes a surprise — and uncharacteristically blue — appearance with custom-made stools in the kitchen. The island's surface is by Caesarstone, the lacquered cabinetry is custom made and the sink fittings are by Dornbracht.
Blue Communal Seating Kitchen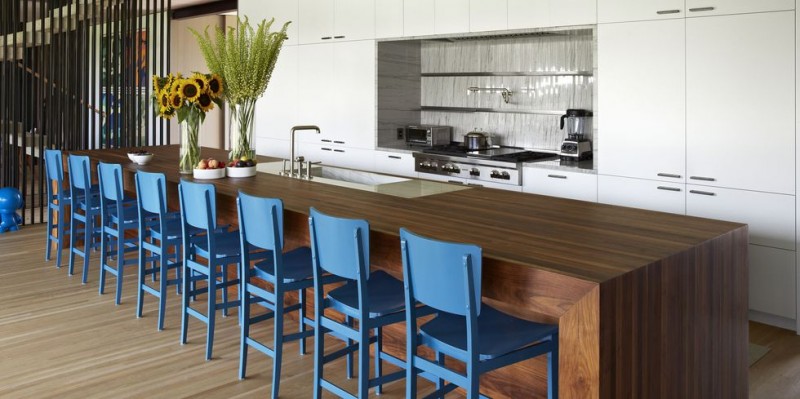 A row of blue kitchen barstools by Etel Carmona for Espasso star in a sophisticated Hamptons home, adding a modern pop of color in contrast to the custom-made matte lacquer cabinetry and wooden island. The sink fittings are by Kallista and the range is by Wolf.
Blue Island Kitchen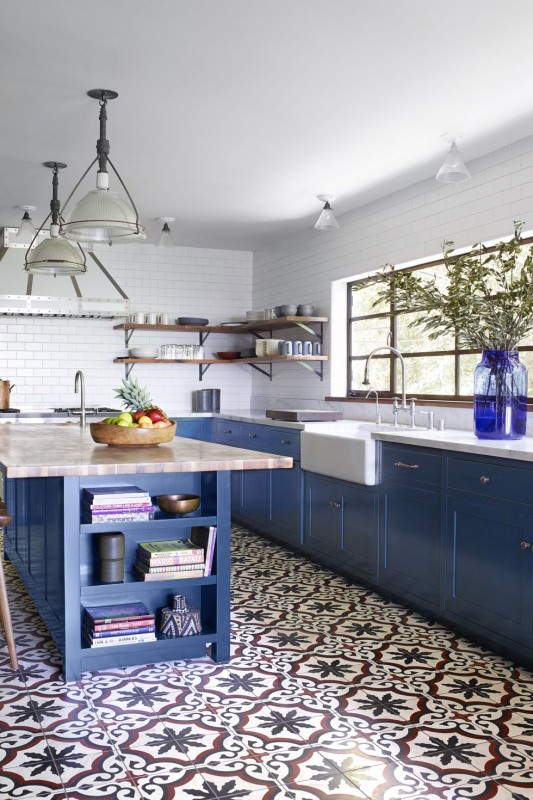 A blue kitchen island echoes the blue detailing in flooring by Granada Tile in this Hollywood Hills home. The vintage pendants are from Obsolete, the BassamFellows stools are from Design Within Reach, and the sink is by Shaws with fittings by Jaclo. The countertops are Carrara marble.
Blue-Purple Kitchen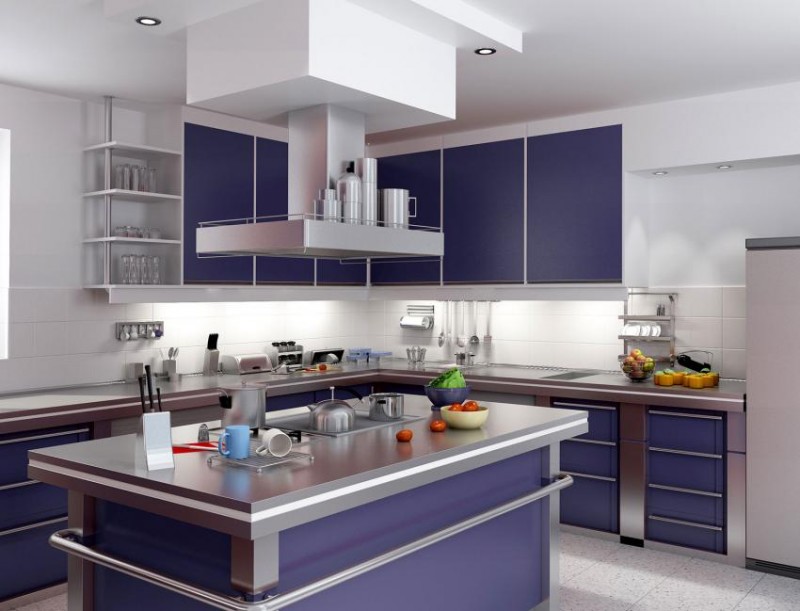 A Parisian kitchen designed by Olivier Gagnère is made intimate by dark, blue-purple walls and crocodile-embossed leather on the refrigerator and cabinetry. Contrasting hints of red (such as with the lacquer tray and dinosaur sculpture) vitalize the space.
Blue Floored Kitchen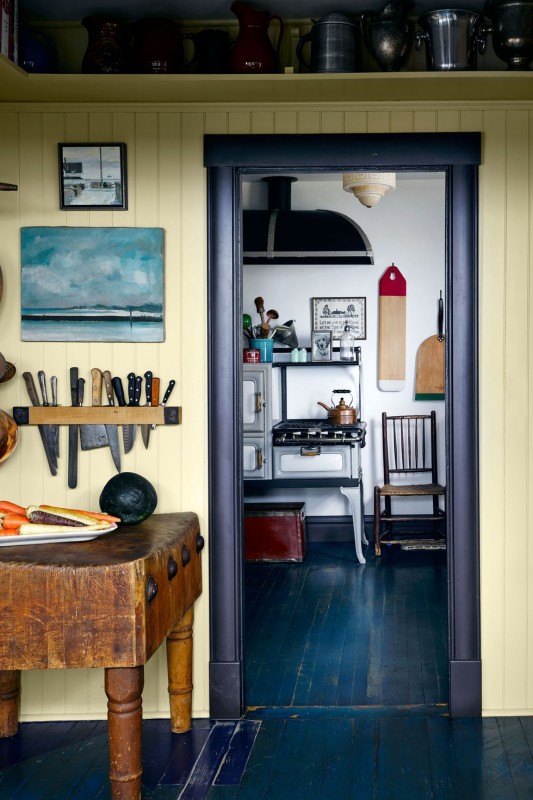 In a gorgeous Cape Cod cottage circa 1880, deep blue makes an appearance on the wood floors and door frame, evocative of the nearby sea. A vintage seascape hangs above an antique butcher block, echoing the kitchen's ocean-inspired palette.
Blue Cabinetry Kitchen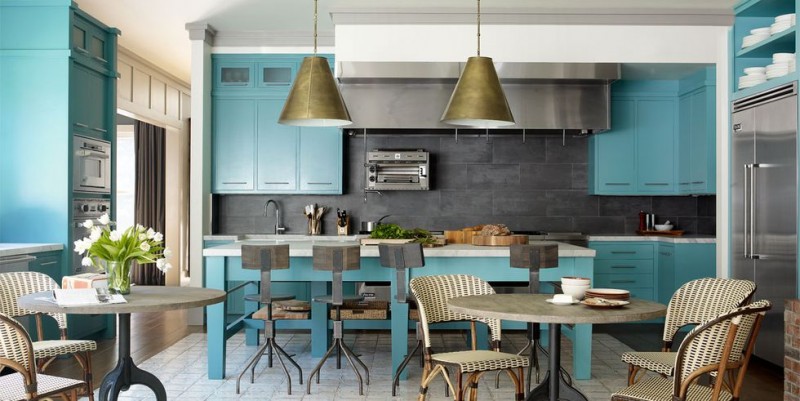 The kitchen of this Hamptons home features custom-made cabinets and an island painted in Benjamin Moore's Majestic Blue. The French bistro chairs are by Beaufurn and the brass pendants are by Thomas O'Brien for Visual Comfort.
Powder Blue Kitchen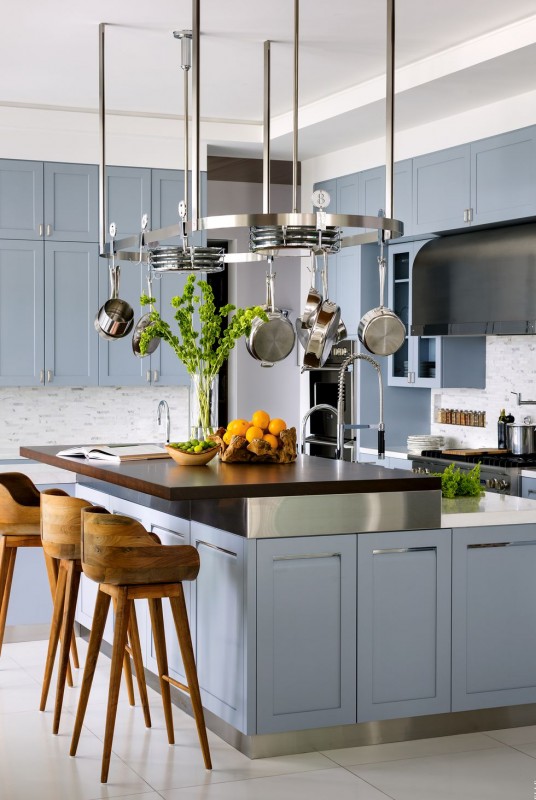 This home in Pacific Palisades, California, belonging to designer Alison Palevsky and her husband, Alexander, instantly calms with its cool blue island and cabinets, and wooden barstools from Organic Modernism. The kitchen stove is by Viking and the Carrara marble tiles are by Walker Zanger; the 1920s pendant lights came from Thanks for the Memories.
Blue Banquette Kitchen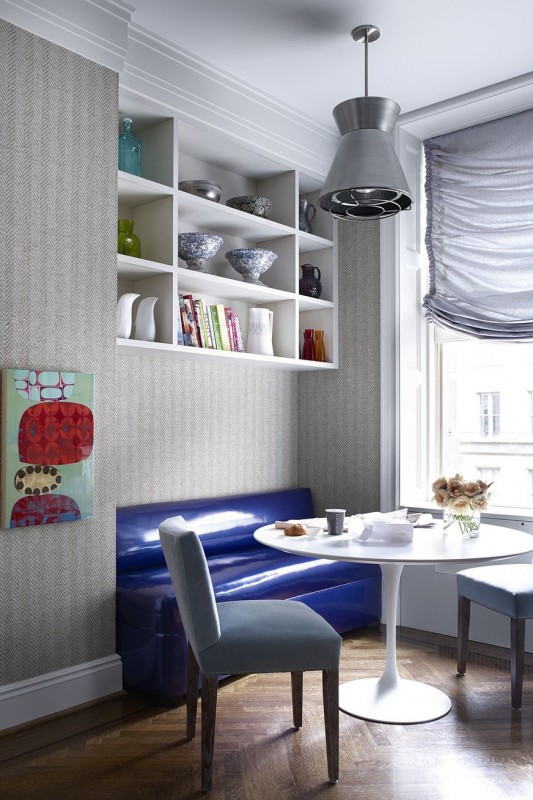 The kitchen's bright blue banquette is custom-made in a historic (yet perfectly updated) Manhattan apartment. The pendant light is from Avantgarden; the wallpaper is by Hines & Company, and the herringbone flooring is original. The Saarinen table is from Design Within Reach.
Rich Blue Kitchen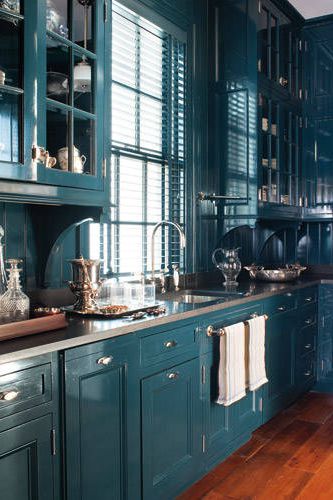 In this room designed by Miles Redd, a lacquered finish adds a rich dimension to the space, painted floor-to-ceiling in Farrow & Ball's Hague Blue.
Blue Floor Kitchen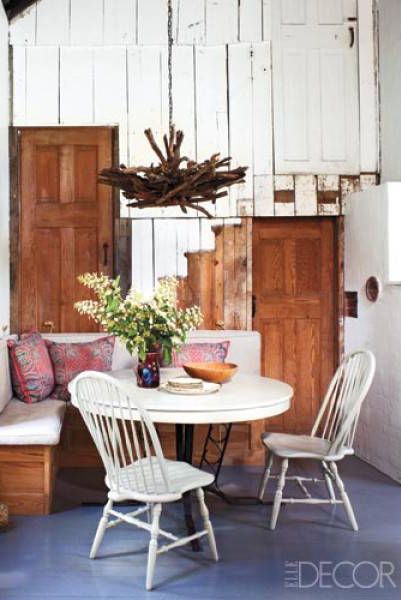 A muted blue floor complements the natural elements in a Long Island kitchen designed by Calvert Wright. The banquette has cushions covered in a Ralph Lauren Home fabric and the twig chandelier overhead is from a Paris flea market.