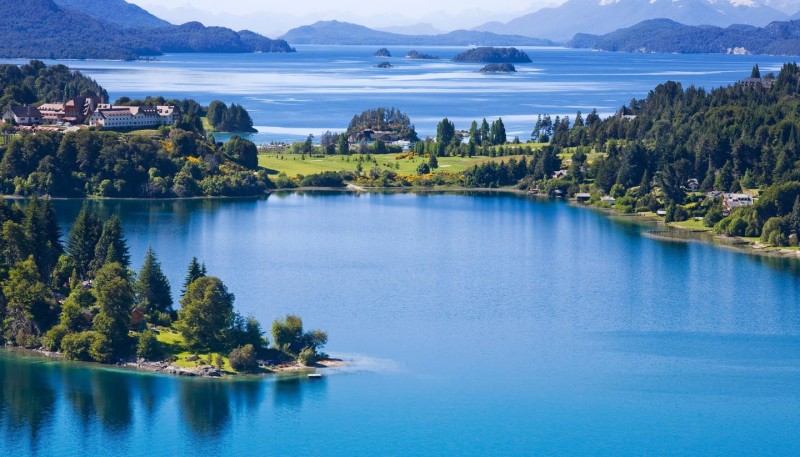 Most travellers end up in Buenos Aires when they visit Argentina. In fact, you probably can't avoid it – most (if not all) international flights land here first. Logistics aside, it's also a city that draws people in with its beautiful architecture, seductive tango and endless nightlife, and many people who only have plans to stay a few days can find themselves here for weeks.
But Argentina is vast – it's the 8th largest country in the world – and if you want to see and experience its snow-capped mountains, rushing waterfalls, moon-like landscapes, delicious wines and crystal-clear lakes, then you have to get out of Buenos Aires. Head to some of the other regions that cover this immense land – and all have far fewer tourists than the capital. Here are some other places in Argentina that are worth your time.
1. Mendoza
If you like wine, you're going to love Mendoza. Home to Argentina's famous Malbec wine, in a few days you can easily visit several wineries, many of them set against the beautiful backdrop of the Andes. There are three different wine regions: Maipu, Lujan de Cuyo and Uco Valley. Maipu is the closest to Mendoza city and therefore easier to visit, but it's well worth going out further to taste wine in the stunning Uco Valley. To explore the wineries, you can rent a bike, hire a private driver, take your own car (drink responsibly!) or grab a ticket for the hop-on, hop-off Bus Vitivinicola.
When wine gets too much (but does it ever?), there's plenty to keep you occupied, including rafting, climbing and other outdoor adventures, as well as exploring the city's museums, churches and plazas. Foodies will delight in the many options available, including two restaurants owned by Francis Mallman, South America's most well-known chef.
2. Bariloche
Located in northern Argentine Patagonia, Bariloche is beloved in both winter and summer. All year round, visitors flock here for skiing, mountain biking, hiking and fishing. If that all sounds a little too adventurous, Bariloche is also Argentina's chocolate capital, and it's easy to spend hours tasting the various chocolates and ooh-ing and ahh-ing over the imaginative window displays. Rapa Nui, Argentina's most popular chocolate brand, is a must, and I dare you not to bring home boxes of chocolate.
Base yourself here and rent a car to drive the Ruta de los Siete Lagos (Road of the Seven Lakes). The 110 km route is a spectacular journey that winds through – you guessed it – seven lakes. Just two hours by bus from Bariloche is El Bolsón, a hippy town that's a respite from the commercial hub of Bariloche. Here you can taste local craft beers and sample vegetarian and vegan food.

3. Salta
Known as Salta La Linda (the pretty one), Salta is a great city to visit both for its own beauty and as a base for exploring Argentina's vast northern region. The Museo de Arqueología de Alta Montaña offers a fascinating insight into Incan culture. The highlight of the museum is the mummified bodies of three children who were sacrificed on a nearby mountaintop. Their features are eerily frozen in time. The three bodies are rotated every few months to ensure they are carefully conserved.
You can wander the city, admiring its well-preserved colonial architecture and churches, and sample the famous empanadas salteñas: pastries filled with vegetables and meat. Ask for them fried (rather than baked) – you won't regret it.
4. Ushuaia
Head on down to the end of the world – literally. Ushuaia is the southernmost populated city in the world and is the jumping off point for boats headed to Antarctica. Surrounded by natural beauty, it's a great location for adventure. Boats crisscross the Beagle Channel, where you'll see birds and seals sunbaking on guano-covered islands of rocks. On land, you can go 4×4 adventuring into the forests and around the lakes, and visit penguin colonies. Leonardo DiCaprio was often spotted here while filming the blockbuster The Revenant, whose snow scenes were shot nearby.

5. Purmamarca
Way north, 160 kilometres from Salta, lies the stunning Cerro de Siete Colores, a layering of pinks and purples and oranges like you've never seen. You can base yourself in this tiny town with a population of a few hundred people and explore the surrounding region. It's a popular town to pick up local crafts including colourful blankets and hand-sewn llama dolls. Nearby day trips include visits to the equally tiny towns of Tilcara and Humahuaca or to the Salinas Grandes, the second largest salt pan in the world.
6. El Calafate
Visitors flock to El Calafate for a once-in-a-lifetime experience: the chance to walk on a glacier. Strap on some crampons and make your way across the thousands-of-years-old Perito Moreno Glacier. What's unique about this glacier is that it is advancing up to 2 metres a day. Trekking on the glacier can only be done on an organised tour, but you can visit it on your own and wander through the well-maintained walkways that allow for impressive views of the glacier. If you're lucky, you'll witness the roaring crack of the ice 'calving' (breaking off) and the subsequent boom as chunks of ice the size of small cars hit the icy waters below.
Beyond this natural attraction, the city has a glaciarium that shows how glaciers are formed and an ice bar serving drinks in ice glasses to coat-swaddled guests. At certain times of the year, you can spot flamingos on Lago Argentina.

7. Cafayate
While Mendoza may be more well-known for producing Argentina's famous wines, Cafayate offers a different wine experience. Here, you can try the region's torrontés variety, a dry white wine. It's easy to spend a few days in Cafayate, driving or biking to the dozens of wineries around the area. Wine tasting is inexpensive and at most places it's not necessary to book in advance. San Pedro de Yacochuya, Piattelli and El Porvenir are wineries all close to the town centre. Wine is in everything here. Try a scoop of Malbec or torrontés-flavoured ice cream from one of the stores surrounding the town's main plaza.
8. El Chalten
El Chalten, in Argentine Patagonia, is the base for hiking to the Fitz Roy and Torre mountains, part of the Fitz Roy range. There are a number of different hikes in the area, ranging from easy to strenuous to those that require technical skills to attempt. Your hotel can provide a map of the various hiking routes, but always check in with the park rangers for the latest conditions. The best (and busiest) time to visit is December to February; from May to September most places are shuttered up as icy winds and snow descend.
The small town may not have great wifi or telephone service, but what it lacks in technology it makes up for with a great food and craft beer scene – both of which are needed after a long day of hiking!

9. Buenos Aires
The capital of Argentina, it's also one of the most vibrant and European-like cities in South America. There's plenty here to fill days or even weeks. Wander the streets and marvel at the beautiful buildings, eat plenty of steak and wine, peruse the Sunday San Telmo market and visit one of the many outstanding museums. If you have a few days, have a custom leather jacket made for you – for half of what you'd pay elsewhere.
So, while you shouldn't leave Buenos Aires off your list of places to visit in Argentina, do make some time to explore some of this stunning country's other places!