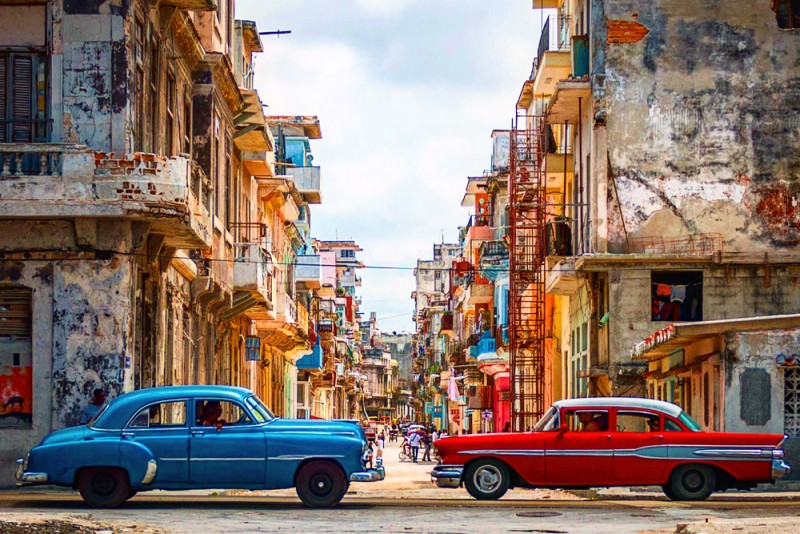 To say that Cuba is a beautiful country is an understatement. With its rich history, colourful architecture, sandy beaches, vibrant forests, and unique culture, Cuba is a dream of a destination, and when there, you're going to want to see and do it all. The problem is that unless you have an extended period of time — as in, a couple of months — you'll need to pick and choose where to go. To help you plan your trip, here are four destinations not to miss in Cuba. Trust us, you'll regret NOT visiting these places!
Havana
Havana in and of itself is a city worth seeing. Right next to the completely restored El Capitolio building, you'll find apartment buildings that are either in disrepair, or that were in the process of repair when workers abandoned the job. Scaffolds covered in ivy line the sides of many of these buildings, seeming to serve as a reminder of what could have been. You can probably spend days wandering the ancient city, never tiring of the paradoxes you uncover. Vintage cars roam the streets, further adding to the city's elderly charm.

Varadero
Because Havana has been featured in so many films and because of its historic significance, many of Cuba's lesser-known cities remain undiscovered by tourists. This is a shame. While Varadero may be a lesser-known destination, it's not without merit. Nestled on the 20 km-long Hicacos Peninsula, Varadero offers plenty for those who are more into sunbathing, shopping and fine dining rather than hiking and exploring. Amongst the more than 60 Varadero resorts is the Iberostar Bella Vista Varadero, a seafront hotel that provides a little bit of something for everyone, such as massages and treatments, an all-inclusive restaurant, waterpark, and sports club.
Baracoa
Baracoa is another lesser-known tourist destination but is one of the best that Cuba has to offer. If you make it a point to visit this secluded section of the Guantanamo Province, you are almost guaranteed to see sights and make memories you aren't likely to forget.
Baracoa is connected to Santiago and the rest of Cuba by a single road: La Farola (the lighthouse road). This road was built in 1964 under the direction of Fidel Castro. The road itself offers spectacular views, but those are nothing to compared to what you will see when in the small town. Known to other Cubans as the city of 29 rivers, Baracoa is one of wettest regions in all of the country. It rains almost daily but once the clouds have parted, you will be able to see and appreciate the old architecture, colourful murals and the emerald backdrop that is the El Yunque mountain.

Santiago de Cuba
If you have the gumption for it, a trip to Santiago de Cuba is well worth your time. This city is Cuba's second largest and, according to according to Lonely Planet, one that is full of tricks and trouble that may make softer visitors want to scamper away. However, if you're smart and keep your belongings close and your wits closer, you may discover that Santiago is one the most interesting locales in all of the country. The city has a strong Caribbean culture and one that is rich in politics, literature, music, and architecture. As a bonus, La Gran Piedra is just a day trip away. The climate is pleasantly cool and the mountain range speckled with old but still functioning coffee plantations.
Cuba has a lot to offer locals and tourists alike and it can take years to see everything. However, you have to start somewhere. If you're planning a trip to this interesting country, be sure to put the above four destinations on your itinerary. You won't regret doing so!