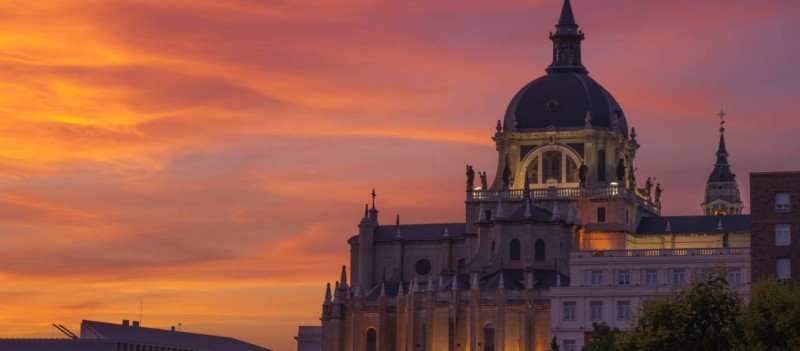 Spain is such a culturally rich country that Madrid can sometimes feel dull in comparison. Up north, you have Barcelona with its Gaudi architecture, and down south you have what remains of the nearly 700+ year reign of Muslim Al-Andalus. It took me studying abroad and living here to fully appreciate all the underrated things to do in Madrid. When I think back to some of my favourite memories, they were things I had no idea you could even do until at least a month or so into my semester!
1. Get the best tapas at El Tigre
When you think of Spanish cuisine, there are probably two things that come to mind immediately: tapas and paella. While I can't speak to a specific place to go for amazing paella in Madrid, I do know that five years later I still remember Sidrería El Tigre for tapas. Order a mojito for maybe 6 euros, and you'll get a heaping plate of tapas to go with it. It's so much food, you might not even be able to finish all of it! Just keep in mind, they get really busy at night, so you might want to stop in a bit earlier to make sure you have a table.
2. Spot the silly lion statue in Palacio Real
I'm sure you'll see Palacio Real as one of the top Madrid highlights, so visiting it alone isn't much of an underrated activity. It's absolutely gorgeous, and the interior decor is as ornate as you'd expect from Spain's royal palace. However, amidst all this fine design is a very goofy looking lion statue on one of the staircases. You'll see two lions, one with a completely normal, regal expression, and one that looks completely silly. It made me laugh when I saw it as it was so unexpected.

3. Take a cable car over Casa de Campo
Did you know there's a cable car ride you can take to get a beautiful cityscape view of Madrid from afar? It took me three months of living there and a friend mentioning going offhandedly to realize Teleforico even existed! Take the cable car out to a little restaurant and observation platform and enjoy the views. On the way, you'll pass over Casa de Campo, the largest park in Madrid. It used to be the royal hunting grounds, that's how big it is.
4. Visit nearby Segovia for the day
While most people choose Toledo for their Madrid day trip, you would very much be missing out if you didn't take a day or even just an afternoon for the beautiful Segovia. From its fairytale castle to is incredible aqueduct, you'll easily fall in love. Climb to the top of the castle tower for one of the most gorgeous sunsets ever.

5. Flea market shopping at El Rastro
Flea markets always have their own charm, no matter where in the world you are. El Rastro, a huge open-air market, is no exception. Every Sunday, head over to Barrio de Embajadores and wander around the many stalls and antique shops. Even if you don't buy anything, it's fun seeing all the different knick-knacks for sale or on display.
6. Eat at the oldest restaurant in the world
Did you know Madrid has the oldest restaurant in the world? I actually didn't know this until I went on a walking tour with my school. Sobrino de Botin has been around since 1725, and according to the Guinness Book of World Records, it's the oldest continuously operating restaurant in the world.

7. Row a boat in Parque Buen Retiro
Up until the 1800s, the massive Parque Buen Retiro actually belonged to the royal family. It has since been changed into a public park, but you can still enjoy all the beautiful structures inside. From the Palacio Cristal to the Paseo de la Argentina, it's one beautiful area after another. The highlight, though, might just be rowing a boat! Head towards the lake with a friend and rent a rowboat to enjoy the park from the water. It's even open in December!
8. Watch the sunset with some wine at Templo Debod
One of the best places to catch the sunset in Madrid is at the Templo Debod near Parque del Oeste, and what better way than with some wine? Templo Debod is one of the four monuments saved from Egypt when construction of the Aswan High Dam started. It was built in the 2nd century BC and given to Spain in the 1960s. It's completely open to roam around and enjoy.

9. Club all night and then eat chocolate con churros while waiting for the metro to open up again
Clubbing is an experience in Spain. Your night probably doesn't really start until 11 or 12 at night. Dance in one of the hugely popular clubs and once you're done, walk over to San Gines de Chocolateria. Order a big plate of churros con chocolate and hang out until the metro opens up again at 6 am. If you don't have much of a sweet tooth, you can also find little pizza shops nearby.