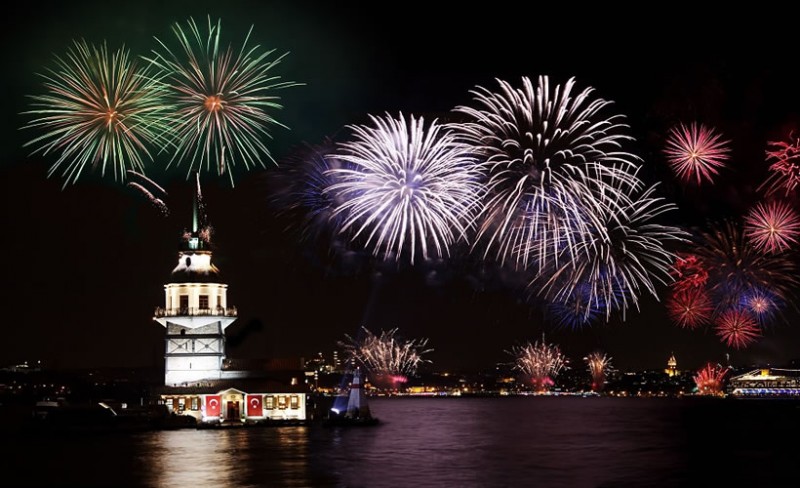 Celebrate New Year's Eve with an unforgettable cruise on the Bosphorus, and experience Istanbul at its most romantic. Kick off the night with a cocktail, then dance on deck as you enjoy stunning views of the palaces, bridges and mansions that line the water's edge. Watch performances by traditional dancers and relax over a sumptuous buffet dinner and unlimited drinks. See the stars come out over the city, then enjoy front row seats for a remarkable midnight firework display that's truly a once in a lifetime experience.
Tour Type: Bosphorus New Year's Eve Party Istanbul is one of Regular Night Tour Bosphorus Tours.
Tour Meeting Point: Hotel Lobby. (Hotel Transfers (Pick up and Drop offf) are included from the central hotels in District of Fatih, Beyoğlu, Beşiktaş)
Tour Pick Up Time At: 19:00 - 20:15 (approx.).
Tour Finishes at: 02:00 - 02:30 (approx.).
Tour Duration: 5 - 6 hrs.
Tour Available: During the New Years Night Only.
Bosphorus New Year's Eve Party Istanbul
19:00 - 20:15 PM Depats from Hotel for New year's Eve on Bosphorus, with hotel pick up service.
Pick up from your hotel in Istanbul and transfer to Boat Cruise for New Year Eve.
We organize your night in Istanbul. It will be started by hotel pick up serice. After you will be picked up fro your hotel and transferred to boat. And sail to on the bosphorus against to bosphorus bridge and while you are eating your dinner, we will keep the best place to see the fireworks and wacth istanbul and fireworks on Bosphorus. When the time comes to be changed the year, you will be in the best place to see the show of the night and spend the good time while you watching the activities. The programe will be and and return to horbar. You will be transfered to hotel. this will be the end of the night.
02:00 - 02:30 AM Arrival to horbar and then you will be transferred back to hotel or some point like Taksi (Upto Request) Upon arrival will be the end of the New Year's Eve in Istanbul.

Includes
Transportation
Hotel Pick up and Drop off
New Year Eve Istanbul Bosphorus Boat Cruise Programe:
Welcome cocktail on deck
Turkish Live Music
D.J Music (Turkish and international music)
Uskudara Gideriken (A traditional Turkish melody musical performance)
Asuk Masuk ( Asuk Masuk is an imitation play of dwarfs which belongs to the Taseli district of Silifke and is performed by 2 male dancers)
Belly Dancer
Anatolian Folk Dance (mixed show different part of Turkey)
Turkish Romany Dance
New Year's Eve Dinner
Dessertmixed Tukish Desserts and Mixed Seasonal Fruits.
Main Course Turkey Peanut Rolles, Chestnut and Rice with Almond.
Saladhot Hors D'ovurdshors.
D'oeuvresnew Year Salad.
Deep Fried Phyllo Pastry with Pastrami and Tomato Filling.
Celery with shrimp on top.
Herbed Cheese.
Rozbeef.
Feta Cheese.
Ham.
Asparagus Wrapped with Turkey Ham.
American Salad.
Buttered Deep Fried Patties of Grated Squash With Dill.