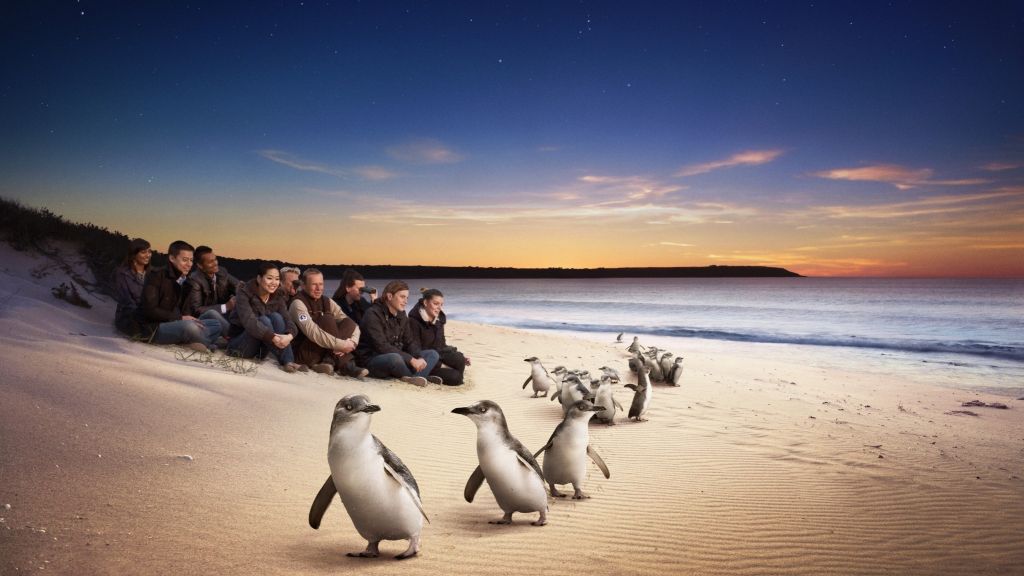 Experience the top attractions of Phillip Island with a flexible 4-park pass. Watch the famous penguin parade at sunset, visit the Koala Conservation Center, take an interactive Antarctic trip and more.
Experience
Highlights
Experience the top 4 attractions of Phillip Island with a flexible pass
Watch the penguin parade at sunset as fairy penguins waddle out of the sea and across the beach
Experience Koalas in the Koala Conservation Center up close
Visit live demonstrations of sheep shearing and sheep farming at Churchill Island Heritage Farm
Take a virtual, interactive journey to the Antarctic at the Nobbies Center

Full description
Explore 4 of Phillip Island's main attractions with a flexible pass, including the famous Sunset Penguin Parade. Just 90 minutes from Melbourne, Phillip Island offers a wealth of Australian wildlife, spectacular scenery and exciting experiences. Embark on your own on the island and explore it at your own pace. You can experience all 4 attractions in a single day or return several times and get a single entry into each park within 6 months to enjoy it in peace.
Take a walk on the wild side and see wild fairy penguins at the penguin parade just before sunset. Upgrade to a new premium platform that reflects the bays of Phillip Island's spectacular coastline and unparalleled near-vision. Marvel at how the world's smallest penguin emerges from the sea after a long day at the beach of one of Australia's largest penguin colonies.
Meet marsupials at the Koala Conservation Center and hike over the treetops and long trails through the Australian bush. Travel to the past on the grounds of the first European farm in Victoria on Churchill Island Heritage Farm, where you can watch sheep and shepherd demonstrations and stroll through the fragrant cottage gardens. Take a virtual journey to the most extreme continent in the world on the Antarctic Journey at the Nobbies Center and feel the multimedia displays freeze to the touch!

Includes
Admission to the penguin parade
Access to a premium viewing platform (if selected)
Admission to the Koala Conservation Center
Entrance to Churchill Island Heritage Farm
Entrance to the Antarctic trip in the Nobbies Center
What is not included?
Transfers between Melbourne and Phillip Island