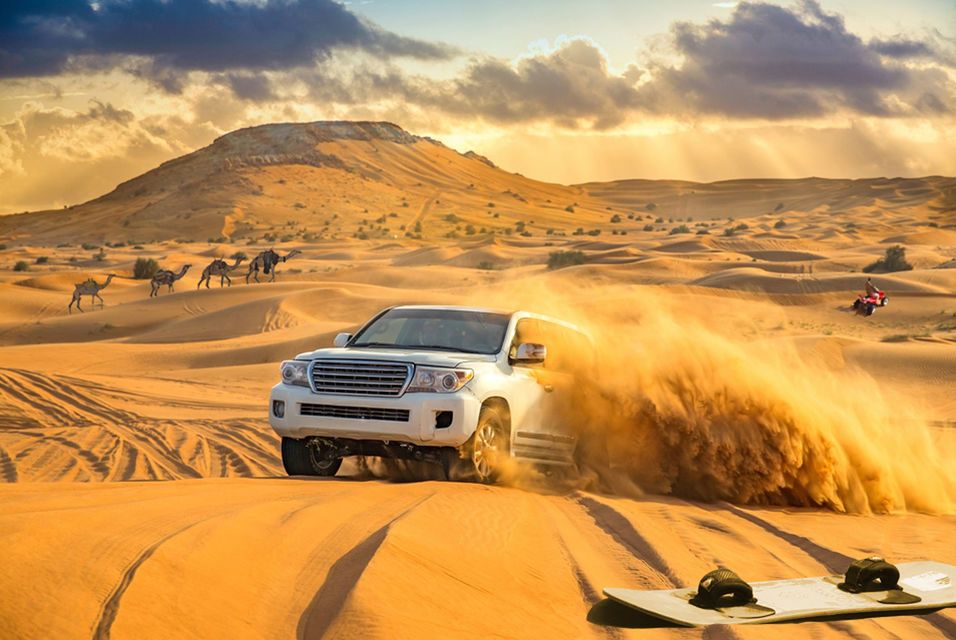 Experience a thrilling 4X4 ride through the red Arabian Desert on this evening safari tour. Choose the 4-hour program that includes dune bashing and sandboarding or the 7-hour program with the addition of a BBQ dinner and Bedouin-style camp experience.
Highlights
Enjoy dune bashing in a 4x4 in the Lahbab Desert
Marvel at the spectacular scenery during a desert sunset stop
Savor a delicious BBQ buffet dinner at a Bedouin-style camp
Watch an exciting belly dance and Tanoura dance
Ride a camel in the desert
Have your hands painted with henna and try shisha
Choose from a 4-hour or longer 7-hour tour option

Full description
Visit Dubai's most remote desert area known as 'Lahbab,' located approximately 50 kilometres outside the city on this 7-hour desert safari. The silky red sand and towering dunes lend Lahbab a unique desert landscape with picture-perfect views of the desert surrounding. This tour is perfect for adventure seekers, families, couples and solo travelers looking for a unique tour combining fun, adventure, nature and culture.
Choose from a 4-hour tour option which includes dune bashing in Lahbab with sandboarding or opt for a 7-hour full tour option which includes dune bashing, sandboarding and a BBQ dinner and desert camp experience.
Start with a pick-up from your hotel in 4x4 vehicle. After all the guests have been picked up, head straight towards Lahbab. On the almost 45-minute drive, enjoy interesting views of Dubai from the car window and trade the big city with tall skyscrapers, shopping malls and metro/cars for old dusty towns on the outskirts of Dubai and then a completely isolated desert. Let the driver answer any of your questions and learn more about DUbai's history.
Upon arrival in the desert, wait for 20 minutes for your driver to inflate the vehicle's tires so they are better suited to driving on the desert sands then head off-road and into the red dunes. Have a restroom break before heading into the desert whilst the team catches up in the 4x4 convoy. You can also spend that time enjoying an optional quad bike ride.
Then drive across the beautiful red dune desert. Enjoy an adrenaline rush ride as you slide across from one dune to another in the 4x4. Venture deeper into the desert for the best scenic views possible, then stop for a picture on the highest dune at sunset (only 50% guaranteed) and admire beautiful 360 views of the desert landscape as the sun slowly sets down.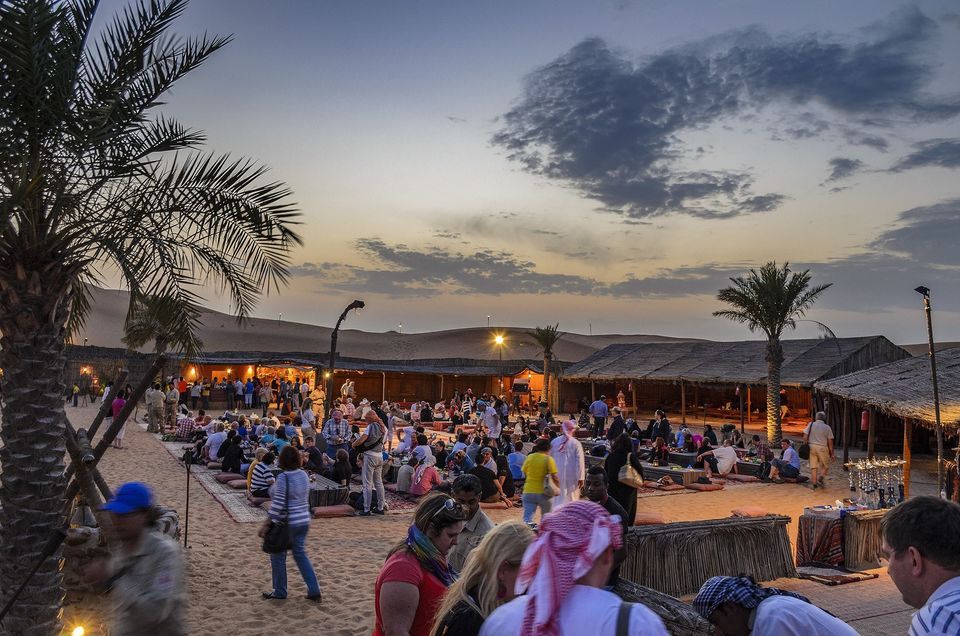 Try your hands at sand-boarding during the picture-stop. You'll be able to surf the sand on the never-ending dunes. Guests of all ages are invited to do this activity which does not require any training. Glide and conquer the dunes with sand-boards and experience the wonderful thrills.
The 4-hour tour program ends here and you will be taken back to your hotel.The 7-hour tour program will continue on to the Bedouin style camp hidden in the middle of the desert to enjoy many fun and exciting activities. Hop on a camel for a short ride, try a Shisha pipe, decorate your hands with paintings by Henna tattoo artists, dress up and take pictures in traditional Arabic costumes and even look for stop at the souvenir stand for find unique and exotic stuff to buy.
As dusk falls, enjoy scrumptious barbecue dinner of dishes such as kebabs, hummus and salads accompanied by sodas, mineral water and additional drinks from the bar. Enjoy a colorful belly dancing show and Tanoura performance, where fast-spinning dancers whirl across the stage. There will be Arabian Falcons showcased at the camp as well, so be sure take pictures with them too.
Finally, after the last show, return to Dubai with your driver and enjoy a drop off at your hotel.
Includes
Pickup and drop-off from your selected hotel
Licensed English-speaking safari guide with a 4x4 vehicle
Dune bashing 30-40 minutes
Sandboarding in the desert
Short camel rides (can be repeated)
Sunset photo stop in the desert (50/50 chance, not guaranteed)
Welcome greeting at camp with Qawha (Arabic coffee), dates & Lugamat (traditional sweet)
All desert camp activities including BBQ buffet dinner, Shisha pipe, Tanura & Belly Dance show, henna painting, camel rides and unlimited soft drinks – (with the 7-hour tour option)
Cold bottled water in vehicle
What's Not Included
Alcoholic drinks (served inside the camp and can be purchased at that time)
Quad bikes rental

Know before you go
All vehicles are fully insured and equipped with safety features, such as roll bars, seat belts, GPS, and a first aid box
Dune bashing is not suitable for pregnant women and any guests with back or neck problems
Infants (below 3 years old) are strictly not allowed on the tour due to safety measures
Tour program subject to change due to religious or other circumstances; certain activities (mainly Tanoura dance and Belly dancing) and alcoholic drinks will not be available on any Islamic days as per UAE law
Falcons may not be available at the camp during hotter months (mainly in July & August)
Bring a light sweater during the winter month. Casual, loose fitting clothing is recommended in the summer and guests are also recommended to wear sandals/ flip flops on the tour