I've been fluffed, buffed, and puffed in 135 countries, but when it comes to the most luxurious accommodations around the world from America to Antarctica and Ireland to Indonesia, here's what I consider la creme de la creme -- if you have to ask the price, you probably can't afford it.
Les Jolies Eaux, Mustique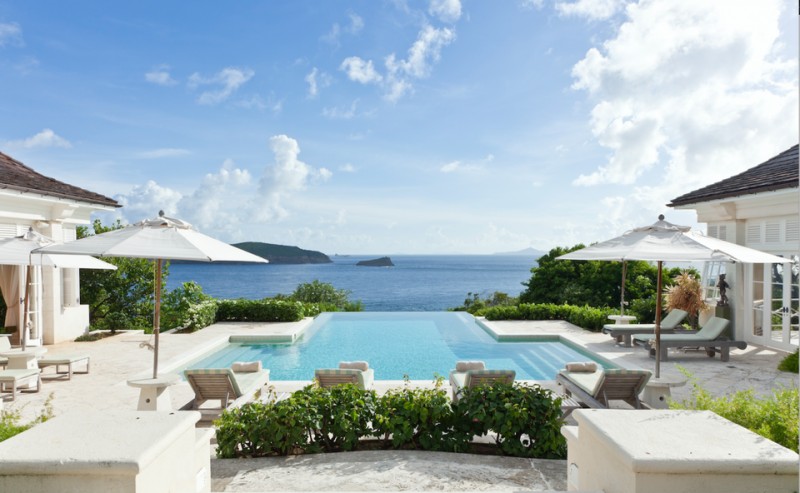 Les Jolies Eaux which means 'beautiful waters' is located on 10 acres of a private peninsula on the island of Mustique's southern tip. Offering panoramic views of both the Atlantic and Caribbean, it was designed for HRH The Princess Margaret. The opulent hideaway is where the Queen's sister came to hold wild parties and escape from her husband's legendary infidelity. The villa features a living room, dining room, dining pavilion, media room, office, 5 bedrooms with ensuites, and two swimming pools (one 40 feet, the other 16 feet). Les Jolies Eaux includes a staff of five (chef, butler, housekeeper, maid and gardener) and two 4 x 4 Kawasaki Mules to zoom around the area. Les Jolies Eaux rents for up to $54,000 per week during high season.
Wolf Lodge, Norway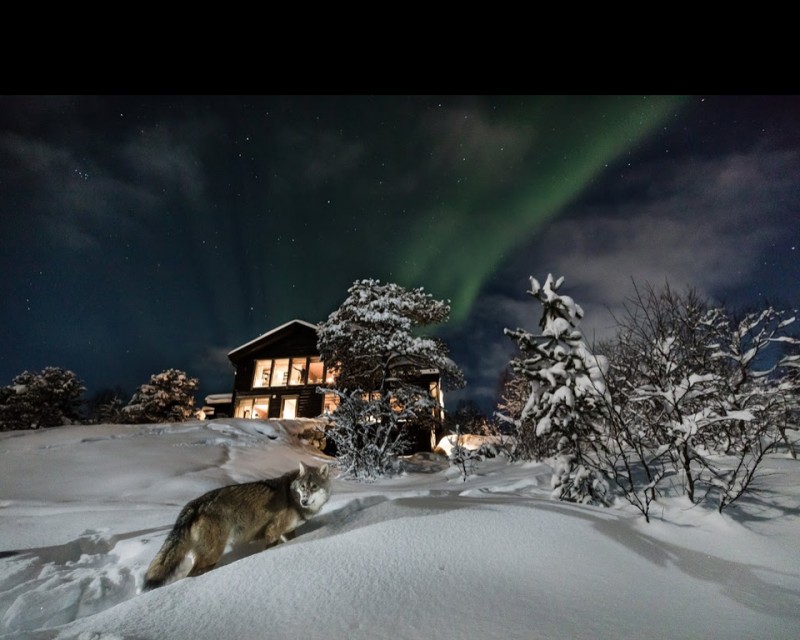 The super-exclusive Wolf Lodge in Norway is the essence of going off the beaten path luxe-style. In this untouched, spectacular landscape, guests meet wolves face-to-face in the wolf enclosure, led by experienced animal keepers. The Lodge is also located in the wolf enclosure of Polar Park, the northernmost animal park in the world. Guests see the Aurora Borealis from late August to mid-April and the midnight sun from late May to late July. Wolf Lodge, consisting of three suites and three-plus bathrooms, is rented privately and includes exclusive park access, arctic animal encounters, wildlife host, wilderness guides, private chef and housekeeping. Two nearby airports are suitable for private jets. The price includes transportation, tours, activities, meals and beverages, and while Wolf Lodge does not release the price, this all-inclusive experience is in the five figures for a three-night stay.
Ballyfin, Ireland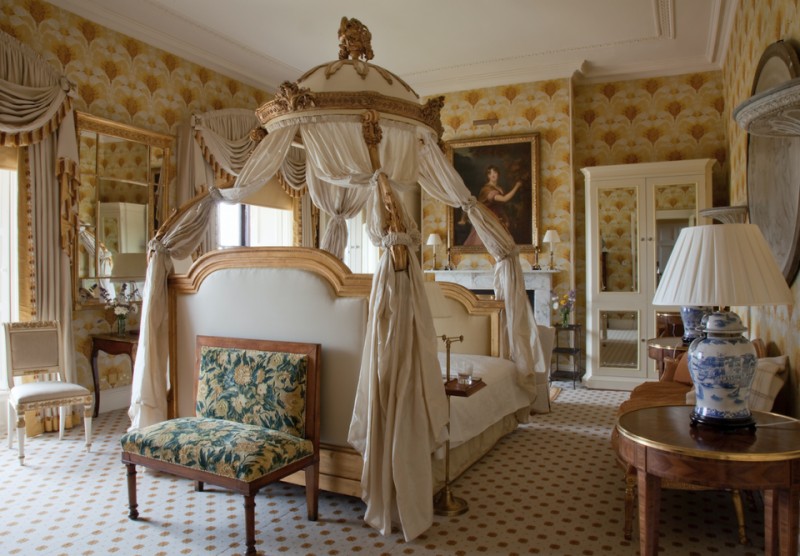 Built in 1822 as the ancestral home of a British baronet, Ballyfin, 90 miles from Dublin, is set on 614 verdant acres of rolling parkland. Once the finest and most lavish Regency mansion in Ireland, Ballyfin has been restored as an exclusive five-star country estate complete with a soothing Spa and 46-foot swimming pool. The fifteen unique spacious accommodations have modern technology but with plushy antique furniture to reflect how the nobility lived two hundred years ago. Choose the Sir Christopher Coote Suite (with the largest bedroom in the estate) and a sumptuous sitting room overlooking the outdoor fountain. From $2,343 per night, inclusive of all meals. (Book here)
The Royal Mansour in Marrakech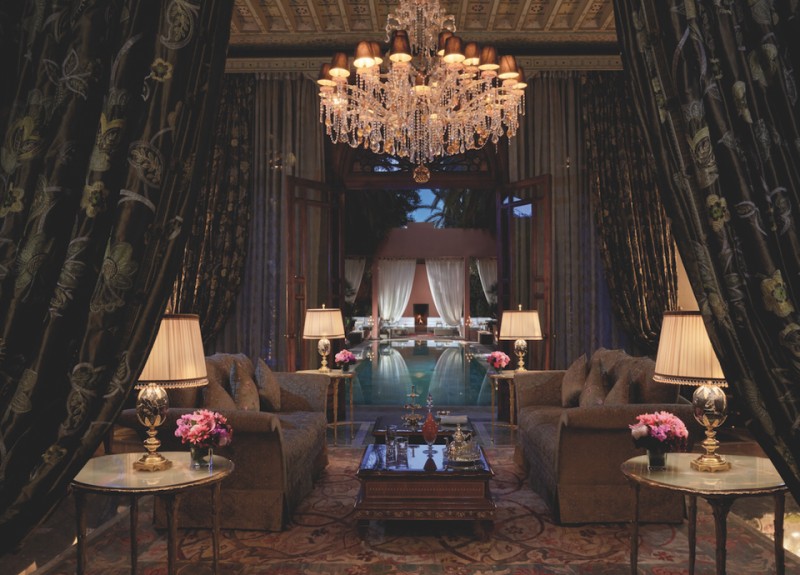 Set within the walls of Marrakech's old city, the Royal Mansour Marrakech is an oasis of 53 riads, one to four-bedroom traditional houses, all with private courtyards, fountains, plunge pools, dining rooms and hammams for the larger ones. With every detail conceived according to the greatest respect for Moroccan tradition, each riad is decorated in sumptuous silks, brocades and richly adorned with antiques and handcrafted furniture. Celebs and royalty choose the sumptuous Grand Riad for its spaciousness and complete privacy. There are four restaurants under the supervision of Michelin-starred Chef Yannick Alléno. The spacious Spa has a covered glazed pool, two hammams, ten treatment cabins and three Spa suites. The resort's Medina opens to a lush garden, Le Jardin, with a 6,458-square-foot swimming pool surrounded by seven private pavilions and an outdoor dining space. The Grand Riad costs beween $30,000-$40,000 per night.
NIHI Sumba, Indonesia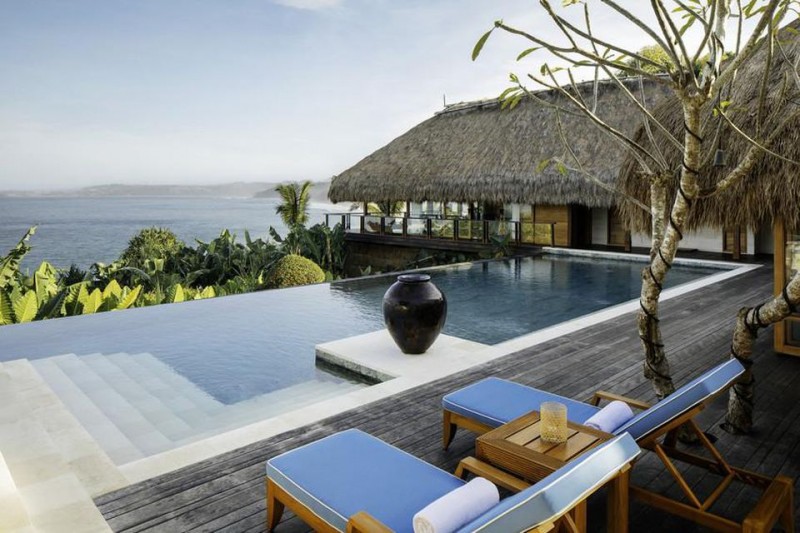 NIHI Sumba a 50-minute hop from Bali, Indonesia, is one of the world's most opulent remote flop-and-drop getaways. Here, guests can surf the world's most perfect left hand-break wave, ride a sandalwood horse along the 1.5-mile private sandy beach, swim, snorkel, indulge in a champagne sunset yacht cruise, fish, play with water toys, eat gourmet food barefoot overlooking the ocean, or relax in a villa with a private pool with a butler anticipating every need. Best villa? The owner's retreat, the 5-bedroom Mendaka Estate with a 62-foot pool overlooking the Indian Ocean. Up to $16,225 + 21% tax per night, high season.
Royal Malewane, South Africa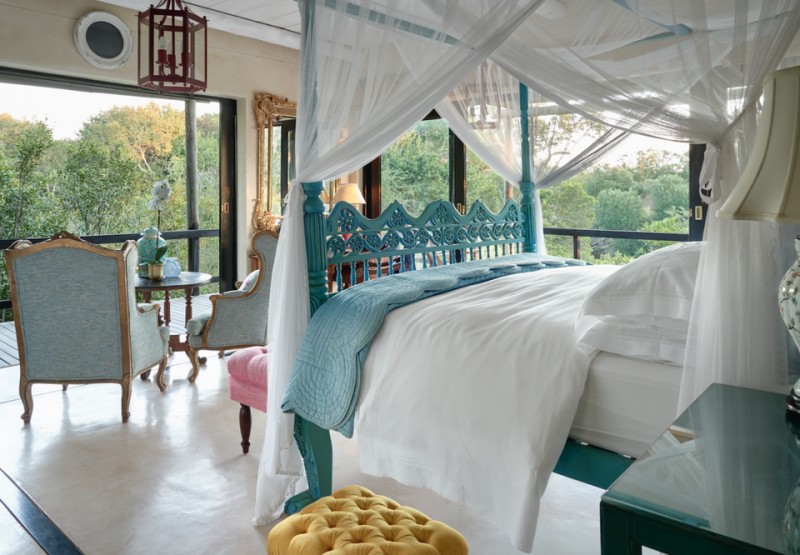 The recently refurbished Royal Malewane luxury safari lodge is the most idyllic place to stay in South Africa's Greater Kruger National Park. The lodge's private safari experience offers unrivaled game viewing, and guests undoubtedly see the Big Five (lion, leopard, rhinoceros, elephant, and African buffalo) with a private game ranger, tracker and private game range vehicle. The accommodation to book for both friends or families is the Africa House with expansive living and dining areas and six light-filled eclectic African bedrooms. All have ensuites with walk-in private outdoor showers and decks. Elton John, who loves Africa House, said, 'This isn't a shower, it's a car wash.' The rate is up to $18,400 per night for 9-12 guests and includes two vehicles.
Antarctica with Eyos Expeditions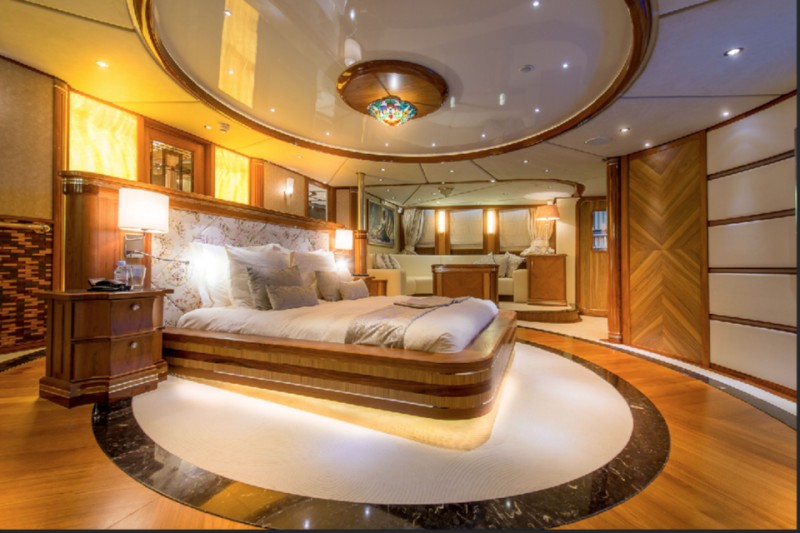 Many people avoid going to Antarctica because they want to avoid the dreaded Drake Passage (known as the Drake Shake). Fortunately, Eyos, which offers private luxury super yacht expeditions to Antarctica, avoids the Drake's rough seas (and four extra days of travel) by flying in guests to the most pristine wilderness area in the world, a land of snow, ice, and penguins. Eyos yachts carry only 12 guests and each trip is bespoke. The expedition includes expedition staff and experts, all meals and alcohol onboard. In addition to wildlife excursions and hiking, skiing in Antarctica is a hot new activity and Eyos isn one of the first expeditions to offer the experience. Prices for a private charter start at $167,862 per week plus expenses, plus flights.
Luxury Odyssey Houseboat, Lake Powell, Arizona-Utah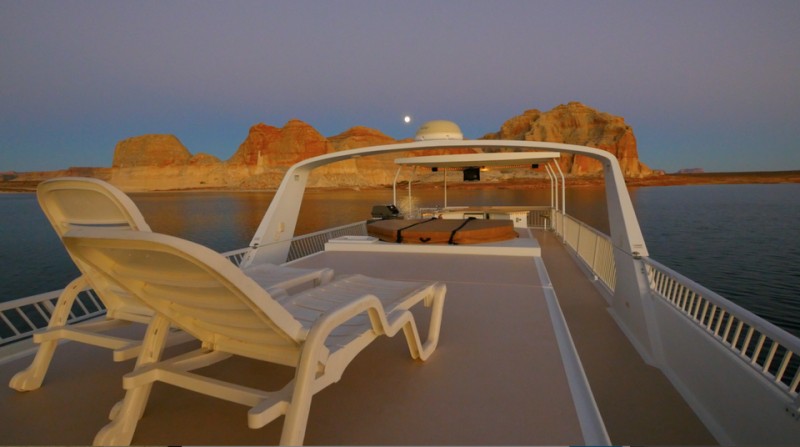 Those who want to chill out while gazing at some of the most beautiful scenery in America can rent a luxury Aramark houseboat and cruise Lake Powell within the Glen Canyon National Recreation Area on the borders of Arizona and Utah. With thousands of miles of shoreline plus sandy beaches, mysterious side canyons, and stunning red sandstone cliffs, guests relax and watch the scenery float by. Odyssey is a luxury houseboat with a pantry, two barbeques, wine cooler, full washer and dryer and a built-in waterslide. The 75-foot boat has six private staterooms and three full baths, and can be pre-stocked with food and beverages according to guests' preferences. $15,000 for 7 days, high season.
credit by Margie Goldsmith