St. Bart's, French West Indies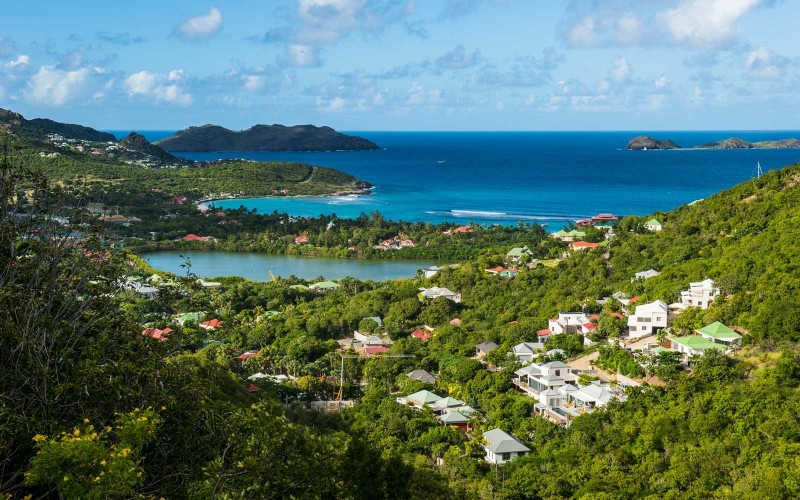 St. Bart's is a French island and a member of the European Union. First discovered by Columbus in 1493 and named after his brother Bartolomeo, St. Bart's has been populated through the years by native Arawaks, pirates, French colonists, Swedish settlers, and French citizens attracted by the island life. Owned for a time by Sweden before being returned to France, St. Bart's capital, Gustavia, was named for a Swedish king, and the language, along with French, is used for many street signs. In Gustavia, visitors interested in the island's history can explore 17th-century forts, a lighthouse, and the small Wall House Museum. With 14 public beaches, there's one for every taste and activity, including a swimsuit-optional spot. Boating, windsurfing, kayaking, sunbathing, shopping, people watching, and exploring the island's shallow reefs are favorite pastimes. Last September's Hurricane Irma caused significant damage to the island, but recovery has been swift. After closing a year for renovation, Le Barthelemy Hotel & Spa has just re-opened. Set on the Anse de Grand Cul de Sac, an ideal area for watersports, the eco-friendly hotel emphasizes wellness, with an expansive spa offering hydrotherapy, sauna, and beach yoga. This perfect December island escape is accessible by air or ferry from nearby St. Maarten.
Edinburgh, Scotland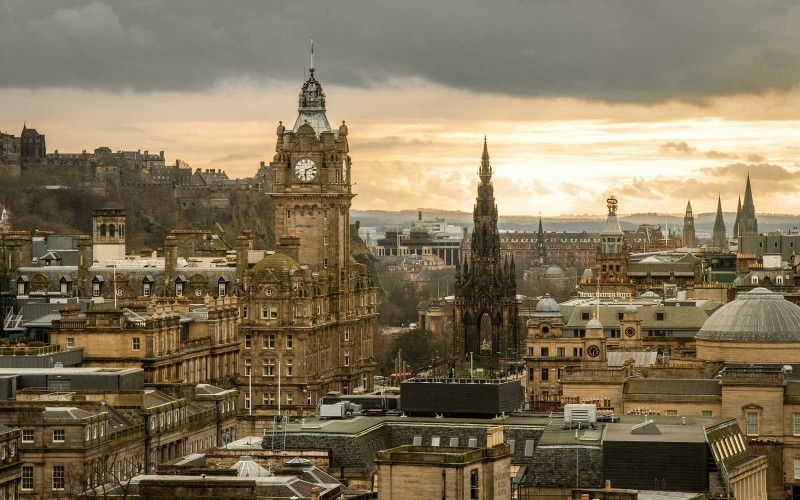 A charming, historic city to visit any time of year, Edinburgh is especially festive during December. Walking through its cobblestone streets takes you back to medieval days when sheep, cattle, and grain were sold in what is now the center of the city. Today, the Royal Mile includes shops, cafes, and museums. Edinburgh Castle, a must for first-time visitors, dates to the 12th century, with its dramatic silhouette overlooking the city. For those seeking holiday celebrations, the Royal Botanic Garden is decorated with lights, music, and illuminated trees. European-style Christmas markets pop up at Princes Street Gardens and George Street, offering traditional crafts, gifts, food, and warming drinks, most welcome during chilly December. The annual Hogmanay celebration welcomes the New Year with fireworks, food, and festivities. Don't miss the delicious and ubiquitous fish chowder called "Cullen skink," and be sure to try haggis, served with "neeps and tatties" — mashed turnips and potatoes. Buttery shortbread and whisky from the country's more than 100 distilleries are also Scottish specialties. A stay at the elegant and historic Balmoral Hotel will enhance any visit to Edinburgh, and while you're there, you'll notice that Scottish actor Sean Connery was a guest, as was J. K. Rowling who finished the last Harry Potter book in one of its suites.
Santa Barbara, California
Santa Barbara has earned its nickname, "The American Riviera," with its stunning coastline, lush landscapes, cafes, restaurants, and year-round Mediterranean-like weather. Sandy beaches invite sunbathers, and for those interested in more activity, there's biking, paddle boarding, surfing, and kayaking. In the heart of Santa Barbara County wine country, the city presents more than two dozen downtown tasting rooms on its "Urban Wine Trail." The artsy "Funk Zone," with a variety of cleverly designed eateries and shops, is just blocks from the beach. The community is recovering from devastating fires and mudslides, and its resilience is apparent with new hotels, restaurants, and attractions. The Montecito neighborhood, particularly hard hit by the tragic events, is home to the recently renovated Montecito Inn and its new dining venues, Phillip Frankland Lee's The Monarch, and the suave Chaplin's Martini Bar, commemorating Charlie Chaplin, one of the hotel's original owners when it was built in 1928. The elegant oceanfront Four Seasons Resort The Biltmore Santa Barbara offers a luxurious spa and views of Butterfly Beach. Less than two hours north of Los Angeles, Santa Barbara celebrates the holiday season with colorful lights, a Holiday Parade (Dec. 7), Harbor Boat Parade with fireworks (Dec. 16), European-style Christmas market, and the traditional "Nutcracker Suite" at the Granada Theater.
Cartagena, Colombia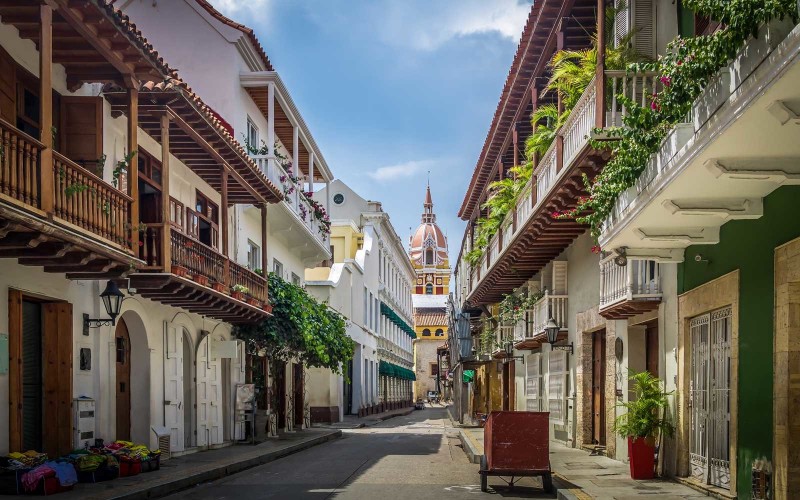 Warm weather, Caribbean beaches, and fascinating history beckon visitors to this coastal city during December. Once a 16th-century Spanish port, Old Town Cartagena, surrounded by ancient stone walls, is a UNESCO World Heritage site. Visitors strolling through its streets will see original Spanish Colonial architecture among new restaurants, restored homes, and boutique inns. From street food to upscale restaurants, Cartagena offers the best in local seafood, meat, and fresh fruits. In December, the city becomes a festival of lights, with nativity scenes, decorations, and holiday celebrations culminating with New Year's Eve fireworks. Holiday shoppers will want to take home gifts of colorful handcrafts sold at markets throughout the city, with special Christmas markets arriving in December. Colombia supplies nearly 90 percent of the world's emeralds, and a quality gem from a reliable source would make a memorable keepsake. Nearby Rafael Nunez International Airport makes arriving by air quite convenient, and visitors will find a range of lodging in and around Cartagena. For a luxurious vacation, the new Conrad Cartagena offers four pools, a private beach club, a golf course, seven restaurants, tennis courts, a spa, and stunning ocean views from every room.
Death Valley, California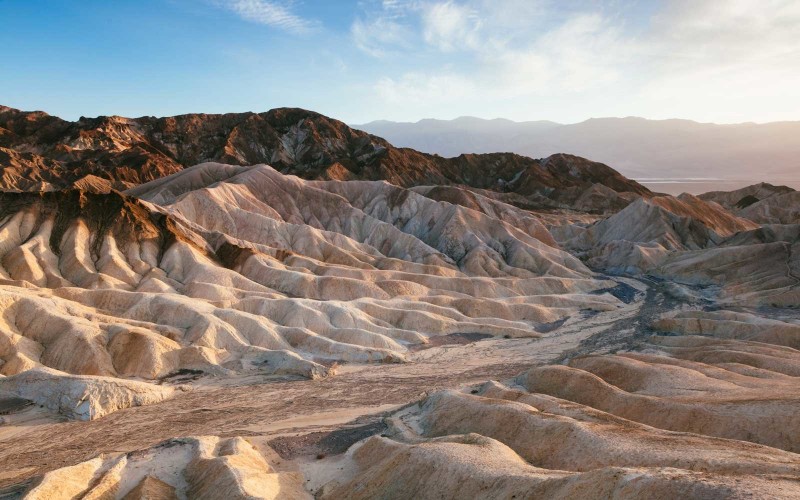 The largest national park south of Alaska, Death Valley is located 295 miles northeast of Los Angeles and 120 miles northwest of Las Vegas. Much of the park is below sea level, and it is surrounded by mountain peaks, often covered in snow. December's temperatures are moderate, generally in the mid-60s during the day and 40s at night. Daily guided walks and naturalist talks are presented by the National Park Service, acquainting visitors with the natural beauty, history, geology, and wildlife of the area. Stargazers will be in awe of the Milky Way and starry nighttime skies of this "Gold Tier" Dark Sky Park, a designation by the International Dark Sky Association. The newly renovated Oasis at Death Valley (formerly Furnace Creek), hosts the elegant 4-diamond Inn at Death Valley and the family-oriented Ranch at Death Valley, offering visitors a range of lodging options and activities. At Furnace Creek Stables, guests can explore the valley floor or foothills of the Funeral Mountains on guided horseback rides. The Stables also offer carriage and hay wagon rides. Jeep rentals, tours, and a variety of hiking and walking paths provide many ways to experience Death Valley. Play golf at the world's lowest elevation golf course or enjoy a rejuvenating spa treatment at The Inn.
Vienna, Austria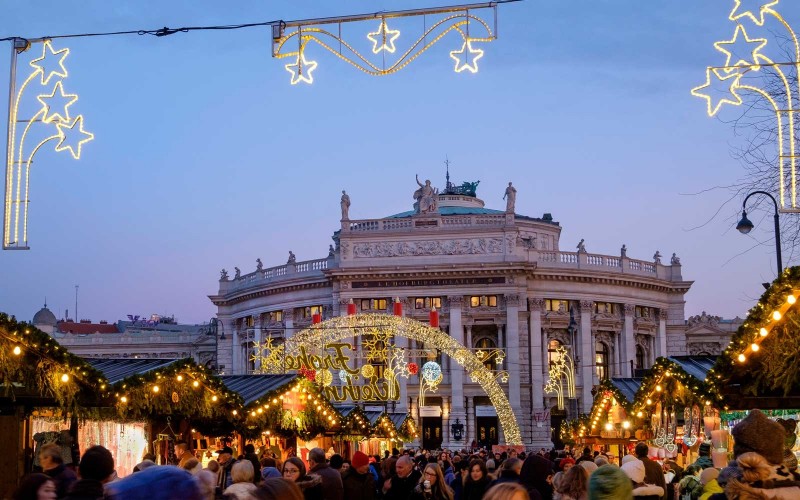 A visit to Vienna in December might be a holiday experience of a lifetime. From the festively adorned palaces, magical Christmas markets, classical concerts, and choirs to the cozy cafes and restaurants, the surreal atmosphere seems like a Hollywood movie. With nearly a dozen Christmas markets to choose from, the one in front of City Hall is notable for its giant tree, ice skating rink, carousel, and reindeer train. At another in Freyung Square, you'll find delicious mulled wine, gingerbread, roasted chestnuts, and a variety of regional snacks in addition to jewelry, handmade toys, candles, and more. The market at Spittelberg, set amidst lovely townhouses and narrow streets filled with bars, restaurants, and galleries, is a wonderful place to sip champagne and browse the many shops. Set in front of the world famous baroque residence, the Christmas Village at Belvedere Palace should not be missed. Book a Christmas concert at the renowned Kursalon where Johann Strauss was the concertmaster or enjoy a recital at one of the many distinguished churches through Vienna. You can even take a walk or a "hop on, hop off" bus to enjoy the Christmas displays. No winter night is complete without a stop at a sausage stand for a succulent bratwurst served with mustard, horseradish, and a classic bun. In the heart of the city, the magnificent Hotel Grand Ferdinand would be the perfect home base for exploring Vienna.
Tromso, Norway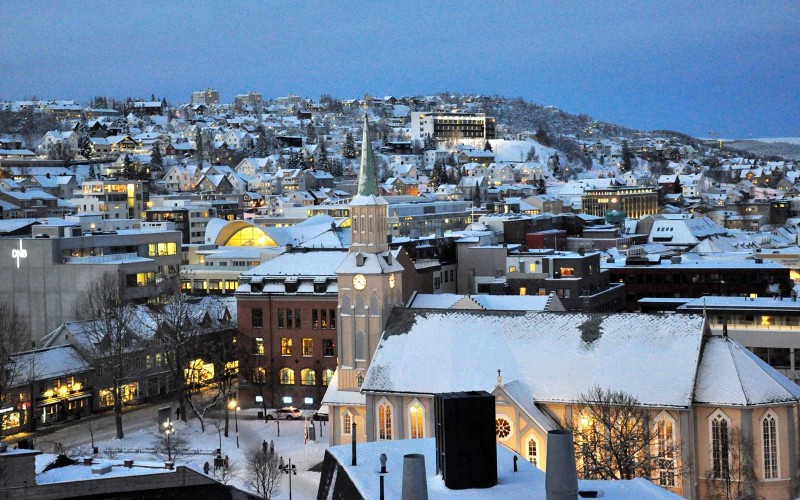 The Norwegian coastal city of Tromso, located more than 200 miles north of the Arctic Circle, is an enchanting winter wonderland in December. During the Polar Nights — when there is no sun at all — the opportunity to witness the Northern Lights is greatly increased. For another awesome view, take a cable car or an adventurous hike up to Floya, overlooking the city of Tromso and the surrounding mountains and fjords. The Polaria Arctic Experience Center and Aquarium is a family-friendly destination, both educational and fun. The 360-degree Planetarium at the Science Center in Tromso is another family option with breathtaking photos and a lifelike video of the Northern Lights. Stroll along Storage Street to be amazed at the number of cafes, restaurants, pubs, and shops featuring artwork, clothing, and crafts by local artisans. Mack's famous Olhallen beer hall, established in 1928, is Tromso's oldest pub, boasting Europe's longest tap beer tower and a micro brewery. Their acclaimed Christmas Beer is released every December. Experience the Tromso wilderness on a dog sled or chase the glowing night sky on a reindeer sled with a native Sami guide. Tours range from four hours to five days. Whale watching is also ideal in December when humpbacks, killer whales, and several other species thrive on the plentiful herring fish in the fjords. Downhill and cross-country skiing opportunities abound for all skill levels.
Miami, Florida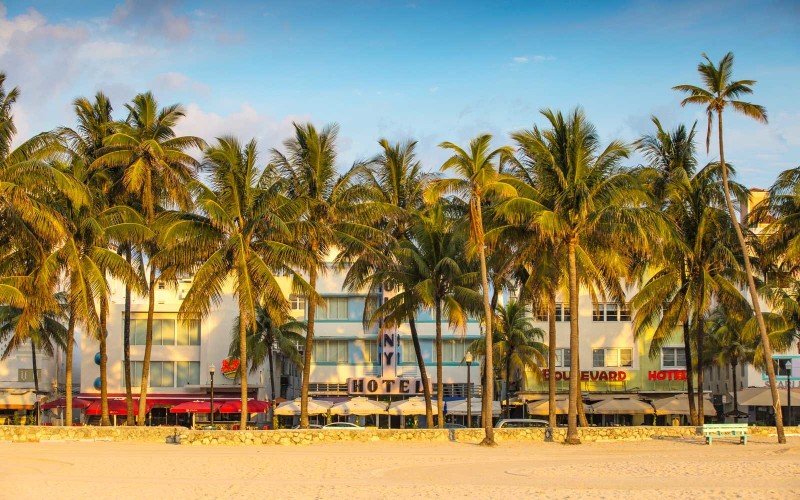 Gorgeous weather, an enviable winter suntan, and thriving dining and nightlife are obvious reasons for heading to Miami in December. Art Basel Miami Beach 2018, a contemporary art extravaganza and America's premier art fair, is another incentive for a Miami trip. With celebrities, parties, and unmatched celebrations throughout the city, over 250 world-renowned galleries and 4,000 participating artists will display their creations and collections. The Betsy South Beach, centrally located in Miami Beach's Art Deco district, will be a major Art Basel venue. Another noteworthy accommodation is The Setai Miami Beach, situated oceanside in South Beach. Featuring 87 Art Deco rooms and 49 ocean suites, the Setai will debut five new retail stores by the end of the year. There is no shortage of family-friendly fun in the Magic City, so named for its rapid growth from 1,000 residents to over 5 million in the past 120 years. Santa's Enchanted Forest at Tropical Park is the largest holiday theme park in the world featuring carnival rides, shows, games, race cars, food, holiday displays, music, and dazzling Christmas lights. The Miami Lantern Light Festival at the Fair Expo Center celebrates Chinese culture, featuring food, acrobats, handmade souvenirs, rides, and huge handmade lanterns symbolic of illuminating the future and the reunion of family.
New York, New York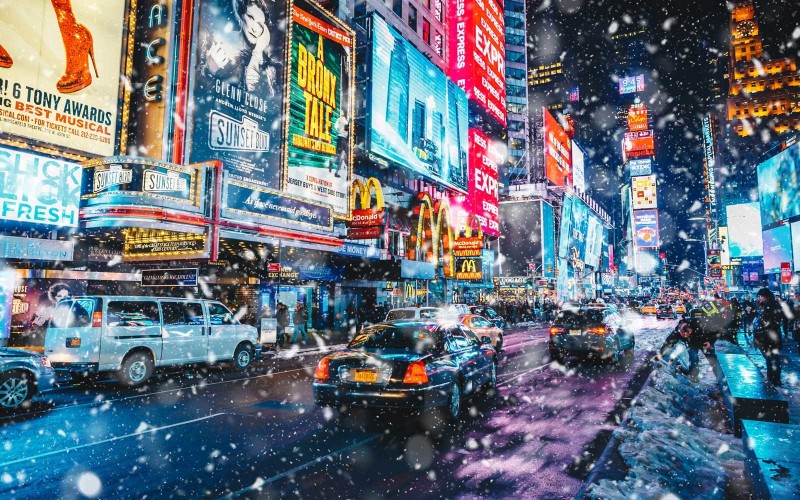 The "city that never sleeps" is a delight in December, even if the weather makes it necessary to bundle up a bit. For holiday spirit and things to do any time of year, New York City is a top destination. Broadway and off-Broadway shows are exceptional entertainment, and the Radio City Music Hall Christmas Spectacular with the famous Rockettes is a perfect holiday event. The New York City Ballet at Lincoln Center presents the classic "Nutcracker," a seasonal tradition. At the New York Botanical Garden, the toy train will wind its way through a miniature Lower Manhattan for the amusement of kids as well as nostalgic adults who may have once had their own train sets. The dazzling Rockefeller Center Christmas Tree, New York City's centerpiece each year with nearly 50,000 lights, will once again overlook the famed ice skating rink and golden Prometheus statue. Window shopping takes on new meaning during December when department stores along Fifth Avenue entertain passers-by with intricate decorations and displays. Holiday markets at Bryant Park, Columbus Circle, and Union Square also invite browsing and shopping along with warm drinks and food. For a convenient stay, the Renaissance New York Midtown Hotel offers spectacular views and Versa, a year-round rooftop restaurant and bar. Or enjoy the Innside by Melia New York in the trendy Chelsea area with its newly opened seafood-focused dining spot, The Wilson.
Rome, Italy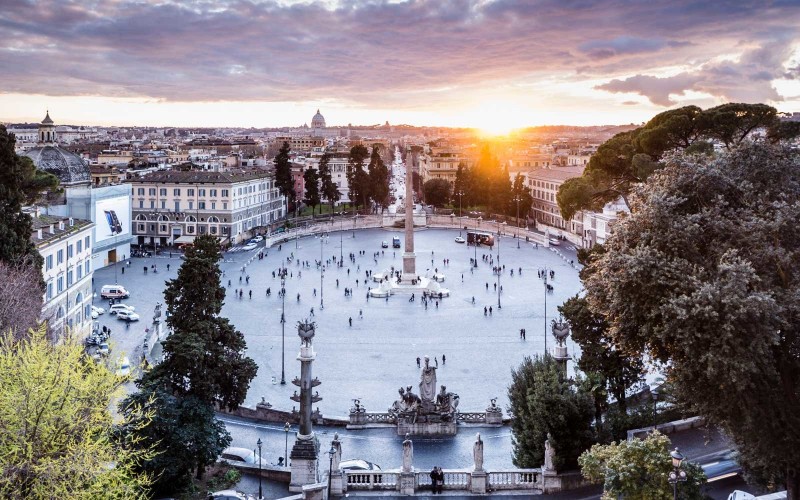 Far from the crowds and heat of summer, a visitor to Rome in December will find that it's a lovely time there, with fewer lines at popular tourist spots, more attractive prices, and a chill in the air. With a warm jacket, comfortable shoes, cozy hat and gloves, you're ready to explore the Eternal City. Stroll through the main streets to enjoy colorful lights, decorated trees, and Nativity scenes. The Piazza Navona hosts a Christmas market, and stores welcome shoppers with longer hours and attractive displays. Rome's Jewish community celebrates Hanukkah with a large Menorah in Piazza Barberini where candles are lit each evening of the eight-night holiday, this year from December 2–10. The Catholic community celebrates the Immaculate Conception on December 8 when the Pope leads a procession from the Vatican to the Piazza di Spagna. December is the perfect time to visit the Vatican Museum, Sistine Chapel, St. Peter's Basilica, Colosseum, Trevi Fountain, and museums that are usually filled with tourists during warmer months. Even without crowds, it's still most convenient to book ahead through a tour company such as City Wonders or Access Italy, for no-wait entry, professional guides, and early admission. Food is always one of the great pleasures of a visit to Italy, and in December, a warming plate of spaghetti carbonara or hot chocolate and seasonal panettone taste especially good. The new Pantheon Iconic Rome Hotel, Autograph Collection is a convenient home base in the center of the action with a beautiful rooftop overlooking the Pantheon.
Austin, Texas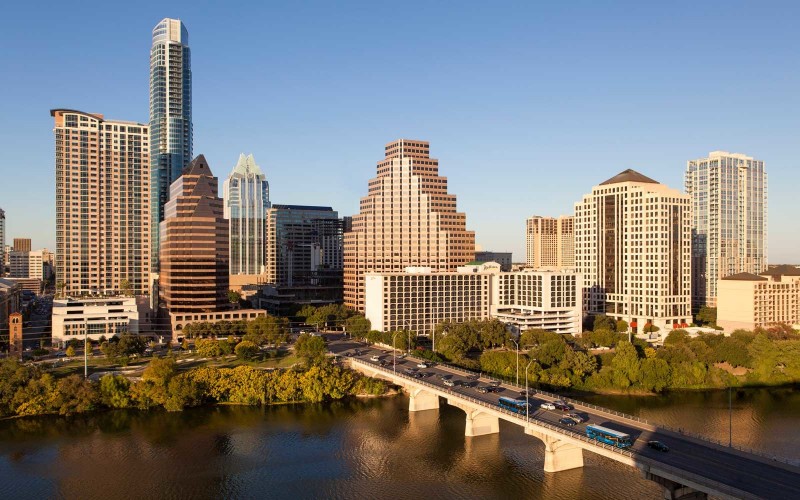 This diverse and rapidly growing capital city of Texas is known for its live music scene, world class museums, beautiful outdoor spaces, pleasant weather, fine dining, and nightlife. A little bit city, a little bit country, Austin has no shortage of December activities for all. The Zach Theatre presents a rocking adaptation of the Dickens classic "A Christmas Carol" from Nov. 21 through Dec. 30, guaranteed to have you dancing in your seat. In its 56th year, Ballet Austin's annual production of "The Nutcracker" returns to the Long Center Dec. 7-23. Holiday shoppers gather at the Blue Genie Art Bazaar to purchase unique handmade gifts including paintings, photography, jewelry, clothing, and more. Zilker Park transforms into a glittery wonderland with more than 2 million lights, 40 displays, interactive experiences, food trucks, and live music on two stages. The Armadillo Christmas Bazaar, an art and music festival, runs from mid-December through Christmas Eve with live music, two full bars, and local food specialties. Over 175 national and local artists display paintings, sculptures, woodworks, and an assortment of handmade gifts. Winter Wonderland at the Circuit is great family fun with holiday lights, a skating rink, Santa's Village, petting zoo, carnival rides, and of course, live music. In the heart of downtown, the historic Driskill Hotel celebrates with an enormous Christmas tree and seasonal music. On Sunday, Dec. 16, Austin's best bakers will share their holiday cookie collection, with the event's proceeds supporting the Driskill's traditional charity, "Cookies for Caring," benefitting the community.
Phuket, Thailand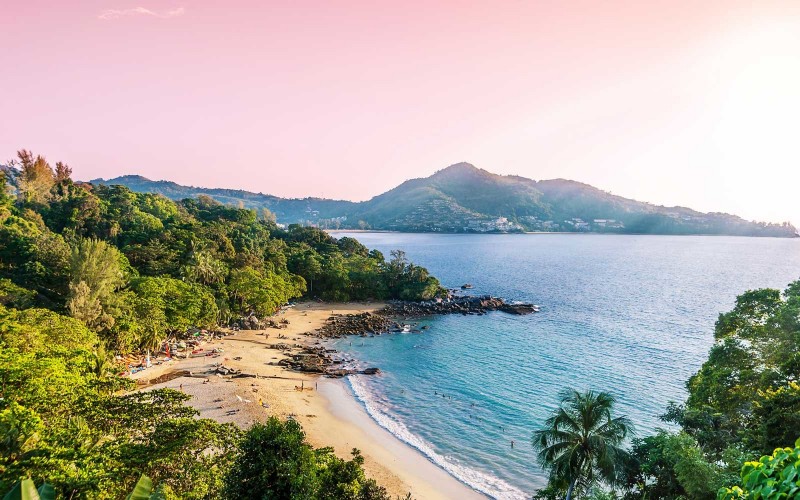 This popular island in the Andaman Sea boasts mountains, rainforests, white sand beaches, nightlife, and a range of hotels from casual to ultra-luxury. Watersports of all kinds are popular, with snorkeling and scuba diving among the colorful fish and coral reefs a favorite. Boat trips take visitors to smaller nearby islands and among the limestone cliffs, caves, and karsts — steep limestone structures rising from the clear aqua sea. The white marble "Big Buddha" statue, nearly 150 feet tall, on top of Nakkerd Hills is visible from miles around, and it provides a stunning viewpoint. The island has been settled from early times and through the years with migrants from India, Arabia, China, Portugal, Sri Lanka, Netherlands, France, and Great Britain, all attracted by Phuket's natural resources. Old Phuket Town's shrines, temples, museums, shophouses, and buildings provide some evidence of the island's history. Today, for lively nightlife, head to Bangla Road at Patong Beach for restaurants, pubs, music, open air cafes, and street performers. For many visitors, Phuket's beaches are the main attraction, and with more than 30 around the island along with ideal December weather, everyone can find the perfect spot for sunning and swimming. For the ultimate in luxury, the beachfront Banyan Tree Phuket offers villas with private pools and open-air bathtubs, an award-winning spa, several dining options, golf, and a tranquil saltwater lagoon.