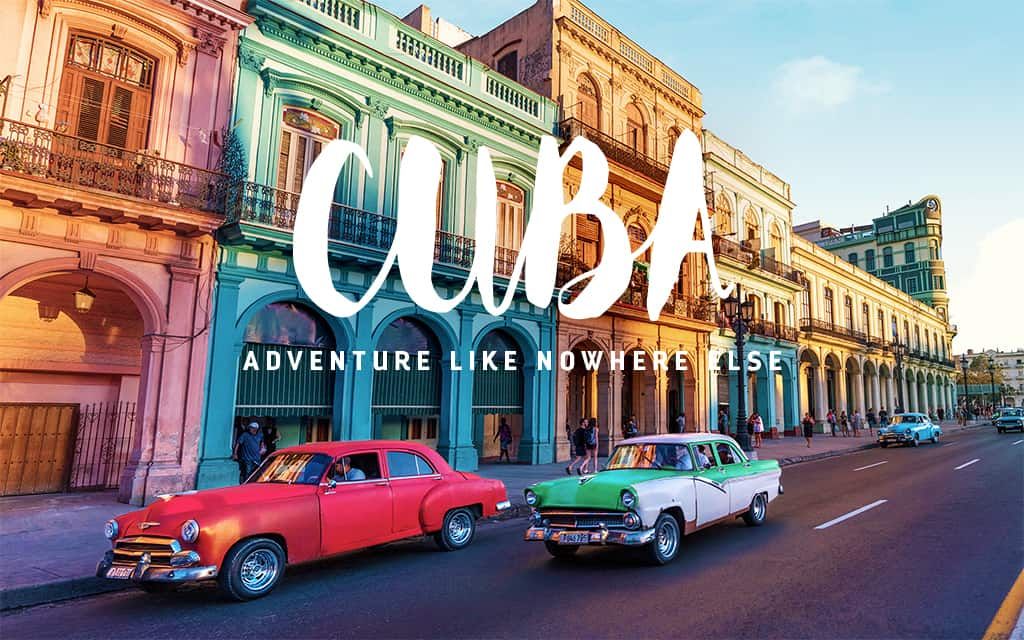 Some Americans seem to have spent an eternity visiting Cuba, the mysterious island only 150 kilometers away. In recent years, some travel restrictions have been lifted for Cuba for a short time, but many have since been reintroduced. Can Americans travel to Cuba? The answer: Yes, but it is complicated.
In April 2019, the Trump government announced its intention to tighten travel restrictions on Cuba, and in June it made clear that cruises and single voyages will be banned with effect from 5 June 2019. "The government announced this, however, Let everyone who has already paid for the trip continue," the Associated Press reported. "Commercial airline flights do not seem to be affected by the new measures, and travel for university groups, academic research, journalism and professional meetings will continue to be allowed."
What's the Big Deal About Cuba?
Cuba seems to be lost in time and is barely commercialized compared to other parts of the Caribbean. Indeed, Chrysler DeSotos and Ford Fairlanes drive through cobblestone streets that lead to historic buildings that become hotels. The island's white sandy beaches, sultry music, colorful artworks and friendly faces add to the appeal.
In 2018 there was less tourism than expected by tour operators, airlines and hotels. Nearly 81 percent of US tour operators participating in a survey by the CREST (Center for Responsible Travel), a non-profit research organization dedicated to increasing the positive global impact of responsible tourism, said that the number of US travelers, visiting Cuba during the year, has decreased in the first half of 2018 compared to the same period last year.
This is mainly due to safety concerns. In February 2018, the US Department of State issued a travel warning regarding non-physical attacks on members of the US Embassy in Havana and hurricanes. Currently, the Department of State recommends travelers to be cautious when traveling to Cuba. For more information, visit the Ministry of Foreign Affairs website.
Although bookings and interest in Cuba increased in early 2019, the number of Americans visiting the country is likely to decline as a result of recent restrictions by the Trump administration.

How can Americans travel to Cuba?
The travel intentions of the Americans must fall into one of the following categories licensed by the US Government:
family visits
Official business of the US government, foreign governments, and certain intergovernmental organizations
Journalistic activity
Professional research and / or meetings
educational activities
Religious activities
Public performances, clinics, workshops, sports and other competitions and exhibitions
Activities of private foundations or research or educational institutions
Export, import or transfer of information or informational materials
Certain licensed export transactions
Support for the Cuban people
Humanitarian projects
Check the Ministry of Finance website for updates to acceptable categories. Americans may not visit Cuba for "tourist activities" outside the above categories. So if you want to spend a week on the beach, you have to choose another Caribbean island. You do not need to apply for a special license for your trip, but you must be able to prove that your trip falls into one of the above categories at the request of the government.
In March 2016, President Obama announced that educational tours "from person to person" do not have to be conducted with a licensed group. Instead, individuals could undertake educational tours of their own choosing without seeking government approval. But in June 2017, President Trump announced a ban on individual travel. In order to travel to Cuba as an individual in 2019, you must travel and meet the requirements of the category "Assistance for the Cubans" instead of "People to People".
In June 2019, the Office of Foreign Assets Control (OFAC) announced that group travel from person to person is prohibited, with one exception: "The changes to the OFAC rules include a" grandfathering "rule that involves certain group travel from person to person Provides - Persons previously granted a permit will continue to be approved if the traveler has already completed at least one travel-related transaction prior to 5 June 2019 (eg the purchase of a flight or the reservation of accommodation). "
US travelers are prohibited from spending money on activities that benefit the Cuban military business, which runs many hotels, restaurants and attractions. You can see the list here.
President Trump has promised a stricter enforcement of travel regulations for Cuba. American visitors should therefore carefully document their activities and prepare for questions when returning to the US. Travel records for Cuba should be kept for at least five years after your trip and contain information on "Meaningful Interactions" with locals and more.

How can I fly to Cuba?
Regular commercial flights operate from different US cities to Cuba. Airlines offering these flights include American Airlines, Delta Airlines, JetBlue Airlines, United Airlines and Southwest Airlines. You can book these flights on websites of airlines and on Kayak.com. Travelers should keep an eye on the Ministry of Finance website for information and updates on the availability of commercial flights to Cuba.
Where can I stay in Cuba?
Many visitors choose to stay in Casas Particulares or in private homes. The easiest way to find and book them is on sites like Airbnb.com, CubaBookingRoom.com and MyCasaParticular.com. Remember that the level of luxury can vary greatly from one house to another and that your host may not speak much English. For larger groups of families or friends, it is possible to rent a whole colonial mansion.
However, there are many new hotel openings in Havana and in beach areas like Trinidad. For example, Iberostar has 20 properties in Cuba and in 2019 there will be more options than ever for those looking for quality properties and boutique accommodations. According to Collin Laverty, president of Cuba Educational Travel, nighttime rates have declined slightly due to increased supply.
If you are considering a hotel, do not forget to check the list of hotels run by the Cuban government to avoid this. According to CREST, the ban applies to "direct" transactions. Therefore, payments are possible through intermediaries such as tour operators. "
Which tour operators go to Cuba?
After 5 June 2019, a group trip to Cuba under the general "People to People" license is no longer permitted. "There are no longer any new group journeys from people to people, as are the majority of Americans (who do not) Kendra Guild, Director of Product & Operations of smarTours, who made numerous group trips during the time they were allowed from people to people through Cuba. "Individuals may continue to travel to Cuba but must be in a different group that may be harder to get. Other categories of travel under the general license are more specific and limited in terms of qualification and type of programming. "
smarTours has a tour offer, Cuba Up Close, which includes homestays with native Cubans and is categorized under the clause "Supporting the Cubans" instead of the People-to-People clause and therefore is also open to American citizens restrictions.
Intrepid Travel offers Hola Cuba, a nine-day tour designed specifically for US citizens and also included in the Support for the Cubans category.

Sailing cruise ships to Cuba?
Carnival Cruise Line, MSC Cruises, Norwegian Cruise Line, Royal Caribbean International, Viking Ocean Cruises, Ponant, Regent Seven Seas, Tauck and others have all recently made trips to Cuba, but these trips were banned from 5 June 2019 On the sister site of SmarterTravel, Cruise Critic.
In May 2015, the US government approved the service of passenger ferries between Florida and Cuba and granted licenses to several companies. So far, however, no ships are in operation. Stay up to date on the Finance Department's website.
What is the currency situation in Cuba?
MasterCard and a Florida-based bank announced in November 2015 that their debit cards now work for purchases in Cuba, although withdrawals from ATMs are not yet possible. Most US credit cards still do not work in Cuba. Many restaurants and shops do not accept them and ATMs do not work here either. Therefore, it is important to travel with cash.
Cuba has two currencies, the peso (CUP) and the convertible peso (CUC); Tourists receive the latter currency upon arrival and change money. Try to bring in Euros, pounds or Canadian dollars instead of US dollars, if you can. An additional penalty of 10 percent will be charged for exchanging US Dollars. Money can be exchanged at airports, hotels and exchange offices.
And if you're wondering if you should tip on your trip to Cuba, you should give a tip of five or 10 to 20 CUC (or dollars) for good service.