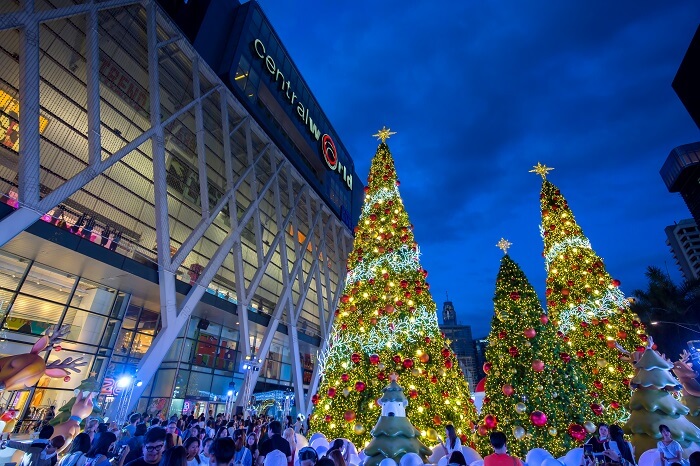 Christmas is a time to rejoice, enjoy and also have a great time to travel. Though Thailand doesn't celebrate Christmas as a traditional festival, it is one of the best places to visit during the festive season. Being about 85 percent Buddhist and 14 percent Islamic, the remaining 1 percent covers other religions in Thailand that makes Christmas a working day in Thailand. However, the country does a fabulous job at Christmas. If you are planning to visit Thailand over Christmas and New Year, it is a great decision to spend your holidays.
Holiday in Thailand during Christmas is a jovial time. Every mall in Bangkok is lit up with lights and decorations while all the major hotels and cities recreate the magic of Christmas in different ways. From Christmas trees to dedicated shops, and from discounts to free services, here's how you can enjoy during Christmas in Thailand.
Top Places To Spend Christmas In Thailand 2018
Christmas in Thailand is just pure fun, sun, and relaxation. Do away with the hassles of cooking a Christmas meal for a large gathering, instead kick off your shoes and let down your hair, and enjoy Christmas in style in Thailand. if you are wondering where to spend Christmas in Thailand 2018, here are a few of the best place to enjoy the Christma spirits.
1. Bangkok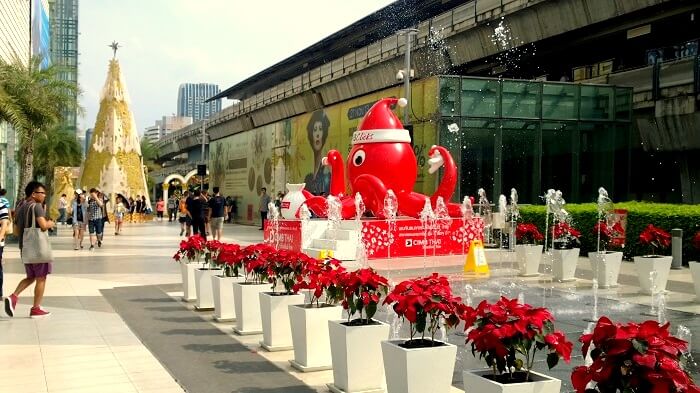 There is a lot to do here in December when most luxury hotels and shopping centers roll out exciting discounts, and get ready to dress up and impress you with festive displays that is sure to get you into a holiday mood. Aside from the many malls dressed in bright colors, Bangkok also hosts a number of outdoor, weekend, floating, and train markets during Christmas. These markets are a great place to pick up Christmas gifts for friends and family and to enjoy a sumptuous meal. Those who wish to participate in a religious service are welcomed with open arms at most Christian churches open on Christmas day.
A number of restaurants in hotels put up sumptuous gala buffet dinners to celebrate Christmas. If you are willing to splurge, head out to Grand Hyatt or InterContinental for a gastronomic experience. If you are on a budget, you may dine at Robin Hood or Huntsman pub, that tempt the taste buds of tourists with their exciting Christmas meals.
Where To Stay – The St. Regis: 5-star hotel in Rajadamri with a pool, gym, restaurants, and wine bars;
Mandarin Oriental: 5-star riverside hotel with pool, yoga lessons, gym, Thai cooking classes, multi-cuisine restaurants, bars, and lounges
Special Events: Christmas Day Brunch, Special Christmas Eve & Christmas Day dinners
2. Chiang Mai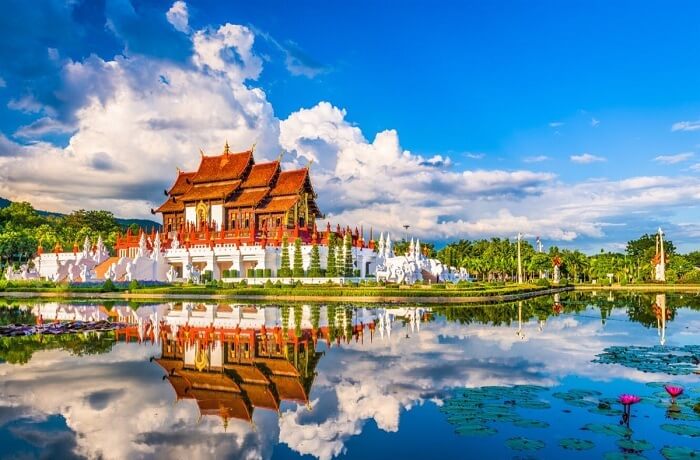 Located in the North of Thailand, Chiang Mai is pleasant in December than most cities in the South and offers expats and tourists, several options to celebrate Christmas in a regal manner. Many malls play Christmas carols, and larger hotels host special events for both Christmas as well as New Year. A number of bars and restaurants offer Christmas themed dining experiences, though they can be a tad bit expensive.
Duke's restaurant in specific is a fun place to be during Christmas. The restaurant cum bar puts out a fabulous spread of classic American dishes on 25th December every year. Be sure to book a table to avoid disappointment.
Where To Stay – Akyra Manor: 5-star hotel with rooftop infinity pool, restaurant, and rooftop bar; Anantara Chiang Mai Resort: Set on the banks of River Mae Ping, it is a 5-star hotel with a pool, spa, fitness center, and a cigar lounge.
Special Events: Christmas Eve entertainment, traditional Italian menu for brunch, buffet dinner, and more
3. Koh Phangan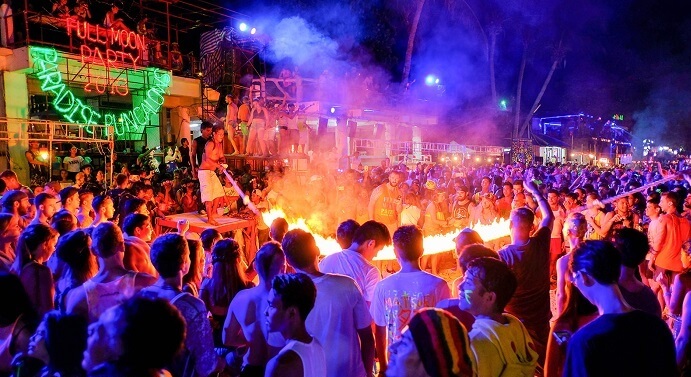 This may not seem like an ideal Christmas getaway to many. But, this party island has a number of haunts to spend Christmas day. Escape from the maddening crowds and head to the tranquil beaches on the North of the island to spend a quiet Christmas with your loved ones. If you aren't keen on attending religious ceremonies on Christmas, you may also book a night at the Anantara Rasananda resort to enjoy a relaxing weekend chilling out on the beach, having massages, and sipping on exotic cocktails.
Where To Stay – Anantara Rasananda Koh Phangan Villas – 5-star Villa Resort with private pool shared fitness room, and a terrace with stunning views
4. Phuket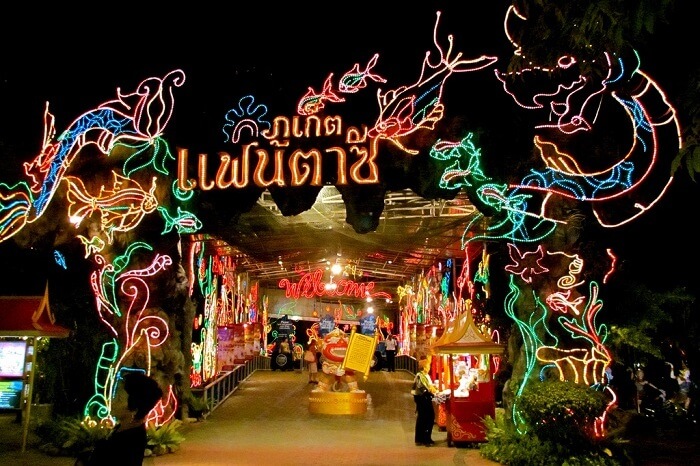 A vacation in Phuket during Christmas is bliss. If you do not want to spend a lot traveling to exotic locales during Christmas, Phuket is your best option. A number of hotels and resort cater to families, couples, and solo backpackers during the festive season. You can either sit back and soak in some sun, or party on Patong beach, or even explore the many island temples. A trip to the national park is a fun way to spend Christmas day with a twist.
Where To Stay – Pullman Phuket Arcadia: 5-star hotel on Nai Thon Beach with spa, gym, multiple pools, bars, bakery and a restaurant
Special Events: Christmas breakfast buffet, traditional Christmas dinner, Christmas dinner, barbecue buffet
A Hearty Christmas Feast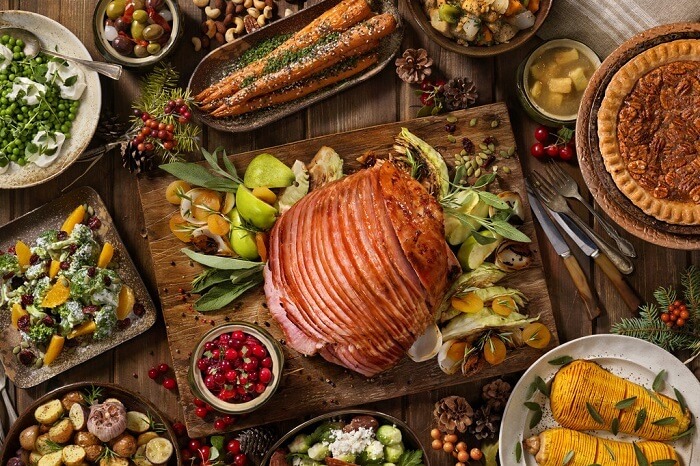 Though there is no Christmas in Thailand traditions, several restaurants in larger cities such as Chiang Mai and Bangkok cater to expats and tourists and offer a fancy holiday meal. If you wish to celebrate Christmas in Thailand 2018, head to Dukes for a holiday feast that has a wide variety of American dinner dishes for a mere $40. Many of the islands in Thailand have a mandatory Christmas gala and dinner for all guests. This is a great way to partake in some festivities if you wish to celebrate Christmas day in Thailand.
Thailand Christmas Holidays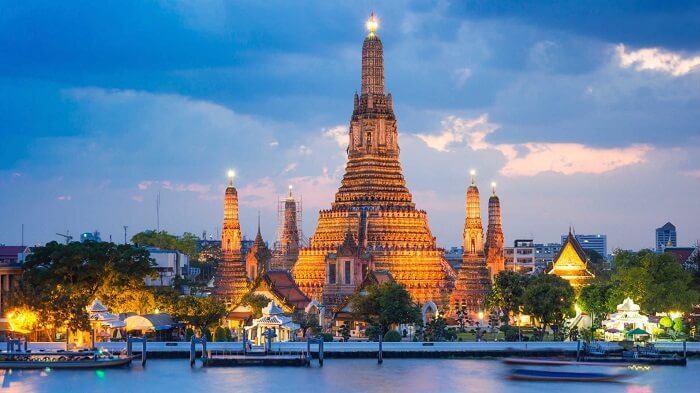 There is something uniquely different and special about Christmas holidays in Thailand and other parts of Thailand. Sure, this is a Buddhist country, but it still boasts of great tropical weather and the Thais know just how to put on a good party. When in Thailand, celebrate Christmas by exploring the beautiful countryside. Weather in Thailand at Christmas is pleasant and ideal for sightseeing and other adrenaline-pumping outdoor activities. Do not restrict yourself just to Bangkok, instead explore some of the other cities when spending Christmas in Thailand.