The warm and sunny days of late summer spell peak season for many destinations, but fewer crowds and great deals still exist — if you know where to go.
Bowling Green, Kentucky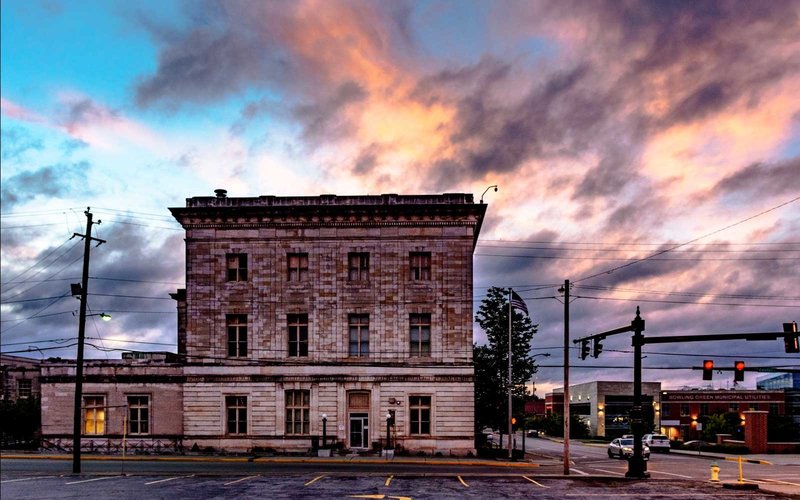 Just an hour from Nashville, Bowling Green offers August experiences ranging from a national park to museums, farms, wineries, minor league baseball, and hot rod racing. Mammoth Cave National Park covers the world's longest known cave system, with eight tours of varying lengths and challenges. There's even a lantern-lit night tour. A zip line and underground river cruise will also delight adventurous guests. The park includes nature trails, hiking, and canoeing on the Green River. Sports car fans will love the National Corvette Museum with displays of over 80 classics and prototypes. Beach Bend Park and Splash Lagoon is the place for amusement park rides, a lazy river, campground, and drag racing. If a minor league baseball game on a warm evening spells summer for you, the Bowling Green Hot Rods will be great entertainment, and a beer from the local White Squirrel Brewery will top off the experience. Stay in the center of downtown overlooking Circus Square Park at the luxury boutique Kentucky Grand Hotel & Spa.
Manhattan Beach, California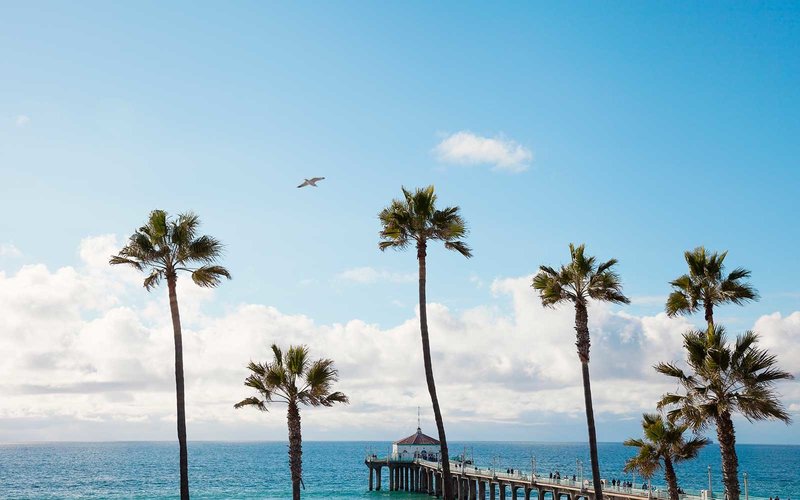 Perfect summer temperatures in the mid-70s, white sand beach, and lots to do make this South Bay beach town a great spot to visit in August — or any time. There's a walkable downtown with shops featuring apparel, collectibles, souvenirs, and home furnishings, along with restaurants ranging from pizza and burgers to upscale dining. Its pier offers spectacular sunset views and a small aquarium, and the Strand, a 22-mile-long beachside paved path, welcomes joggers, bikers, and strollers. The August schedule includes the International Surf Festival, volleyball tournaments, concerts, and Shakespeare in the Park to supplement the swimming and sunbathing. Conveniently located minutes from Los Angeles International Airport, Manhattan Beach offers a range of lodging. The newly re-designed Westdrift Manhattan Beach, with loaner bicycles, a nine-hole golf course, pool, and restaurant, is an inviting and comfortable choice.
Maui, Hawaii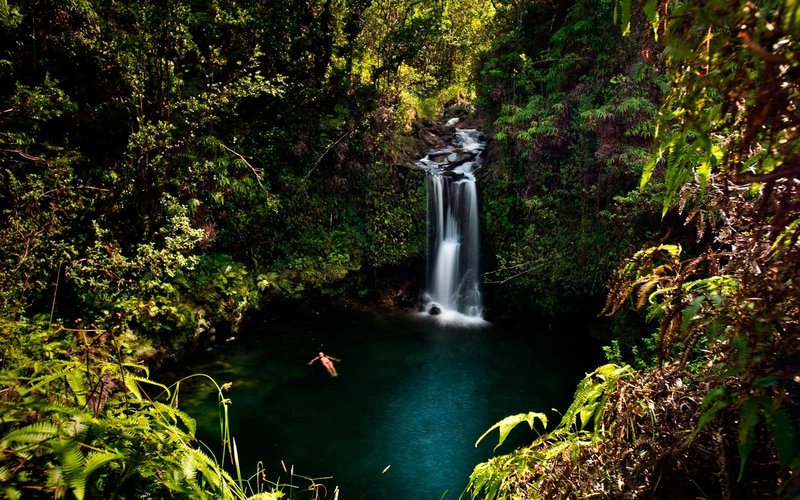 August is family vacation time, and Maui has something to keep everyone in the group happy. There are sandy beaches for swimming and snorkeling, waves for boogie boarding and surfing, calm bays for stand-up paddle boarding, breezes for windsurfing, and sunshine for lounging and tanning. Golfers have their choice of resort or public courses, all with views that will make them forget their bogies. Historic Lahaina Town, once a great whaling port, is now a bustling center of restaurants and shops. The second largest of the Hawaiian Islands, Maui is called "The Valley Isle" because its central area is located between two mountains, Haleakala (a dormant volcano) and the West Maui Mountains. Visitors can explore miles of beaches, visit upcountry pastures and farms, or just relax by the hotel pool. The Montage Kapalua Bay offers a range of experiences that include lei making, ukulele lessons, and children's Paintbox programs. The Champagne Hale at Cliff House is the resort's special place to enjoy sunset with a glass of bubbly.
Bodega Bay, California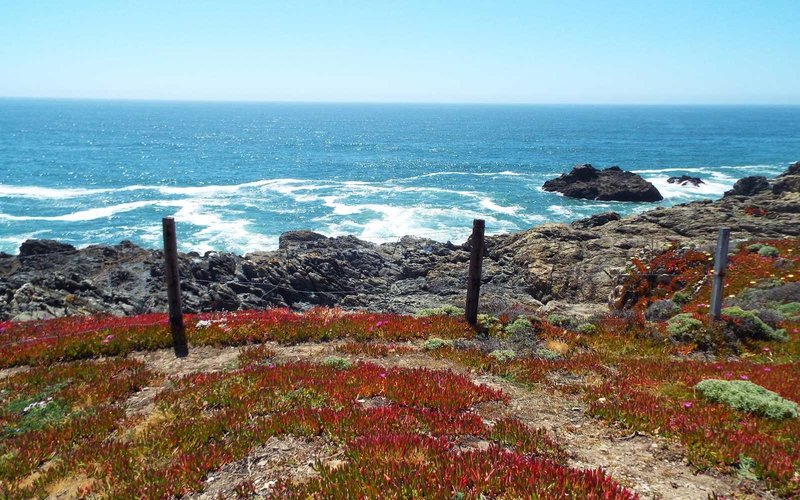 This seaside fishing village is the ideal August spot for vacationers who are looking for cool weather. Morning coastal fog usually gives way to sunny afternoons with temperatures in the mid to high 60s. Horseback riding, fishing, kayaking, and kitesurfing are popular local activities, and nearby Sonoma wineries offer tasting rooms in beautiful surroundings. The annual Bodega Seafood, Art & Wine Festival is set for August 25-26, and local seafood is fresh and plentiful. Nature lovers will enjoy the Bird Walk Coastal Access Trail, a one-mile path near Doran Regional Park along the marshland habitat of waterfowl, shorebirds, and songbirds. The park also covers two miles of sandy beach on Bodega Bay as well as a boat launch, trails, and campsites. The Bodega Bay Lodge is ideally situated overlooking the bay and nature sanctuary, with spacious rooms, complimentary bicycles, restaurant, pool, spa, and hot tub.
Cape Cod, Massachusetts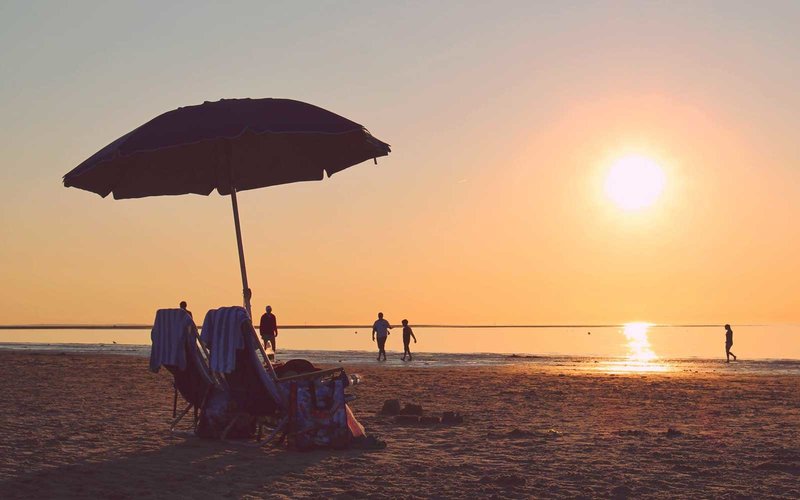 Popular in summer for good reason — perfect weather, dune-lined beaches, nature trails, fresh seafood, history, entertainment, and more — Cape Cod extends from southeast mainland Massachusetts about 80 miles from Boston. Music lovers might go for the Provincetown Jazz Festival on Aug. 9 and 13, but jazz venues throughout the Cape offer entertainment almost nightly. On Sunday, Aug. 12, the Boston Pops Esplanade Orchestra will play in Hyannis for the annual Pops by the Sea event. Carnival Week in Provincetown, Aug. 11-17, includes a costume party, parade, boat cruises, dancing, pool parties, and a vendor fair. Provincetown is also an ideal spot for whale-watching, with boat tours and humpback whale sightings. The town houses a museum and the largest granite structure in the U.S., the Pilgrim Monument, which commemorates the landing of the Mayflower in 1620. The Ocean Edge Resort & Golf Club, an ideal home base, offers rooms at their beachside mansion or golf view villas as well as restaurant, spa, tennis, and children's activities.
Florence, Italy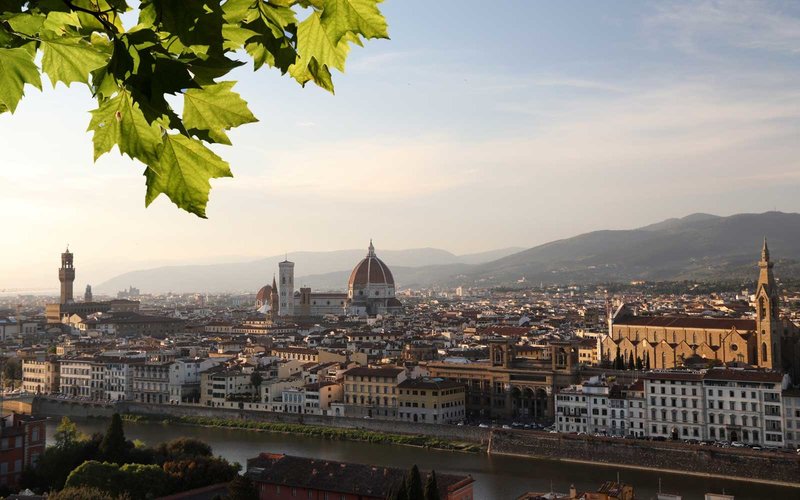 A wonderful city to explore any time of year, Florence is bustling even in August when the weather is warm and many Italians and other Europeans head out of town for vacations. Its museums, cathedrals, piazzas, and ancient streets welcome visitors, and cultural events and festivals entertain under the stars. Gelato tastes even better in summer, and sipping chilled prosecco or an icy spritz in a breezy piazza or overlooking the Arno is a delightful August pastime. An urban beach along the river near the Ponte Vecchio offers a view of the Uffizi as well as lounge chairs, umbrellas, and entertainment. Fiesole is a bus ride away, and summer brings evening concerts and shows. It's easy to visit other Tuscan towns from your base in Florence either on your own or with a group tour. City Wonders' Florence and Tuscany tours are a convenient way to explore, and their skip-the-line Uffizi Gallery tour makes visiting the museum a breeze. Splurge on a stay at the Four Seasons Hotel Firenze — the lobby feels like a museum and the grounds like a slice of Tuscan countryside paradise, including a luxurious pool to save you from the summer heat.
Ottawa, Canada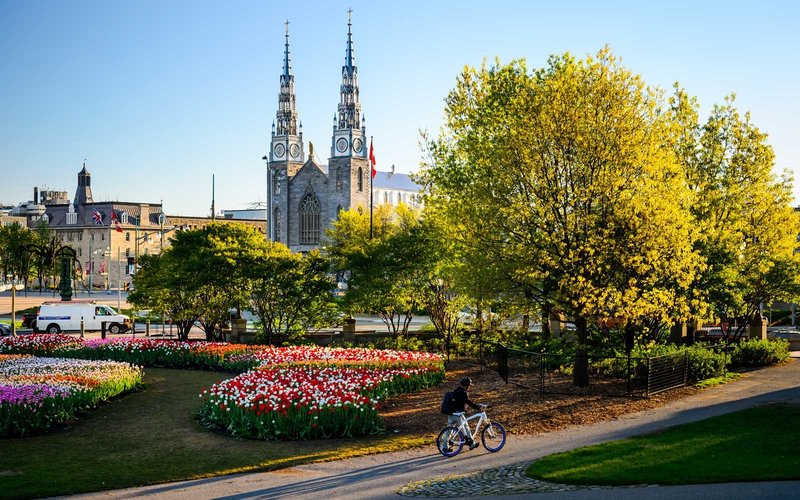 August is a popular season for tourists in Canada's capital. Temperatures are in the mid-70s, just right for taking in the sights. The Rideau Canal, a UNESCO World Heritage Site, offers voyageur canoe tours with views of the city along with a history lesson about the canal's construction nearly 200 years ago. Children will enjoy the Agriculture and Food Museum, where they can visit farm animals. The all-new Canada Science and Technology Museum boasts digital experiences for the whole family, a Children's Innovation Zone, science demonstrations, and special exhibitions. For outdoor adventures, the Ottawa River on the northern edge of the city is a top whitewater rafting and fishing area. At Dows Lake Pavilion, visitors can rent canoes, paddle boats, kayaks, and standup paddle boards. As a culinary destination, Ottawa is diverse, with French, Italian, Chinese, seafood, and locally grown foods prepared by skilled chefs at restaurants ranging from casual to upscale.
Budapest, Hungary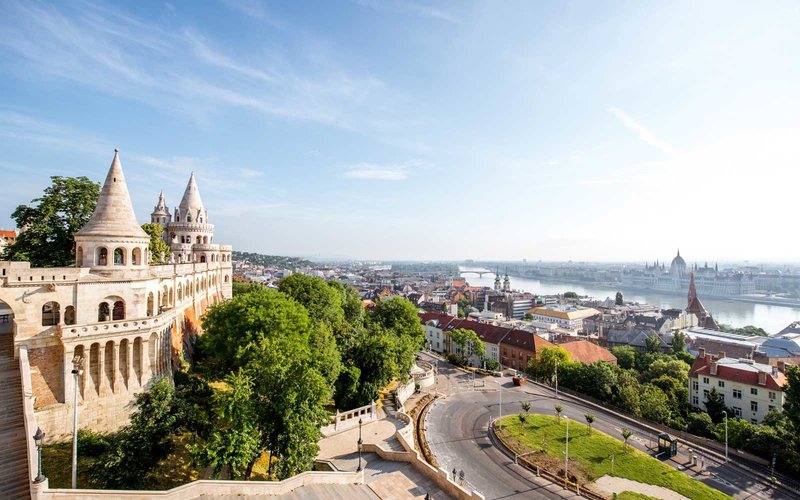 August is a time of festivals, concerts, and parties in this ancient city on the Danube River. The month-long Vajdahunyad Castle Summer Music Festival from July 2-Aug.16 features symphonies, jazz, and more. Visitors love the celebration of St. Stephen's Day that begins on Aug. 19 with concerts and food stalls, culminating on Aug. 20 with a spectacular fireworks display and air show. The largest festival, Sziget, on Obuda Island from Aug. 8-15, attracts thousands of visitors from all over the world for performances by an international roster of popular music talent, a circus, boat parties, films, and cultural events. Known since ancient Roman times for its thermal springs, Budapest is home to many spas and pools, some for medicinal purposes, but most for pleasure. The huge Szechenyi Baths include 15 thermal baths and three swimming pools, with parties on Saturday evenings during summer. A UNESCO World Heritage site, Budapest offers history, culture, exceptional food, and lots of summer fun.
Carbondale, Colorado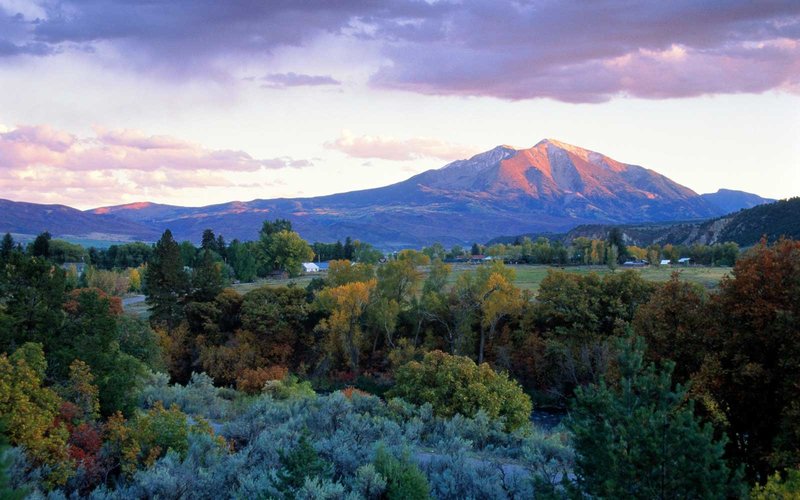 Located in the Roaring Fork Valley, about 30 miles downstream from its better-known neighbor Aspen, this town's moderate summer weather makes it perfect for outdoor activities. It's been a ranching area throughout its over 100-year history, and the Carbondale Wild West Rodeo takes place every Thursday evening until Aug. 23. Bike trails, both easy and challenging, wind through the mountain scenery, and campers enjoy the outdoors at sites alongside Thompson Creek. Some of the best fly fishing in Colorado is in Carbondale's nearby Roaring Fork and Crystal Rivers. These waterways also attract rafters, and options range from whitewater to smooth sailing, safe for family enjoyment. A thriving arts community supports galleries displaying painting, photography, sculpture, ceramics, glass, jewelry, and woodworking. At Marble Distilling Company, you can "sleep with the stills" in one of five luxurious rooms at their boutique Distillery Inn or taste Marble Vodka, Gingercello, Ragged Mountain Rye, or coffee-flavored Moonlight EXpresso.
Chautauqua-Allegheny, New York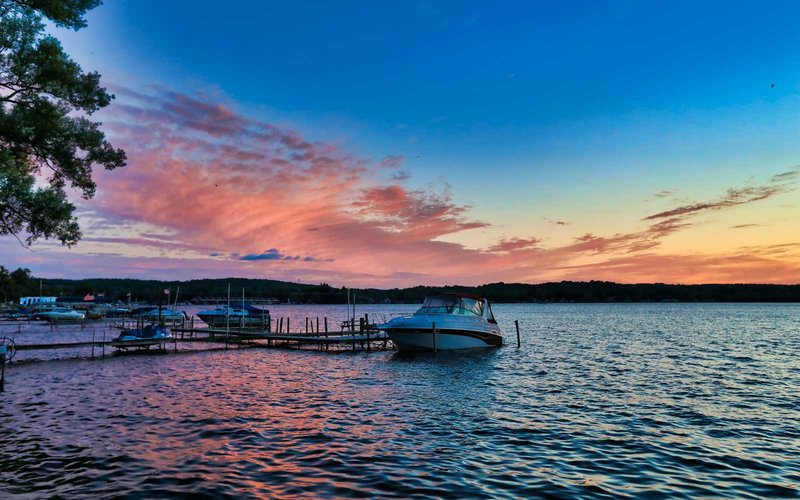 Another lesser-known area with a famous neighbor, in this case Niagara Falls, the Chautauqua-Allegheny region of New York State is home to mountains, lakes, and small-town pleasures. Located in the southwestern-most corner of the state, the area boasts two state parks, Allegany and Lake Erie, with beaches, picnic areas, boating, horseback riding and biking trails, cabins, and campsites. Midway State Park on Chautauqua Lake features a historic amusement park dating to 1898 with rides, an arcade, mini-golf, go-karts, a museum, and a picnic grove. For laughs and TV history, the Lucille Ball Desi Arnaz Museum & Comedy Center in Jamestown offers interactive exhibits and re-creations of Lucy and Ricky's New York City apartment and the Tropicana Nightclub. Opening Aug. 1, the National Comedy Center, the first state-of-the art museum devoted to the story of comedy in America, will feature games, competitions, and exhibits on the history of comedy. Wineries, breweries, and farm stands selling seasonal crops add to the charm and fun of this region.
Tahiti, South Pacific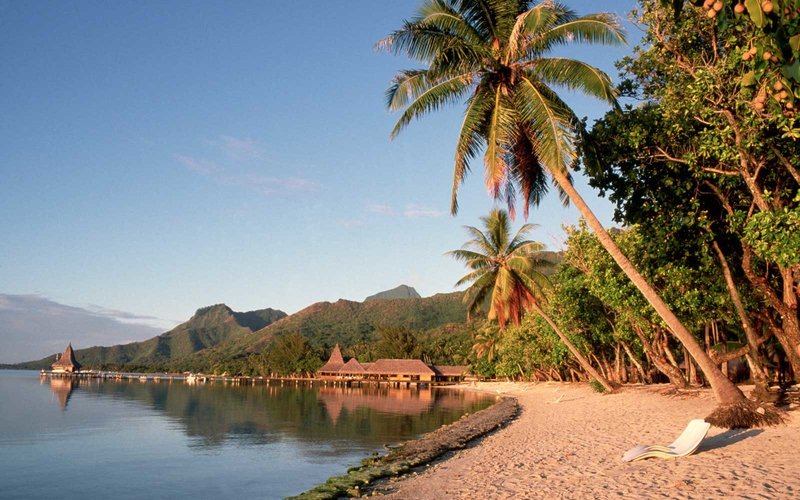 Exotic and inviting, Tahiti is about eight hours by air from Los Angeles, halfway between California and Australia. August's weather is warm and dry, and temperatures range from high 60s to mid-80s. Diving and snorkeling are popular activities, with an array of spectacular sea life, including sea turtles, rays, sharks, and colorful fish in the clear waters around the islands. Surfing the waves, or watching the best surfers in the world at the Tahiti Pro Teahupoo Men's Surfing Championship Tour from Aug. 10-21 is the perfect excuse for days on the shore. Humpback whales spend their summers around the islands, feeding, giving birth, breeding, and thrilling devoted whale-watchers. Tahiti encompasses 118 islands spread over five archipelagos. The nearby island of Huahine, less traveled than Tahiti and Bora Bora, offers lush forests, quaint villages, and a taste of old Polynesia. Maupiti, a tiny secluded island, is home to white sand beaches and magnificent rocky peaks. At the Intercontinental Bora Bora Resort, stay in a villa perched over a quiet lagoon.
Jackson Hole, Wyoming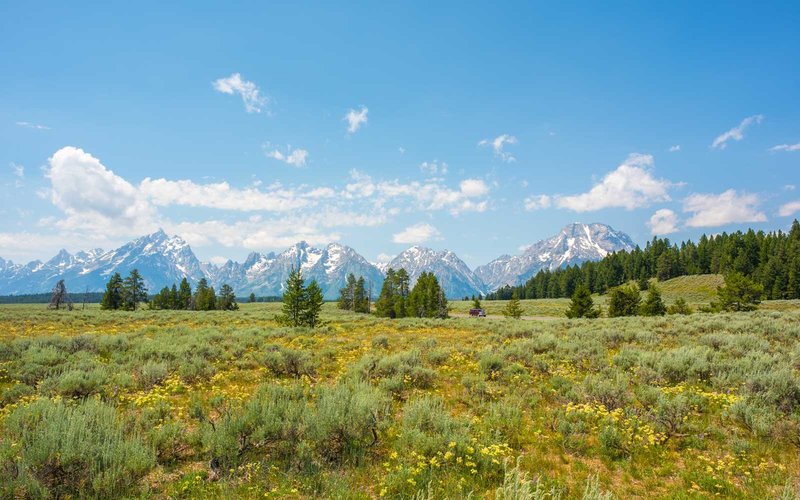 This western town is a scenic mountain valley surrounded by the spectacular Teton Range and home to Grand Teton National Park. Outdoor activities abound during summer, with trails for hiking and mountain biking, the Snake River for white water rafting, paddle boarding, or floating along, and gorgeous scenery to admire. The annual Grand Teton Music Festival from July 2 through Aug. 18 presents symphonies, opera, family concerts, movies, and popular artists. As befits a western town, there are horseback trail rides, stagecoach rides, and rodeos. For the adventurous, the Via Ferrata assisted climbing experience takes guests along granite walls high above the valley floor with a knowledgeable guide. The less adventurous can enjoy the view from the Aerial Tram that travels from the base of Jackson Hole Mountain to the summit of Rendezvous Mountain. Stay on the slope of Jackson Hole Mountain Resort at the Teton Mountain Lodge & Spa or the Hotel Terra Jackson Hole with stunning views, an infinity pool, and rooftop hot tub.