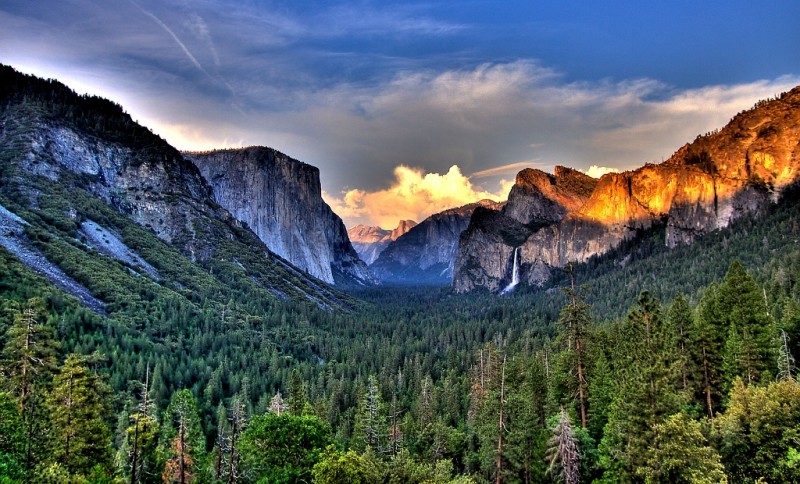 November is a month of transitions: weather is cooling in most places, and as the days move towards Thanksgiving, momentum picks up and we're rushing headlong into the winter holidays. It could be a good time for a trip, whether you're looking for warm weather, taking advantage of cheap shoulder season rates, exploring a new exotic destination, or heading to the southern hemisphere to trade autumn for spring. Or you just might want to begin the holiday season early, get a head start on gift shopping, and jump right into winter's chilly weather. Travel during November has something for everybody.
Morocco certainly qualifies as an exotic destination, and it could be fun to do some holiday shopping at their world famous markets. If there's time, Abu Dhabi's unique surroundings would make a memorable pre-holiday excursion. Or enjoy spring in New Zealand along with their fresh seafood, wines, and beaches. In Buenos Aires you can watch tango dancers while sipping a glass of Malbec — or get up and dance. Bermuda's convenient location, sunshine, luxurious hotels, and November events give visitors plenty to do, but a lounge chair by the pool will be pretty inviting as well. The same can be said for Palm Springs, where it's warm enough for poolside relaxing or al fresco dining and cool enough for cozying up to an outdoor fireplace at night. Warm weather awaits in Belize along with a clear blue sea ideal for snorkeling and diving.
There are always those travelers who celebrate the end of summer and the opportunity to don a sweater and take out the wool scarves and quilted jackets. For them, Iceland would be a perfect destination, with a chance to see the Northern Lights and adorable sled dogs. Montreal is another place with a winter chill, and at the end of the month, you might even find an early Christmas market. San Antonio gets into the holiday spirit at the end of November as well. Sedona offers chilly nights and gorgeous scenery, while Hilton Head Island still enjoys autumn weather and activities.
Whether you're resting up ahead of a busy December or jumping into the holiday buzz that begins in late November, there's a trip that will make you comfortable and energized. Let some of these ideas get you thinking about a new locale for Thanksgiving or at least a way to face the family dinner relaxed and refreshed after your November getaway.
New Zealand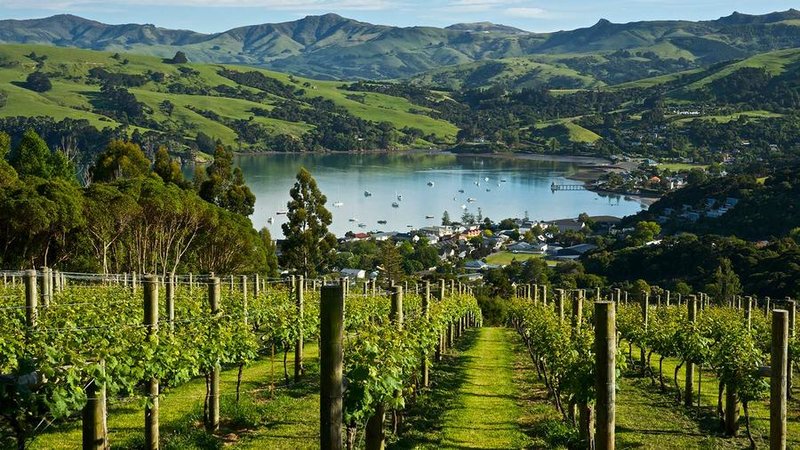 November is the time to catch the last days of spring's moderate weather and prices in New Zealand. Temperatures vary during the month, but average in the high 60s with relatively dry weather in most areas. New Zealand's spectacular scenery invites outdoor activities, and November is the perfect time for hiking, biking, river rafting, and exploring the national parks, forests, lakes, mountains, beaches, and thermal reserves. Fresh seafood including green-lipped mussels, crayfish, oysters, and finfish, as well as lamb and award-winning cheeses are served in local restaurants.
New Zealand wines are world famous, and wine tours are popular with visitors. Auckland, New Zealand's largest city, is set on the waterfront, with beaches, parks, and cruises to the nearby islands. The capital city of Wellington on the southern tip of North Island is home to New Zealand's national museum, a great place to learn about the country's cultural history. Christchurch and Queenstown are located on the South Island. There's so much to do in New Zealand — and it's convenient to reach on Air New Zealand's nonstop flights from Los Angeles, San Francisco, Houston, and Honolulu, with a nonstop from Chicago to Auckland beginning Nov. 30.
Palm Springs, California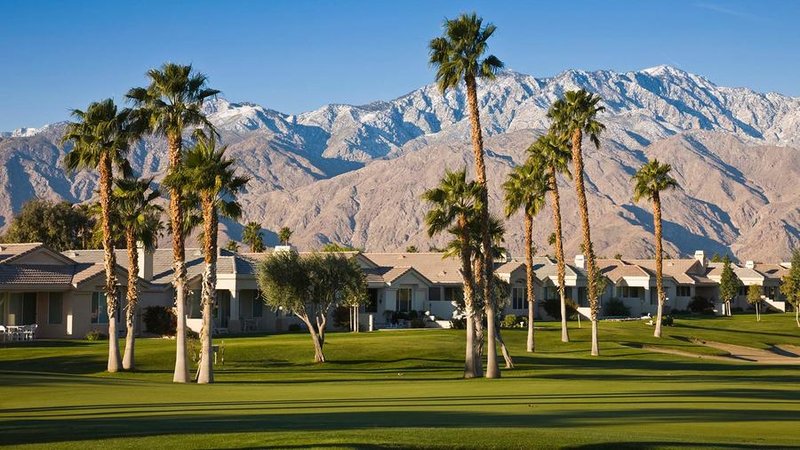 The sizzling summer days are in the past, and it's time to enjoy your favorite outdoor activities whether they're hiking, window shopping, al fresco dining, relaxing poolside, or strolling through Palm Springs — an adventure in itself. The Uptown Design District boasts home décor stores, boutiques, retro and resale shops, some specializing in the mid-century modern style that Palm Springs is known for. Further downtown, restaurants, small shops, and designer boutiques invite diners and shoppers.
At the Kimpton Rowan Hotel, admire the appealing outdoor art while you have a quick bite at Juniper Table or head to the roof for dinner at the 4 Saints with its menu of seasonal Mediterranean-style dishes. From the restaurant and rooftop High Bar, you'll feel as if you can reach out and touch the San Jacinto Mountains. The Palm Springs Art Museum, Indian Canyons, golf, casinos, luxurious spas, and the Palm Springs Aerial Tramway to the mountain top are just a few of the many things to do. Visitors can fly into Palm Springs International Airport or drive about three hours from Los Angeles.
Bermuda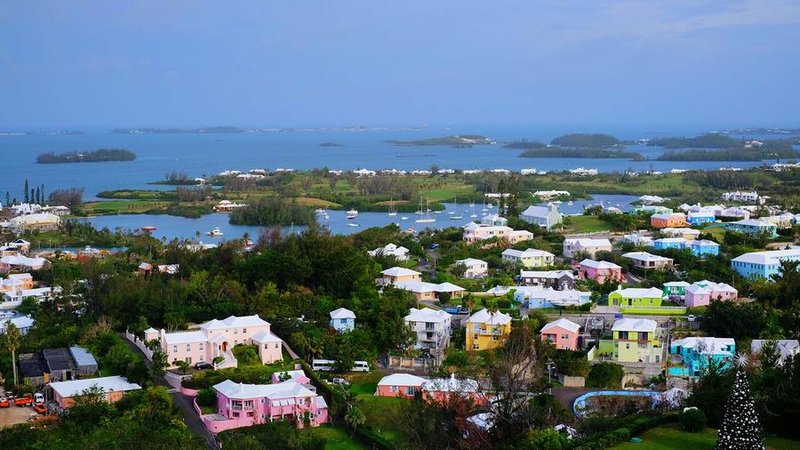 November is a perfect time to visit Bermuda, with temperatures in the mid-70s and pink sand beaches that are less crowded than in high season. There are many ways to explore the 21-square-mile island, from under the sea where you can snorkel or dive among coral reefs or shipwrecks to the Bermuda Railway Trail, an 18-mile abandoned rail bed that winds through scenic landscapes and shorelines. The Crystal Caves take you into an underground world with a subterranean lake and white limestone stalagmites. The 36-acre Botanical Gardens, established in 1898, inspired John Lennon during a two-month Bermuda stay that led to his Double Fantasy album.
Sports fans might enjoy the World Rugby Classic (Nov. 4-10), The Bermuda Squash Challenge (Nov. 8-10), or Goslings Invitational Golf Tournament (Nov. 26-30). It's spiny lobster season, and local restaurants are serving the tasty seafood in chowder, tacos, sauces, and for purists, the tail meat broiled with butter. Coco Reef Resort is offering a Thanksgiving weekend package that includes daily breakfast, holiday dinner, taxes and fees, starting at $397 per night. Although it's near the U. S. — about 650 miles off the coast of Cape Hatteras — Bermuda is a British territory, so a valid passport is required.
San Antonio, Texas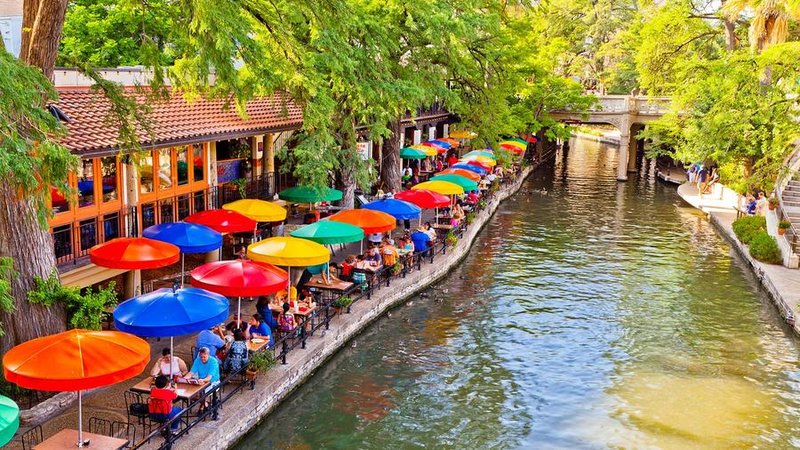 Get acquainted with San Antonio on a River Walk boat tour as you pass restaurants, shops, historic architecture, and the Museum Reach, a 1.3-mile section with art installations and native landscaping. November weather, in the mid-60s, makes outdoor activities comfortable for exploring the city and enjoying the month's events. November begins with Dia de los Muertos, the traditional Mexican holiday that remembers those who have passed away. Music, processions, performances, and costumed dancers will pay tribute in Pearl Park (Nov. 1-2) and Market Square (Nov. 3-4).
Later in the month, the day after Thanksgiving begins Christmas season with the Ford Holiday River Parade and Lighting Ceremony. Decorated floats wind through the illuminated trees and bridges along the river. Luminaria, San Antonio's annual free contemporary arts festival (Nov. 10-11) will take place in Hemisfair and other downtown venues, unveiling a special program at the Mission San Jose, a UNESCO World Heritage Site. San Antonio has been recognized as a Creative City of Gastronomy by UNESCO's Creative Cities Network. Influences of Mexican, Spanish, German, French, and Native American cuisine and ingredients combine to form the city's culinary heritage, increasingly attracting foodies to its hundreds of unique restaurants.
Buenos Aires, Argentina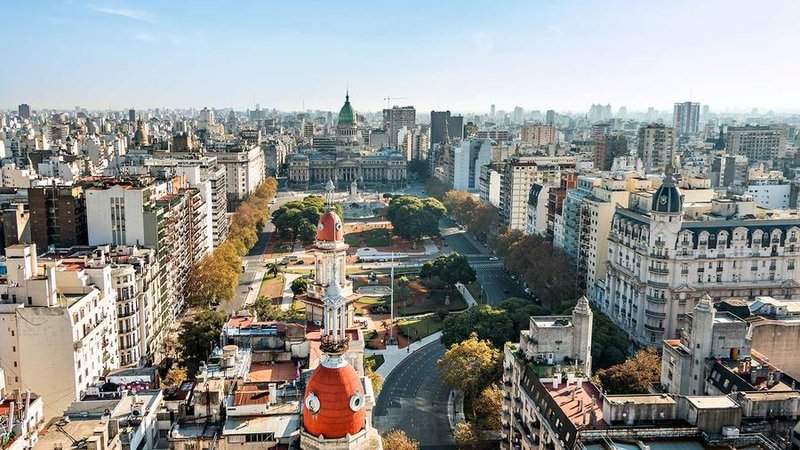 As chilly temperatures arrive in the northern hemisphere, it's spring in Buenos Aires, an ideal time to visit. The city's jacaranda trees are decorating the streets in purple petals, hotel prices are attractive, and the weather is comfortable and dry. A cruise along the Rio de la Plata would be a good place to start, for a relaxing overview of neighborhoods, homes, markets, and the waterfront. On Sundays, get some authentic local flavor at Feria De Mataderos, about an hour from downtown, with gauchos on horses, craft vendors, musicians, tango dancers, and regional foods.
Wine aficionados will enjoy sipping Argentina's well-respected wines, Malbec, a rich red wine, and Torrontes, an aromatic white. Malbec is a perfect match for Argentina's beef dishes, and Torrontes would make a delightful partner to Milanesa, whether veal or chicken, pounded thin, breaded, and fried. The country's cuisine demonstrates the influence of Italy; about 3 million Italians migrated there during the late 19th and early 20th centuries. Pizza, pasta, and helado, an ice cream similar to gelato, are as much a part of the cuisine as their asados, barbecued beef grilled on a parillo. Consider a stay at the historic Savoy Hotel in the artsy Avenue Corrientes area with its elegant neo-baroque lobby, adorned with chandeliers and frescoes.
Abu Dhabi, United Arab Emirates
Capital of the UAR, Abu Dhabi combines ultra-modern structures and attractions with its ancient Arabian culture. This year, the Louvre Abu Dhabi will celebrate the first anniversary of its long-awaited November 2017 opening. Built on a manmade peninsula, its collection ranges from prehistoric to contemporary works, exploring universal human themes. The Sheikh Zayed Grand Mosque, a spectacular architectural achievement, consists of 82 domes clad in pure white marble. Its hand-knotted carpet, the largest in the world, features an intricate Islamic medallion design crafted by about 1,200 artisans. Open Saturday through Thursday, the mosque offers free admission, and visitors must observe proper dress and behavior.
Ferrari World, a huge indoor theme park, houses rides, driving schools, theaters, and car displays. The Formula 1 Etihad Airways Abu Dhabi Grand Prix (Nov. 23-25) will be held on the Yas Island Marina Circuit. The Taste of Abu Dhabi Food Festival (Nov. 8-10) will feature chef demonstrations, samples from the best local restaurants, music, food, and drink. The weather will be warm, so a day at Yas Beach should be on your itinerary for swimming, lounging, and water sports.
Sedona, Arizona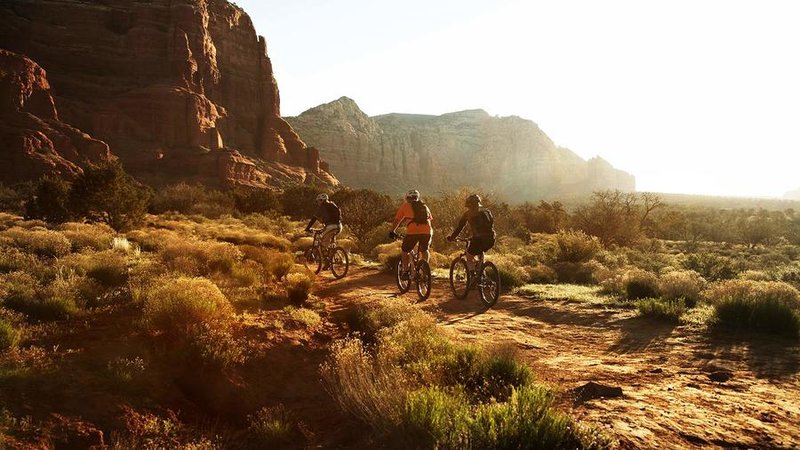 Impressive year-round, November in Sedona is a feast for the senses, offering perfect temperatures and colorful fall foliage along with its majestic red rocks. Sedona is rich in wellness activities, spa treatments, art galleries, and locally-made arts and crafts. Along the Verde Valley near Sedona, quaint wineries with passionate winemakers offer personal tours and tastings. Red Rock State Park, a nature preserve with stunning scenery, native vegetation, wildlife, and a wide variety of birds, is popular with hikers. Visitors can also tour by jeep, horseback, hot air balloon, or helicopter. Many travelers hike among the red rocks seeking the much discussed vortexes—places of energy that are said to come directly from the core of the earth. Whether they are truly healing areas is not clear, but there are believers who experience spiritual effects and others who simply enjoy the breathtaking views. L'Auberge de Sedona Resort, centrally located in Sedona's Red Rock Country, provides access to these activities in addition to both fine and casual dining featuring seasonal menus and locally sourced foods. Accommodations are available in the main lodge or in secluded cottages with panoramic views and exquisite rustic indulgence.
Hilton Head Island, South Carolina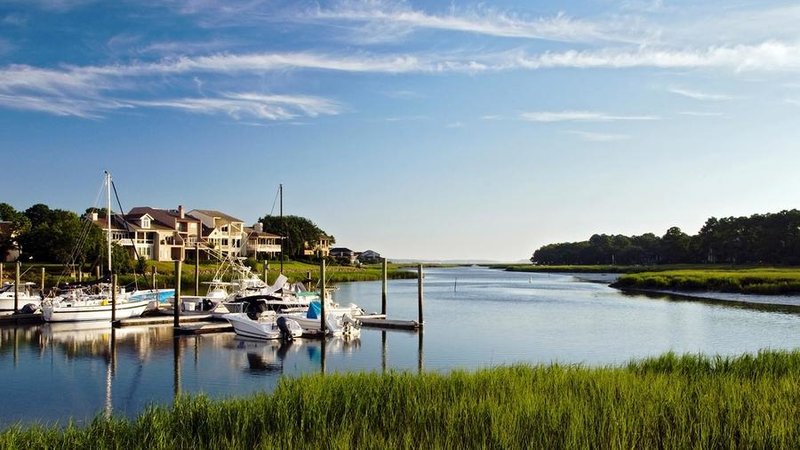 In addition to the obvious perks of pleasant weather and fewer tourists, off-season rates at accommodations are abundant. Hilton Head has much to offer visitors. One of the most popular activities, perfect with autumn temperatures, is biking on the more than 60 miles of pathways covering the island, including along 12 miles of beaches. Bird watchers will keep busy spotting egrets, sandpipers, wood storks, sea gulls, pelicans, and ospreys. Well known as a golfer's paradise, the Hilton Head Island area boasts more than 33 courses.
The 17th-annual Hilton Head Island Motoring Festival and Concourse d'Elegance takes place Oct. 26-Nov. 4, attracting automobile enthusiasts and all who enjoy the southern charm, splendid fall weather, and extraordinary classic cars. The Hilton Head Island Oyster Festival (Nov. 9-10) is an oyster extravaganza with live music, crafts, a Kid Zone, and sports lounge. A stay at the Inn and Club at Harbour Town at the Sea Pines Resort will provide luxury and comfort in low country style.
Montreal, Canada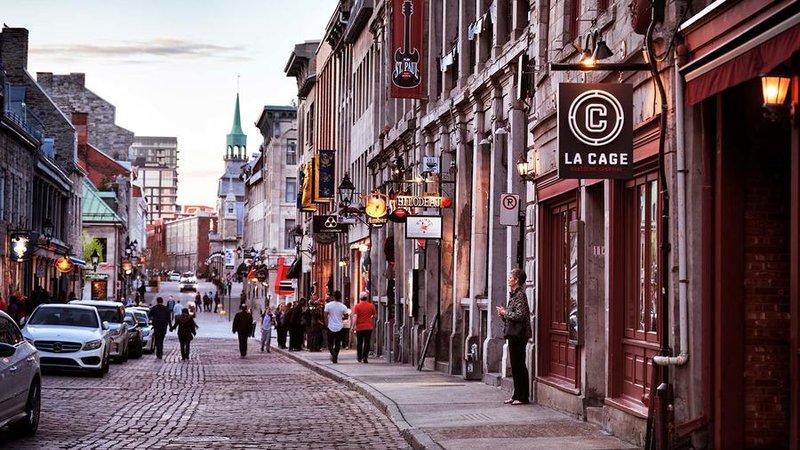 This French-speaking Canadian city has a definite European vibe, from its cobblestone streets to its quaint boutiques and cafes. The city has a wide array of museums covering interests from nature to stargazing, art, and history. The Montreal Museum of Fine Arts features temporary exhibitions that combine various artistic disciplines — fine arts, music, film, fashion, and design — that are popular around the world. Multi-day museum passes are available.
Montreal's oldest Catholic Church, dating to 1656, includes stained glass that chronicles the history of the city. The city's Parisian-style historic district, with cultural landmarks, boutiques, cafes, and restaurants, can be toured in a horse-drawn carriage for the full vintage effect. La Grande Degustation de Montreal (Nov. 2-3) attracts wine producers, distillers, and brewers from around the world. Montreal also hosts the 24th-annual French Language Film Festival (Nov. 1-11) featuring contemporary films from around the world subtitled in English. When it's cold, visitors can head to the underground city, a network of tunnels, corridors, and plazas with more than 1,000 retailers and restaurants. The Montreal Tower Observatory, the world's tallest inclined tower, provides breathtaking views of the city, the Laurentian Mountains, and St. Lawrence River Valley.
Lisbon, Portugal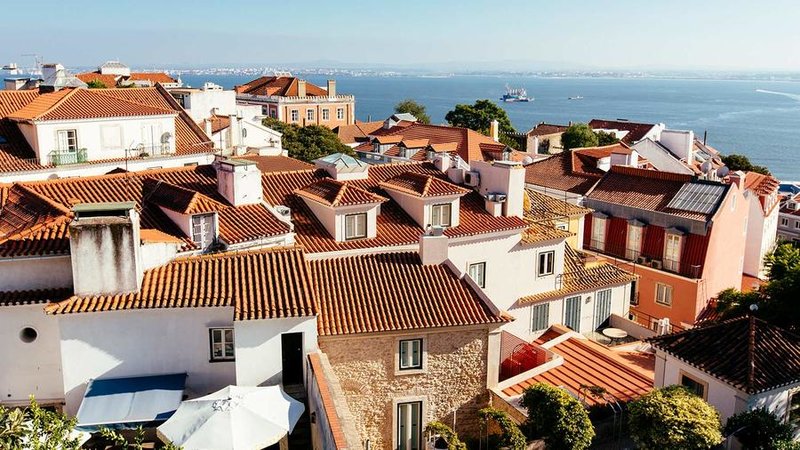 Increasingly popular, Lisbon is quite warm in summer, but November's cooler temperatures and fewer crowds make it a pleasant time to visit. A city of hills and spectacular views, many terraces (miradouros) offer vistas for those who climb (or take a taxi) to the top. Alfama is the city's historic district, defined by hilly, narrow cobblestone streets. The Fado Museum, in Alfama, honors Portugal's soulful folk music and provides some background on the sounds heard nightly in the city's fado houses and bars. Seafood is plentiful in Lisbon, and the traditional Portuguese dried salted cod (bacalhau) is on most menus along with octopus, shrimp, sardines, clams, and tuna.
November brings the annual Vodafone Mexefest Music Festival (Nov. 24-25), a gathering of popular artists in venues throughout Lisbon. The Lisbon & Sintra Film Festival, in its 12th year, is a celebration of cinema with directors, actors, artists, musicians, and writers in town for the event (Nov. 16-25). Billed as the "largest technology conference in the world," Web Summit began in 2010 as a way to connect industry and the technology community (Nov. 5-8). The year's new wine and the ripening of chestnuts are celebrated with the Magusto, on Nov. 11, St. Martin's Day. The holiday spirit becomes apparent at the end of the month, with colorful lights and roasted chestnut vendors along the streets.
Belize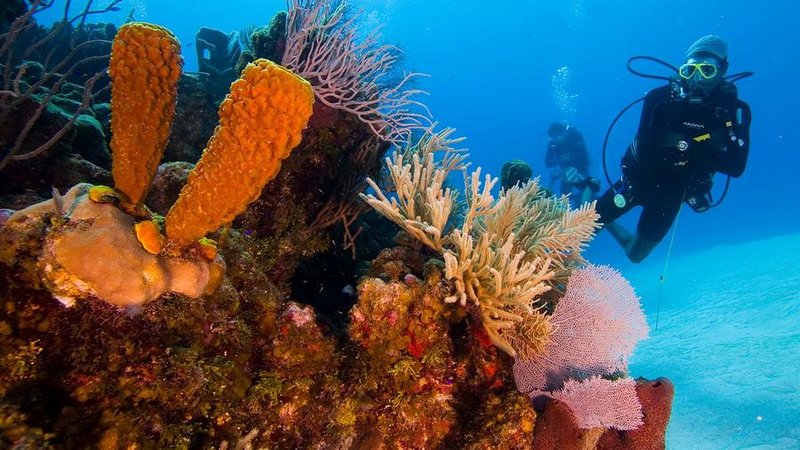 Mid- to late-November welcomes warm, dry sunshine with temperatures of about 80 degrees in this subtropical Central American nation located south of Mexico. You'll slip in before the holiday crowds and enjoy exceptional weather and affordable prices for tours and fine lodging. White sandy beaches, friendly native people, jungle adventures, and tours of ancient Mayan ruins await visitors on this small and easy to navigate paradise. Nov. 19 is Garifuna Settlement Day, a celebration of the Garifuna people, descendants of African slaves and native Carib islanders. All are welcome to participate in dancing, parades and tasting traditional foods.
Spear fishing, kayaking, and zip lining across the jungle are popular activities. At Hol Chan Marine Reserve, you can safely snorkel alongside sharks and stingrays. The Belize Barrier Reef is a favorite destination for snorkelers and scuba divers and one of the most diverse ecosystems on the planet. Experienced divers may want to plunge into the famous Great Blue Hole of Belize, designated one of the top 10 diving sites in the world by famed French explorer Jacques Cousteau. Family-friendly activities include cave tubing down the rivers of the Belizean rainforest, sailing, bird watching the over 600 species of birds, canoeing, horseback riding, or just relaxing on a beautiful sandy beach. Romantic sunset cruises are a wonderful adult option. Travelers can stay at beachfront properties like Banyan Bay Suites and Grand Colony Villas for an authentic Belize experience.
Iceland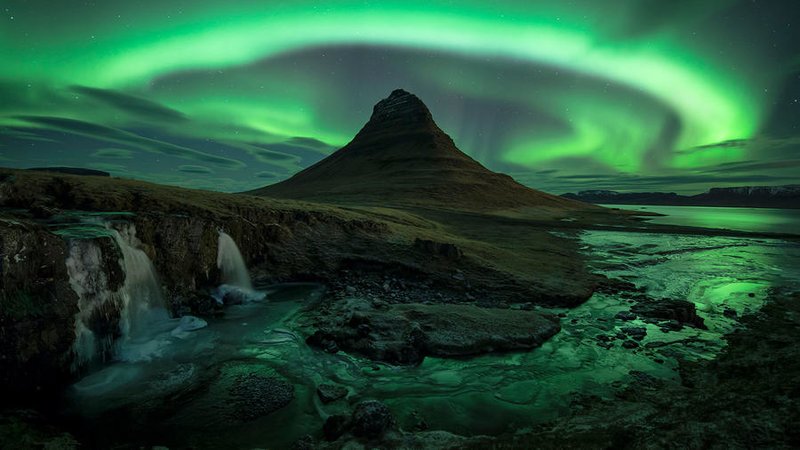 If it's not on there already, a visit to Iceland should be added to your bucket list. November will be chilly, but you'll miss the high season crowds and arrive during peak viewing season for the Northern Lights (November through March) when the nights are longest. The infusion of colors, mostly bright green and at times a mix of purple, pink and red, is a breathtaking sight. November is prime time to visit the gorgeous ice caves, crystal and sparkling in stunning shades of blue with cave tour options that include hiking or snowmobiling.
Make like a Viking and soak those sore muscles in one of the many outdoor heated pools, some hidden away and others modern day gathering spots. The famed Blue Lagoon is Iceland's best-known geothermal spa with temperatures of 98-104 degrees Fahrenheit. The lagoon's waters are rich in minerals like silica and sulfur and are reputed to have healing powers for skin problems. There are saunas, lockers, showers, and towels available for a reasonable fee as well as restaurants and a lagoon side bar. Whale watching, though not prime season, is always an option in Iceland, as is dog sledding — on snow if available or dry land if not. Either way it is an amazing experience, and the meet and greet part allows you get up close to these beautiful dogs. The younger crowd might enjoy the Iceland Airwaves Music Festival to be held in Reykjavik this Nov. 7-10 showcasing hundreds of acts, both famous and newcomers. Venues include bars, bookshops, theaters and concert halls.
Morocco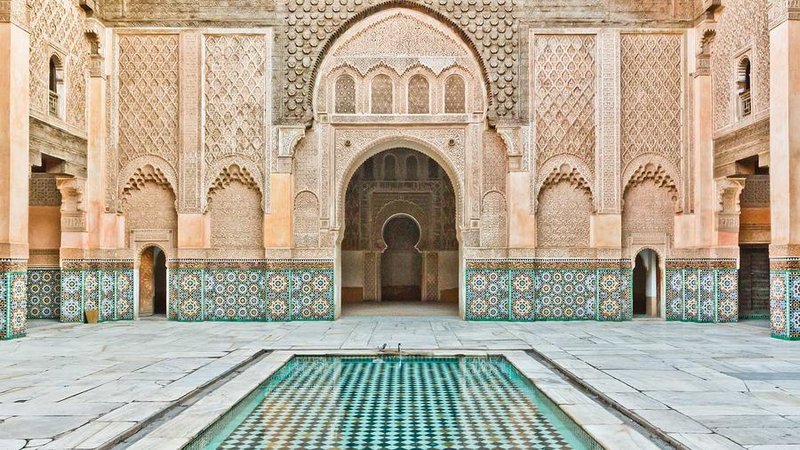 November is a wonderful time to explore this diverse country without the crowds and heat of the summer months. The ancient city of Marrakesh presents an uncommon blend of ancient traditions and modern conveniences. Accommodations include traditional Moroccan houses, or riads, once the homes of upper class Moroccan families. Riads range from budget-friendly room rentals to luxurious palace-like dwellings. Shop the souks or markets of the old city for leather goods, textiles, pottery, spices, and much more. Be prepared to haggle with the vendors for the best prices.
Visit the Bahia Palace and gardens with its intricate artisan details. An overnight train ride north would bring you to the Moroccan seaport city of Tangier, once the playground for the rich and famous, celebrities, and artists. Admire the unique architectural and culinary influences from Spain, Portugal, France and Northern Africa as well as panoramic views of the city and bay from the hilltop Kasbah. The Musée la Kasbah is fascinating, and Café Hafa is a wonderful stop to quench your thirst and rest your feet. Visitors should visit Cape Spartel and the Caves of Hercules for its incredible history and captivating scenery. Perhaps a camel ride on a sandy beach or through the desert is your thing? Your Moroccan excursion is guaranteed to cover all bases from exotic to adventurous to mystical.