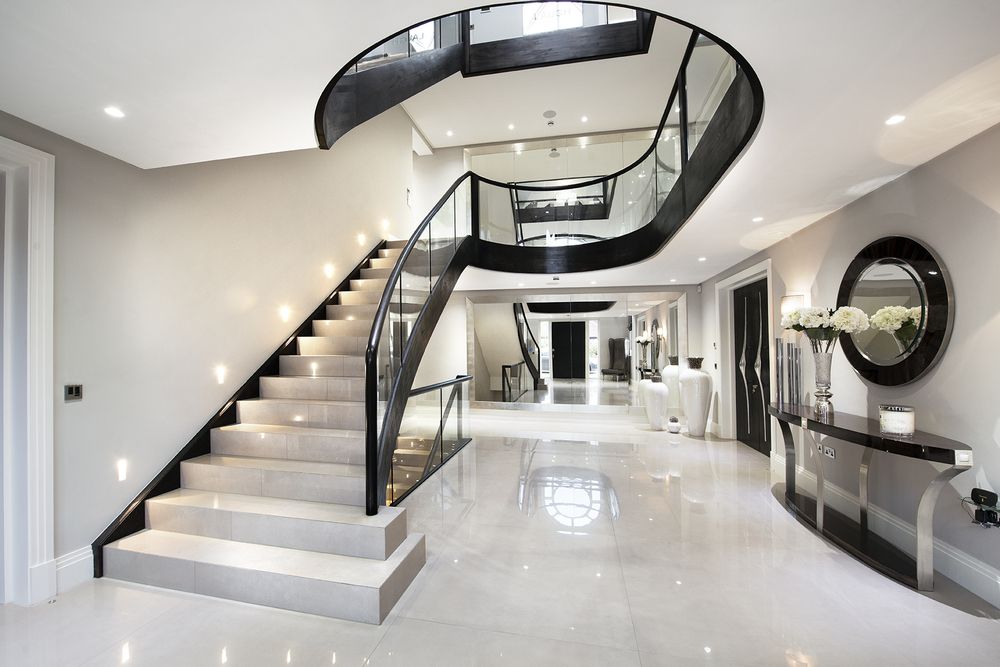 It will now be the most Instagrammed spot in your house.
Your stairs are probably the last place you think about in your house to decorate. I mean, unless you're willing to rip up the carpet or do a serious reno, there's not much you can do with them, right? WRONG. Whether you want to paint, re-carpet, or do as little work as humanely possible, we've got plenty of super creative ideas to update your staircase. Bring on all the colors and patterns.
1. Pattern Play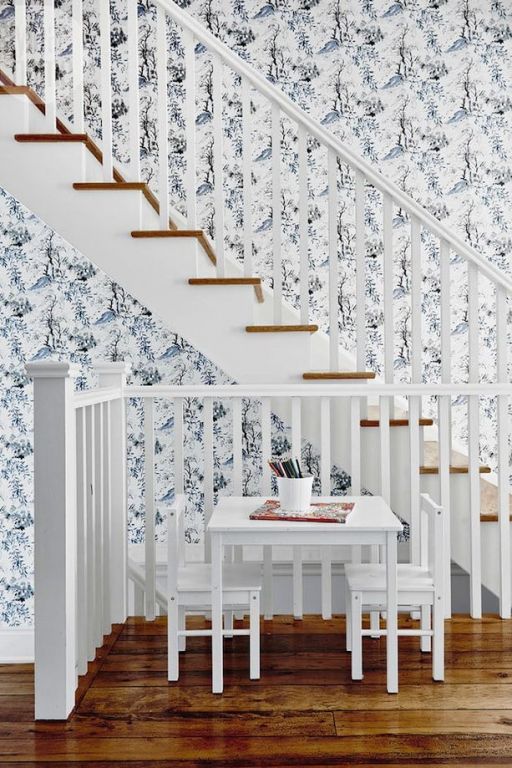 You don't even have to touch your actual stairs to make impactful decor changes. Wallpaper the wall against your staircase for serious wow-factor.
2. Back in Black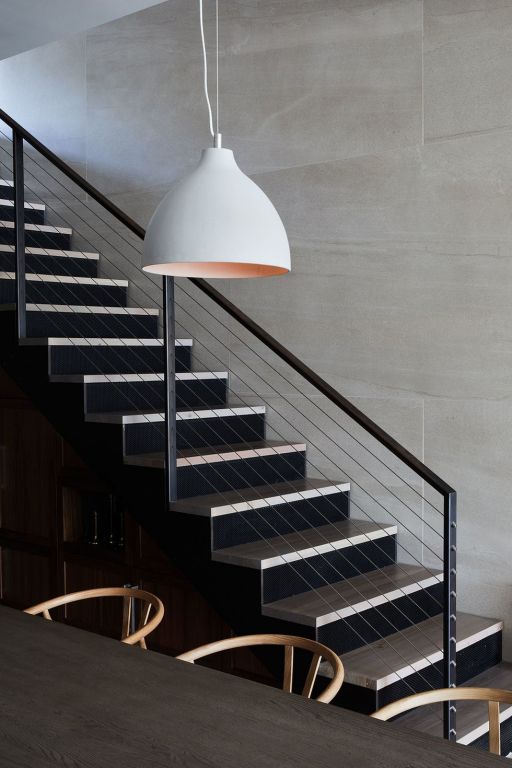 Have you ever seen a sexier staircase? A black staircase with reclaimed wood steps is so hot, it's NSFW.
3. Step It Up With Stencils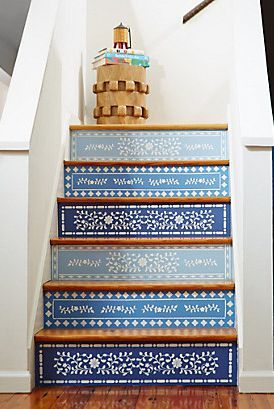 This staircase started off a basic white-and-wood style. To mix it up, the designer painted each stair face a different shade of blue, and then added delicate-looking stencils inspired by bone inlay furniture.
4. Mix Tape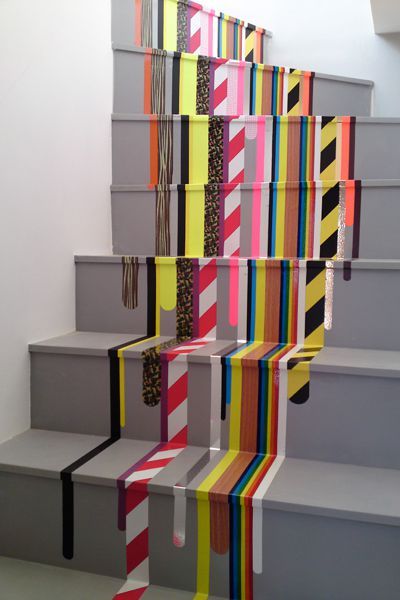 Lovers of whimsy, take note: These stairs were decorated with colorful adhesive tape to create this cool, waterfall-like design.
5. Never Met A Stripe We Didn't Like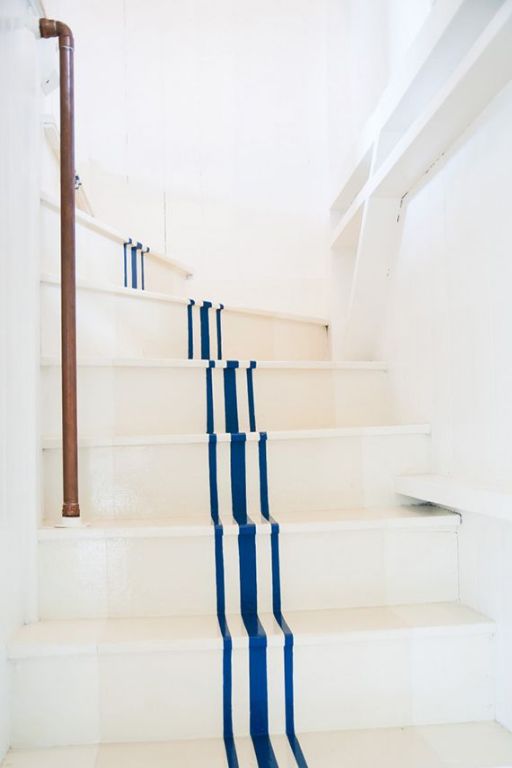 For a crisp, clean look, you can't go wrong with classic stripes. This blue-and-white design brings plenty of nautical charm without going overboard.
6. Functional, But Still Chic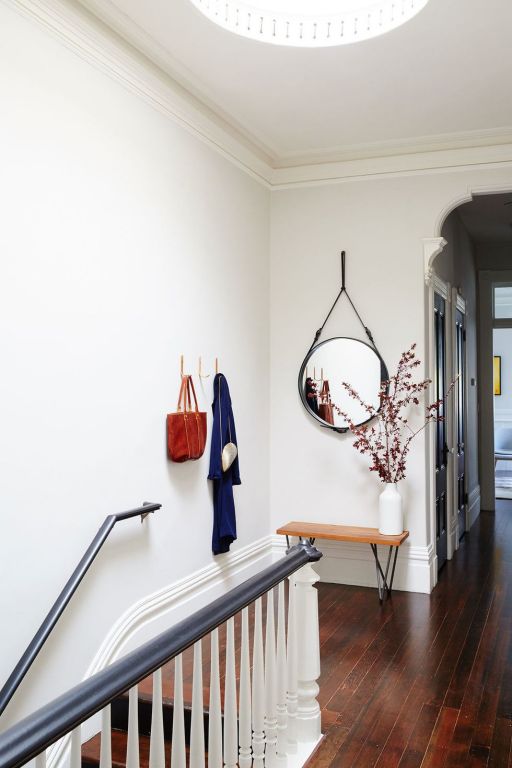 Hang a few hooks on the wall above your staircase. It's the perfect spot to hang your purse or jacket, so they're easily accessible when you're heading out.
7. Blue Crush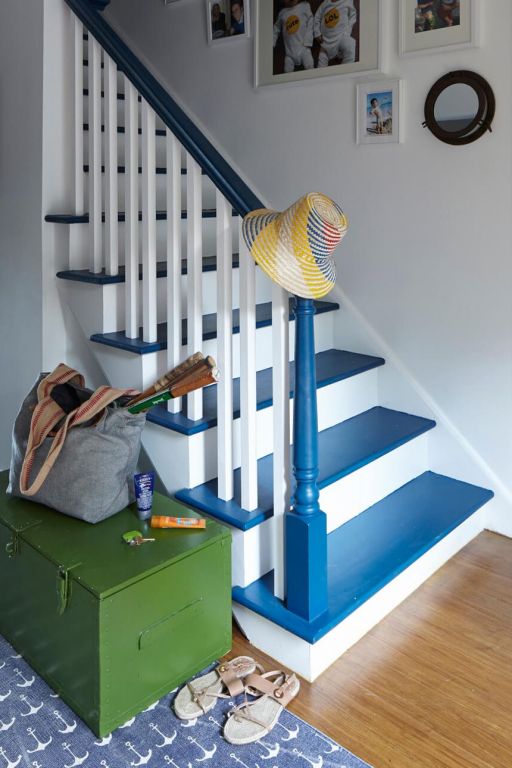 Whether you actually live by the water or just wish you did, paint your steps blue. Coastal vibes for days.
8. Less Is More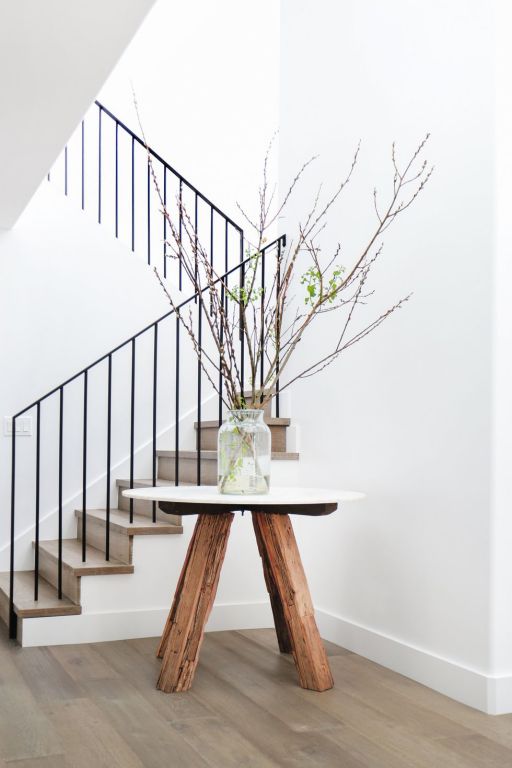 Restraint is always overrated. For a cool, modern, minimalist feel, opt for reclaimed wood steps and a clean white staircase. To keep it from feeling too stark, add a small accent table at the base.
9. Compare & Contrast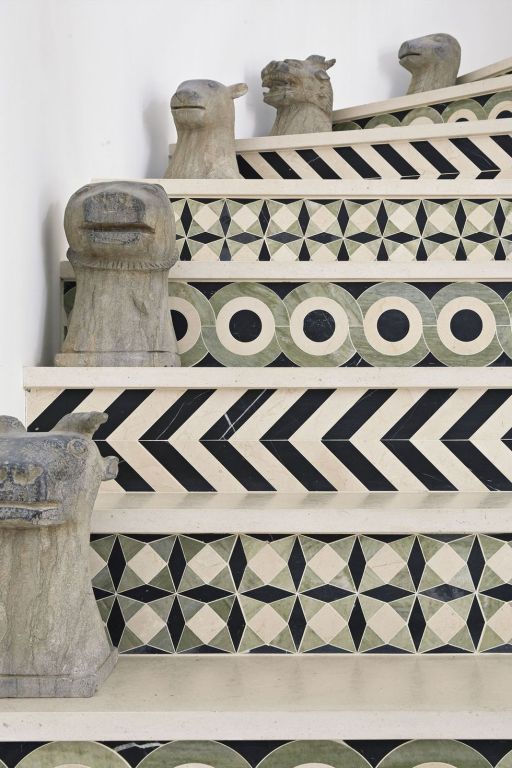 The staircase in a California home is graphic goals thanks to patterned tiles. The contrasting mix works thanks to a common color palette.
10. Gallery Wall Goals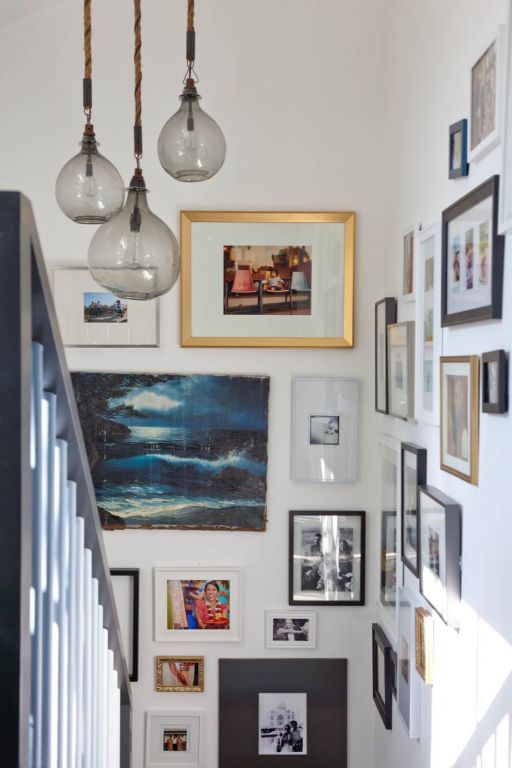 You know the perfect place to try out that gallery wall you've always wanted? Your stairwell.
11. Looks Good On Paper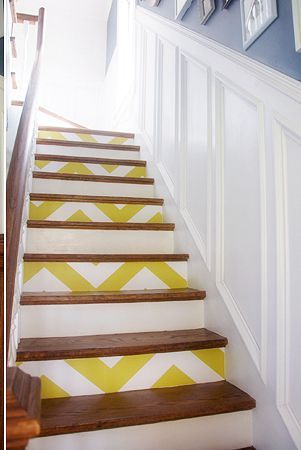 If you've got some leftover wallpaper rolls, apply them to your stair risers. Peel-and-stick wallpaper is an easy way to add some pattern to your stairs if you're not ready to commit to one pattern for the rest of your life.
12. Go All Out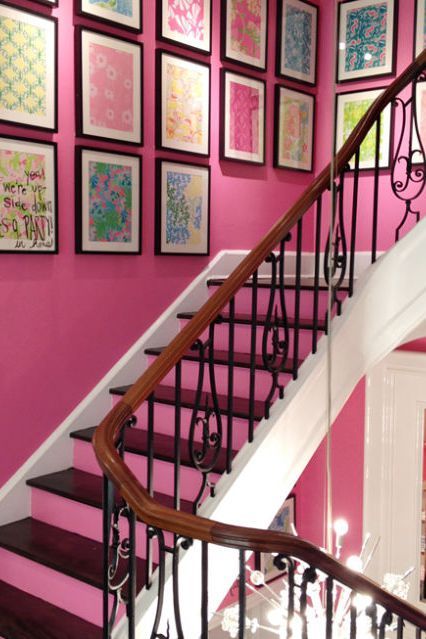 Absolutely obsessed with one color? Then go for it and do your whole stairwell, top to bottom, in that hue.
13. Keep It Classic
Rip out the old carpet on your stairs and gave it traditional, timeless style: Dark espresso brown for the rail and steps, and classic white for the rest.
14. Fabric FTW!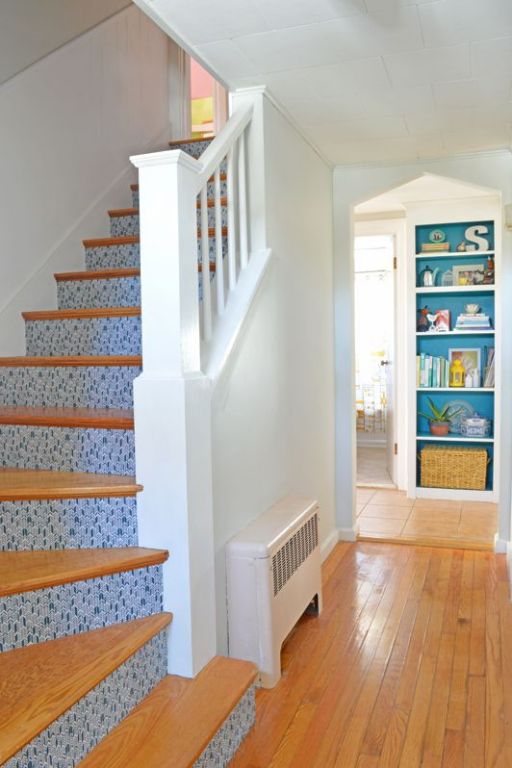 Give a staircase a breezy, colorful look using only paint and fabric. To apply the fabric, use a crafting staple: ModPodge.
15. Animal Instincts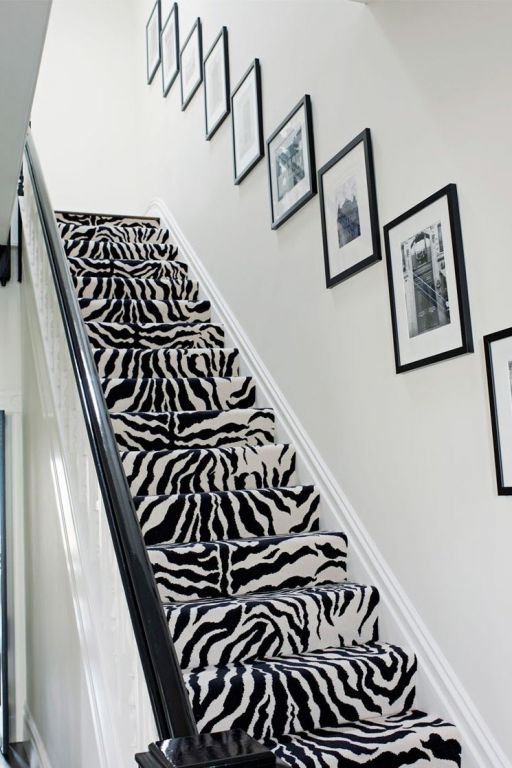 If you're feeling daring, experiment with a crazy print. These stairs are carpeted in a zebra print, but you could also use temporary wallpaper if this feels too bold for a long term commitment.
16. Ombré Omg
Give your stairs the ombré treatment using just a few sample-sized paints.
17. Color Crazy
Mix it up by painting your railing an unexpected color, like this candy apple red. The glossy red railing adds serious sex appeal.
18. Run With It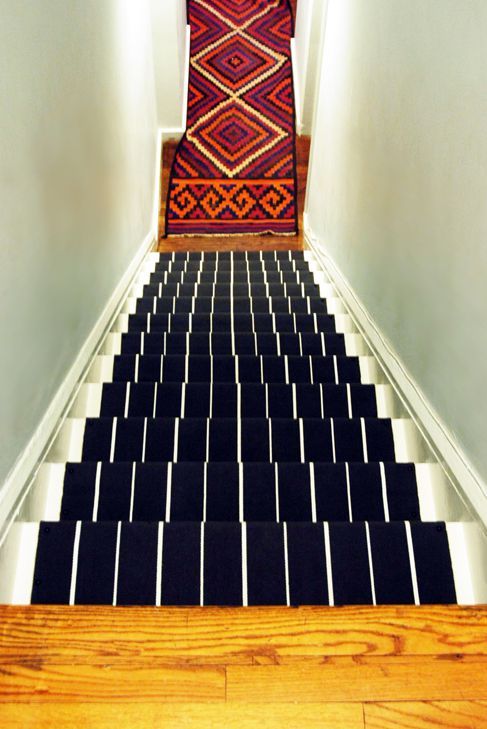 Rip your old carpet off the stairs and paint them white. Then, make a runner out of a few rugs.
19. Anchors Away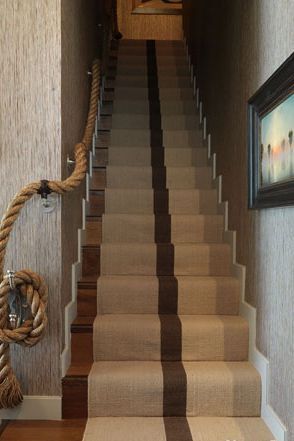 For a nautical-inspired staircase, choose heavy rope in place of a traditional railing and angle the runner to reveal a hint of bare floor.
20. On The Map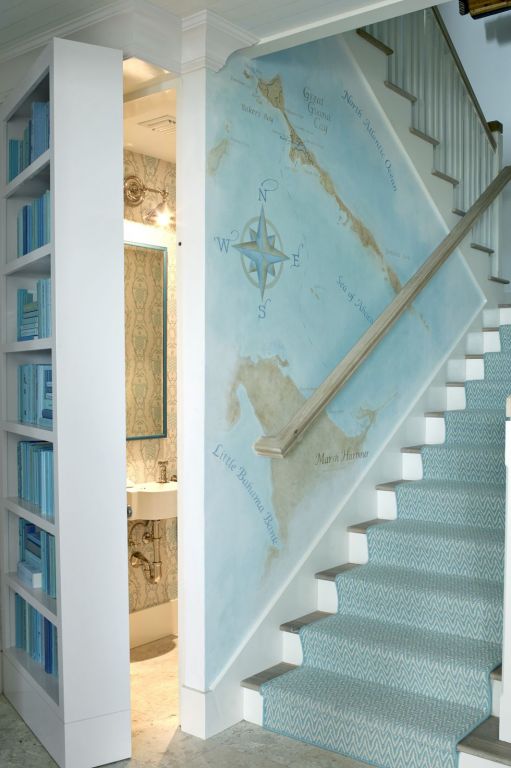 In this Bahamian vacation home, the stairwell was painted with a map of Guana Cay that includes the house, the family's favorite bar, and places they like to take their boat. A blue runner ups the seaside feel.