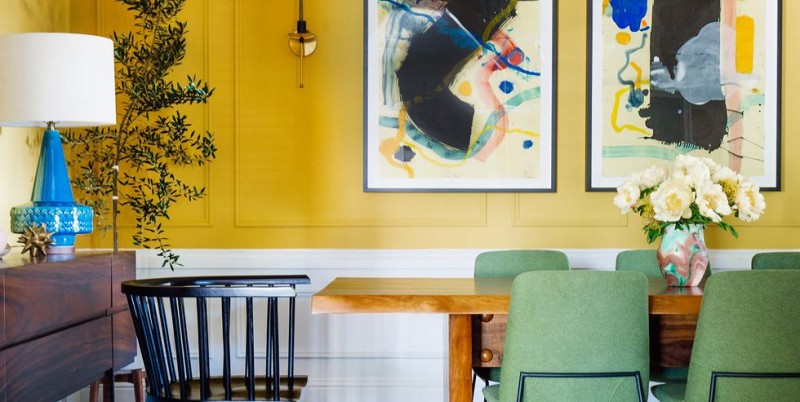 If you're going to be entertaining in it, it might as well be fun. Whether you want to go super bold, or just find a way to make neutral look less boring, we've got ideas upon ideas to get you started. Need more dining room inspiration? Check out our favorite dining rooms of all time.
Climbing Vines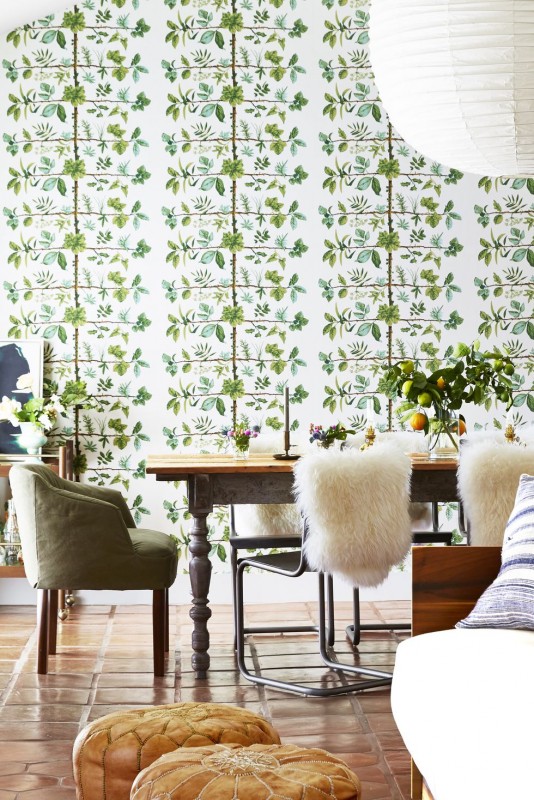 This botanical wallpaper hints at a California home's verdant surroundings. Metal chairs are topped with Ikea sheepskins for extra warmth.
Steel Blue
Is it blue? Is it gray? You decide. Either way, it looks killer with a brass, geometric pendant.
Vibrant Yellow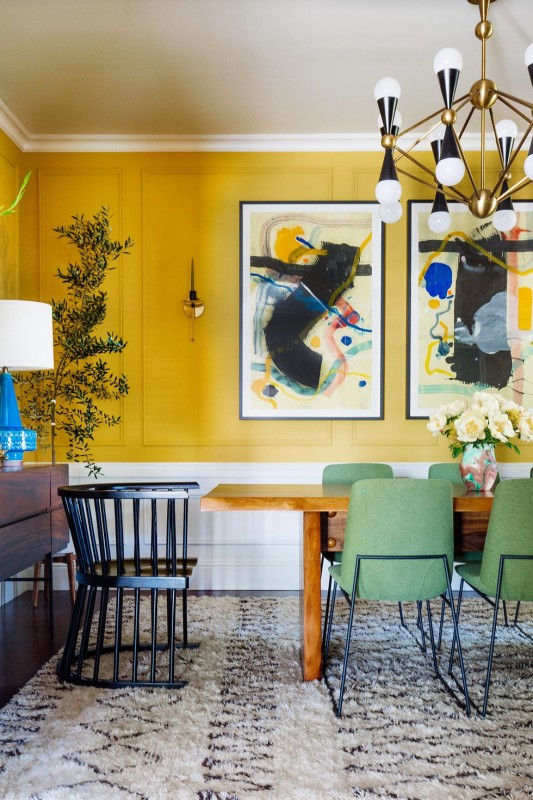 The bold walls, geometric chandelier, and abstract art turn this formal dining room into an eclectic, but totally gorg, space.
Pale Pink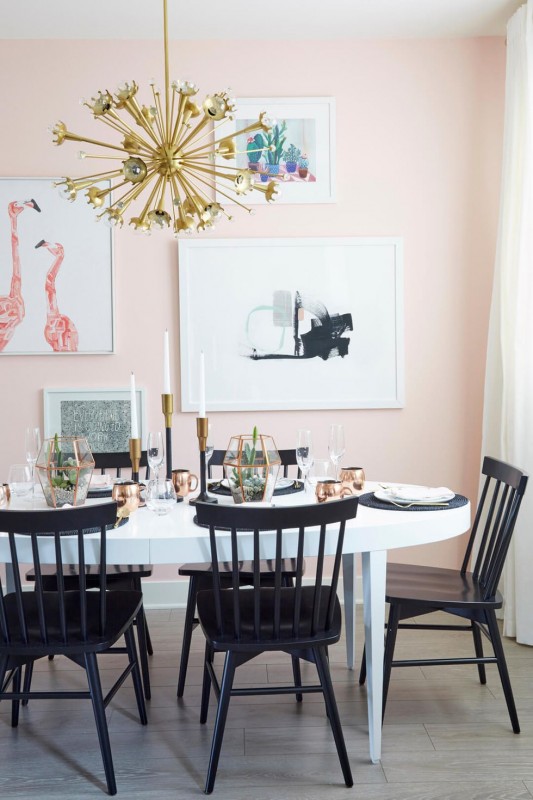 Here's how to paint your dining room pink and have it not look like a bottle of Pepto Bismal (or like you're 5 years old). Flamingo artwork optional, but highly encouraged.
Patterned Alcove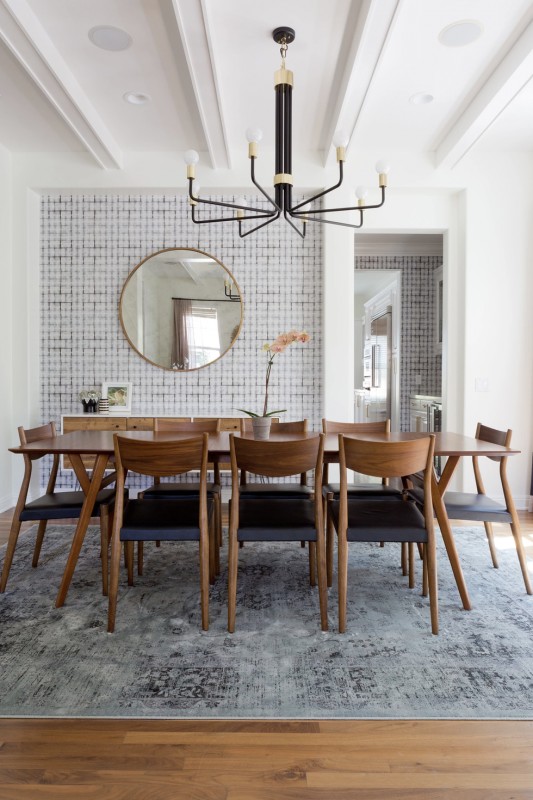 You don't have to go color crazy to make an impact. Cover an alcove with a subtle patterned wallpaper, and then amp up the color with a matching rug.
Bold Blue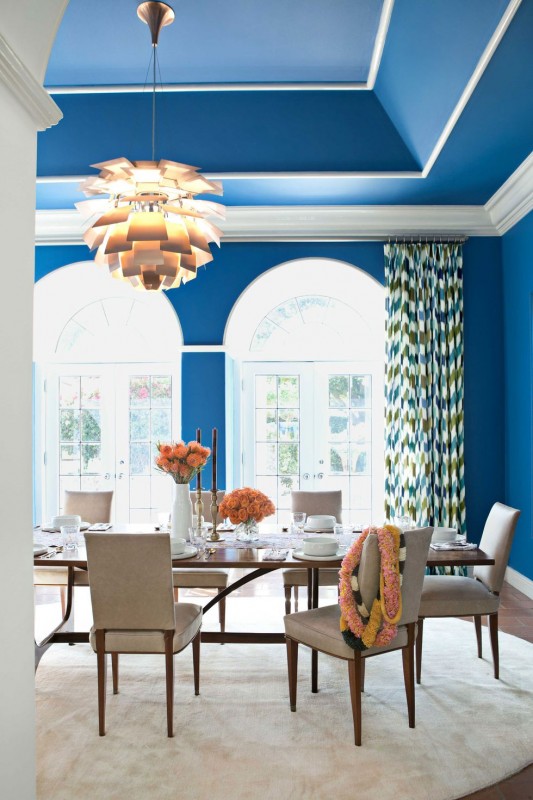 This Malibu house's bold blue dining room is broken up with glossy white trim. It keeps it from overwhelming, and also plays up the architectural details of the room.
Forest Green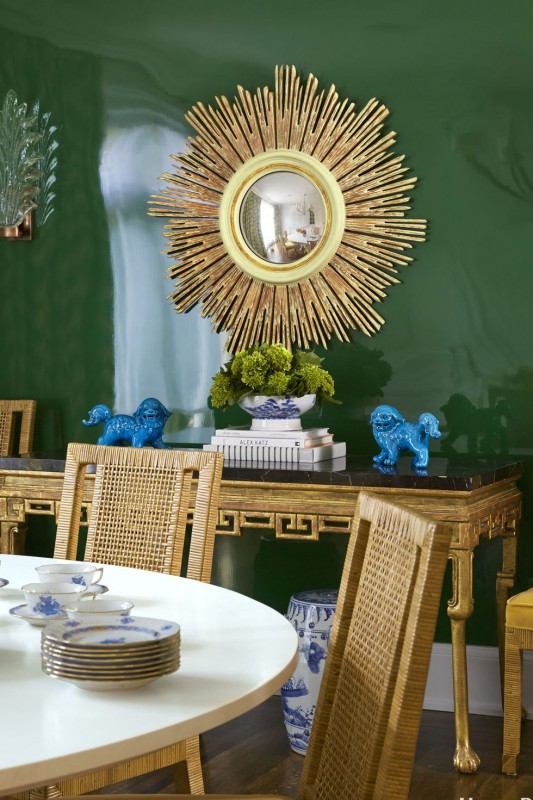 A green lacquer looks bold in this San Francisco home. Vintage sconces and a sunburst mirror add drama.
Shades of Gray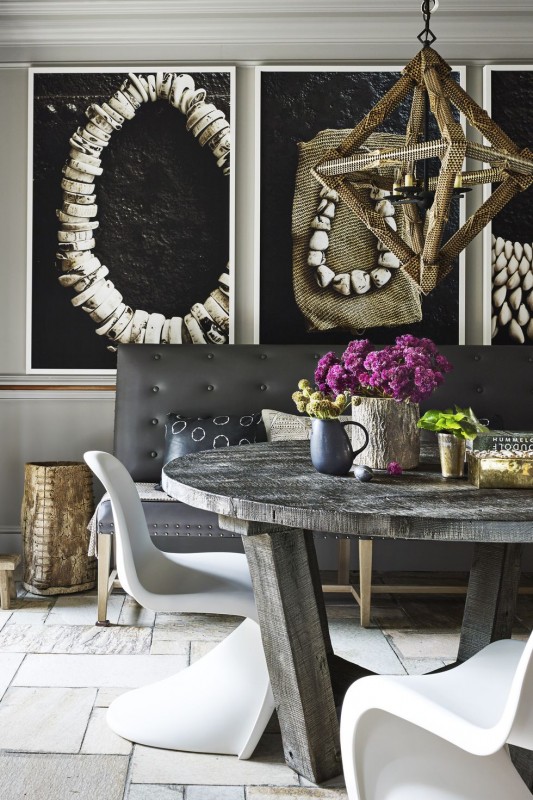 This Charleston rental opted for gray in the dining room. This particular shade changes throughout the day depending on the light in the room.
Jungle-Inspired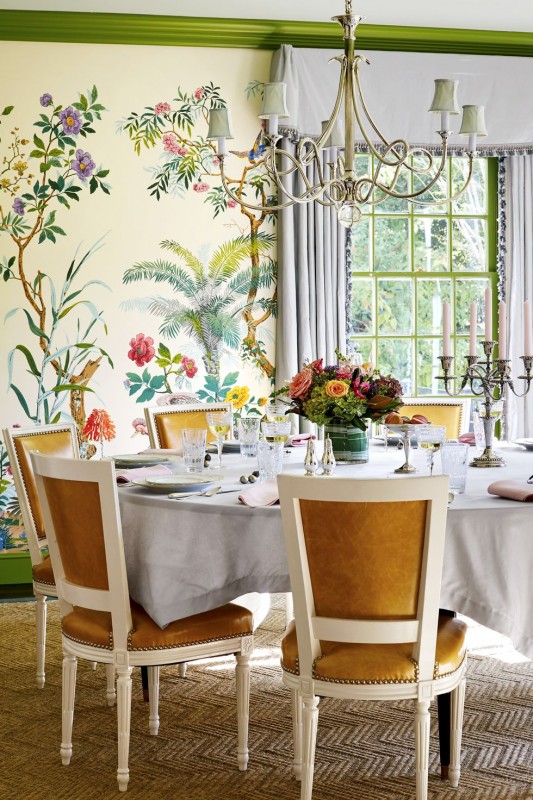 After a dramatic makeover, a Texas dining room now bursts with high-octane design, from the jungle wallpaper to the green molding.
Sunny Yellow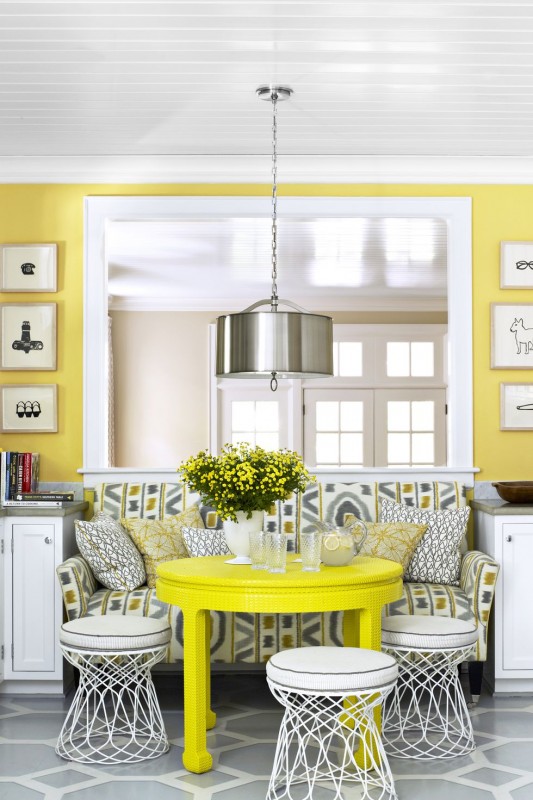 Bright yellow walls and an even brighter citron table brought the dining nook of a North Carolina house to life. Even though it's a bold color, a sunny yellow still keeps a space feeling light.
Warm Cream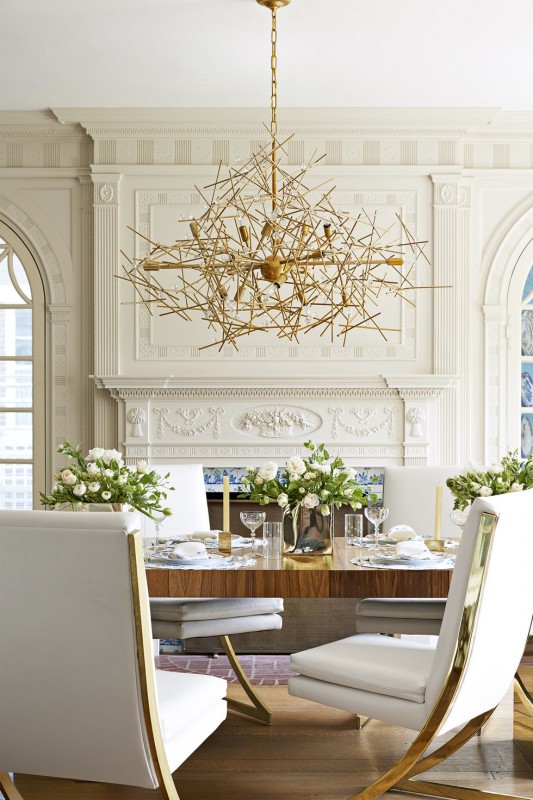 White can feel way too stark, so to warm up your space but still keep it neutral, choose a cream. It'll help your dining room feel lighter and brighter.
Mauve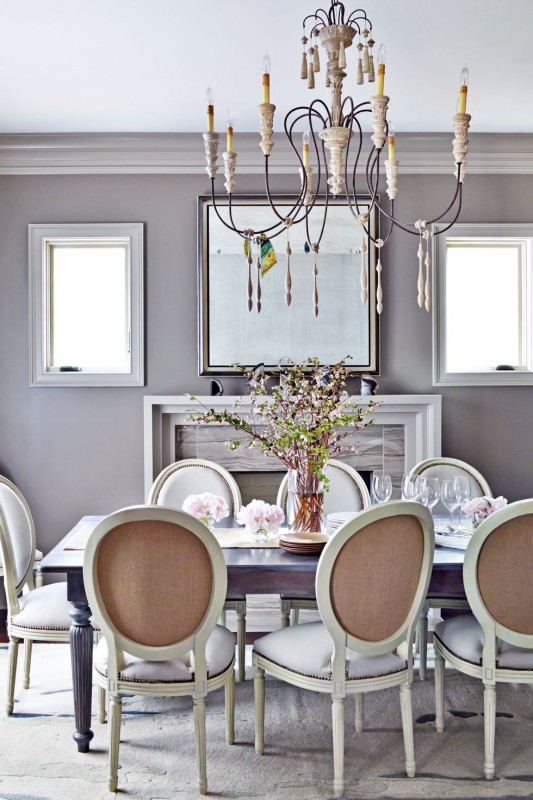 Mauve is not too gray, not too violet. Add contrast to the serene gray by upholstering chair backs with burlap.
Garden Green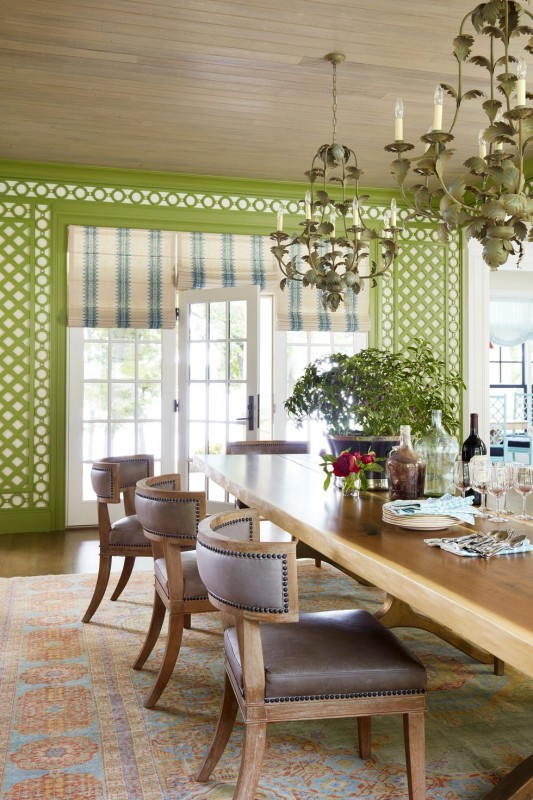 The green latticed wall in this Wisconsin home is serious goals. No matter what the weather actually is outside, you'll feel like you're eating in a garden.
Wine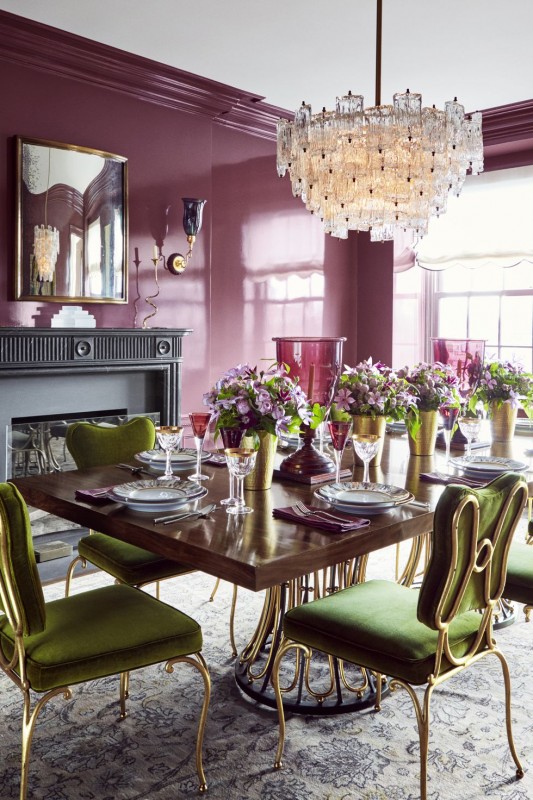 Wine walls are flattering, warm, and lively. Over seven coats of lacquer create this mirror-like sheen.
Teal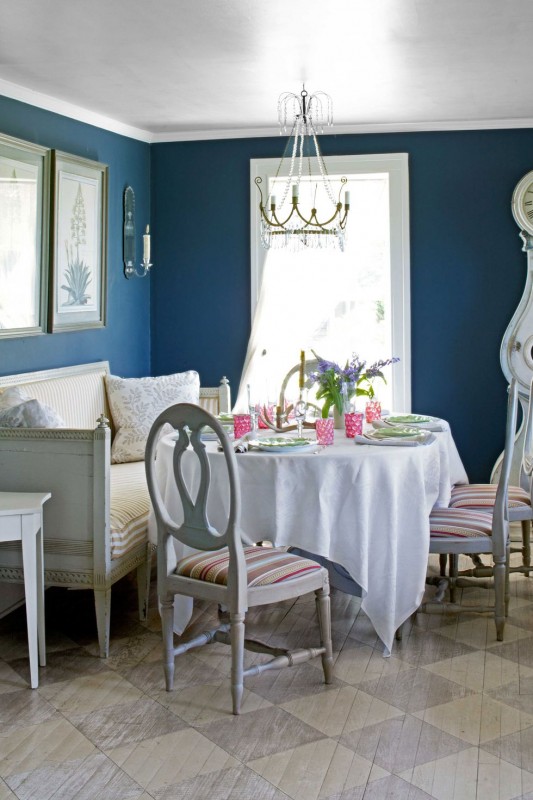 A dark blue creates moody drama in the dining nook of this upstate New York house. It feels a bit more relaxed than a formal dining room, but still totally elegant.
Canary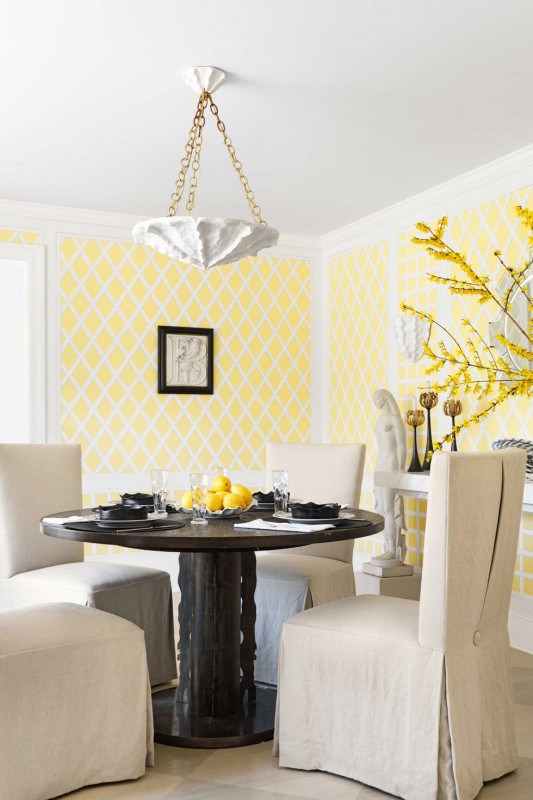 A soft yellow palette makes this Southampton, New York house's dining room feel sunny. A heavy, dark table helps anchor the room.
Mustard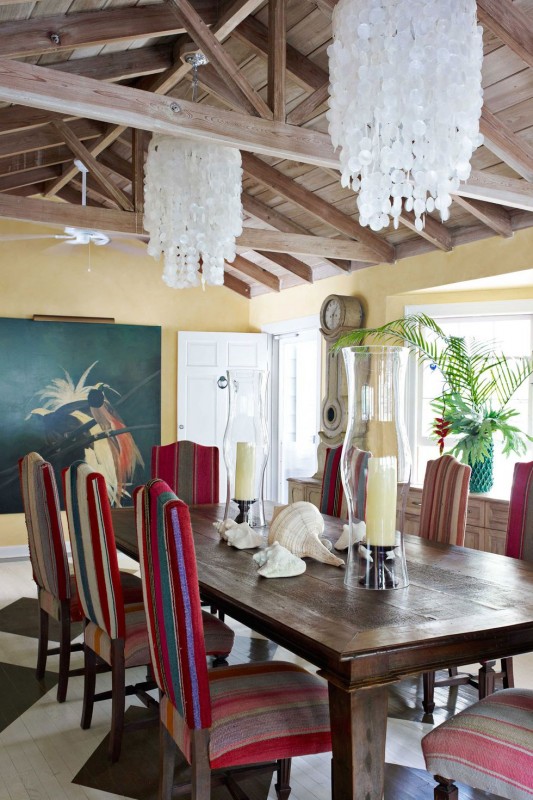 In this Florida house, the dining room walls are painted mustard yellow, because yellow goes so well with candlelight. We can practically feel the ocean breeze.
Classic Blue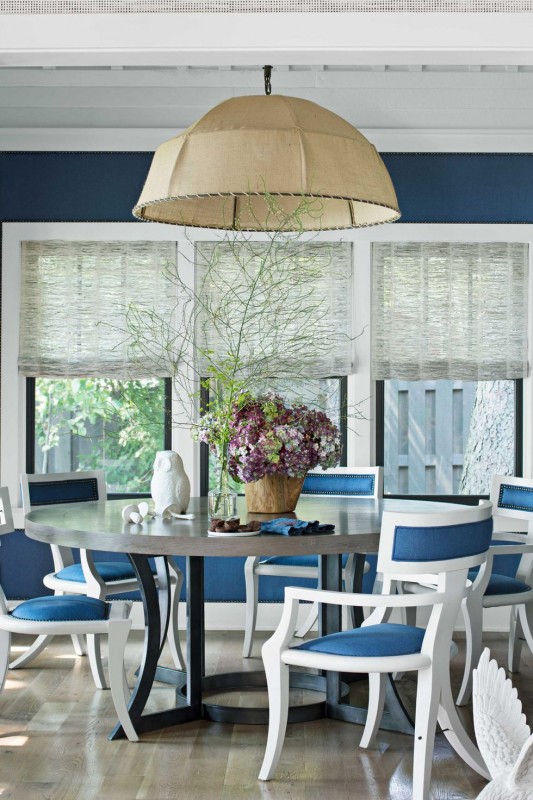 In the dining room of this upstate New York house, linen upholstery picks up the blue walls. White trim and chairs help add contrast.