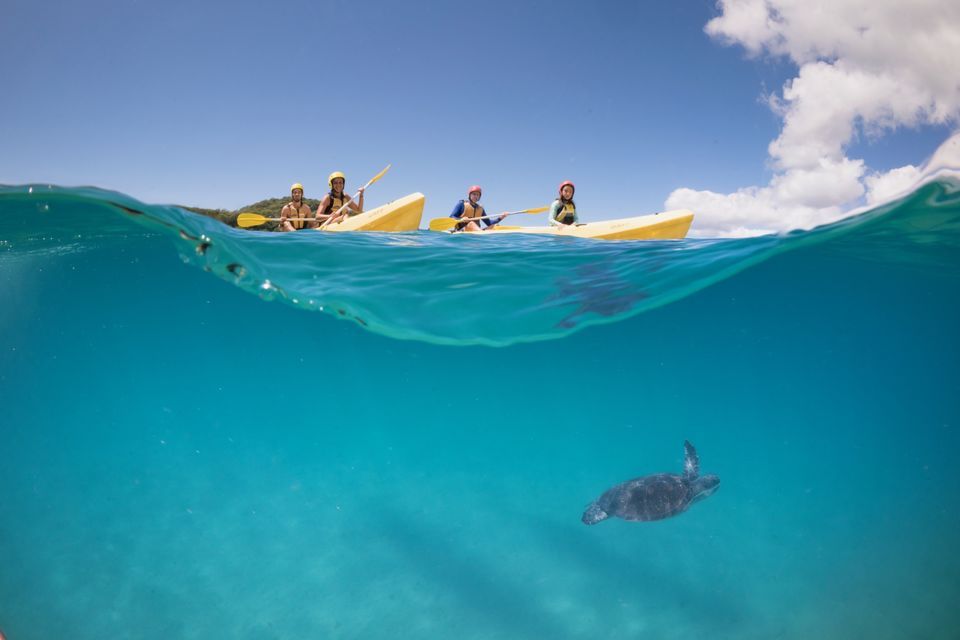 Take a guided kayak tour of Byron Bay and paddle with dolphins, turtles and whales traveling the area.
Experience
Highlights
Paddle through Byron Bay with your sea kayak
Get close to life in the sea
Guests can relax with a morning or afternoon tea on the beach

Full description
Experience some of the best sights of the East Coast. Learn about local history and indigenous history, the lighthouse, dolphins, whales and turtles. See the easternmost point of the Australian mainland as you enjoy a guided kayak trip in a sea kayak for two.
Paddle the surf in your sea kayak and later ride on some of Australia's most famous waves in Byron Bay. Experience the friendly bottlenose dolphins up close and discover how curious they can be. Discover sea turtles and marvel at the size of the majestic humpback whales that roam the beautiful Byron Bay. This tour has a 90% chance of seeing dolphins. If you do not see them, you can come back again for free.
Enjoy a morning or afternoon tea with coffee, tea, milo, mineral water and Tim Tams.

Includes
All safety equipment and equipment including life jackets, wetsuits and helmets
Tour Photos
Morning or afternoon tea
Access to Cape Byron Headland National Park
Delfingarantie - If you do not see a dolphin, you can come back for free