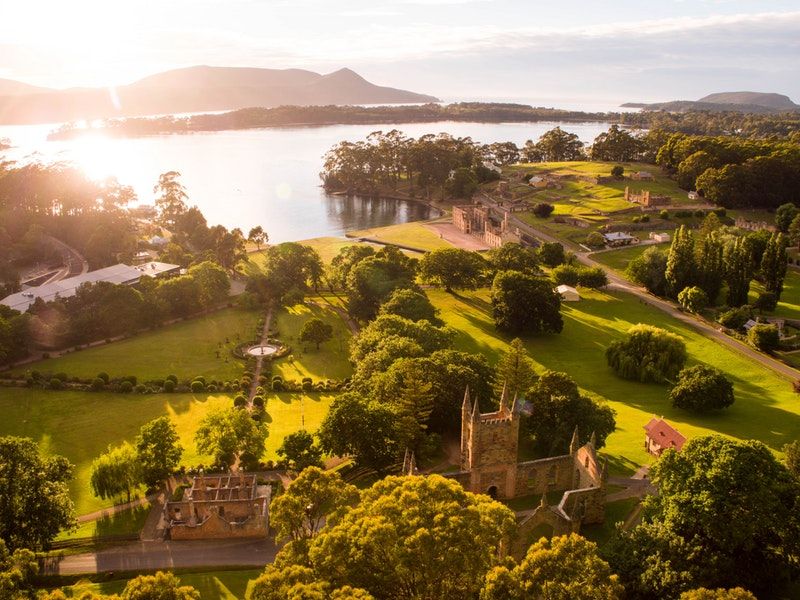 The UNESCO World Heritage Site of Port Arthur brings to life the early history of the condemned in Australia. The tickets to the site are valid for two consecutive days and include a guided hike, a harbor cruise and access to historic ruins.
Experience
Highlights
Enjoy a 40-minute introductory guided tour
Learn more about the importance of the maritime history of the town on a 25-minute harbor cruise
Explore over 30 acres of the historic site with a ticket valid for two consecutive days
Discover how the Penal Colony works with over 30 historic buildings and ruins on site

Full description
Enjoy full access to the historic site of Port Arthur on the Tasmanian Peninsula with a ticket valid for two consecutive days during the day. Located 90 minutes from Hobart, the historic site features 30 buildings, ruins and restored antique houses set in 40 acres of landscaped grounds.
Discover entertaining, interactive experiences for young and old, including the Lottery of Life and the Museum and Convict Study Center in the Asylum Building. Discover the Convict Water Supply Trail and the shipyard.
Allow yourself enough time to experience all that Port Arthur has to offer! Your admission includes a visitor guide with a map and a 40-minute guided tour that will give you a great introduction to Port Arthur, its inhabitants and its past. As part of your permit, guests can also take a 25-minute harbor cruise on the MV Marana. The hikes and cruises take place several times a day, subject to availability.

Includes
Site Entry Ticket (valid for two consecutive days)
40-minute guided introductory tour
25-minute harbor cruise
Access to more than 30 historic buildings, ruins, gardens and restored homes on the property
Shuttle buggy service for people with reduced mobility
What is not included?
to eat and drink
Transport to and from the location
All other optional tours on site