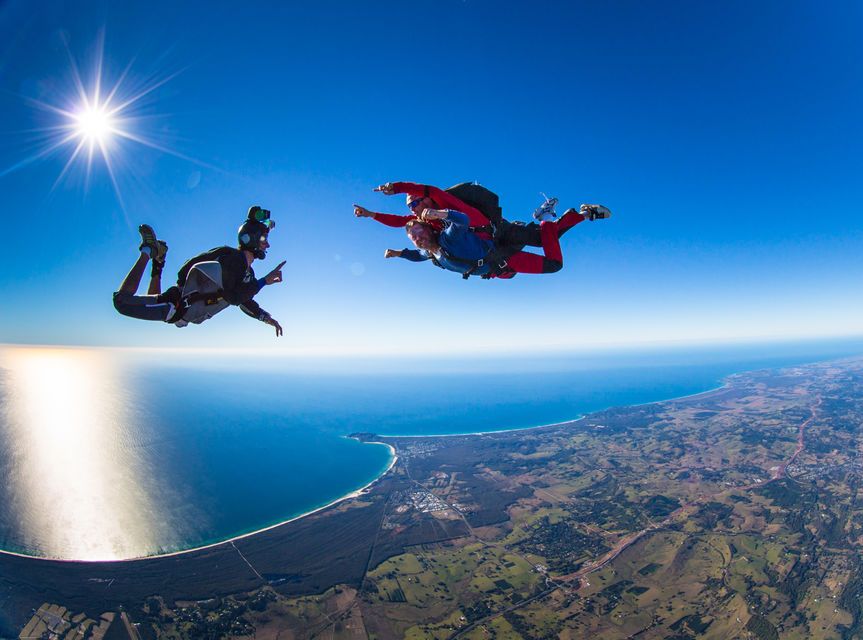 Experience the freedom of parachuting. Enjoy one minute free fall with a speed of 220 km / h. Admire the spectacular views over Byron Bay.
Experience
Highlights
Admire the views of Byron Bay, the surfing beaches and Byron Bay lighthouse
Experience the adrenaline rush of up to a full minute in free fall
Enjoy a spectacular 20-minute tandem flight

Full description
Admire the most spectacular views of the Australian coast from a distance of 400 meters as you jump over Byron Bay. Experience the thrill of your life with up to 1 minute free fall.
During this tandem jump, you will float under a colorful canopy for 5-7 minutes while enjoying the breathtaking views of the surrounding area.
Fly free like a bird and feel the wind rustling through your hair. See sparkling white sand beaches and untouched hinterlands
During this 4-hour activity, you will land and land on the beach in the Drop Zone, just 15 minutes from Byron Bay, where you will find ample parking, barbecue and picnic areas.

Includes
Daily transportation by air-conditioned bus from Gold Coast, Brisbane and Byron Bay
5-star Skydive training facility
Professional instruction and training
20-minute scenic flight over Byron Bay and spectacular surfing beaches
Up to 60 seconds of free fall from a distance of up to 15,000 feet
Option to control your parachute
Parachutist certificate
What is not included?
35 Australian Parachute Federation Fee and Administration Fee
Participants weighing more than 95 kilograms must pay a weight surcharge