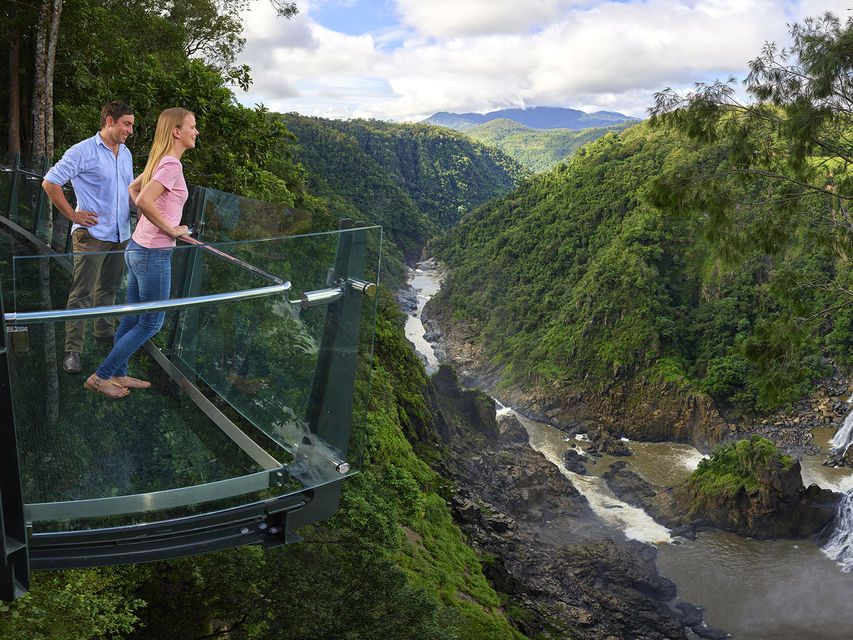 Visit Kuranda on the Kuranda Scenic Railway and return with the Skyrail Rainforest Cableway. Explore the village in pristine rainforest and visit markets, shops and food stalls in your free time. Marvel at the view from the cable car.
Experience
Highlights
Discover the untouched rainforest, a World Heritage Site, with the historic railway
Take a ride on the cable car and glide just a few meters above the rainforest roof
Visit Kuranda markets, unique shops and wildlife parks

Full description
On this 7-hour excursion, you'll visit the beautiful village of Kuranda amidst a pristine, World Heritage-listed rainforest. You will be picked up from your hotel (in the city center of Cairns) in a modern and comfortable coach and drive to the train station. Climb into the historic Kuranda Scenic Railway and enjoy views of the surrounding mountains on the way to Kuranda. The trip to Kuranda leads from the sea level at 328 meters altitude past spectacular waterfalls and then into the breathtaking Barron Gorge.
Enjoy 2.5 hours of free time exploring the markets, shops and trails or taking a river cruise (seasonal). Discover the amazing selection of food stalls and cafes or dine with local water dragons at Frog's Restaurant, famous for its freshly prepared sauces and dressings. Take the famous Skyrail, which stretches for 7.5 kilometers over the pristine rainforest.
This is also an opportunity to observe native animals, including the cassowary (the third largest flightless bird in the world)! Afterwards, you will return to Skyrail at 2:00 pm (Skyrail Smithfield Station). Embark on a fascinating journey of discovery into the world's oldest surviving tropical rainforest.
The iconic Skyrail experience is a must in Cairns and offers a truly unique perspective on Australia's World Heritage listed tropical rainforest. Immerse guests in the sights, sounds, smells and tranquility of one of the most botanically fascinating areas of the world. At the end of your Skyrail experience, you will be picked up by bus at 3.30pm and taken back to the hotel.

Includes
Kuranda Scenic Railway (one way)
Skyrail Rainforest Cableway (one way)
Pick up and drop off at most major hotels in the center of Cairns
ATV quad bike tour (if option chosen)