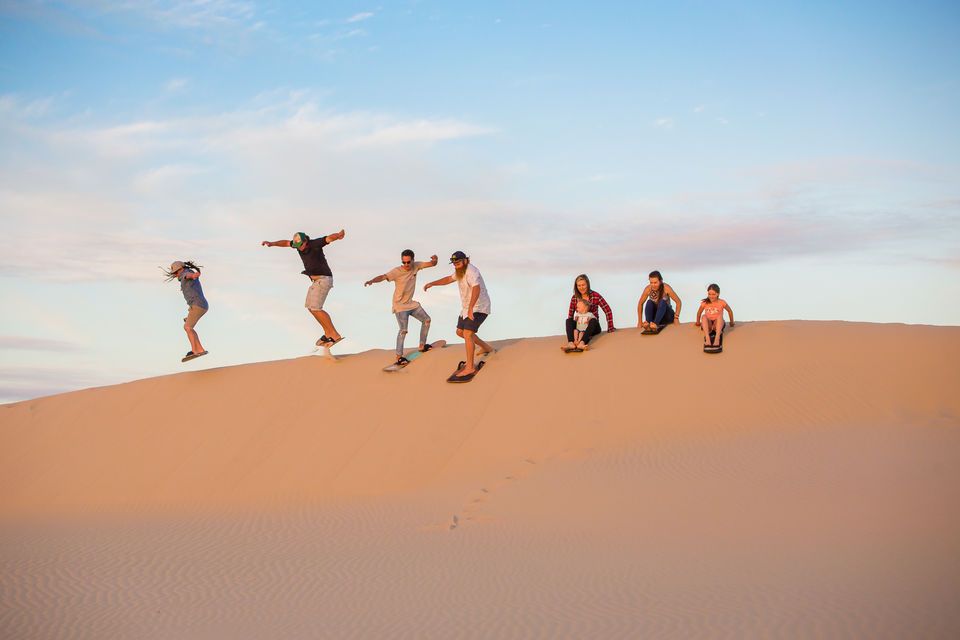 Experience the thrill of surfing the largest sand dunes of Stockton Beach on this sand dune adventure tour. Combine an exciting 4WD adventure in huge sand dunes with unlimited sandboarding fun.
Experience
Highlights
Try something new in an incredible environment on this sand board and 4WD tour of the Stockton sand dunes
Ride in beautiful, air-conditioned 4x4 vehicles across the largest sand dunes in the Southern Hemisphere
Enjoy up to 1.5 hours of fun while sandboarding
Get free water to stay hydrated

Full description
You need to experience sandboarding in Port Stephens. The thrill of sliding down the spectacular Stockton sand dunes is so much fun. From the meeting point on Birubi beach, step into the purpose-built SUV to begin your adventure on the short, bouncing ride into the largest moving sand mass in the Southern Hemisphere. The 32-kilometer-long dunes extend over the entire length of Stockton Beach and reach a height of over 40 meters, just like a 10-story building. The view alone is spectacular.
Once you're in the dunes, the team will give you an overview of sandboarding and the use of handcrafted custom boards for maximum safety and speed. Then you are gone. Climb on the dunes, jump on your board, then slide down and repeat the process. Your ticket includes unlimited sandboarding so you can play as long as you like. For most people that's about 1 - 1.5 hours. When you're done, just hop on one of the 4WD buses leaving every half hour and drive back to the starting point on Birubi Beach.
It's an amazing experience for everyone, regardless of your age. The instructors are always available to answer questions on sandboarding, port Stephens or the dunes and to make sure you have maximum fun. Do not forget to bring your camera with you as you have the opportunity to take some amazing holiday pictures of Port Stephen.

Includes
4WD tour of Stockton Sands
Sandboard
Guidance and support in sandboarding
Unlimited sandboarding
What is not included?
to eat and drink
Pick up and return from the hotel