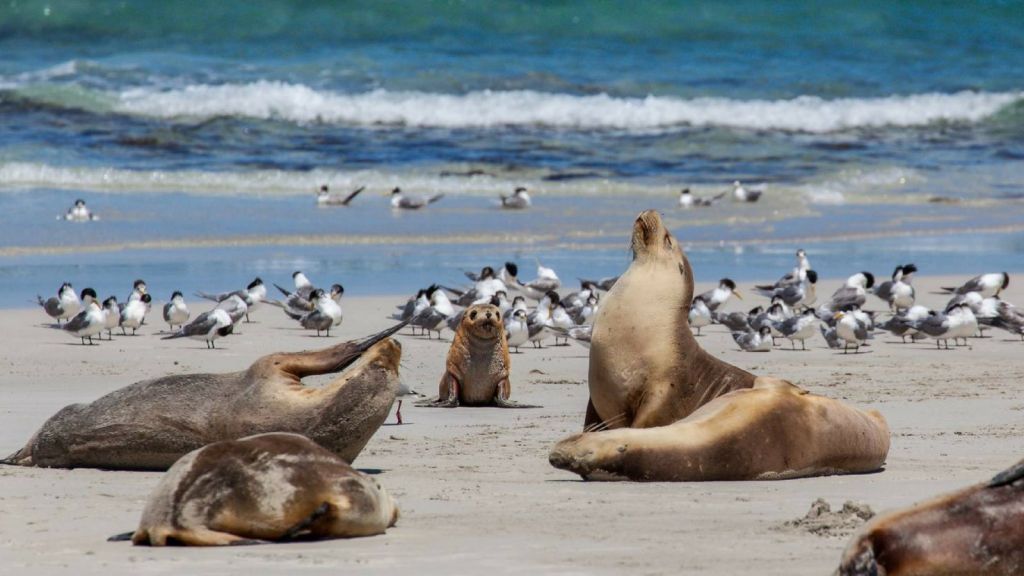 In the natural environment, look for seals, sea lions, dolphins and whales on an ocean adventure around Granite Island from Victor Harbor. Enjoy the views of the island and the coast of the Fleurieu Peninsula in an exciting 45 minutes.
Experience
Highlights
Look for seals and sea lions in the waters off Granite Island
Admire the spectacular coast and islands of the Fleurieu Peninsula
Pass the old horse tram of Victor Harbor

Full description
Depart from the Granite Island Causeway at Victor Harbor for a scenic cruise along the north coast of Granite Island. Victor Harbor is located on the south coast of the Fleurieu Peninsula in South Australia, about 90 minutes and 80 km south of the center of Adelaide. Pass the old horse tram and see the historic Screwpile jetty as you venture around the breakwater and into the open sea.
Continue for 5 minutes until you reach Seal Island (also known as "Seal Rock"), where you can watch seals and Australian sea lions in the sun. Enjoy the sight of the seals, which often swim to the stationary boat, to take a close look at the passengers!
Look out for other wildlife, including petrels, shearwaters and cormorants, on or around Seal Island. You can even spot some common dolphins or bottlenose dolphins that are often nearby and sometimes speed with the boat. After 15 minutes of wildlife viewing on Seal Island and around Wright Island, return to the Granite Island Causeway at Victor Harbor and disembark.

Includes
45-minute boat ride
Spray jacket
life jacket
Live Commentary
Bathroom on board
What is not included?