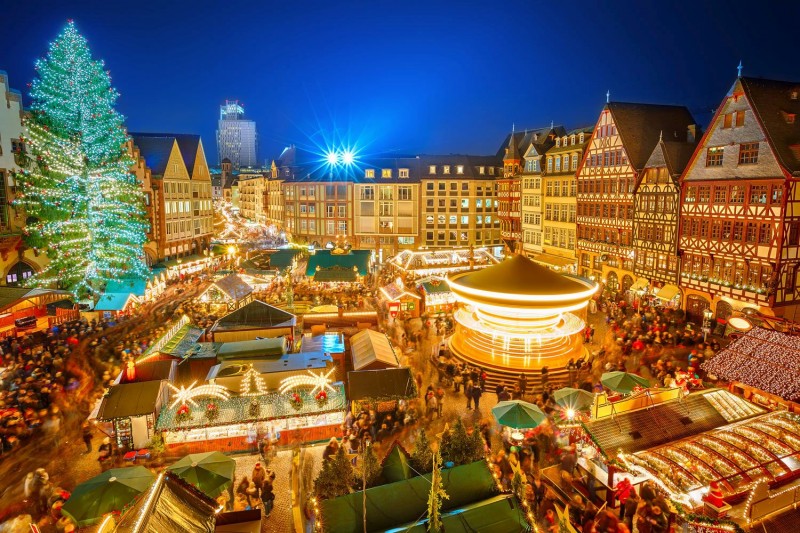 While the weather outside might be dreary, chilly and grey, December is brightened up by the glittering Christmas markets that pop up all over Europe. While you can experience Christmas markets in almost all European cities, one thing's for certain: nowhere does Christmas quite like Germany. After all, the tradition of the Christmas tree, the advent calendar and even Christmas markets themselves originated in Germany! There are over 1,500 German Christmas markets (Weihnachtsmärkte) scattered all across the country, so how on earth do you possibly choose which one to visit? Don't worry. Here I've narrowed down ten of the best German Christmas markets so you can spend less time planning and more time sipping mulled wine!
1. Dresdner Striezelmarkt (Dresden)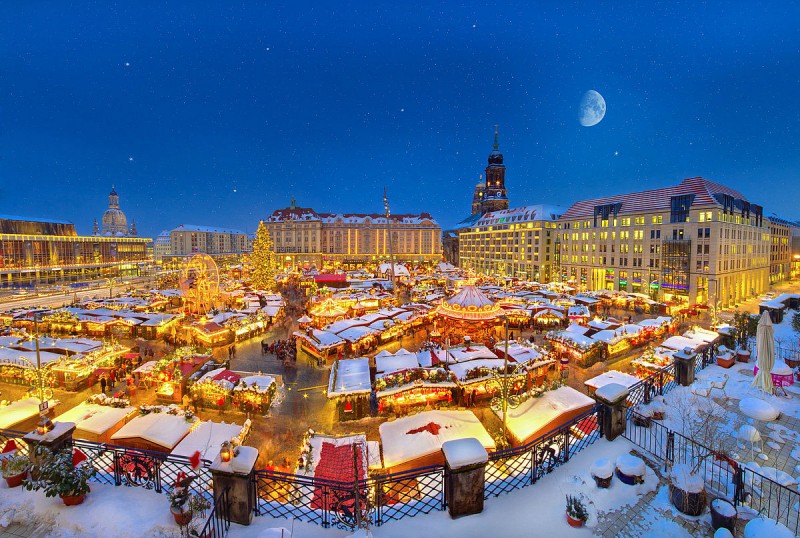 Let's cut to the chase, shall we? We can't even start to talk about Christmas markets without beginning with arguably the oldest Christmas market in existence, the Dresdner Striezelmarkt. With accounts dating back to 1434, this year the market is celebrating its 581st year! The Dresdner Striezelmarkt is full of superlatives, from the world's tallest Nutcracker to the world's tallest Christmas pyramid. Don't leave without sampling the famous Dresdner Stollen (fruit cake)! Image DresdenWeihnachten.
2. Nürnberg Christkindlesmarkt (Nuremberg)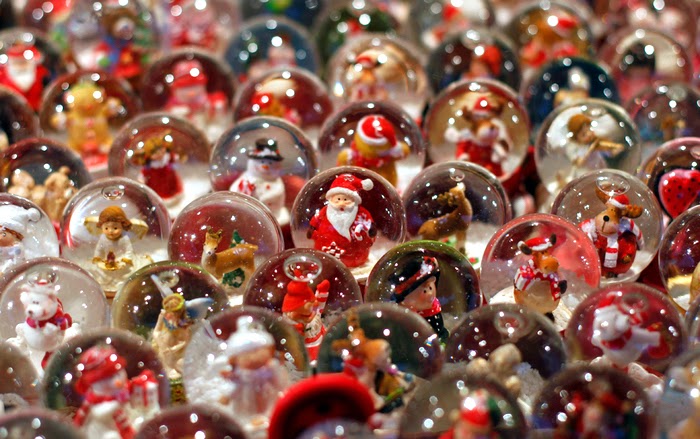 Nuremberg's Christmas market is regarded as Germany's most famous and most beautiful. Over 180 stalls are lavishly decorated in red and white cloth, giving the market the nickname of 'Little Town of Wood and Cloth', selling handcrafted wares (mass-manufactured goods are strictly forbidden). Be sure to sample the original Nuremberg Bratwurst, prepared the traditional way on an open wood fire as well as the famous Nuremberg 'Plum People', little figures made from prunes.
3. Weihnachtsmarkt am Kölner Dom (Cologne)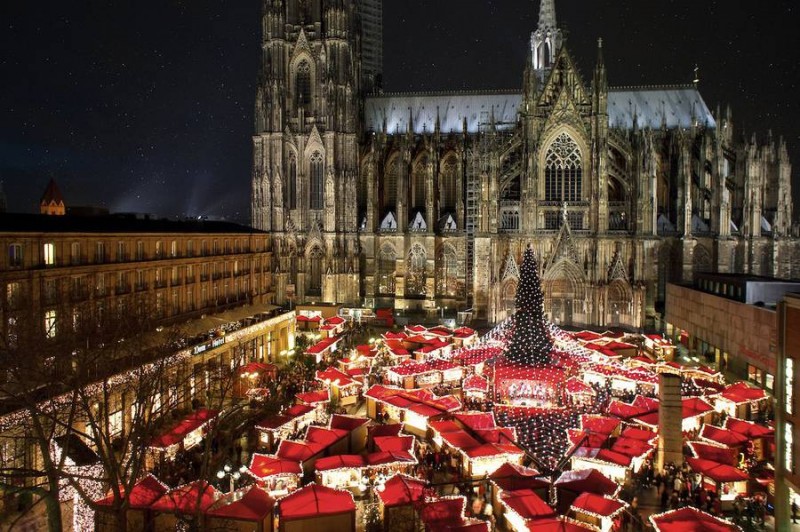 With the aroma of baked apples, Glühwein (mulled wine) and cinnamon gently wafting through the air, the Christmas market in Cologne's main square is one of the most magnificent in the country. Set against the backdrop of the towering UNESCO-listed gothic cathedral that took over 600 years to complete as well as the largest Christmas tree in the Rhine, the atmosphere here is positively magical. The Christmassy taste of the biscuits here are something you'll remember for years to come. Definitely pick up some boxes of Lebkuchen (gingerbread), Spekulatius (spicy biscuits) and Zimsterne (cinnamon biscuits) to put under the Christmas tree.
4. WeihnachtsZauber Gendarmenmarkt (Berlin)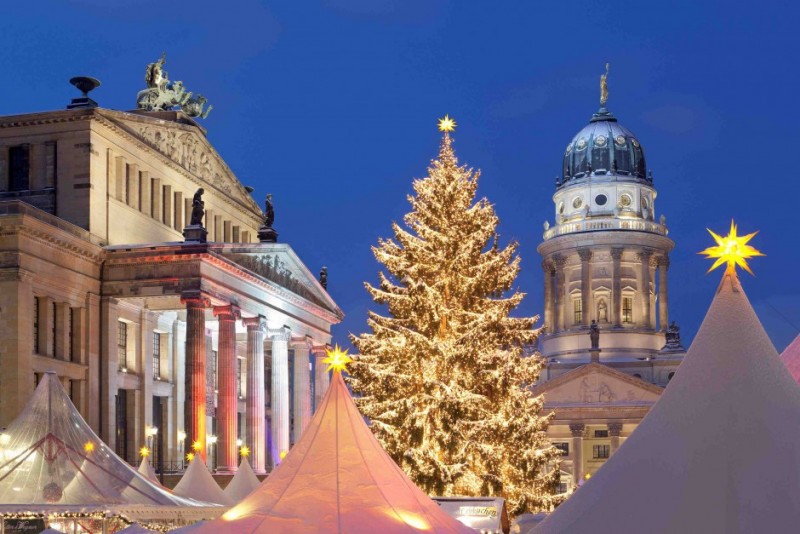 With over 60 Christmas markets spread across the city, Berliners certainly take their holiday season seriously. There's a market for every taste, but the city's most elegant and classical Christmas market can be found at the WeihnachtsZauber Gendarmenmarkt. Set in Berlin's most beautiful square and bordered by the impressive Konzerthaus and the French and German churches, the market at Gendarmenmarkt is the prettiest of them all in Berlin. Visit this market for unique, handmade products and to taste the culinary delights from upmarket restaurants and hotels that set up outdoor stalls within the market. The live classical music and Christmas carol performances make for a lovely atmosphere.
5. Stuttgarter Weihnachtsmarkt (Stuttgart)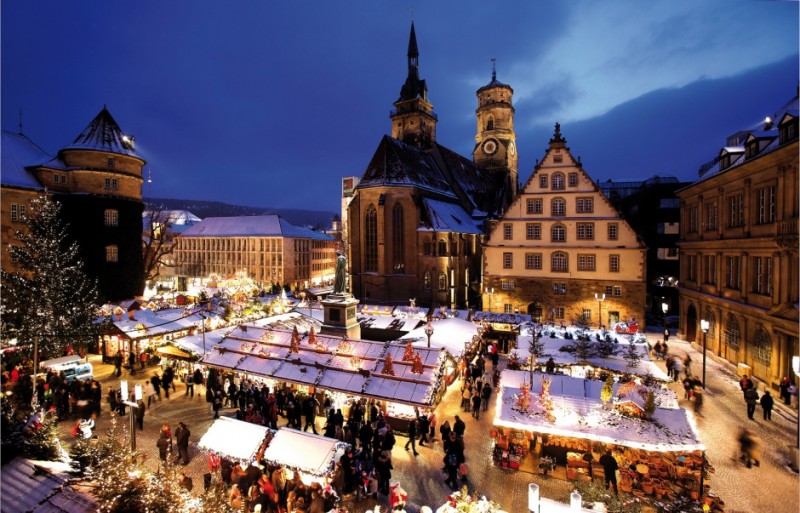 With over 280 lavishly decorated stalls, the Christmas market in Stuttgart is not only one of the oldest but also one of the largest in all of Europe! Spread throughout five cobblestoned squares in the centre of the city, the stallholders compete against one another enthusiastically for the claim of the annual best-decorated stall. The festive atmosphere is enhanced by nightly performances by talented musicians and choirs in the courtyard of the Old Palace against the backdrop of a magnificent Christmas tree. There's an outdoor skating rink for kids young and old, a miniature steam railway and Grimm's fairy tale figures – so nostalgic! Grab a bag of roasted chestnuts to nibble on as you wander around.
6. Rothenburger Reiterlesmarkt (Rothenburg ob der Tauber)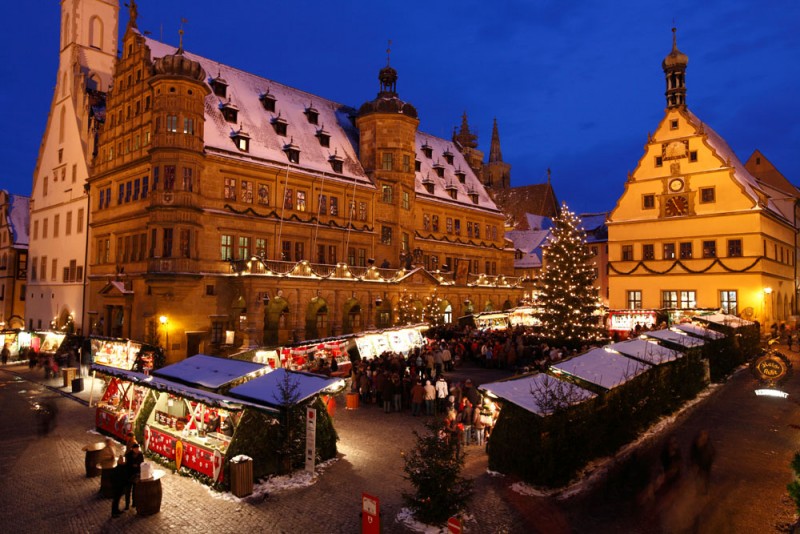 Step into a real-life German winter fairy tale at the Rothenburger Reitlersmarkt in one of Germany's most picturesque little towns, Rothenburg ob der Tauber. This little market has a long, medieval history and has been in existence for over 500 years. While you're in town, make sure you visit Germany's only fully-fledged Christmas Museum for a look at how Christmas traditions have changed over the centuries. Keep warm with a mug of Glühwein and a few of the famous Rothenburger Schneeballen (snowballs), made from shortcrust pastry rolled into balls and decorated with chocolate, nuts or with a marzipan filling. These treats have been enjoyed for over 300 years so it's almost guaranteed you'll love them too!
7. Freiburger Weihnachtsmarkt (Freiburg)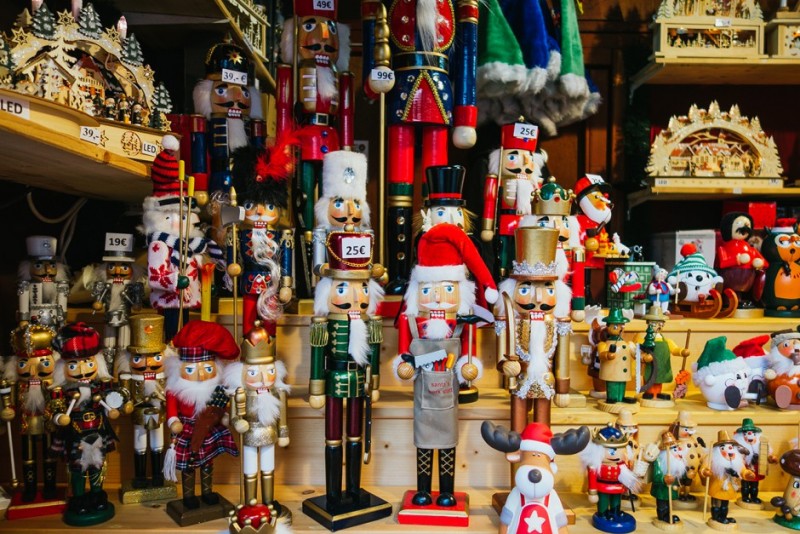 Located in the Schwarzwald (Black Forest) in southwest Germany, Freiburg has an enchanting medieval feel and, not surprisingly, a magical Christmas market. The little stalls fill the lanes of the old town, lined with half-timbered houses. One of the best things about the Freiburger Weihnachtsmarkt is the selection of locally made crafts for sale, such as ceramics, hand puppets, candles and amber jewellery. There are lots of interactive activities on offer to entertain the whole family, from beeswax candle making to biscuit-baking workshops. The Lebkuchen (gingerbread) and the Nonnenseufzer (freshly cooked doughnuts filled with apple) are festive favourites too!
8. Münchner Christkindlmarkt (Munich)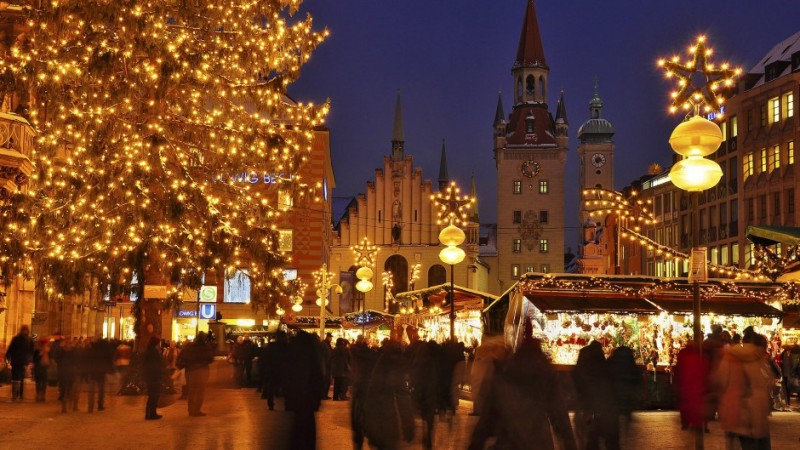 Historical Marienplatz, with its impressive neo-gothic Neue Rathaus (Town Hall), makes for a spectacularly festive setting for Munich's oldest and most traditional Christmas market. The biggest attraction is the towering 26 metre Christmas tree, decorated with over 2,500 candles. There are over 150 stalls to browse and this is a great place to pick up some traditional Bavarian wood carvings for stocking-fillers or some Kletzenbrot, a Christmas fruit bread from the region.
9. Augsburger Christkindlesmarkt (Augsburg)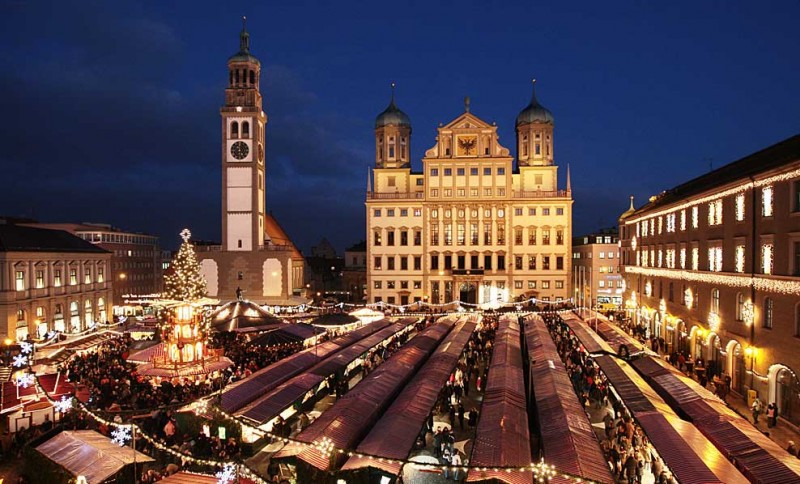 The glittering Christmas market in this romantic city in southwest Bavaria near Munich is regarded as one of the most traditional in Germany. Attracting over a million visitors every year, it's clear that this is a favourite among locals and tourists alike. Over 130 stalls are nestled snugly together selling all manner of Bavarian specialities and handcrafted gifts. A favourite among children is Augsburg's 'Fairy Tale Trail' where scenes of well-known fairy tales are lovingly recreated in shop windows downtown. Don't miss the incredible angel performance (every Friday, Saturday and Sunday at 6pm) where 24 angels appear on the façade of the City Hall, transforming the building into a spectacular advent calendar!
10. Bremen Weihnachtsmarkt (Bremen)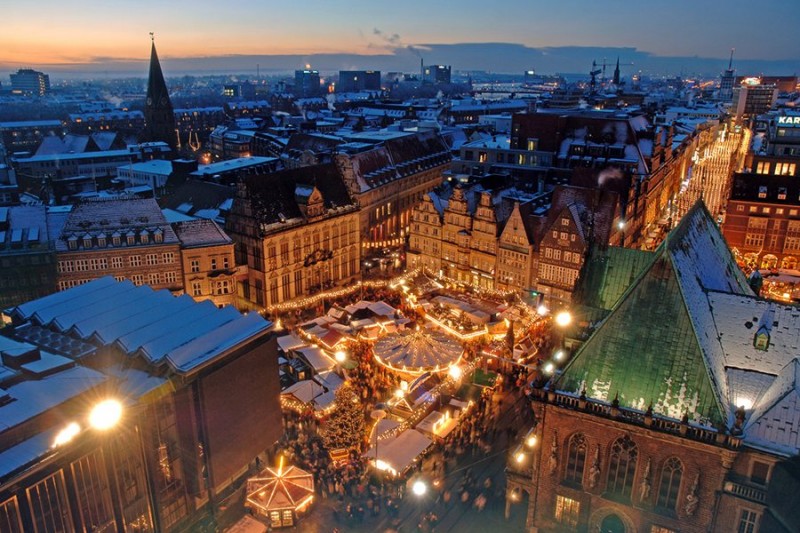 Located in north-western Germany near Hamburg, Bremen's Christmas market is considered to be one of the most enchanting in Germany. Set amongst a city rich in Gothic architecture and historical tradition, the medieval-styled stalls create a magical festive ambience. Given the northern location of the city, this is a very good place to taste some smoked fish, a favourite among locals. Bremen also hosts something called 'Schlachte Magic' on the banks of the Weser River. Every day, a little door opens to reveal a new surprise, recreating the feeling of walking through a real-life advent calendar!