Twelve beaches from Alaska to Florida to bliss out on.
Americans love the beach. We plaster oval stickers across our cars to declare our allegiances, track the sharks encroaching on "our" surf, and release new songs every year about beach cocktails and sand beneath our toes. We childishly hoard our favorite spots so they won't become overcrowded. Mine is a riverside beach in Maryland where a firefly trail through the woods leads to dazzling bioluminescent water and no, I will not tell you how to get there. But here are 12 beaches you can—and should—add to your list.
The Caribbean deserves its own list, which will be coming to you soon. For now, explore even more of our favorite beaches around the world.
Bowling Ball Beach, Schooner Gulch State Beach, California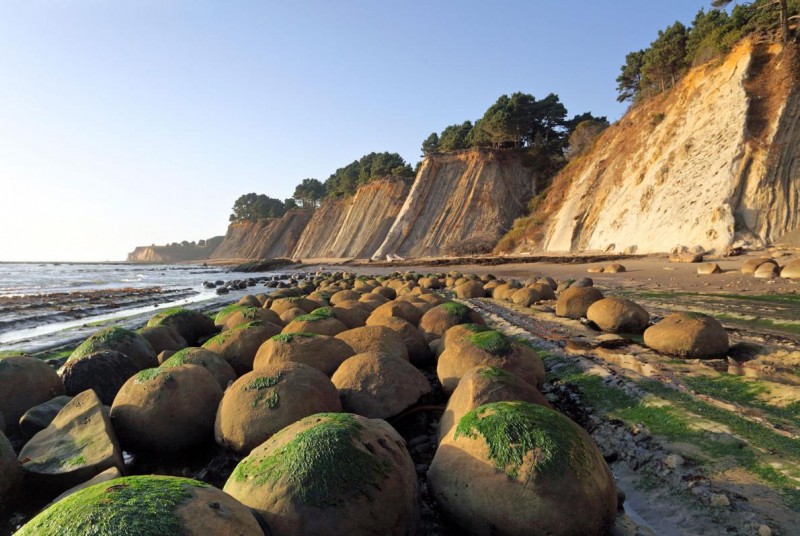 The shores of Northern California's Bowling Ball Beach are littered with geological phenomena called concretions. What looks like a game of marbles left behind by a crew of giants is actually a collection of boulders formed when mineral concrete and sedimentary rock are sanded smooth by the sea. Head north at low tide to see the "bowling lanes"—lines of wave-cut platforms that zoom down the bluff.
Green Sand Beach, Papakōlea, Hawaii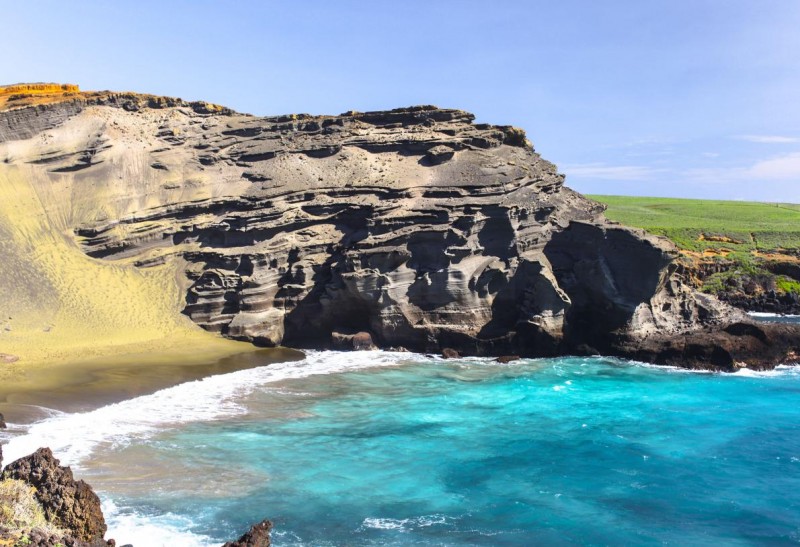 Sturdy shoes and water bottles are a necessity when hiking to Papakōlea on the Big Island of Hawaii. The 5.5-mile trail cuts across blustery seaside cliffs to a 49,000-year-old cinder cone created by an ancient volcano. At the end of the hike, turquoise water laps at an arcing beach that gets its green hue from olivine, the same mineral that makes up peridot.
Sleeping Bear Dunes National Lakeshore, Michigan
Sleeping Bear Dunes National Lakeshore boasts sky-sweeping sand dunes that are ideal for kite surfing by day and Milky Way gazing by night. The dune climb is easy enough for kids and leads to 35 miles of lakeshore, where visitors build sandcastles, swim, paddleboard, and pick wild blackberries. On the way back keep watch for beavers, bobcats, otters, and black bears.
Assateague Island National Seashore, Maryland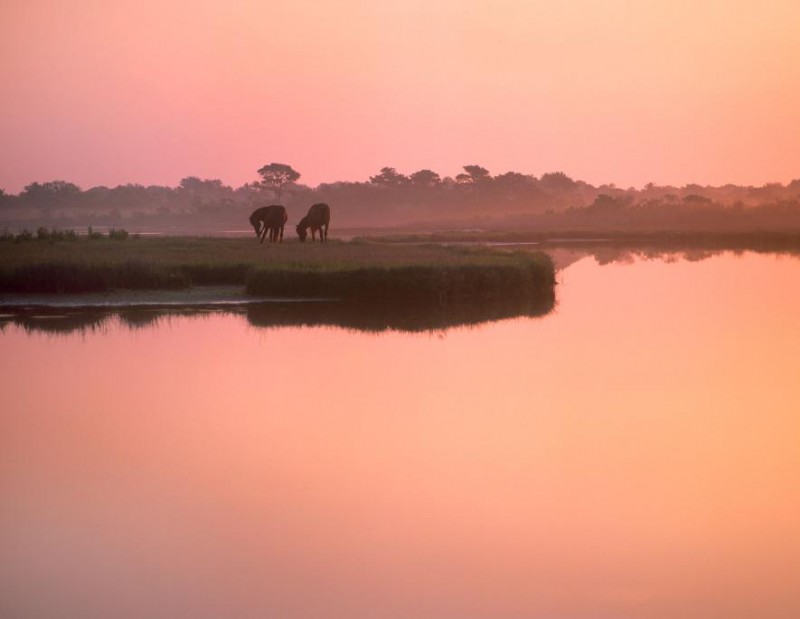 Over 150 campsites and 79 wild horses dot the shores of 37-mile-long Assateague Island. While sunbathing next to wild horses is entertaining in any season, the park's chief of education, Liz Davis, suggests an autumn visit. Park rangers offer programs through September, including beach yoga, bayside clamming, and surf fishing. In October the humidity dies down as swarms of migrating monarchs make their way across the dunes.
Bandon, Oregon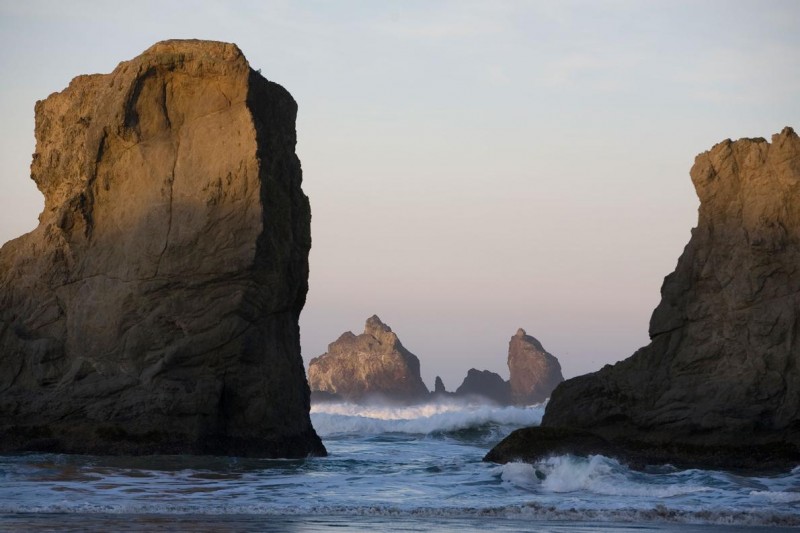 Dramatic sea stacks, sand labyrinths, tufted puffins, hundreds of migrating seals, and ever changing tide pools punctuate the beaches near Bandon, Oregon. The vibrant sea stars, snails, and spiny anemones around Coquille Point are so captivating that Bandon's Shoreline Education for Awareness has begun stationing volunteer "tide pool docents" to educate summer visitors. Volunteer coordinator Bill Binnewies says some of the slug species in the area have been around for well over a million years.
Shi Shi Beach, Olympic National Park, Washington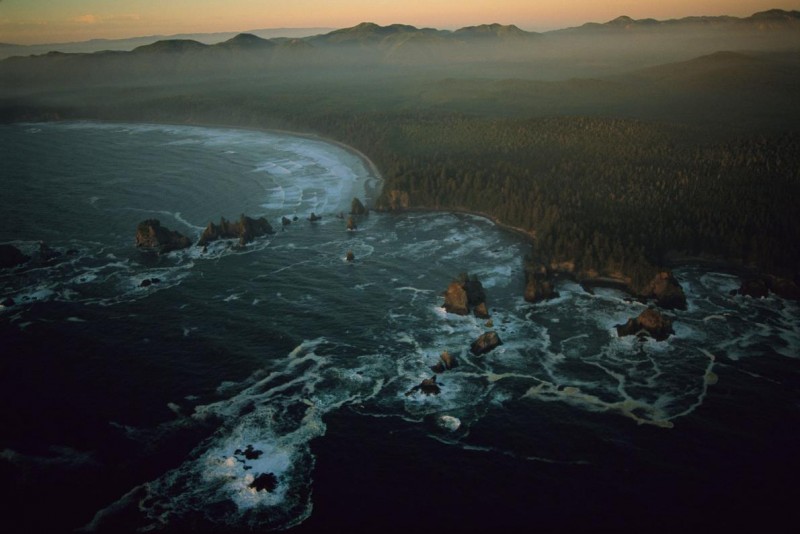 Unlike other (more crowded) Olympic beaches, Shi Shi is only accessible via a two-mile-long hike through temperate rain forest. Explore the stunning Point of Arches, build a driftwood fire as you scan the foggy Pacific for breaching orcas, or, tide-depending, follow the beach south to see ancestral Makah petroglyphs carved into the beach rocks.
Homer Spit, Alaska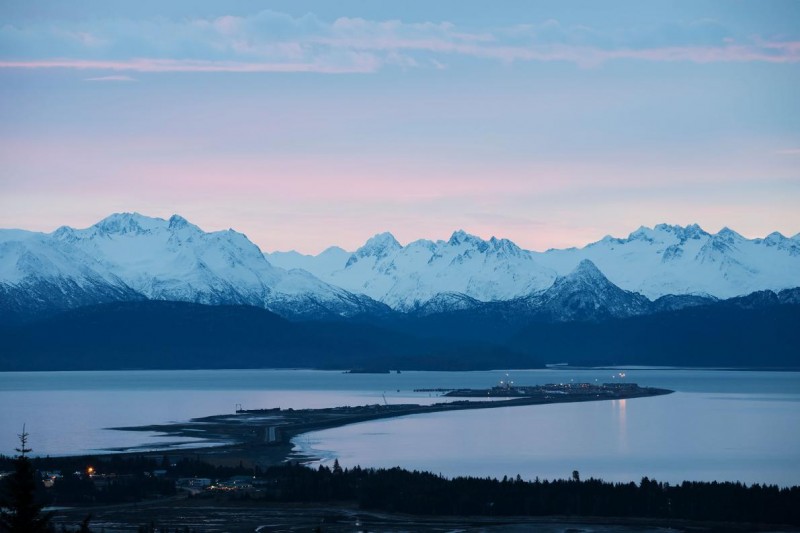 Local fisherman and Salmon Sisters co-founder Emma Teal Laukitis says that a lupine-lined walk along Homer Spit feels "like you're walking across the ocean into the snow-peaked mountains on the far side of Kachemak Bay." The spit, on the southern tip of the Kenai Peninsula, juts 4.5 miles into the bay and is home to commercial salmon fishermen, halibut charters, sea otters, and bald eagles. Pitch a waterfront tent, comb the beach for sea glass, savor the fresh catch at a local restaurant, or go for a late-night summer paddle under Alaska's midnight sun.
Lake McDonald, Glacier National Park, Montana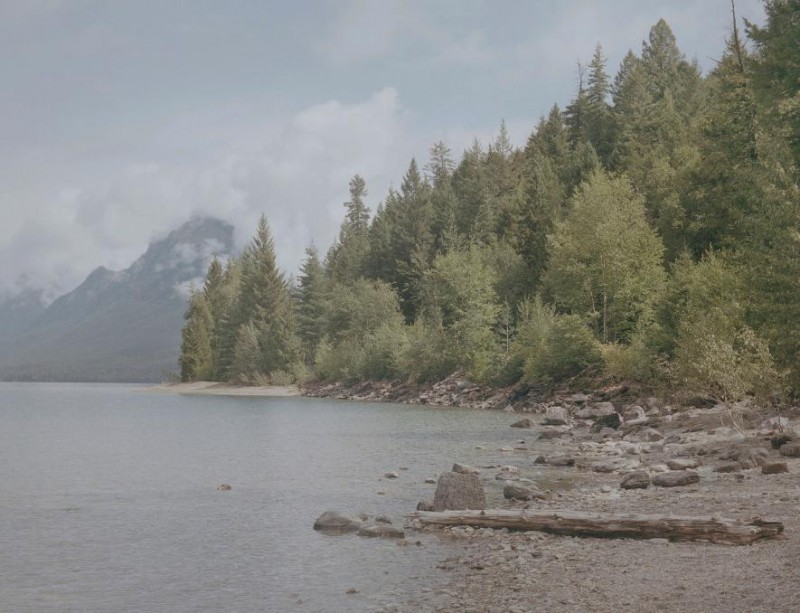 Rainbow pebble beaches and wide Montana skies make Lake McDonald perfect for a post-hike summer swim. Carved 472 feet deep by glaciers during the Ice Age, the lake is Glacier National Park's biggest. And its 10 miles of crystal water reflect the snowy summits of Heavens Peak, Little Matterhorn, and the Apgar Mountains. Travelers planning to visit soon should contact NPS for forest fire updates; Lake McDonald has been an important source of water for the Canadian super-scooper airplanes fighting back the flames.
Siesta Key, Florida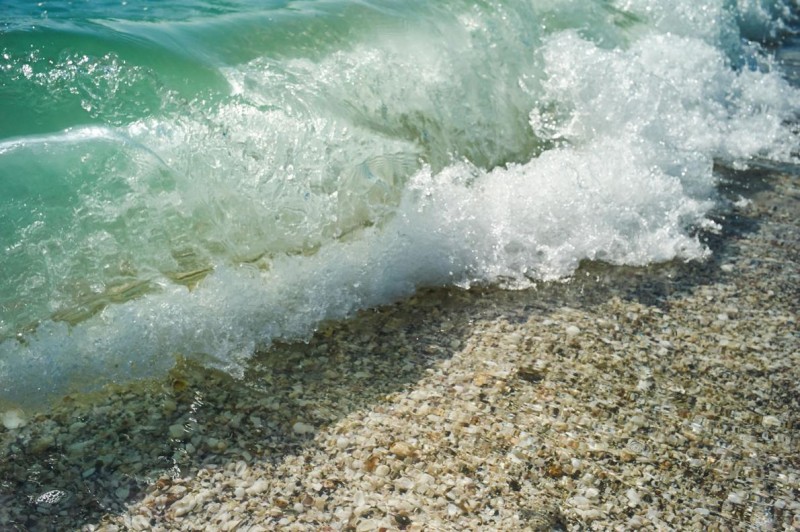 How did Siesta Key's sand become oh-so-luxuriously soft? Thousands of years ago a hunk of quartz split off an Appalachian mountaintop. The mineral crumbled into smaller and smoother pieces as it tumbled from creek to stream to river to gulf and finally to this barrier island just south of Sarasota, Florida. Fall asleep to Siesta's gentle Gulf waves, then take your time strolling in for a swim. Because the sand is 99 percent quartz, it's always cool to the touch.
Botany Bay Plantation, Edisto Island, South Carolina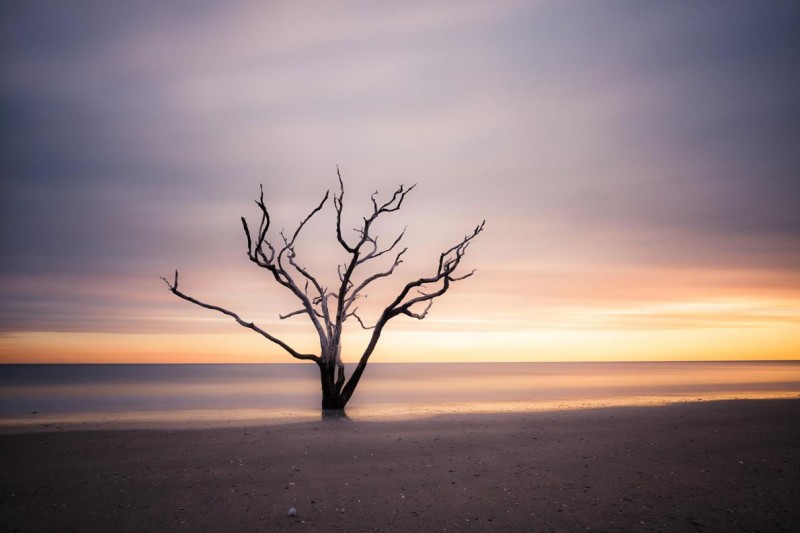 Botany Bay Plantation Heritage Preserve and Wildlife Management Area's 3,363 acres of Spanish-moss allées, tabby ruins, sunflower fields, and alligator ponds were only opened to the public in 2008, but the preserve's undeveloped beach has been frequented by painted bunting birds and loggerhead sea turtles for centuries. Visit at low tide (the only time you can reach the beach) to see bleached trees jut majestically into the Atlantic and giant conch shells dangle like coffee mugs off of driftwood branches. The drive back through Edisto Island traces wetlands, historic grits mills, and old country roads where island kids sell jars of raw local honey like it's lemonade.
Ke'e Beach, Kauai, Hawaii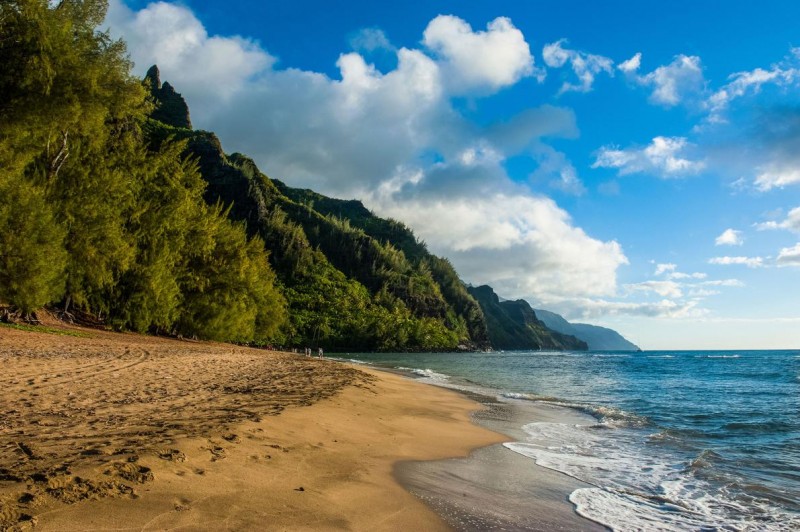 If you like a side of mountainous tropical rain forest with your beach, then Ke'e, on the Hawaiian "Garden Island" of Kauai, is the right place for you. Located at the northern tip of the island, the intimate beach cove boasts coral reefs, soft sand, jaw-dropping sunsets, and a panoramic view of the entire Na Pali Coast. Don't forget your snorkel gear.
Mohegan Bluffs, Block Island, Rhode Island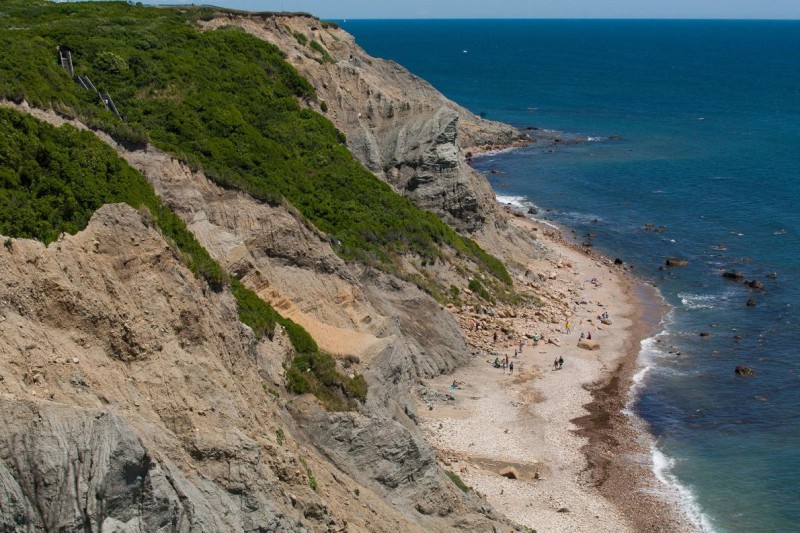 Rhode Islanders, quick to joke that the state is three percent bigger at low tide, know just how much it is defined by its beaches. Perhaps the most windswept of the bunch is Mohegan Bluffs on Block Island, where a brick lighthouse, built in 1874, had to be moved back in 1993 so it wouldn't topple into the Atlantic. Steep stairs descend the 200-foot-high clay cliffs to a rugged beach frequented by picnickers and surfers. Rhode Islander Kelsey Beadles suggests going by bike: "The beach is an easy 12-minute ride from the ferry dock."